Champions & #1 contenders
Moonhearts Promo intro thread is O p e n.
Mon May 21, 2018 4:21 am by XSirenX
Feeling brave?, lost?, or without a thread to post in?, hit up the newest Moonheart if any of those apply!
CLICK HERE
What Moon has to offer?, many things...:
Comments: 0
The Austrailian Mudslide is Back.
Sat Apr 21, 2018 6:20 am by Softsquad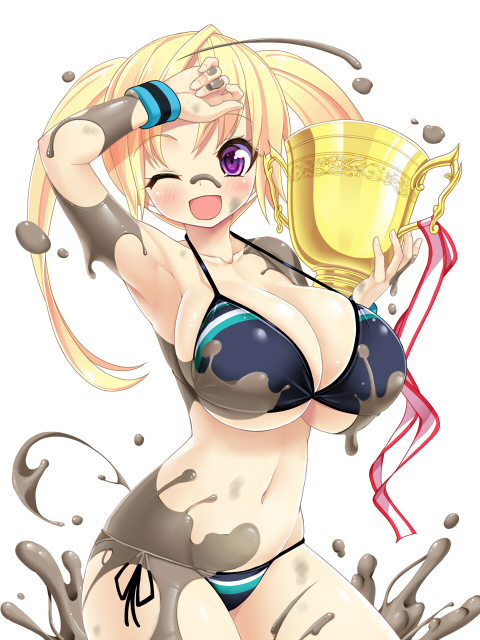 Granted that most of you won't know me or remember me, but I've had a few matches here and there some time ago. Well I think its time to become a regular around here and try to have some fun again, but at the same time keep coming back. Anyway I think its time to jump into some matches with Zoe Taylor, my mud wrestling character from Australia and get her back into the squared circle. Furthermore I will update my characters as I think some proper changes need to happen.
So if anyone would …
[
Full reading
]
Comments: 4
Page 1 of 2 • 1, 2


Open for any and all who wants to join
Spoiler:
After a few harrowing intense matches had been finished tonight...and with a few more going, what came to confuse the crowd right now was that fact that without any music playing or any real routine the blond beauty that was Cecilia Northman, a figure towering with power and sexiness that walked down the ramp. The crowd in confusion wasn't sure if to cheer or what to think of this, it was a rather odd thing for the beauty to do as she chose to make her way up towards the ring. Microphone in hand she climbed in and walked up towards the center of the ring. She looked around at the crowd, eyes trailing around as she would slowly step around the ring.
The crowd started to talk amongst themselves as the wondered what exactly was going on and what Cecilia was doing out here. She wasn't scheduled for any matches today, was she ? No. She wasn't. Instead the Swede seemed to have taken it upon herself to walk out here right now, she rose the microphone up towards her lips. " So...let me get somethings clear." Cecilia spoke out as she would look up at the logo for AFW and then turn around to the crowd again. " You all know who I am, right ?" Cecilia let out and the crowd answered by cheering, a few shouted her name a few cheered, some catcalled and some just whistled. " Yeah yeah..you guys know. I mean...come on ? Really, who am I kidding, right ? Everyone here knows who I am." Cecilia spoke out as she would take a few steps towards the ropes, leaning back against them as she kept the microphone up against her lips.
" What exactly am I out here for then ? Do I have some bitch I'm gonna call out and smack down ? No more than usual no. Do I have any annoying cunts trying to mess with me for the simple fact that I AM THE BEST ? Not any more than usual." Cecilia spoke out as she would roll her eyes at the thought. " You wanna know why I am out here ? I'm out here to tell you what's wrong with this entire picture." Cecilia voice was filled with a bit of a annoyed yet ironic tone of voice. " See, you all know who I am. Everyone knows who I am. I've beaten champions, former champions, I've beaten every one and I'll continue to do so for as long as It keeps me entertained. I don't want to say that I'm here for anything as trivial as fortune or fame...but don't you guys think it's kind of weird ? " Cecilia let out, shaking her head slightly as she moved off of the ropes and started to head up towards the center of the ring.
" Where are my shots ? Where is my hype ? Where is my boost ? Where is my face on the merchandise? On the fucking intros, covers, what-fucking-ever you can think of! " Cecilia let out a light chuckle appearing out of her lips as she'd look out at the crowd again. " Where is my fifteen minutes of spotlight ? Don't tell me that all I get is the Hardcore belt ? I mean, don't get me wrong it was a pretty piece of jewelry...but is that really how you decorate reward your finest warrior ? For shame." Cecilia let out, her tone more cocky and self-righteous by the second...at least she was self-aware of it as well, considering her entrance music choice. " The only explanation I've got for what the fuck is going on here is...maybe I don't kiss enough ass ? Question is who's ass do I kiss ? Lukretia's ? Pfffsh! Yeah right. In your dreams." Cecilia shrugged her shoulders as she would bring the microphone down, the crowd's reaction was swinging back and forth...positive, negative...it was hard to tell. They were like a pendulum at the moment.
" Oh by all means. Go ahead, try and tell me I'm not the best around. I'll just prove you all wrong on that. The list of people I have left beaten down in my path is long....longer than anyones. So come on, whoever the hell who thinks they are up for the task, come out here and give me your explanation. Come out here and insult me, come out here and kiss my feet. I don't fucking care what you do. Just...anyone ? Like shouldn't be much to ask for, right ?!"
Last edited by LunarWolf on Sun Feb 21, 2016 12:29 pm; edited 3 times in total
She couldn't resist the opportunity. Vapor Rock began playing across the arena and to the surpise of most of the crowd out came the relative newcomer Kyoko Akan. What reason would the rookie have for confronting someone with so much more experience then her? The answer came as Kyoko brought the mic she had to her mouth. "Well you seem to be in a good mood. Listen miss Northman I don't think anyone doubts your ability as a wrestler or your accolades in that ring." Kyoko said sincerely, before her smile got more sinister.

"What we doubt is your ability to do it now. Yes you've beaten almost everyone that's come your way but what have you done recently? Every big match you've been in for the last while hasn't ended well for you, In fact your just a stepping stone for someone else's 15 minutes of fame...Someone like me." Kyoko said in a confrontational tone as she starred down the blonde.
Music soon started to play out of the speakers and a young woman appeared....someone whom the blond beauty had never seen or heard about before made her way out of greet her open invitation. She began to speak, as she started out seeming rather normal one could say, of course saying things that couldn't be counted as praise but simply showing she understood who she was facing.

However, soon the woman began to spout things that could be counted as nonsense. Cecilia would roll her eyes, her hands tightening around the microphone and into a fist as she would raise that microphone up to her lips again. " Someone like you ? A nobody who thinks she's hot shit ? Hah!" Cecilia spoke out as she would start to walk closer towards the new girl. " Bitch please, you haven't even learned how to crawl yet, don't you think it's a bit soon for you to try to run already ?"
It was surprisingly easy to piss off Cecilia who made her opinion of Kyoko quite clear. It was a bold move on her part, anyone with half a brain could tell you that. Kyoko may have been an experienced competitor in the indies but she small time compared to the woman in front of her. Of course that was exactly the point, Kyoko needed any opportunity to make her name mean something and if she wasn't willing to take giant leaps, she might never reach it. Because everything Cecilia complained about, she wanted and she didn't really have many reservations about how she was going to get it.

"First off I'm not a nobody, the names Kyoko Akan, all though some have given me the accurate title of 'the belly queen' but that doesn't concern you. And second, while I may be just learning to crawl, your slowing down and everyone, even your fans can see it, your potential has been wasted on petty victories that you've clingedd too rather then making anything amount to it. You could have been so much more then what you are but what could have been is behind you. It's different for me, everything I can be is right in front of me and I won't follow your example and have it go to waste, any opportunity I see I'm  taking. But out of respect, I felt it important to come out here and give you what no else was willing to do, the cold, hard, truth." finished smugly her eyes never leaving Cecila as she ranted. Just poking and prodding and seeing where this opportunity brought her.
Before another word could be said, a familiar theme would start to play, interrupting the two wrestlers.  Most of the crowd would boo, though a few cheering fans could be heard as Sermis made her way out, with a mic in her hand.  "Oh my, what do we have here?  Two so-called queens arguing with each other?  We have Cecilia here who is complaining she doesn't have enough fame but the rookie is right, recently you have been losing every big match and you are perfect as a stepping stone, though for me." stated Sermis as she stared at Cecilia before moving her eyes towards Kyoko.  

"And then what do we have here?  Some unknown girl just comes out of nowhere and calls herself a queen?  You make is sound as if it suddenly makes you a better wrestler, as if it suddenly grants you experience!  Why don't we just start calling everyone queens!" stated Sermis as she then pointed towards and audience member.  "Hi you, why don't we call you the Queen of Holds and you over there, why don't we call you the Queen of Slams and you over there, let's call you the Queen of Muscles." stated Sermis as she pointed towards different audience members, mocking Kyoko self-imposed title.
_________________
AFW Discord Room Chat
The Storm Tournaments
My Wrestlers and some notes



Posts

: 3818


Join date

: 2015-05-28


Age

: 29


Location

: Eye of the Storm



The intense stare down between the two was interrupted before anything could escalate further as another wrestler answered the call Cecila offered. Kyoko did not appreciate being interrupted it what should have been her opportunity as she turned around to confront this new member to the party. She recognized the girl from a few of the tapes she had looked into as Sermis Languis and smiled amusingly as she proceeded to make a mockery of the confrantation.

"There's a difference here, I may be new but that's what gave the pleasure of doing some research on some opponents before getting here, and if I recall Cecila already stepped over you, quite thoroughly." Kyoko said her smile getting sinister as she continued. "And my title didn't come from me, it came from the fans and wrestlers I crushed in my way to this point that I crushed to get, but you weren't there so I understand the confusion I can just show you, or both of you, or as many girls who feel like testing me how I came to aquire it." Kyoko chalenged, not just at the two in the arena but it anyone and everyone in the roster.
Cecilia would roll her eyes at the words of Kyoko, she wasn't that foolish to not get what the girl was trying to do....but she would be lying if she didn't say that she didn't want to knock the so-called Belly Queen's teeth out. However, that wasn't something that she going to do just yet....if only for the fact that a familiar face showed up. The woman whom Cecilia had destroyed to the point that she had to be carried out on a stretcher, Sermis. A woman who much like this Kyoko had underestimated the blond beauty and thought her to be slowing down...though she was still spouting that nonsense.

After hearing their little discussion between each other as they insulter each other or boasted themselves to the other. Cecilia would shrug her shoulder and then shake her head. " Listen here bitches, you two are pebbles and I'm a mountain. You actually think you stand a chance ? Sermis here, the bitch queen is more than familiar with how badly I can mess people up and if that was done with me not being at my A game...slowing down...weakening as you girl's seem to say ? Imagine what I can do if I actually show off some real fucking power?! Huh ?!" Cecilia let out as she'd stretch out her arms, boasting a fair bit herself. Her pose basically saying to the two to just come at her if they dared.

The Blond would bring her hand back so her microphone was pressed against her lips. " Now, how about you two actually decide what kind of game you want to play here ? I didn't exactly make this shout out for nobodies, but...if I have to deal with you two first, I'll make sure to leave you both in a bloody heap on the floor." Cecilia spoke out, it was clear that she was using a lot more colorful terms and words to describe things than usual, her tone a lot more harsh and perhaps her attitude being a bit more...ferocious than normal. Probably was a result of the two ladies in front of her now who annoyed the hell out of the Swedish powerhouse.
Cecilia spoke up again, still high on herself as she talked down to both of them bringing up her victory over Sermis while taking their insults as something they should be worried about. Kyoko listened to the rant amused, while Cecilia did have the record to back up her accolades, it was obvious she was annoyed, somewhere along the line either her or
Sermis had struck a nerve, now it was only a matter of finding where the damage had been done and sticking to it.

"Oh don't get me wrong I'm aware your not completely washed up. I'm not so stupid as to assume you'll go down without a fight. A Lion is still a Lion afterall, it's just that when the next head of the pride steps up, they prove far more formidable. As far as what game I'm playing, I'm just being honest with the both of you. I'm here to take what I can I don't care who I take out along the way, you should consider it an honor to be in the futures presence Ms. Northman, some hold on for too long until the fans are sick of them and they are disgraced. By telling you how things are now, you can learn your place sooner and keep your dignity and the fans respect when you decide it's time to call it quits."
Sermis would exhale in an annoyed tone before grabbing the mic as she heard the two so-called queens debate with one another.  "First of all Cecilia, whether you know it or not, you did call me out today.  You asked for someone who can give you your 15 minutes of fame, who can put you on posters and put you on magazines and all sorts of interviews and etc.  Well, guess what, I can do that.  Maybe you forgot but outside of AFW I'm pretty famous and I got all sorts of connections and I've been in all sorts of movies and done all sorts of promotions.  Then again you really aren't that smart, are you?" stated Sermis as she made a reference to their previous match.

The raven hair wrestler would then shift her eyes to Kyoko.  "Which now brings me to you, what the fuck are you doing here?  What do you have to offer Cecilia?  If Cecilia beats you she gets nothing out of it, if she beats me, I can set her up with all those connections I just mentioned.  You're pathetic for a queen as you have nothing to offer if you lose." stated Sermis as she was looking straight into Kyoko eyes with an intense gaze.
_________________
AFW Discord Room Chat
The Storm Tournaments
My Wrestlers and some notes



Posts

: 3818


Join date

: 2015-05-28


Age

: 29


Location

: Eye of the Storm



It was starting to get annoyed that so many people were calling the blond beauty a someone who had already done their thing, that she was too old and that she should just give up and retire. The blond beauty wasn't even very old...nor was she done fighting. She would shake her head and then let out a loud laugh. The Swede couldn't help it anymore, she just wanted to tear into these two so-called challengers!

Sermis words were just useless at this point, what Cecilia wanted was to be the face of AFW, to get her deserved credit...not some random shit that some woman whom she had destroyed before in a match could offer. " Oh yeah ? I'm gonna get talked like that by a newbie called the belly queen and a whore who I destroyed ? You say my time is over huh ? Big Belly girl, well what the hell are we even talking for ? Get your fat ass in here so I can show you just how in over your head you are. Oh, and Sermis. As funny as it is to listen to your ramblings...stop being such a cocky little shit, and actually show off what you are made off. Oh that's right...you're a weakling and a loser, but hell if you want that rematch so bad then get in here you too. I'll kick both your asses!" Cecilia spoke as she would raise stretch her arms out wide shouting out without the microphone " Cause I'm the best!!"
Page 1 of 2 • 1, 2



Similar topics
---
Permissions in this forum:
You
cannot
reply to topics in this forum