Champions & #1 contenders
Highfly Flying Out Of Town
Tue May 22, 2018 1:31 am by HighFly
Hello everyone, I just wanted to inform all I have threads with that I will be gone from this coming Wednesday through Sunday. I won't be able to post consistently if at all during this time, but I will try to make up for it next week! I am sorry for the inconvenience to everyone.
Comments: 7
The Austrailian Mudslide is Back.
Sat Apr 21, 2018 6:20 am by Softsquad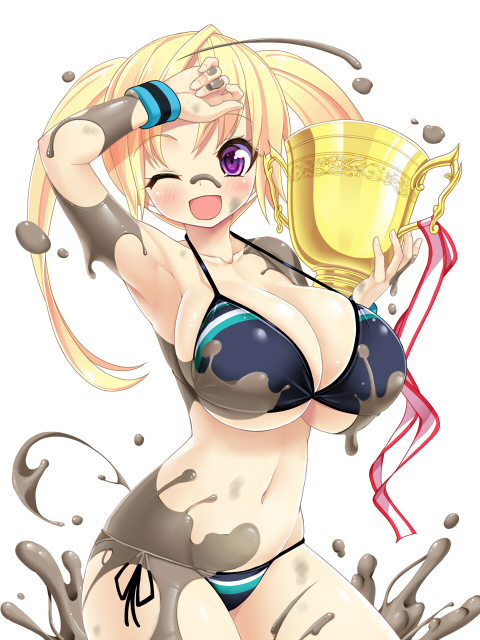 Granted that most of you won't know me or remember me, but I've had a few matches here and there some time ago. Well I think its time to become a regular around here and try to have some fun again, but at the same time keep coming back. Anyway I think its time to jump into some matches with Zoe Taylor, my mud wrestling character from Australia and get her back into the squared circle. Furthermore I will update my characters as I think some proper changes need to happen.
So if anyone would …
[
Full reading
]
Comments: 5
Page 1 of 4 • 1, 2, 3, 4


Match Type:
Smother
Victory Conditions:
In order to win, a wrestler must smother her opponent into unconsciousness using a part of her body.
***
The crowd had fallen into a bit of a lull after the last match, as the crew was taking more time than usual to get things set up. That lull ended abruptly, however, as they heard the familiar, sultry tones of one of their favorite wrestlers - Aisha. Dancing Sistah No. 1!
Usually, this was the part where she came out from the back and gave them an impromptu concert, and since No More was one of her sexier songs, they were really looking forward to it. Well, this time, they were disappointed. There were no girls, no dance number, no teasing some lucky guy near the steel stairs. Aisha came out from the back, dressed in her iconic golden Sistah A outfit, and strutted her way down the ramp, keeping her eyes focused on the ring the entire time. She slid in under the bottom ropes and made her way to the corner.
That was it. That was the entire show.
Most of the crowd was puzzled, and she could hear a few boos scattered here and there. Honestly, as much as Aisha appreciated her fans, this was one day when they were shit out of luck. She was coming off the heels of a three match losing streak now, and after her humiliating loss at the hands of Liberty, she needed to win this one and do it in a spectacular fashion. That meant no wasted energy - all of it was getting saved for her opponent.
That also meant she accepted a Smother match. While it wasn't quite pure hentai, it was still a lot closer than she'd planned on getting when she came into the AFW. But her agent insisted she take it, especially after Liberty facesat her into oblivion a couple of months ago. She needed to show she could hang with the raunchy style that these fans were accustomed to. New ballgame, here. Had to adapt.
Besides, they were putting her up against some new girl. As far as Aisha's agent could tell, whoever this 'Teresita Vega' was, she barely had any real experience in wrestling. The perfect opponent  to start a comeback with. Couldn't be easier. She'd outwrestler her, then sit on her face instead of pinning here.  .
Aisha warmed up in the corner, bouncing on her heels and sparring with her shadow while the music died down. She kept her gaze on the ramp, eager to see who they'd be sending her way.
Once Aisha was in her corner, and her music faded away, a new sound began to play over the speakers of the arena. The crowd began to murmur among themselves, as the air was filled with the sound of drums, an unfamiliar theme that no one in the audience seemed to recognize. The drums pounded away, building up for a full ten seconds, before a bass line kicked in, joining the drums, and soon after, a guitar followed.
It was at the sound of the guitar that
she
stepped out from backstage. Teresita Vega, a practical giant, stepped out onto the entrance stage, dressed in a black, silky robe, draped loosely around her body. The crowd began to whisper even more to each other, wondering who the woman was. They couldn't tell much about her, not yet, other than her height. She was tall, among the taller women in the AFW, but it was really all they could read about her.
Teresita paid them no mind. Her eyes were focused completely on the ring, gazing down towards the woman that was waiting within for her. She stood there for a few seconds, slowly and hungrily licking her lips, her eyes burning with an eager flame. This was what she had been waiting for. She had been in Japan for months, waiting for this night, waiting for her debut, waiting to finally show the world who she was, and what she could do.
Needless to say, she was rather excited, though she didn't show it. Her face remained calm, even as she made her way down the ramp, towards the ring. Her head was held high, an aura of utter confidence surrounding her. Teresita was chosen by the gods, blessed by them with amazing gifts, and she
knew
it.
Once she arrived at the bottom of the ramp, she stepped around to the ring steps, climbing up them, one at a time, and then stepped out onto the apron, leaning over to pass through the ropes and into the ring proper. Once she was inside, she closed her eyes tight, throwing back her arms as she moved towards the center of the canvas, letting her robe fall off of her body completely...
Spoiler:
...and the crowd went wild at the sight. Her tall, dark-skinned body, her extremely generous curves, her wide ass and her gigantic chest, barely held up by the black and white swimsuit she wore...it was enough to drive the audience insane. She was an exotic, new sight in the company, and the audience was obviously liking what they saw.
But Teresita still paid them no mind. As her robe slipped away, she opened her eyes, turning her attention completely to Aisha again. She glanced over her, admiring the dancer's curves and her choice of attire. She looked nice. Quite nice, in fact, and it was nice enough to make the Brazilian want a closer look.
She began to step towards Aisha's corner, moving straight towards the smaller woman, a smile on her face as she approached her. She stepped right up to Aisha, pressing her body against the dancer's, leaning in close to her. She leaned in, her face right beside of Aisha's own, and inhaled sharply, taking in her opponent's scent. She stood there for a moment, just a brief moment, enjoying the feeling of closeness to the dancer, pressing against Aisha, before suddenly stepping back from her. She met her gaze, and gave her a sultry, knowing smile, before turning away, heading to her own corner to await the sound of the bell.
Oh, yes. She was looking forward to this.
At first, Aisha wasn't impressed.

She recognized the music - NERD, She Wants To Move.  Pretty standard stuff, espeically for the super-sexy mood they were always going for in the AFW. Aisha merely leaned back in her corner and watched the show, making sure to keep her eyes focused on her opponent.

At first, Aisha didn't see what all the fuss was about. Vega came from the back, dressed in this long, overly ornate robe, playing up the moment for all it was worth. A little theatre. Fine. Whatever. She could tell that the Brazilian beauty was hot, even in the getup, but so what? In this place, Aisha could turn a corner and run into three hot chicks, two of whom would likely be making out. Nothing new.

But then she came down the ramp. She got closer and closer. As she did, Aisha's eyes grew wider and wider. When she finally stepped in the squared circle and the two of them stood on an even plane, she couldn't resist letting her jaw drop a couple of inches. This woman was huge. The tallest Aisha had ever been in the ring with, during her entire professional career. She was by no means a small woman herself, but this giantess was at least a foot taller. A walking brickhouse.

Aisha was tough. She was a badass. She was an experienced tough, badass. But her heart began to beat fast with something resembling fear when Vega's height sunk in. Then, the robe came down and she saw all of her - the hips, thigh, the chest, the bikini that strained to keep so much woman contained - it beated faster than ever before. Only not with fear. There was a carnal sensation behind this excitement.

Lust.

She was so taken in the moment, so wrapped up in the heady fever that was saturating her skink, that she somehow didn't register that Vega was moving in. It didn't sink in until the woman's lumbering shadow was cast over her, and then it was too late. Aisha was cornered, nowhere to go, no room to move, no way to avoid the attack-

The feared attack, however, never came. Instead, their bodies touched, and a raw thrill ran up Aisha's spine. She shivered. She moaned. She tensed up, as an electric nerve set off between her legs. It only lasted a moment, and it probably wasn't even meant to do harm to Aisha, but that was exactly what it did. Oh, God, did it.

When Vega pulled away, she had to grab the ropes to keep from stumbling forward like a complete idiot, and she had to shake her head to regain her composure. She didn't have to look into a mirror to know that her face was sporting a bright red shade, showing clear through her dark skin. The scattered snickers from the audience were more than enough of a clue. Aisha closed her mouth, gulped, and tried to put on some semblance of a serious face again.

Now she was impressed.
Teresita turned back towards Aisha as she reached her corner, leaning against it in a casual manner, staring back across the ring towards her victim for the evening. She had to fight to hide her smile as she watched the former Rumble Rose's reaction to her. It was exactly the sort of reaction she was used to getting from people. The blush, the weakness in the legs, the loss of composure...she had seen it a hundred times before, and she would no doubt see it a hundred times more.

Eventually, the bell rang, and at the sound of it, the imposing Brazilian stepped out of her corner, heading towards the center of the ring to meet Aisha. Her head was held high, her hips swaying with every step, her overflowing bust bouncing slightly at the same time, as she moved to the center of the ring.

Once there, she gestured towards Aisha, calling out softly to her. Her voice was light, dripping with a sultry, lustful tone, her eyes still burning with desire, with excitement.

"Come, beloved," she ordered, raising a hand towards her. "Come, and let us see if you can impress me..."
Typically, when the bell rang, Aisha would come bursting out of the corner like a racehorse, bring the fight straight to her opponent and just started overwhelming her. It was a tactic that had served her well in Rumble Roses, and led to her being undefeated in street fights.

But here, things were different, and it wasn't just because she was fighting what appeared to be a descended fertility goddess. Her style was built for an opponent that was around her size or smaller. Vega was beyond her comfort zone, so far that she had absolutely no idea how to approach her. She was flying blind.

Vega's honeyed, lilting voice dragged her back to reality and forced Aisha's gaze away from her mammoth chest - a chest that looked like it was specifically designed to smother other women into unsciousness. She brought her gaze to Vega's eyes, wavered for a second, then hardened. Deep breaths. She could do this. At the end of the day, this was just another no-talent hentai wrestler. So what if she was tall? Her height just meant she'd make a lot more noise when Aisha kicked her head off.

"Oh, you want this, huh?" She brought her fists up and started to make her way out of the corner, bouncing on her heels as she neared. "Careful what you ask for beanstalk, 'cause I'm about to chop you down to size!"

With that said, Aisha skipped forward and swung her leg out, trying to hit Vega in the side of her knee with a quick shin kick.
Teresita followed Aisha's gaze, from her enormous chest back up to her eyes. She stared straight at Aisha, then as the woman looked away, she lifted her hand to her mouth, blowing the dancer a kiss. As far as she was concerned, she had already won this. Aisha couldn't even look at her straight. Again, it was something she was used to from her opponents, but tonight, she couldn't complain about it. She may had been undefeated back home, but here in the AFW, she knew there would be more and better competition than she was used to. She planned on staying just as undefeated, of course, but she didn't want to take any chances.

Her gaze focused, as Aisha looked back at her, bringing up her fists and talking tough towards her. She started to move closer towards Aisha again, but then the dancer's long, toned leg lashed out, striking her right in the side of her knee.

For an instant, a brief, fleeting instant, she wavered, her leg going wobbly for a split second. The Brazilian almost immediately shook it off though, straightening back up, glaring down at Aisha with a frown on her face.

"Ah..." She whispered, a hint of disappointment in her voice. "So you are like that then, beloved. It is...saddening."

With those words, she suddenly took a huge step towards Aisha. She reached out, grabbing for her arm, and would try to throw her around, trying to whip her straight towards the furthest ropes.
Bob and weave, stick and move.

Aisha's street fighting prowess shined through as she lashed out with her shin kick, one of her better moves. It was crisp and clean, a perfect strike that found its target and did everything it needed to do. She couldn't have executed it more perfectly, and that was why, when it didn't even seem to faze Vega, Aisha freaked out for a moment.

It was almost a moment too long. Though Vega was big, she stepped foward with surprising deftness, and if Aisha had been a slightly slower woman she might have been caught in the woman's wide grasp. As it was, though, she just managed to duck under the arm, narrowly avoiding capture, and she lived to fight another day. "Damn right I am, big girl." She muttered as she maneuvered around to Vega's side, feeling some confidence return. The look of concern was gradually being replaced with one of confidence.

She decided to keep the guerilla tactics coming, this time throwing out a right hook to Vega's side as she darted around the bigger woman. There had to be bones somewhere underneath all that tanned, luscious skin, and she planned on sinking her knuckles deep into them.
Teresita knew Aisha's type. She had faced this kind of woman dozens of times before. Sure, she was acting tough now, but the giantess knew what would happen as soon as she got her hands on the woman. She would melt down, become helpless to Teresita's touch, just like everyone that had come before her.

But first, she would have to actually catch her.

The dancer slipped from her grasp and ducked to the side, stinging the Brazilian with the right hook, right in her ribs. Teresita winced, briefly, but then just like with her kick, she shook off the blow, turning to face Aisha once more.

"Are you done yet, beloved~...?" She asked, frowning every so slightly towards the Rose. "I would very much like to begin our match for real, if you are..."
Aisha, once again, was the excellence of execution. Her right hook was one of the better punches in her arsenal, and she'd made many a Rose drop with it. Aigle. Spencer. It was enough to even knock the wind out of Dixie on her best day.

But Vega? She just took it. Didn't even slow her down, and she had a little taunt to put on top of it.

Those scattered snickers were becoming less and less scattered. Aisha narrowed her eyes and ignored them, as she glared Vega's way and tried her hardest not to stare at the bouncing chest. So, strikes didn't seem to have that much of an effect, even if she could land them? That was okay. Even though Vega was taller, that didn't mean she was stronger. She probably didn't work out all that hard, not like a real wrestler did. Not like Aisha did.

"Oh, don't you worry." Aisha stepped back, wiping her jaw off as she made some distance. "'Bout to give you all the fight your big ass can handle."

Aisha suddenly dashed forward with her hands up, trying to force Vega into a collar-and-elbow lockup. She was gambling on having the better conditioning between the two, but even if Vega could overpower her, that didn't it was game over. She knew that when it came down to pure mat skills, there was no way she'd lose out to a glorified porn star.
Aisha wouldn't even have to try to lock up with the giant. Teresita was more than willing to accept her gesture.

She raised her arms, meeting Aisha in her grapple, and planted her feet firmly against the canvas. She let the dancer try pushing her, but...she wasn't budging. She wasn't moving. She wasn't going anywhere. She was every bit the brick house that Aisha had thought she was at first sight. Solid, hard, and unmoving.

She stood there like that for several long seconds, letting Aisha push and shove against her, but then, with a heavy sigh, she finally began to push back. She flexed her arms, and began to shove the smaller woman, trying to force the dancer backwards, until she was right back in her own corner again!
Page 1 of 4 • 1, 2, 3, 4


---
Permissions in this forum:
You
cannot
reply to topics in this forum