Champions & #1 contenders
Summer Splash interest in Natasha Loclear?
Mon Apr 09, 2018 11:30 pm by daemongirl
Well my girl hasn't missed a summer splash yet, would anyone be interested in a match with her? Open to just about anything match wise, just pm me!
Comments: 1
Been Out with the Flu
Sun Apr 22, 2018 7:47 pm by daemongirl
Just letting those I have threads with know I've been out with the flu since early last week, but I will be back to posting tomorrow.
Comments: 0
The Austrailian Mudslide is Back.
Sat Apr 21, 2018 6:20 am by Softsquad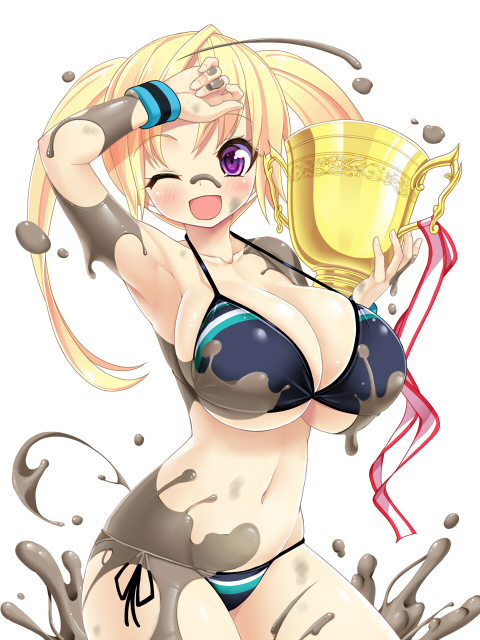 Granted that most of you won't know me or remember me, but I've had a few matches here and there some time ago. Well I think its time to become a regular around here and try to have some fun again, but at the same time keep coming back. Anyway I think its time to jump into some matches with Zoe Taylor, my mud wrestling character from Australia and get her back into the squared circle. Furthermore I will update my characters as I think some proper changes need to happen.
So if anyone would …
[
Full reading
]
Comments: 0
Page 1 of 2 • 1, 2


Bonnie felt silly and stupid. She was walking home from the AFW friction arena pouring her guts out to Emily Watson for forgiveness. She got it but in exchange, the brit let Nova DellaPietra publicly humiliate her in front of the thousands in attendance and the millions watching at home. It was one of the worst experiences of Bonnie's life and to make matters worse she had broken up with her girlfriend out of sheer guilt for the Emily incident.

But after it was all over and Bonnie had time to sulk in the locker room, she realized that her beef with Emily and Allison was over. She owned Allison and Jocelyn's contract and the former had gone into hiding following a facial injury. Emily got her revenge of sorts and everything seemed to blow over. The war appeared to finally be over.

The only thing Bonnie regretted was saying goodbye to Duffy... And as she sat there alone in the locker room, she realized she had the capacity to finally move on and that breaking up with Duffy was a horrible mistake.

She ran out of the arena, hurried into a nearby cab and asked for a fast drive back to her apartment, leaving the car with tears in her eyes, praying that her girl was still there, that it wasn't too late. When she finally reached the door, she practically crashed against it and banged hard on the door, mentally kicking herself for not having a key. "D-Duff! Duffy, baby it's me! Please yer still there! I-I'm sorry!"
The door didn't open for a long time. Several minutes without so much as a sound coming from the other side. After a moment, the door swung open, making a noise as it crashed into some cans that were on the floor.

Duffy looked like she hadn't slept in two days and maybe hadn't showered in longer. Her hair was frazzled and she had blood shot eyes with deep bags. She leaned forward and peered at Bonnie. Her mouth opened and there was the stench of alcohol on her breath.

After a moment, she inhaled, pulled her fist back and punched Bonnie as hard as she could in the face.

She turned around and marched back into the messy house and plopped onto the couch, flopping on her back and pressing her palms to her head.
Bonnie felt he heart stop beating as she waited for a sound or something that indicated Duffy was behind that door. The wait was maddening for Bonnie and she feared Duffy had fled the coop. She was seconds from turning away before finally she door flung open and unveiled a restless looking Duffy who looked ragged and messy and stunk of booze.

Bonnie herself had barely slept, her hair was a mess and her eyes carried black bags behind her reddend eyes. They were both messes staring at eachother, With Bonnie herself horrifed to see Duffy as such a wreck, she was about to open her mouth and say something before she was caught with a sudden punch to the face!

"GUH!" Bonnie's head whipped back and she flopped on her ass before landing on her back where she'd wince and rub her tingling mouth before she sat up and got to her feet. She was glad to see Duffy but frowned deeply at the sight of the torn up pad with booze cans everywhere.

Bonnie already felt guilty enough, now she felt worse. She'd walk into the apartment and plop down in front of the couch, struggling to say the right words before she finally spoke up.

"I'm sorry..." She finally said. "I never meant to hurt you, Duff."
Without pulling her hands from her head, she lifted her foot up and pressed it against Bonnie's back and gave the blonde a hard shove. "Fuck off." She barked. "Ain't no place on th couch fer ye, lassie." She added.

"Ye deserve more than a punch in her gob, ye cunt." She said and pulled her hands from her face. "Showin' up after all that shite an without even a pint in yer hand?" Duffy shook her head. "Been outta glegg fer at least a day. A couple a sorries an a snuggle ain't gonna be enough this time, lassie." She thought about sitting up but then decided against it.

"I'd tell ye ta kiss me arse but but ye might take it th wrong fuckin way!"
Bonnie jerked forward when Duffy shoved her and turned back to look at Duff, half angry, half wounded by her rejection and she knew she had this coming.

"I know..." She agreed solemnly but scoffed at about her girl needed more booze. She looked terrible and didn't need anymore. Bonnie knew she had fucked up, but hearing Duffy grill was eventually getting to the texan and she stood up sharply and turned to face Duffy.

"Aw fuck off! You think I'm PROUD of that letter I wrote!? You ain't gotta clue what I've been dealin' with! I just got humiliated in front of millions of people by that chick Nova and I finally got Emily to let go of everything and I come home to be reminded that I'm a bitch! Well Fuckin'-a thanks, babe!" Bonnie growled as she stormed around the living room, punting beer cans wildly.
Duffy shot up once Bonnie finished talking. She pointed her finger at the blonde. "Nay, lassie, I do know what ye been through! The whole fuckin world saw it!" Duffy narrowed her eyes.

"But A've been sittin back an watchin th ole thing! How many fuckin times A tell ye A was 'ere?! That I 'ad ye're back!? But ye did nae fuckin listen, did ye!? Ye ken why A dun nae know 'ow ye feel!? Cause ye wanted it that way! So if ye'er gon nae beg fer me ta let ye in an then get pissed cause A'm pissed, ye can take the pisser and fuck right off!"
Bonnie turned back to face Duffy firmly, fists balled at her sides, glaring at her with teary eyes.

"I thought you were gone, alright!? I thought ya got wise and left the damn apartment and forgot about me like I told ya to! I was ready to sign my life away ta' Emily and it didn't happen! I came back 'cause I knew I was a fool... I pushed ya away 'cause I didn't want ya ta' get hurt like my brother did! Or Yi Lan! Or poor Kagami! Seein' Allison choke ya out, that scared me!" Bonnie sobbed as she lowered her head and just cried it out. She wished she had done things differently in the Allison situation and her relationship with Duffy.

"I know I ain't been the best girlfriend... You ain't the first person I been with but... Yer the first I ever really cared about and that's the honest ta' god truth!"
Duffy shook her head. "Noo jist haud on! Why th' fuck wid Ah leave?!" She barked. "Yer fuckin daft!" She said. "But Ah've been tryin ta tell ye that this ENTIRE FUCKIN TIME!" She said and threw her hands in the air.

Duffy pressed her palms against her head. "Listen, bairn." She said, trying to remain calm. "A'm a pretty simple lass." She said. "Dunnae care much fer makin things 'arder than they need tae be." She said. "I told ye that a fight's a fight and ye fussed aboot it! Ahm appy ye'r worried fer me, but Ahm a grown lass. Ah signed up fer beatins an I dunnae care much if they happen tae me as long as I get a few swings in. Ain't like I cannae give it out, and ain't no cunt on this baw o mud gonna put me down fer good!" She said and punched her fist.

"But, Ahm pissed at ye fer not listenin tae one FUCKIN WORD AH'VE SAID!" She barked angrily. "Dunnae mean I hate ye. Ah still think a ye as me bonnie lass, but ah dunnae particularly want tae keek at ye right noo, ya ken?"

Duffy crossed her arms under her chest and sighed. "Dry yer eyes, lassie." She said in a soft tone with a frown on her face. "There ain't nothin tae feart."
Bonnie lowered and turned her head away from Duffy as she was schooled, still feeling foolish as her girl made it all better, she never did listen. But she liked to believe she could control everything just like the good old days.

"I ken..." Bonnie responded to Duff with a simple nod. "You... You gotta right ta' be upset... I was a fool thinkin' I could do it all on my own. Allison finally got beat but I'll I did was make the lives of everyone around me harder." Bonnie muttered as she rubbed her eyes and looked at Duffy finally but couldn't face her eyes.

"This is all new for me... Relationships and junk. Maybe trust too... But I promise, babe... I can do better." Bonnie said before she finally managed to look Duffy in the eye.

"I don't wanna think about anyone else in this world anymore except you."
"Aye..." Duffy said, frowning a bit. She nodded her head but her face didn't hold anger anymore. She was quiet as Bonnie dried her eyes.

"Oi..." She said and took a few steps over to her lover and pressed Bonnie's face into her chest softly. "C'mon, then, ye daft lassie." She said and kissed the top of Bonnie's head. As quick as the embrace was, Duffy pulled away and put some distance back between them. She knew that if she lingered, Bonnie would get a little clingy and as much as she wanted the embrace, she knew she had to stand a little firm.

"I love ye too, lassie." She said and smiled. "Else I wouldn't waste me time with it. So, it's all water under th' bridge, I s'pose." She paused. "When ye go an get me a pint!" She said. "Oh, and ye'r sleepin on the couch fer a couple a days." She paused again, her grin wide. "An Ah'm keepin the truck and all that money ye were so kind enough ta give ta me too!"
Page 1 of 2 • 1, 2



Similar topics
---
Permissions in this forum:
You
cannot
reply to topics in this forum