Champions & #1 contenders
Highfly Flying Out Of Town
Tue May 22, 2018 1:31 am by HighFly
Hello everyone, I just wanted to inform all I have threads with that I will be gone from this coming Wednesday through Sunday. I won't be able to post consistently if at all during this time, but I will try to make up for it next week! I am sorry for the inconvenience to everyone.
Comments: 7
The Austrailian Mudslide is Back.
Sat Apr 21, 2018 6:20 am by Softsquad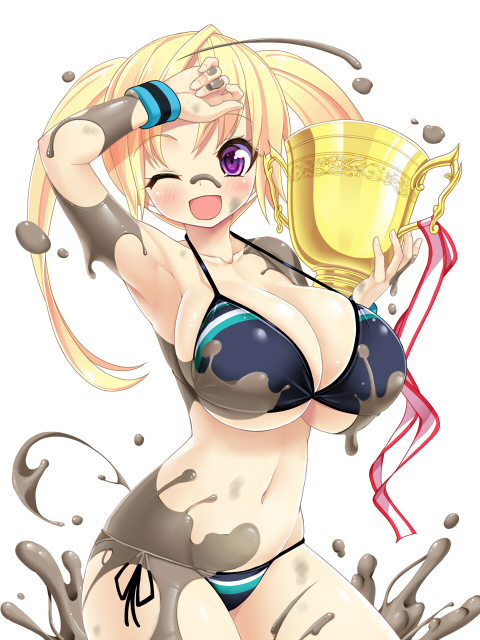 Granted that most of you won't know me or remember me, but I've had a few matches here and there some time ago. Well I think its time to become a regular around here and try to have some fun again, but at the same time keep coming back. Anyway I think its time to jump into some matches with Zoe Taylor, my mud wrestling character from Australia and get her back into the squared circle. Furthermore I will update my characters as I think some proper changes need to happen.
So if anyone would …
[
Full reading
]
Comments: 5
Page 1 of 8 • 1, 2, 3, 4, 5, 6, 7, 8


"Once again it is time to fight the fight in the ongoing war against the enemy..." Izzi announced as if giving a rousing rallying speech to her subjects, she yanked down a white screen up against the wall and grabbed the remote for the projector. The bright light shone directly onto the wall right beside it, unwittingly Izzi went ahead and pressed the button for the first picture.
"This is the face of the enemy!" The projector brought up a portrait picture of Jessica Wright face, Izzi clicked the button to bring up a second slightly different angled head shot  
"She is feared by our kawaii-kin..."
"Uhm... is she?" Dani suddenly put in
"What?"
"Well how do you know she's feared... Did you ask other kawaiis?" Dani pressed, more out of curiosity as to how Izzi would validate her claims
"She just is ok...?" Izzi clicked the button for the next Jessica picture
"She has breasts the size of two of our heads tied tightly together by a scarf..."
"Well... not really like two heads tied with a scarf..." Izzi sighed and looked at pesky waitress as she mused "Unless you mean one of them silk scarves... they are nice a smooth."
"FINE... Like two of our heads tied tightly together by a smooth silk scarf..." she clicked again for the next picture
"She is unstoppable..." Izzi turned to finally notice the picture was actually being projected onto the wall... But no matter, she calmly acted as if that's where she intended it to be all along. "But I will stop at nothing to ensure that a brat pack butt is put in her face!" To emphasis her point, Izzi moved up in front of the picture with her back to it... She bent over and then backed her ass up right into the full body picture of Jessica Wright...
"Uhmm.." Dani murmured, but Izzi ignored her and continued
"This is the visual you can expect to see... Jessica's face and my ass!" She said, wiggling her hips a bit
"But Izzi..." The waitress tried to interject again
"Hush now, I'm trying to show you how to give a good brat face"
"Maybe you should... uhm look..." Dani said nodding towards the wall... Izzi frowned and turned her head to look over her shoulder... Of course as the image of Jessica was a full body portrait, Izzi was far too small for her ass to actually reach Jessica's face like she had intended. Instead, the succubus's ass had placed itself right against Jessica's crotch so that it seemed like she was being taken from behind by the image of the purple haired wrestler.
Izzi quickly straightened up and coughed into her hand
"Any questions..?" Cham Cham put her paw up
"That is not about being humped by a projected picture." Izzi said with a scowl... And slowly but surely, Cham Cham put her paw back down
"You guys suck!" She said and then stormed out of the
Janitor's closet
Brat Pack official headquarters to go and get ready
***

Standard Match
Victory Condition: Pinfall, submission or KO
"Banana Splits" by The Dickies started to blare out really loud almost as obnoxiously as the person the tune proceeded... Shortly afterwards Izzi skated in on roller blades dressed in her purple lycra bike shorts and tube top set. On her back, the succubi bat wings she always wore flapped gently as she gave a quick twirl and then glided down towards the ring.
Spoiler:
Cham Cham came bolting out shortly afterwards on all fours, only the feline would be accompanying Izzi today as Dani had other arrangements... But that didn't bother Izzi one iota, in her mind she could take on Jessica without support and (in her own words) could go at her "With one hand and one wing tied behind her back!"
Down by the side of the ring, Izzi took a seat on the ring apron and removed the under-sole parts of her boots, taking off the wheels and revealing that they were just normal wrestling boots without them. Cham Cham caught up to her and while the feline collected up the blades, Izzi slipped in under the bottom ropes and quickly climbed to her feet.
Snatching the microphone out of the hands of the announcer, she turned and walked towards the set of ropes she had just entered via
"Jessie James Wright!" The little brat yelled over the mic, pointing a finger up towards the top of the ramp "Get your ass out here so that I can stick my ass straight in your face!" she said with a proud grin on her lips
Jessica was always ready to go. She had put herself in quite a few matches recently and still felt she could have had more bouts still. Any wrestler, anywhere, at any time. That was slowly becoming her motto and reflected on that as she pulled her wrestling outfit on. She would do everything in her power to ensure that it stayed completely on this time. There was a bit of a slip up with Sig and Jessica simply would no tolerate a second instance of that humiliation. It fit her muscled body nice and tight and and slipped on the gauntlets that came to adorn her arms.

She bounced a little as she tried to pull her shoes on. The right one came on quick enough, but the left one was a struggle. Later she would have to send a message down to her tailor to make them a tad bigger up at the top to account for increased mass in her thighs. After a bit of a fight, it came on and was laced up. Jessica was loose and limber and ready for combat.

The Violent Violet navigated her way towards the entrance. The arena was teeming with life and energy tonight, and that was just the backstage. All of the audience members and her opponent for the evening must have been absolutely buzzing. A few worker bees cast glowering aspersions at her but she paid them no mind. No one had informed her as to whom her opponent would be and Jessica wondered idly. Angel? Cecilia? Adrian Kytes? Surely someone massive who would provide a mighty good fight for her. She blinked idly as she stared at the monitor. Whoever this tiny woman roller skating down the ramp must have been some sort of announcer, ready to announce the real match.

Then she heard it. She was called out. By this whelp of a woman. Not only that, but she threatened to stink face her. What. The. Fuck. She had fallen a long way down if girls like this were challenging her. Jessica darted towards the entrance, grabbing a microphone as she went.

Little sister there's blood on the tracks...

A harrowing goth country tale blared over the loudspeakers as Jessica appeared. "I have no idea who the fuck Jessica James is," Jessica spat into the mic, "But I am not going to take that stick from you. Who the hell are you to say that shit to me?" She stormed down the ramp, eyes filled with fury. On the screen the girl was lilliputian, but in real life she seemed even smaller. The time between her entrance and the ring was gone in a flash and Jessica was soon standing tall in the ring. "What happens now?" She said menacingly.
It would have been normal to expect that now that Jessica was out in the ring, in all of her 5"10 glory, that the 4"11 brat might have been a little intimidated... If they were to have a face off it would probably be more like face to breast rather than face to face. Regardless Izzi grin didn't waver, in fact as she stood there with her hand smartly placed against her hips and her small chest proudly puffed out, it appeared that the insane kawaii was actually excited to see Jessica so angered.

Outside the ring, Cham Cham grizzled and growled at the back of her throat as Jessica entered... Sounding like an ill-tempered cat spotting an intruder and patrolling its territory

"What happens now?" Izzi repeated "Let me tell you 'what now'..." Without further warning, Izzi suddenly hopped forwards and swung her leg up, trying to slot it home up between Jessica's thighs in a low blow before the bell had sounded. As usually with the brat, it wasn't enough to just poke the bear...
Instinct, pure animal instinct, was usually Jessica's guiding light in most, if not all situations. Jessica's fury was in the driver's seat at the moment, and that anger did not tell her to be careful, or dodge, or really even be on the look out. Before the bell had even rung, her opponent had gotten an attack in, and what an attack it was. Despite Izzi's small size, the kick came in hard and Jessica went down to her knees.

*ring*

The sound of the brass bell echoed throughout the arena, beginning in theory what had already begun in practice. This was not a good way to start a match, literally on one's knees in front of the foe, but there was little Jessica could do about that now, post hoc.

The girl never wavered. Jessica could appreciate that. There was something so mischievous about her. And Jessica wanted to break her in half. More lurching than anything, Jessica sent a swipe of a right hook arcing towards Izzi in an attempt to even the score a little bit.
Izzi had gotten off to a quick start with the low blow right on target, the ref girl scrambled to get in the ring as quick as possible and (after throwing the bratty blonde a scowl) called for the bell. Izzi didn't pay her too much attention, instead seeking to mock Jessica now that she had the upper hand.

"Yeah!!  ..How'd you like them plums, huh?" She scoffed obnoxiously and went forwards to grab ahold of Jessica's purple hair.

The swiping hook tagged the little succubus on the side however, making her relinquish the hair before she had gotten a good grip. She retreated back a step, hesitating as she wondered if Jessica was going to shake off the low blow and jump right up at her... But Izzi's concerns were alleviated a little when she saw that Jessica didn't immediately bolt up.

Taking another step back so that she could get a short run up, Izzi suddenly rushed forwards at Jessica and aimed a drilling double-footed dropkick straight for the woman's sizable chest
Jessica learned something new every day. Yesterday she learned that she could in fact eat 30 eggs in one sitting and today she learned that some girls never learned the phrase 'how do you like them apples.' Maybe tomorrow she would learn how to dodge better, because she was not very happy with two tiny feet slamming into her chest. The Violent Violet lacked the motility to even attempt a dodge, and the tiny terror sent her sprawling on her back.

But not for long. Jessica had taken hits from girls perhaps twice Izzi's size and kept rolling and it was no surprise to anyone that she shot up as if she were electrified. In some sense, she was, as Izzi had made her livid. With two bounds, Jessica closed the gap between them.

By her count, Jessica had gotten the worse deal so far in this match. Usually she was the one cheap shotting, and usually she was the one going for the missile. The fact that this little bitch had the fucking temerity to even challenge her nearly sent her over the rails. Jessica would plant her left foot and swing her right leg towards Izzi's head, trying to see if she could knock it clean off.
Izzi landed on the mat with a pretty hefty bump on the rear after her fierce drop kick, it hurt her pride a little but at least she felt assured that Jessica's landing was a lot worse than hers. She rolled clumsily backwards head over heels and got back up to her feet as quickly as she could so that she could make out as if it didn't hurt or 'nuthing...

She still had the upper hand over busty American and so was still in high spirits despite the slightly botched maneuver. She turned around and paraded to the crowd, flexing her practically non-existant biceps and flashing a toothy grin. Down outside the ring, Cham Cham was frantically waving and weowing for some reason that the succubus wasn't enlightened to until she turned around. Jessica was back on her feet and full of beans

"Oh..." Izzi murmured, which managed to be both the "ohhh thats why..." sort of Oh, as well as the "Oh shit..." kind.

Without really thinking it through Izzi tried to charge at Jessica, figuring that if she could rush the bigger wrestler she could maybe keep on top of her... But the purple haired girl was already in mid flight and Izzi only ended up charging face first straight into the inner side of Jessica's right hand calf.

"Ouwff!!" Izzi huffed out, her feet flying out high in front of her as she was dumped down onto the the back of her head and shoulders on the mat. Her fingerless glove covered hands covered her face as she rolled onto one side
That was a little bit more awkward than Jessica had anticipated, but the Violent Violet could not doubt the kick's ruthless efficaciousness. Out of the corner of her eye, she did notice that this little kawaii's partner in crime was eagerly helping her opponent for the evening but she didn't mind. Jessica had gone two on one before and pulled out a victory, but she had to be aware that there was a little helper elf lurking one the sidelines.

Even knowing that, she did not want to dawdle. She got the first big hit against the smaller girl and had knocked Izzi all the way to the ground. The Violent Violet was a brutal woman and she was feeling particularly brutal tonight. Her gargantuan leg was raised high and then came down with great force.

And again. And again. Jessica wanted to stomp the joy out of this girl and ruin her whole evening. She put all of her power downwards in an attempt to keep her on the ground. Then Jessica could have her real fun. First she had to set up her throws and suplexes and bombs, and that always involved putting her opponent in a lot of pain.
Izzi was fairly stunned after taking such a heavy kick to the head, needing to stay down a moment to recover... But it was a moment that Jessica wasn't going to afford her it would seem as the bigger woman came to tower over her menacingly. The little brat barely even noticed her until the big red boot rammed down right on top of her exposed belly in a thumping stomp.

"POOOWFFFF!!!" Izzi let out with a bit of spittle, her arms and legs kicking up into the air from the impact... Even the upper half of her body lifted up a bit before slumping back down, coughing and spluttering. Then the boot came down again, at least the succubus saw it coming this time but the effect was still fairly similar. She huffed out deeply as her body and limb curled upwards around the boot.

Grasping at her stomach, Izzi started trying to roll away towards the ropes for some escape... The third stomp striking at her side and luckily being a little less effective then the others. She grimaced in pain and tried to reach a hand out for the bottom rung.
This little kawaii now tasted the unstoppable power of a real woman. The effectiveness of the last stomp had been vitiated by Izzi's attempt towards the ropes, but Jessica was still riding pretty high. Here in Japan, it was considered dishonorable to stomp an opponent while she was down, but as ever Jessica did not give a damn. What she did give a damn about was causing as much damage as she possibly could to this little girl which was something Jessica had a great capacity for.

Jessica took one step, then another, then she was towering over the little brat once again. She grabbed Izzi's legs and tried to drag her back to the center of the rings. Rope breaks had always interrupted Jessica's fun and she was sure as hell not going to let this particular victim make her way to safety. With Jessica in the ring, no one was safe. Not even cute little kawaii's.

If Jessica could drag her back to the center, she would really start bringing the pain. This girl had a little too much fight in her, and Jessica sought to drain her of that. With some quick positioning, she knew she would be in the right place for a quick Boston Crab. Not the most technical of moves, but it was one of her go-tos and it was always effective!
Page 1 of 8 • 1, 2, 3, 4, 5, 6, 7, 8


---
Permissions in this forum:
You
cannot
reply to topics in this forum