Who is online?
In total there are
42
users online :: 16 Registered, 1 Hidden and 25 Guests :: 2 Bots
321Shazam
,
Deus001
,
Harrier
,
Kelsea
,
KillerV
,
Liesmith
,
Link-mon
,
Mystery Dragon
,
Nelv
,
RJD
,
starvalentine
,
Tailslover13
,
Teesta
,
veritech892
,
Winner3
,
xalex
Most users ever online was
155
on Sun Oct 09, 2016 3:33 am
Champions & #1 contenders
Anyone want a go at Tracer?
Sun Apr 23, 2017 10:52 am by SleeperAgent94
OK everyone! Currently Tracer is in a feud with Widowmaker at the moment, and we are planning to have a blowoff match soon sometime in the next few weeks. This got me into thinking about where to take her next.
Unlike my more jobber centric wrestlers, Tracer is becoming one of those that I really want to push as my go-to Friction gal. As such I'm looking for any good heels (or hell, even serious faces) who wants to talk and see if something can be worked on

…
[
Full reading
]
Comments: 0
Apologies to those I have threads with.
Sat Apr 22, 2017 12:11 pm by Iron Soldier
The last few of weeks have been difficult Irl, and left me with neither the time nor the mental energy to Roleplay. 
That said, things appear to have eased up and I should be all caught up by tomorrow. Looking forward to continuing with my current RP partners and meeting new ones going forward.
Comments: 6
Holy not dead moly.
Mon Apr 17, 2017 7:17 pm by Fluffy Tail
Not sure how long it's been but it's fair to say I have not been back here in a long time.
To cut a long story short after a trip to the docs office I found out my life was in serious potential danger and I ended up disappearing for a long time. But after treatment was successful and I ended up not being dead I decided to come back. Big sorry if I left anybody dead in the water but my main focus was getting better. Hope there is not too many hard feelings as now that I am better I want to …
[
Full reading
]
Comments: 6
Name: Garm Takanashi
Sex: Female
Age: 32
Eyes:  Amber
Hair: dyed blonde with some turquoise in the back
Height: 5'7"
Weight: 165 lbs
Nationality: Japanese
Alignment: Heel
Entrance Theme - The Destroyer (Shared with Hazuki)
Wrestling Style:  While Garm is primarily a power grappler with hard strikes, most of her weight is from muscle instead of fat, and she's surprisingly agile for someone her size, able to pull off dropkicks and very limited and mostly simplistic form of high flying off the middle turnbuckle, usually just for clotheslines, shoulder tackles, and cross bodies.
Attire:  Same as pic:
Favored moves:  loves using shoulder tackles to knock lighter opponents to the ground, throwing hard punches, occassionally leaping off the middle turnbuckle for a flying shoulder tackle or clothesline.
Finishers:  
Moonsault: An admittedly awkward and unpolished move, and one that Garm doesn't often use, as it has a short range and while she's just agile enough to pull it off, requires her to be relatively fresh to pull off, making it less likely for her to go for it as the match goes on, and should she miss, it takes a lot out of her. Still, on the occassions she does pull it off, it's pretty effective, landing her entire weight on her opponent.
Top Rope Splash: An alternate finisher from the Moonsault, used when she's too tired or beat up to go for the former, due to its simplicity, though it lacks the extra height. Garm simply climbs to the top rope and leaps off, landing with all of her weight down on her opponent in a big splash.
Running Powerslam: Garm lifts her opponent onto her shoulder and takes a running start, before dropping down and slamming her opponent onto the mat with all her weight behind her.
Personality: Nowadays, Garm likes to consider herself as a prizefighter of sorts, willing to get in the ring for the right price or the right match, but otherwise content to sit outside and perform her bodyguard duties, so long as nobody gets in her face. Outside of the ring, she's a loudmouthed braggart who likes to talk big and eat big, but as long as she isn't provoked into a fight, is easy enough to be around.
History: Garm has always, since childhood, been a big, boisterous, brusier. From getting it fights at the playground, to competing in eating contests at fairs, to getting suspended from school, Garm was always provoking or letting herself be provoked into some kind of fight or competition. It was natural then, that she would choose the career path of a professional wrestler, where she could eat big, talk big, and fight big, and at the time, there was no bigger place to fight than the Wrestle Angels league.
While she never achieved much title success in Wrestle Angels, with her biggest win being a singles win over main star Chigusa Yuuki, Garm never really minded, content with fighting whoever was bold enough to step into the ring with the big bruiser.
Eventually though, the decisions by the leagues hire ups to push and promote the cuter, fancier dressed "Idols" of the roster meant Garm was getting pushed further and further to the sidelines, competing less against bigger names and instead being relgated to facing the smaller and younger rookies and training girls, most of whom she beat with ease. Eventually, without real challenges, Garm stopped having fun in the ring and became one of the many girls who chose to leave Wrestle Angels before it sank into a sea of debt and bankruptcy.
For a few years after leaving the ring, Garm found work as a bouncer, content with that line of work until she got a visit from another former Angel, Hazuki Musumi, who had an interesting proposal for her. Hazuki was joining the AFW, a wrestling league that started the same time as Wrestle Angels and had eventually eclipsed it so in popularity that they finally bought the league outright.
Hazuki desired to sign up and finally gain the glory for herself that she never got in WA, and wanted to hire Garm to be her bodyguard and tag partner. With Hazuki's promises of big pay, and that she would only have to get in the ring with competitive fighters and not small jobbers, Garm found herself excited and eager to put on her old ring attire and ply her trade once again.
Misc. Facts:
Garm is a big eater, and has in fact, been banned from a couple different resturants as a result.
While Garm will never actually turn down a challenge, she has no interest in fighting weaklings who can't compete with her, desiring strong fighters and enjoying the idea of being defeated as much as she does winning.
Wins 0/Losses 1
Garm was defeated by Alaina Sanders via DQ
History:
1.
Garm and Hazuki debut
2.
Garm takes on Alaina Sanders in a tough match involving cheating!
LOSS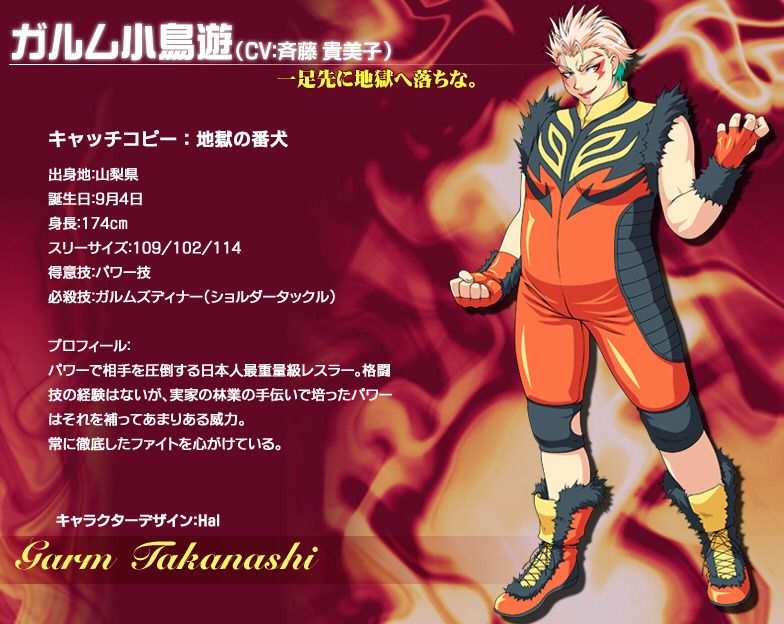 Posts

: 6515


Join date

: 2008-04-28


Age

: 26



---
Permissions in this forum:
You
cannot
reply to topics in this forum