Champions & #1 contenders
Highfly Flying Out Of Town
Tue May 22, 2018 1:31 am by HighFly
Hello everyone, I just wanted to inform all I have threads with that I will be gone from this coming Wednesday through Sunday. I won't be able to post consistently if at all during this time, but I will try to make up for it next week! I am sorry for the inconvenience to everyone.
Comments: 7
The Austrailian Mudslide is Back.
Sat Apr 21, 2018 6:20 am by Softsquad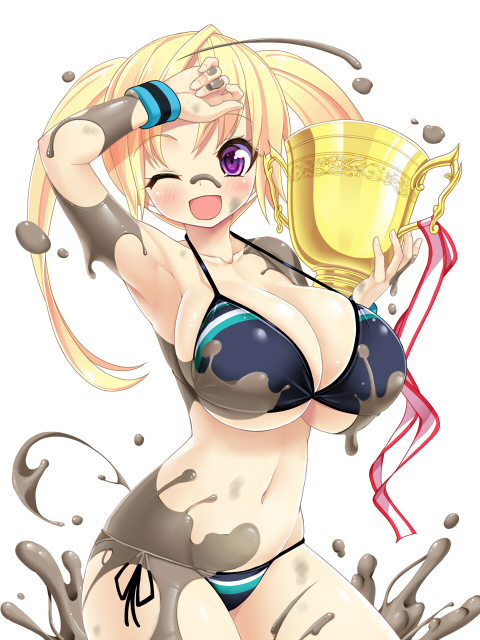 Granted that most of you won't know me or remember me, but I've had a few matches here and there some time ago. Well I think its time to become a regular around here and try to have some fun again, but at the same time keep coming back. Anyway I think its time to jump into some matches with Zoe Taylor, my mud wrestling character from Australia and get her back into the squared circle. Furthermore I will update my characters as I think some proper changes need to happen.
So if anyone would …
[
Full reading
]
Comments: 5

Alaina was a woman on a mission, still clad in her wrestling gear from defending her Entropy title against the eccentric, showboating, loudmouthed and totally overwhelmed Etzlicoatl.  Alaina, normally the friendly sort, was walking past the workers with a purpose.  Her face had a determined look etched on it as she was on her way to do something she was likely to regret doing.  

She wanted answers.  From Lukretia.  Now.  

The boss-lady of Friction totally threw the principles of the Entropy division to the wayside by giving some crazy woman Alaina ha never heard of before into the mix as the number one contender.  The title match itself was a laugher, with the royal sanguine serpent unable to even stand in the shadow of the amazon.  Alaina wanted to know what the hell Lukretia's little game was.  While Lukretia had a nice office at the headquarters, it was Hilde who had the boss office in the arena itself.  If Lukretia was in the arena tonight, she would be there.

Alaina saw Hilde's office in the arena and, going against her better judgement and probably doing something Junko would hate... Alaina brazenly burst through the doors and made her intentions very clear.  "Where the hell is Lukretia?  I need to talk to her NOW!"  Alaina said loudly, just shy of a screaming demand.
Last edited by HighFly on Thu Feb 04, 2016 11:24 am; edited 2 times in total
Hilde had been watching the match from her computer at her desk which sat in the antechamber to Lukretia Von Creuzfedlt's office. She didn't often get to sit in the GM's box with her since someone needed to hold down the office in case of, well...

Hilde put on her best smile as Alaina burst into the office still sweat soaked and in her revealing wrestling attire. "Ah, hello Ms. Sanders-" Hilde was taken quite aback by Alaina's outrage. She knew how Lukretia liked to tease and torment, but she had expected Etzl to be the on showing up, if anyone did.

"M-Ms. Von Creuzfeldt isn't here right now, Ms. Sanders." Hilde said, frowning apologetically. "She watches important matches from her VIP box. I could ring her if you-"

Once again, Hilde was interrupted when Lukretia appeared behind Alaina. "Ooooh, vell now." She said, stepping around to look at Alaina. She smiled and looked over the girl. "Congratulations, miss Sanders." Lukretia said, clapping her hands. "It vas a vunderbar victory you had tonight." The wicked smile never left her face as she stared up at the Amazon champion.
Alaina was still gasping for breath when Lukretia surprised her from behind. "Yeah about that victory... why the hell did you set me up in a title match with someone like that? Like, the fans deserve a title match not a title squash!" Alaina said, holding her arms out to the side with a befuddled, and exasperated expression etched on her face. The normally friendly, cheerful, respectful champ was downright livid.

"Not only that, but the women in the division and the title itself deserve better! I already know who I want to ask to challenge me, and as much as I absolutely hate the bitch, she is a legitimately good or great wrestler who has earned the shot!" Alaina crossed her arms across her chest, making sure to show off their definition and size. She knew Lukretia dealt with all manner of madness and didn't expect anything she was doing to phase her, however she did want to demonstrate that she did mean business with her rant! "Was that just some sort of joke because you think that little of the Entropy title, or are you just messing with me?"
"Oh?" Lukretia raised an eyebrow at Alaina's words. Her smile remained. "But, Ms. Sanders, you played your part perfectly. Better, even! I vas expecting you to make quick vork of ze girl ze whole time. It is how much confidence zat I have in you but, vith how crafty she managed to be in her Avalanche match, I had figured she vould have given you at least a little more trouble."

Lukretia shrugged and looked like she was going to simply walk into her office and be done with the conversation. "Vell, I am certain zat she now understands ze difference between lucky und good. I believe i shall have very little trouble from her in ze future. Maybe one day she vill take to improving herself as you have."
Alaina shook her head in disbelief. She was being totally ignored, or at the very least she sure felt that way. "My part? I am not some dumb pawn for you to use in a game!" Alaina said as she moved and stood directly in Lucretia's way, blocking her way. "You let Gwendolyn cheat her way to a long title reign, then used Julia and I in that triple threat match. Don't you realize that treating some title like a toy, playing whatever whimsey game comes to mind ruins it?" Alaina said, holding up the belt to emphasize her point.

"This may not mean anything to you, sitting on high in your office, but to us women inside the ring this belt means more than you could ever imagine!" Alaina moved right up to Lukretia, glaring down to keep hammering home just how serious she was. It wasn't the Friction Championship, or even the Hardcore Championship but to Alaina her Entropy title was everything to her professional world. "Now, unless you have any other games to play or flunkies for me to plow through I have a tall, powerful Violent Violet to challenge."


"Oh, Jawhol." Lukretia said, pushing herself against Alaina when the taller girl blocked her path. "If I recall correctly, by virtue of ze rules of ze belt you consider so sacred Fraulein DuPont Bettencourt vas able to maintain her place as champion. It vas only after intervening directly zat ze matter vas cleared up."

Lukretia smiled deviously. "Ahh, one ozher zhing I should thank you for, Ms. Sanders. Truly, you have become qvuite a remarkable wrestler after such a ... difficult start. You're coming in all your own und now, after all of your trials und tribulations, you are going to come into meine office und tell me zat you do not like it?"

Lukretia tilted her head. "Shouldn't you be thanking me for helping you become ze voman you are now who vishes to hold her title up so proudly? I had honestly expected somezhing more from ze fraulein." Lukretia shrugged. "Or maybe not. I assumed zhat vile she possessed no skill, she had some real guile. I suppose zhat I no longer have to vorry about her anymore."

Lukretia narrowed her eyes suddenly and lifted up her finger. She jabbed it into Alaina's breast. "Und vhat if you had actually lost?" She paused. "Zhen vhat vould you have had to say about ze belt you have held in such high distinction und even your own abilites? Once again, shouldn't you be here to tell me how quickly you dispatched of your opponent und how you believe it is a testament to your skill? I do not like people who bellyache, fraulein."
Alaina's cheerful demeanor was long gone, and she scowled at Lukretia as she spoke. "Yeah.. I'll give you that in regards to Gwendolyn." Alaina reluctantly admitted. That much was true... it did take Lukretia intervening to set up a match Gwendolyn couldn't cheat he way out of.

Alaina did get a nice hearty laugh when she heard Lukretia's claim that Lukretia made her into the wrestler she is. "Its because I like it here that I came into your office. If I didn't give a damn I would just happily settle for pushover matches night in and night out. However, for you to say that you made me into what I am is pretty funny. Last time I checked it was Taylor, Akashi, Junko, Julia and the rest of the ladies at the dojo who made me into what I am. I have never seen you train or wrestle."

When Lukretia jabbed Alaina's breast, any momentary joy she felt from Lukretia's claim was quickly gone. Alaina slapped her hand away immediately. "Don't touch me." Alaina said flatly as she stood right up to Lukretia. "If you want to confuse me being passionate about what I do and caring about Friction for bellyaching, go ahead. Just don't think that you can do whatever you like with people's lives just because you sit up in an ivory tower and look down on us."
Lukretia smiled. "I think you misunderstand your position a bit, Fraulein." She said. "It was convenient for me to use you to to teach zhat delusional rookie a lesson. I zhink zhat you vill find zhat ve are on ze same side vhen it comes to vanting only ze best competition ve can have. Do you zhink zhat I enjoyed vatching zat match? It vas shameful, but it had to be done. People need to understand zhere place in zis business."

Lukretia tilted her head. "It really vas not so long ago that I zhought of you in ze same vay zat I do about your most recent opponent. However, zat opinion has changed a bit. Enough zhat you vere granted a title opportunity despite most likely not deserving one in ze first place." She paused and smirked. "Und me alloving you to do some dirty vork zat must be done does not mean I vould trust you much more zhan zat. You forget zhat I started here as a wrestler und I earned every bit of vhat I have. I did because I put my nose to ze grindstone und did everyzhing zat vas asked of me until ze opportinuty to push further vas given to me."

Lukretia shook her head. "Nein." She said firmly. "I vill not be lectured by you." She said. "If you zhink zat I am abusing meine power or tarnishing ze reputation of your precious belt, zhen you clearly do not know vhat zese zhings mean."
For a brief moment, Alaina looked like she understood what Lukretia was saying, as well as the logic behind it.  Even if Alaina didn't agree with it, setting Etzli up against someone outside her league was one way to try to knock her down a peg or three...

"I get that you worked your way up, I plan on doing the same.  By the time all is said and done they'll be calling me one of if not the best woman on the roster."  Alaina said as she kept her stare fixed on Lukretia, not budging an inch.  "I have fought a heavier match load than just about anyone on the roster.  The fans wanted me, and I went out every time I've been asked giving them 100% every time.  I will defend this title and show everyone that I am a worthy champion, not just some dumb wannabe who was given chances she didn't deserve."  It was bad enough that she knew a couple of her best friends thought she got chances she didn't deserve.  Now her boss?  Of all the things anyone could say to Alaina, that old argument of her not deserving the title shots or title itself still stung.

"I might not know anything about being the boss, but I know what this title means to the women who have held it, to the women who fight to get it, and for the fans who watch the matches."  Alaina said as she grinned a bit.  "If you still have doubts I'd love to show ya first-hand someday how wrong you are.  Now if you'll excuse me I have clearly taken up enough of your oh-so-valuable time."  With that, Alaina moved straight for the door physically moving Lukretia aside if she tried to stop her.

---
Permissions in this forum:
You
cannot
reply to topics in this forum