Champions & #1 contenders
Moonhearts Promo intro thread is O p e n.
Mon May 21, 2018 4:21 am by XSirenX
Feeling brave?, lost?, or without a thread to post in?, hit up the newest Moonheart if any of those apply!
CLICK HERE
What Moon has to offer?, many things...:
Comments: 0
The Austrailian Mudslide is Back.
Sat Apr 21, 2018 6:20 am by Softsquad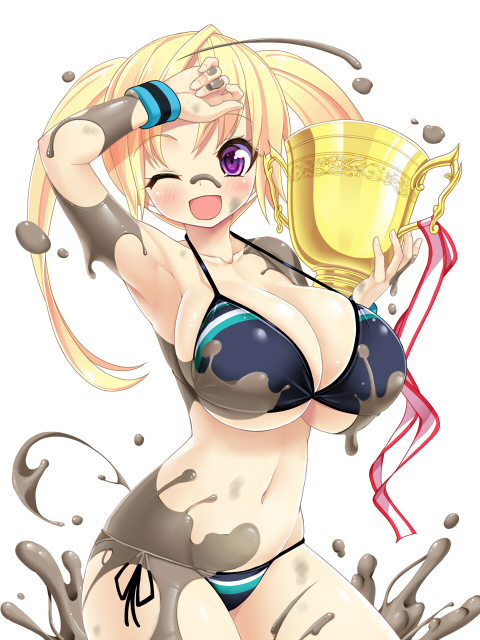 Granted that most of you won't know me or remember me, but I've had a few matches here and there some time ago. Well I think its time to become a regular around here and try to have some fun again, but at the same time keep coming back. Anyway I think its time to jump into some matches with Zoe Taylor, my mud wrestling character from Australia and get her back into the squared circle. Furthermore I will update my characters as I think some proper changes need to happen.
So if anyone would …
[
Full reading
]
Comments: 4

Are you ready for the new sensation? Well it's the shot heard 'round the world!
The audience in the AFW's arena went wild, at the first tones of the familiar, rockin' entrance music, the crowd jumping to their feet as AFW's favorite cowgirl made an unexpected, surprise appearance.
Spoiler:
With a grin on her face, Dixie exploded through the curtains and into the arena, rushing straight down the ramp and towards the ring. She barreled under the ropes and jumped to her feet, rushing straight to a corner, which she scrambled up, spreading her arms open wide as she addressed the crowd.
"YEEEEEEEEE-HAAAAAAAAAAAAW!
"
The crowd let out another round of cheers and yells, and Dixie jumped off of the turnbuckle, waiting for her music to die down and the crowd to go quiet before lifting her microphone to her lips, her voice ringing out loud through the arena as she began to speak.
"Now...ah know it's been a while since ah've been in this ring, but ah'm thinking it's time to change that!" She began, her blue eyes sparkling as she paced back and forth, looking over the audience excitedly. "Ya see, this year? This twenty sixteen? This year belongs to
me
!" She shouted, the cowgirl thrusting an arm into the air, her fist raised triumphantly.
"This year? Ah'm kickin' the ass of every single woman that gets in this ring with me! Ah ain't stoppin' until ah've made my way through this entire damn company, and ah ain't stoppin' 'til ah've got gold to show for it!" She continued, Dixie getting more excited with each passing moment. She meant everything she was saying. She had been in the AFW long enough. It was
her
turn to be the one walking around with a title around her waist!
"So ah wanna get this started right here, and right now! If there's any woman, and ah mean
any
woman in this company who thinks they're big enough to face me, then get on out here! Ah wanna see ya right now, front and center!"
With those words, she lowered her microphone, and turned towards the arena entrance, staring up the ramp towards the curtains. She didn't know who would appear, if anyone, but she was ready and willing for them, ready to kick some ass and get the new year started off right!
After a long pause, the lights cut briefly.  When they returned, the screeching opening notes of Billy Talent's "Fallen Leaves" filled the arena.  A woman emerged slowly from behind the entrance ramp, with a condescending slow clap and a microphone tucked into the waist of her jean shorts.
Spoiler:
Many of the fans were confused by her appearance, having been gone from AFW for some time.  Those that remembered, especially those that recognized the young woman from her brutal, violent encounter with Dixie Clement, erupted into loud jeers.  PHDoom had returned to AFW.
Cocking out a hip, Doom continued her slow clap until she shot the backstage crew a nasty glare.  Her music cut, and she slowly finished her "applause" for the cowgirl.  As the harsh crowd reception eventually ebbed, the sneering punk pulled the mic from her jeans and turned to Dixie.
"It's been so long since Doom graced you all with her presence," she said, "and so little about this pathetic excuse for a wrestling league has changed!"  The crowd jeered, but Doom continued, louder.  "So eager to cheer on vapid idols, more suited to wrapping their legs around a pole than a vulnerable opponent.  Performers, not fighters.  Performers like you, Dixie.
"Doom was informed that you would be here, tonight, Dixie.  Issuing your little 'challenge.'   And Doom couldn't help but come see you again.  You prattle on about challenges?  About earning glory?  Then how about you face Doom in the ring, once more?  Settle our old score, before you dare concern yourself with whatever pathetic dreams of 'gold' you have bouncing around in that empty blonde skull of yours!"  Doom extended a hand toward Dixie, motion toward herself with a sharp curl of her fingertips.  There was a murmer from the crowd, as they eagerly awaited the cowgirl's response.
The audience might have been confused by the opening beats of the entrance theme, but Dixie wasn't. Dixie knew that song all too well. She remembered what it meant, and who it belonged to.

As Doom stepped out from backstage, Dixie stepped towards the ropes, glaring at her, her hands tightening into fists at her sides. She still remembered the woman. She still remembered her match with Doom, and the woman's cheap, surprise on her after their match.

"Doom..." The cowgirl began, her voice quiet, yet still firm, an obvious sound of distaste for the woman in her words. "Been a while. Too long, if ya ask me. Ah had thought yer sorry ass had done ran away by now. Ain't seen ya in forever, yeah?"

She stared up the ramp, towards the punk, trying to keep calm as she watched her, waited for her to make any movements, to even think of coming to the ring. Dixie was ready for her. She wanted payback, and she wanted it bad. Normally she wasn't one to hold a grudge, but Doom had gotten under her skin something awful, and if the woman was ready to throw down, Dixie was more then ready for it.

"Ah'll take ya on. Ah'll take ya on right here and right now," came the Texan's answer to Doom's challenge, her voice growing louder with each word. "Ah've been wantin' another piece of ya fer a long time, girl! So come on! Get yer ass down to the ring and we can get this fight started!"
The corners of Doom's lips curled into a joyless grin, as she looked Dixie up and down. She paced from one side of the entrance ramp to the other, listening to Dixie say her piece, her energy growing with every word Dixie spat at her. In truth, Doom had been waiting weeks for this opportunity. She'd managed to get hers in, in their last encounter. However, the AFW record still posted a win for the veteran cowgirl. And that was something Doom simply couldn't let go unchallenged.

"You ask where Doom's been, cowgirl?" The brawler's condescencion was oozing from every word. "What's the matter, cowgirl? Does your simple mind grow fearful when you can't see things, like a child lost in peek-a-boo? Or have you been simply been missing Doom's peerless posterior? Is this what you wanted 'a piece' of? You disgusting slattern ..."

Doom began to move down the ramp, pacing with purpose. "You want Doom? You think you want this match?" As she approached, the crowd's voices grew louder and louder, anticipating the coming brawl. Even those that didn't remember their previous encounter were growing excited, feeling the animosity in the air. And then, Doom stopped.

"If you truly believe you want this match," Doom said, still standing in the center of the ramp, "convince Doom you deserve it. Convince Doom that this is a fight that you're truly committed to, and not another chance to parade yourself around for these drooling plebians! Doom has been training, readying herself. Becoming better. Stronger. And you, you cow ... You look as soft as you did the night Doom left you clutching your own bruised nethers in that ring!"
"Are ya crazy...?" Dixie asked, watching Doom warily as she approached the ring. "Yer comin' out to answer my challenge and then demanding that ah prove ah'm worthy to fight ya?" It was ludicrous. Dixie could hardly believe the nerve of the woman! Just how far up her own ass was her head shoved, anyway?

But...if that was the game she wanted to play, Dixie was perfectly willing to play it...

"Heh, soft?" Dixie asked, lifting one of her arms to her side. She bent it upwards, flexing it, letting her powerful, tight bicep bulge, turning her head to look at it with a grin before shifting her gaze back down towards Doom. "Girl, ya must have fergot some things...like how this cowgirl is as hard as a rock, and how ah beat yer sorry ass the beatin' it deserved all that time ago."

She lowered her arm and shook her head as she continued. "Committed? Shit. Ah'm more committed then you can even imagine, girl! If yer wantin' me to convince ya, then listen to this. Ah'll fight ya right here, and right now, under yer own stipulations! You can choose the match type, whatever ya want that ya think'll give ya an advantage over me, and ah'll kick yer ass a second time, jes' to prove how much better ah am than ya!"

She knew she had a high possibility of not ending well for her, but she wasn't scared. She wanted Doom, and she wanted her now.
Doom grinned, as Dixie watched her approach. It seemed Doom was causing the long-time fan favorite some discomfort, or at least confusion. Either was massively staying.

"You got a pin, cow!" Doom snapped, at the reminder of the result of their previous match result. "And Doom will again remind you, as you don't seem to retain things too well, that it was Doom standing over your body, last we fought!"

The brawler composed herself. Then, stated again. "So, for this encounter, why don't we make it something more ... decisive. A true fight, if you think you can handle it.

"Why don't you face Doom ... in a table match?" Doom half- dropped the mic, smirking at Dixie from across the ramp. The crowd popped at the prospect, eager to see the two hated rivals clash.
If Dixie was a smarter woman, she would have turned Doom down on the spot. She would have scoffed at the idea of a tables match, and demanded to fight her in something less violent and less painful.

But Dixie was fired up, and she was wanting a piece of Doom something awful. With the mood she was in, she would have accepted nearly any kind of match that the woman could have offered her!

"Fine!" She shouted, stepping back from the ropes, gesturing towards the center of the ring. "Get yer sorry ass in here! We'll do this right here and right now, and y'all will learn about messin' with this cowgirl a second time!"
Doom grinned mirthlessly, ear to ear, at Dixie's words. She had started pacing back and forth, getting herself worked up, waiting for the answer. She'd been waiting a long time to get the insufferable cowgirl back in the ring, and tonight was finally her chance.

When Dixie accepted, Doom was ready. She stepped onto the steel steps leading into the AFW ring, then onto the apron. Arm draped on the top rope, she shot Dixie a predatory grin before bringing the microphone to her face.

"I doubt Doom's education would be supplemented by one who unironically uses the word 'y'all,' but very well! You have your match, you ridiculous wench!" She turned to the back, shouting, "Bring Doom a referee! Doom's violence demands official sanction!"


Similar topics
---
Permissions in this forum:
You
cannot
reply to topics in this forum