Champions & #1 contenders
A match for Takeichi
Mon Mar 12, 2018 2:31 am by GrandAkumaShogun
Since both Imai and Takeshi are currently involved in matches I was wondering if anyone is interested in taking on my first wrestler I made for here, Takeichi Mori. His profile says he's a jobber but I intend to change that and hoping a match can help with that. Anyone interested please get in touch with me on here in a pm.
Comments: 1
Posting delays
Fri Mar 16, 2018 11:08 am by Yori
Howdy.
Should have made this sooner, since I hadn't informed everyone I have threads with. Posting has been and will be sporadic from me for a bit since I am in the process of moving. I have interwebs again, so now it is only a matter of finding the time. I won't be fully back until the tail end of the weekend (I hope) but I will be sprinkling posts out a bit when I find the free time.
Stay classy.
Comments: 3
Looking for a start
Sun Mar 11, 2018 9:47 pm by noob
Hey y'all! As is prolly pretty obvious I'm looking for a match. Win, lose, match type...I ain't terribly picky honestly and really am just looking to have a fun match. That being said though I do think it would be interesting to start a story line of finding a mentor or something for one of my characters.
Anyways my characters along with their descriptions, and maybe some preferences are in my roster link in my sig.
Figured I'd see if anyone was looking for something before going and …
[
Full reading
]
Comments: 0
Page 1 of 11 • 1, 2, 3 ... 9, 10, 11


So with our ever expanding roster of characters I'm sure many of us have lots of plans and brainstorming, with a hefty folder of images to use. That being said, I often wonder if some of the images I see on pixiv or danbooru will ever be used to craft a new character. So I'll start the topic by stating I'd be interested in seeing more Kantai Collection expies; compared to Touhou, the character design is far more risque and this extends to the fanart as well.

In particular, I think Nagato would make for a good medium/heavy expie character with a highly competitive prideful streak and some terrifyingly powerful punches. I've thought of taking her before but in retrospect I think it's better if someone else does so. Tatsuta is one I can see as on the opposite end being a more slippery, charismatic heel with an exotic flair and a satisfyingly effective submission game and a slightly yandere side. Lost more out there, those are just two off the top of my head.
Oh ho ho, I've seen SO many Pixiv and DeviantART fan made wrestling works, both as art and CG and I'd love to see a HUGE amount of characters from what I've seen to be here. But not as my characters, since I want my girls to fight them and either build a rivalry or a friendship. Most notably for me personally who I want to see on here is our old friend Jessica's, who is known as YuukiMMD on DeviantART, creation: Kaoru Fujikage



Posts

: 3014


Join date

: 2013-02-06


Age

: 24


Location

: Castle of The Guy



I've seen her around a few times, loved the MMD wrestling stuff. Character design for some reason made me think of an older Cirno from Touhou lol.
I'd personally love to see one based off of Nachi from Kantai Collection as well.
Last edited by LunarOcean on Wed Jan 13, 2016 2:17 am; edited 1 time in total
I'd rather want the lovable engrish speaking idiot Kongou from Kancolle.



Posts

: 3014


Join date

: 2013-02-06


Age

: 24


Location

: Castle of The Guy



I'm surprised nobody's done that. Great artist by the way, wish he'd do more wrestling stuff. I think Kirishima would be pretty funny too.
I can see Kaga as an olderl gentle giant type who appears slow and unassuming, generally not very threatening... until she snatches her opponent. Then she quickly wraps around them like an octopus, dragging them down and enveloping them in a web of muscled curviness and slow, massaging squeezes like a sexual python. She'd be a more experienced woman of few words who lights up with untameable sexual appetite the second she snares one of her opponents.
On the other hand we have Unryuu. She seems at first like a tired, slightly lazy big tittied airhead but displays a surprising speed and dexterity almost serlentine in nature. Her nassive breasts are thick and stout, perfect for slapping and smashing her opponents, but her sleek body and powerful legs grant this middleweight a rare finesse at the upper end of her class' weight spectrum. In spite of her sharply maintained body she's rather quiet and humble, talking little about her past as a stripper. Secretly wishes she'd get more attention over her abs and thigh muscles rather than her bust.
Also fixex the broken links further up.
As the local boatfag, I'm going to leave these here:
Musashi

Maya

Yahagi

Souryuu

And this bit too I guess
Oh, and some of Sarako's stuff on pixiv too, if anyone hasn't seen it.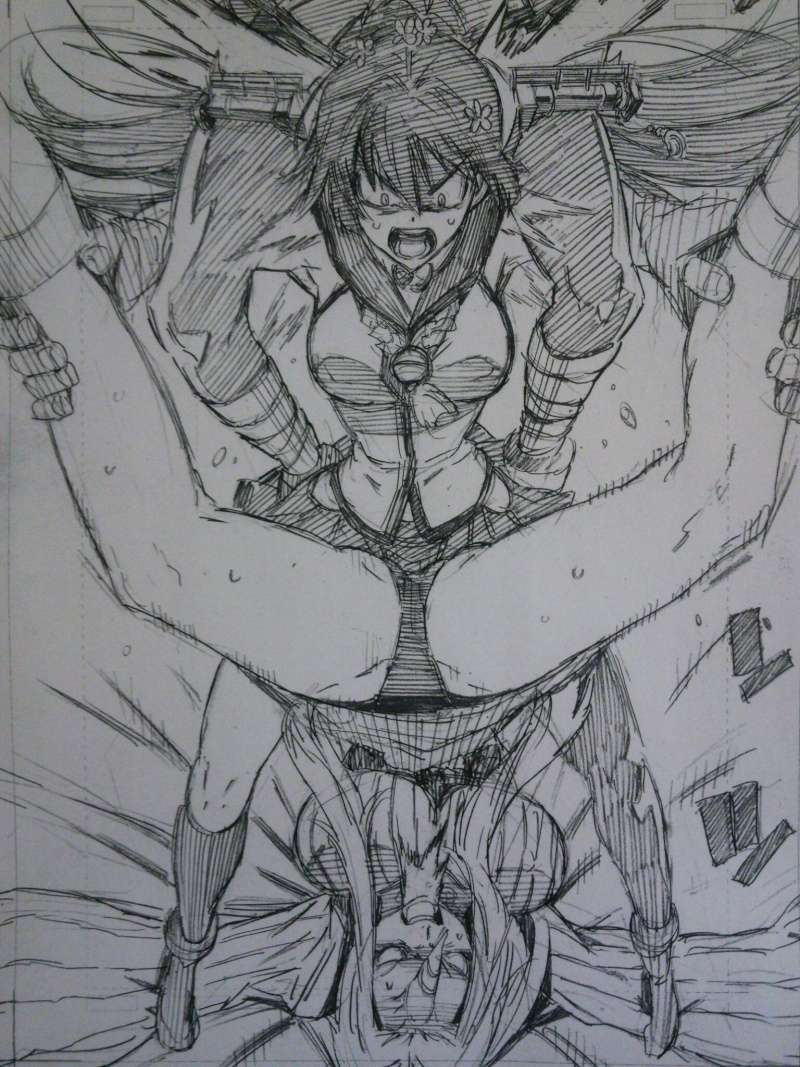 I honestly am hoping for a roster of Kancolle characters to be the rivals of my Touhou ones.
Alas I'm no good at writing heavies/experienced veteran-type characters, so someone else would make better use of those girls lol.
Page 1 of 11 • 1, 2, 3 ... 9, 10, 11



Similar topics
---
Permissions in this forum:
You
cannot
reply to topics in this forum