Champions & #1 contenders
Summer Splash interest in Natasha Loclear?
Mon Apr 09, 2018 11:30 pm by daemongirl
Well my girl hasn't missed a summer splash yet, would anyone be interested in a match with her? Open to just about anything match wise, just pm me!
Comments: 1
Been Out with the Flu
Sun Apr 22, 2018 7:47 pm by daemongirl
Just letting those I have threads with know I've been out with the flu since early last week, but I will be back to posting tomorrow.
Comments: 0
The Austrailian Mudslide is Back.
Sat Apr 21, 2018 6:20 am by Softsquad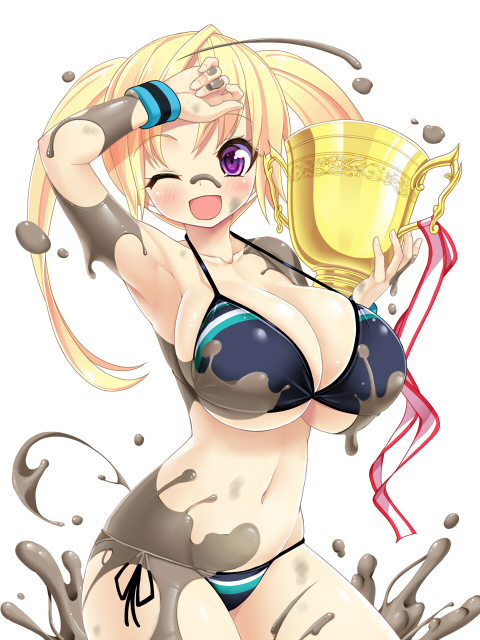 Granted that most of you won't know me or remember me, but I've had a few matches here and there some time ago. Well I think its time to become a regular around here and try to have some fun again, but at the same time keep coming back. Anyway I think its time to jump into some matches with Zoe Taylor, my mud wrestling character from Australia and get her back into the squared circle. Furthermore I will update my characters as I think some proper changes need to happen.
So if anyone would …
[
Full reading
]
Comments: 0
Page 2 of 4 •

1, 2, 3, 4


"Oh? Umm, a-alright then." Miko curiously stated when Chris mentioned having something for her. Considering the bitter chill in the air and the more personal direction their conversation was going, Mikoto thought it best to continue everything back inside her distinctly traditional home. Raking the leaves was her last chore of the day and she had a brewing tea kettle back inside she was more than happy to share with a friend.
Spoiler:
After guiding Chris along the patio and entering through some sliding doors into traditionally designed dining room, Miko would place her rake in the nearest corner of the room before heading into the kitchen. Preparing the Ginseng tea wouldn't only take a few minutes before Miko would reemerge with cups for them both.
"So, I guess we should probably start over. What brings you all the way up here? I suppose it's not for the scenery or to buy some charms or protective amulets. Though if you'd like to I certainly wouldn't stop you..." Miko gently laughed while sitting on the cushion across from Chris before taking a short sip from her steaming cup. Shilling the temples touristy goods and knick-knacks was another aspect of being a shrine maiden...
As Mikoto prepared the tea, Chris settled onto one of the cushions. Setting the envelope on the table, the American folded her blazer and set it on the mat next to her as sat down, crossing her legs under her while studying the room she was in.

She didn't have to wait long, for Mikoto returned with the tea quickly. Taking a sip, Chris closed her eyes savoring the taste for a moment before replying to Mikoto.
"Well, the scenery is lovely. Very....tranquil." the Californian said as she set down the cup. "But you're right, that's not the real reason I'm here.

With that, she pushed the envelope across the table to the Miko, waiting for her to open it. Once the priestess did, she would find a cashier's check within for the amount of 1.1 million yen. (roughly ten thousand American dollars) with the name on the check matching a certain well known American based international tech company, famous for it's smart phones and digital music sharing devices. Chris waited quietly, observing the priestess's reaction....




Entertaining guests was something of a rare occasion for Mikoto, the priestess never having quite amassed many friends back in W.A. given her knack for shying away from the larger cliques in the locker room. Though that certainly wasn't the case recently, having recently entertained her boyfriend Chuang. Sitting across from Chris Morgan of all people was increasingly surreal the more she stopped and thought of it, especially given how they first met...

It certainly put into perspective into just how much they've grown to known each other since then. Though that did make Miko all the more curious as to what Chris' intentions were this day.

"Hmm?" Miko placed her tea cup down and pryed open the mystery envelope. Examining and reading over it's contents thoroughly...once...twice...three times...her increasingly pale complexion and jittery hands perhaps not hiding the slack-jawed shock she was struggling to contain within herself. Feeling progressively light-headed as if she were about to tip over and pass out, Miko's eyes darted between Chris and the abundant amount of money in her trembling hand before she would emphatically lean forward and extend the check in question forward until it was inches away from the phenom.

"Nonononono!!!! We-We-We don't have enough protective amulets to cover all of this money!!!! I CANNOT accept this!!!! What is this even all about?!?!?" Miko's jittery speech was as horribly erratic as her heightened heart rate, the priestess instinctively refusing the immensely generous offer and wanting nothing more to return the money immediately!!!
Watching Mikoto silently, Chris began to wonder if she had sent the priestess into a seizure of some sort. The Asian's hand shook and trembled while her eyes flew back to the paper and the American.

When Mikoto refused and suddenly held the check towards her, Chris reached out gently, placing a hand on the smaller woman's and softly pushing it back towards the Asian.
"Mikoto, just stop and breathe for a moment and let me explain." the blonde said, trying to soothe the other woman. "I don't remember if I told you, but I work for an accounting firm back in America. And the firm works for many large companies, managing their money, doing our best to make sure that they're using it both responsibly and legally. While this tech company has their own accounting department, they sometimes ask an outside firm, us, to take a look and make sure everything is on the up and up. It turned out it wasn't. One of their own accountants was basically stealing from them. It was in much the same way that I found money was being stolen from the Wrestle Angels long ago, actually, which is what tipped me off. Anyway, the rest of the story short, after helping the company catch this guy, they wanted to reward us a percentage of the stolen money. However, we can't accept that. It just doesn't look...proper. But, we advised them to set that money aside to donate to a worthy cause."

Chris stopped and took a sip of tea before talking again.
"That was just before my return to Japan and joining the AFW. Once we had our match, I learned about what you and family were doing here with this shrine. Mikoto, I think that this company donating this money to your shrine is a good thing....for everyone involved. While it's an American based company, it is also an international one, and it needs good publicity out here in Japan. Publicity such as helping preserve a piece of Japanese art and history such as this shrine."

"So, I like to point out, this money comes with a few strings. Two, actually." the blonde held help a hand with two fingers up. "One, not that I think you and yours are the kind of people that would do this, but it needs to be said: This money can't be used on frivolous things. It can only be used for the good of the shrine. You know, like repairs, upkeep, paying for whatever supplies are needed to run it. Two, the company is going to send a spokesperson here, and he is going to have a small camera crew. They'll shoot a short piece for the Japanese media, talking about how while they're an ultra modern company, they're dedicated to preserving history and tradition...blah blah." Chris waved a hand dismissively, revealing her disdain for media in general, fueled by her own bad experiences with it. "But you or some of your family might be asked to pose for pictures or to give a short interview. A side effect of this is also the fact your shrine also gets some exposure, here in a Japan, and in a more limited fashion, back in America."

With that, she pushed the check back towards Mikoto.
"The decision is yours. It's a good offer, but it's not exactly free money. But, if you do take it, I promise I'm not going to drop the check here and take off, leaving you to deal with this on your own. I'll remain involved, to answer any questions that come up for you later, as well as deal with the company's people. So...what do you think, Mikoto?"
Following Chris' sagely advice, Miko took a deep-seated breath and settled herself down from being on the verge of a full-blown panic attack. She ended up needing the calmer state of mind to fully comprehend Chris' expansive though well-articulated explanation for where all this money was coming from. The legal jargon had almost lost her several times, but she remained mainly on point throughout it all. Taking note of Chris' mentioning of W.A., and how it was these shady practices that led to it's downfall. Something that had never been privy to the general public...

"Umm..." By the time it was Miko's turn to speak, it took her a few seconds to find the right words to express what she was going through. Despite having calmed herself down, it still felt as if she had just been through a whirlwind of a roller-coaster. Light headed and in a fuzzy daze. "I...I don't quite understand. No, I mean, I understand where the money is coming from. We would essentially just be a cog in a machine, a means to an end in the grand scheme of this corporation. It would certainly feel odd to accept it, having not quite earned it, I suppose."

"It's just..Chris, this money is everything to me. Coupling this with my own income, as well as the revenue generated from the shrine on it's own...I can finally bring my family back together to live here once more. The shrine would get the structural repairs it needs...the publicity from the investment and the interview could actually have it be granted as an actual Japanese landmark...and that would..." Miko paused briefly to glance down at the check to contemplate just how much that would mean to her. Not just for ensuring that her families legacy would live on well after she would pass away, but for a sense of honoring her father, and just how much this shrine meant to him. She cleared her watery eyes and looked back toward Chris.

"But...I don't understand...why me? I'm certain there are other struggling temples out there who could use this money even more than we could. It's just...I see this money on the table...and I can't help but wonder if it's because you're still trying to find redemption from what happened at the old federation. As if this, and your crusade against Hibiki and to protect us all...is just you trying to make up for something that was out of your realm of control. And...if you're giving me this money because you wish to achieve some sort of penance...than I just can't accept it. Because you didn't do anything wrong, Chris. You know that, right?" Miko earnestly questioned, hoping she had articulated her emotional opinion half as well as Chris had. Between the money and her injured arm, it just seemed like Chris was tearing herself apart from trying to make things right.
As she sat, listening to Mikoto talk, Chris smiled as the younger woman showed her understanding of the situation at hand. Although the priestess may not have had the experience at dealing with the world of business finance, her intuition had served her well. The blonde was also impressed by the way Mikoto reacted. Many people of Mikoto's age, back in America, would have perhaps instinctively balked at accepting the deal, not wanting to be viewed as a sell out, instead of rationally considering it's pros and cons.

However, Chris wasn't prepared for Mikoto to use that intuition on her. As the Asian mentioned that Chris might have been doing this as a way to atone, the blonde's blue eyes widened in shock for a moment. The statement was dead on, more so that she would care to admit. Reaching for her cup of tea, Chris drank, calming herself and trying to think of how to respond. Finally, she decided, and set down her cup.

"Mikoto, you don't know the story, the full truth of what happened back then. What...how can you say I don't have any sort of penance to serve?" she asked quietly.
As resolute in her insistence to handle matters on her own, even Mikoto knew better than to let her stubborn pride blind her to the opportunities that check on the table presented. Pragmatically considering her options was perhaps a sign of how much her life of burdened responsibilities has aged and imparted wisdom onto her. Outright denying Chris was her knee-jerk reaction at the beginning, but her noble dreams of earning enough money on her won...quite simply, weren't panning out. And this very well could be her final opportunity to rebuild her shattered home...

...but not if it came from her friend's sense of guilt, or at the cost of her mental well-being. Mikoto's morals were unshakable in that regard. Miko noticed that her words had hit a nerve, glancing down at her soothing cup of tea as she responded.

"...you're right, Chris. I don't know the full story, and I'll never ask you to tell me the whole story until you're ready to. I hope I didn't overstep my bounds, but I just know what I see. I see someone who has willingly chosen to be this lightning rod for all the world to target their hatred towards. Someone who fights her old friends and severely injures herself just to maintain that perception. Someone who runs to our rescue from backstage and is willing to practically save my shrine and...and..." Mikoto sighed and looked back up at Chris with a warm smile. "...and I dunno. I just don't know what someone with that capacity for selflessness and kindness could have possibly done to warrant all of that. I...uh, consider myself somewhat of an expert at shouldering heavy burdens...and I know you'll probably never accept any help, but...it IS here if you need it. Heh...I think, that's really all I can say..."
Chris sat silently for a long moment, thinking about what Mikoto just said. While she had confided in Valley Doll and told her fellow Californian her side of the story of her former league's downfall, she had yet to tell the tale to someone from the Wrestle Angels. Perhaps now was the time.

"I've been mostly silent about what happened. I told one person, but...she wasn't a Wrestle Angel. She was never affected by the league closing, so at the time she seemed like the ideal person to tell. She could be totally objective, and there wouldn't be any feelings to cloud her judgement." Chris said. "But, maybe I do need to tell someone from the Wrestle Angels. One of the ones whose life was thrown into disarray. Perhaps only someone like that, who has suffered greatly, can tell me how much guilt I deserve."

She met Mikoto's eyes.
"I told you backstage at the Arena that the day was soon coming that you'd hear the truth about what happened with the Wrestle Angels. I think today is that day. Do you still want to hear it?" the blonde asked.



Mikoto took Chris' moment of contemplation and the lull in the conversation as an opportunity to briefly examine the serene backdrop through the opened sliding doors. Enjoying the sound of ruffling leaves from swaying tree limbs as she took another sip of her soothing tea. She knew that someone as guarded as Chris would never willingly confide in someone unless it was from a place of genuine trust. Mikoto hoped that by now, and after all they had been through, she would have perhaps earned it.

The priestess turned back to Chris when she spoke up and recanted her first time divulging the truth to someone, passingly curious as to who that could have been until Chris mentioned granting Miko the same distinct privilege. Miko clutched her tea cup tightly to hide her slight shock, but never diverted eye contact from Chris.

"O-Of course, Chris...I'll hear out whatever you have to say. If, uh...If you think my opinion is one that can help you sort things out, that is." Miko kept her response brief, still taken aback by Chris' willingness to finally confide in her after all this time.
"Maybe you can." Chris mused. "Are you a fan of sumo wrestling?"
It was, perhaps an odd question, but the blonde went on to explain it.
"I am. In a strange way, I believe that sumo can be applied to a lot in life. A lot of people think that it's a sport of brute strength, and yes being strong helps. But it's also about balance. Ever since I've returned to Japan I feel like the past and the present have conspired to rob me of my balance. Perhaps telling you can help me get it back, somewhat. I warn you though, the full story is very long, and to understand it, I think you have to understand me somewhat."  

Chris took a deep breath before speaking again.
"I came to Japan and the Wrestle Angels a few years after graduating from high school. I left college, where I was studying business accounting. I was good at it, but becoming a wrestler was my dream since I was a child. Leaving defied my parent's wishes, and that wasn't something I did lightly. But at the same time it was my life, and my dream to chase. So after a long, heated conversation, I took the money I had been saving and came to Japan to sign up for the Wrestle Angels." she began.

"Of course, I had to be taught how to wrestle, but the league had their own development school for training their own crop of rising stars. So, I began training there the same day I signed up. You have to understand that back then the league was just starting to open itself up to having foreign wrestlers. However, most of them were already trained and came from other promotions, so they got put on the main roster right away. I was one of the few that actually had to be trained from square one, learning in a group filled almost entirely of Japanese women. I had prepared for a long time, and had learned more than enough Japanese to communicate. But...I wasn't ready to be shunned. I was bigger than all the other girls, and obviously American. It didn't help that I picked up on the techniques we were shown faster than the others. Somehow, I've always learned things faster than people around me. But, I never had problems making friends back home. I was outgoing and friendly, never bullied anyone with my size, or belittled anyone who wasn't as smart as I was. But, none of that helped here back then. The teachers went harder on me and the other foreigners. The Japanese students, well, their bullying was subtle. Hits and throws in sparring matches done stiffer and harder than normal. Our belongings always mysteriously moved from where we stored them. Never stolen, just moved, and we'd have to waste time searching for them, running the risk of being late to the next bit of training. Travel brochures for places in our home countries would turn up in our lockers and bags. Those sort of things. Eventually the others foreign girls in my group quit. But I was determined. I'd work hard, I'd become a great wrestler, and a better champion. I'd show my parents that this was my path, and one that I could be both happy and successful doing it. So, I endured. Eventually I made it through the developmental phase, and did well enough to actually earn a spot on the Wrestle Angel's active roster, to begin wrestling immediately. I was beside myself, Mikoto. A part of my dream had come true...I was a Wrestle Angel. My first night, I looked at the card. Other rookies from my group were either going either against each other, or against the lower ranked wrestlers. I was going up against Jena Megalight. I don't know if you've heard of her, but she was almost as strong as me, and far more experienced. She was a veteran from an American federation come to fight in the Wrestle Angels and was also...fourth...or was it fifth, in terms of who was closest to fighting for the title. Jena was also utterly arrogant, and had allied with Beauty Ichigaya in order to terrorize the rest of the roster. It was a name that a girl right out of training didn't want to see across from hers on a fight card but there it was. I was horrified, but there was something else I was feeling: anger. After failing to drive me out during training, they were going to to try and sacrifice me to that monster! But I didn't journey across the miles, leaving my family and friends behind to become prey, Mikoto. I resolved, right then and there, I was going to figuratively spit in the faces of my training mates, and those in the league who thought it would be funny to see me decimated by Jena. I swore to myself, and to heaven above, that Jena Megalight was going to be at my feet at the end of that match!"

Chris gave a rare grin, but it was full of vengeful satisfaction.
"She may have expected a lamb to slaughter, but what Jena got was a tiger. Right when the bell rang, I ran up and kicked her in the chest hard enough to flatten her to the mat. She scrambled out of the ring, with me right on her heels, screaming for her to stand and fight. The crowd was shocked for a bit before they got behind me, cheering at the sight of Jena in full retreat. Still, she was tough, a beast who wouldn't be beaten easily. And she had just been embarrassed. The match turned vicious after that. I bled that night, Mikoto, which was more than any other rookie could say for herself that night. But so did Jena, and again, no other rookie could say they blooded an opponent like her. It was an all out war, and at the end it was one I might of lost...if not for Risako. I was down, Jena had just German suplexed me for, what I felt was the hundredth time that night. I remember thinking that I was done, that I had nothing else left, and that despite all my efforts, I was going to end this night in defeat. That's when I saw this woman with purple hair and a leopard print suit at the commentator's table. I didn't know her then, but Risako was doing color commentary that night. And she hated Ichigaya and all those who followed her. But all I saw was this glorious, fierce looking woman, and she was screaming at me to roll. I couldn't hear her of course, but I could read her lips. Not to get up, like the crowd was yelling, but to roll. I had lost track of Jena, you see, and she was going to deliver an elbow from the top rope. I didn't see that, of course. I just did what my dazed mind thought was some warrior goddess was saying to do. And then I saw Jena crash to the mat where I was lying a second before. I managed to drag myself back up, and Jena did the same. That's when I hit her with one of the first moves I ever learned in training: the running lariat. Except unlike the other times I clotheslined her that night, she was exhausted, staggering towards me defenseless, and I was coming off the ropes, swinging with all I had left. I made Jena Megalight flip over with the impact. Risako told me later that it looked like a god decided to strike her down. Anyway, it was done. I was battered, and exhausted and bleeding, but I still remembered my vow to have Jena Megalight at my feet. I placed my foot on her chest, looking every bit like the conquering warrior as the ref counted. Honestly though, I also did it because if I laid down to cover her, I wasn't sure if I'd be able to get back up. The fans though, they loved it, on their feet cheering. I looked at the announcer's table for that woman....but she was gone. I really thought I had dreamed her up."

"I managed to make it to the back on my own, but before I could make it to the locker rooms, I started to collapse and my vision blurred. When someone caught me, I saw purple hair and I thought Jena wanted to continue the fight. But, my vision went back to normal, and I saw the leopard print suit. That's how I met Risako....and I when I look back on things....that's the very first moment I felt myself falling in love with her..."
Page 2 of 4 •

1, 2, 3, 4


---
Permissions in this forum:
You
cannot
reply to topics in this forum