Champions & #1 contenders
Summer Splash interest in Natasha Loclear?
Mon Apr 09, 2018 11:30 pm by daemongirl
Well my girl hasn't missed a summer splash yet, would anyone be interested in a match with her? Open to just about anything match wise, just pm me!
Comments: 1
Been Out with the Flu
Sun Apr 22, 2018 7:47 pm by daemongirl
Just letting those I have threads with know I've been out with the flu since early last week, but I will be back to posting tomorrow.
Comments: 0
The Austrailian Mudslide is Back.
Sat Apr 21, 2018 6:20 am by Softsquad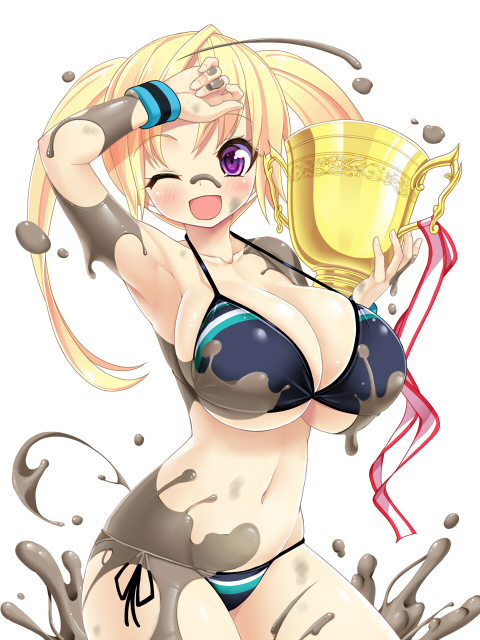 Granted that most of you won't know me or remember me, but I've had a few matches here and there some time ago. Well I think its time to become a regular around here and try to have some fun again, but at the same time keep coming back. Anyway I think its time to jump into some matches with Zoe Taylor, my mud wrestling character from Australia and get her back into the squared circle. Furthermore I will update my characters as I think some proper changes need to happen.
So if anyone would …
[
Full reading
]
Comments: 0
Page 1 of 4 • 1, 2, 3, 4


The winter weather had been unseasonably kind this year. The occasional uptick in the wind caused the deadened and crispy leaves to flutter around the grounds of the Kusanagi shrine, complimenting the peaceable ambiance that came with being situated in a densely wooded area of Japan. It's location on a tumultuous hillside meant that reaching the shrine could occasionally be a chore, though the lack of snow this year made the climb less troublesome. And therefore meant more frequent visits from travelers, tourists, and those simply coming to pray. What should have been a fortunate circumstance was the farthest thing on Mikoto's mind...
Garbed in her traditional priestess chihaya, including her bright red hakama and flowing white shirt with swinging sleeves, Miko steadily raked away at the leaves scattered across the stoned walkway with her back to the stairway entrance. She kept her head low with her mind buried in fleeting thoughts and miles away from the task at hand. She replayed her last encounter with Suzumi at their training session on an endless loop, wondering where she had gone wrong in her attempts to reach out to her best friend.
Nothing had gone right that day.
What was meant to be a harmless, run of the mill spar had devolved into a jumbled mess of blistering injuries and wounded pride. Neither one of them had made an attempt to reach out to eachother since that day. Not one single, solitary word. There were so many issues at play that Miko could hardly process them all. Though what stuck in her mind like an irritable splinter was Suzumi's accusation. That Miko secretly plotted against her this entire time...that deep down, Miko relished the opportunity to overcome her old mentor and step over her friend on her way up the hierarchical ladder of the league.
...Miko pondered that accusation more than anything else. It rekindled long since dormant memories of the last time Suzu and Miko squared off in the ring…and the disturbing lengths Miko found herself resorting to...maliciously targeting Suzu's injured leg…just to secure a win…her best friend…
*scratch*scratch*
"..Hm?...Oh..." Miko perked up from her dull-eyed daze to the sound of the scrapping of her rake on solid rock, so lost in her thoughts that she wound up raking nothing at all for several seconds. She rolled her eyes at her own absent-mindedness before walking up to another gathering of leaves. Raking them to the sides as she continued her deep contemplation...
Blonde hair was tossed by the mountain winds as Chris made her way up the trail that led to the secluded Kusangi shrine. Clad in white slacks, a matching white blazer and a red button up shirt. The blazer was thrown over shoulders instead of being worn, for the American's arm was bound in a sling. The all out battle between her and Risako had left the blonde on the injured list. The months since then had healed the bruises and split lip, but her doctor had recommended that Chris's shoulder continue to heal for another month. That meant yet another month that the Wrestle Angels didn't have someone with her strength to stand up to Hibiki Izayoi or Migiri Oozora. Of sitting and watching as events unfolded with her powerless to influence them.

Chris let out a frustrated sigh. She had let her rage at Risako carry her into a battle that, no matter who won, had nothing but negative outcomes for the Angels. One protector injured, another who hadn't been heard from since the match. The thing was, she knew that this fight would do nothing for the Wrestle Angels, but her desire to get back at Risako was simply too strong to resist. The Californian had turned some the anger towards herself these days, for letting her feelings about Risako cloud her judgment.

Finally, she came within sight of the shrine, making her thoughts shift to why she was here. In her good hand, Chris carried an envelope, one that needed to be delivered whoever ran the shrine. However she stopped, taking in the beautiful sight. The trail and the woods leading here had been pretty. But the shrine had an old, ancient elegance to it that made Chris pause and take in the sights as she wandered through the grounds, staying on the paths.

Then she caught sight of of what looked to be a priestess, raking leaves, her back to the wrestler. Chris came to a stop, her shoes and heavy step rasping against the stone. Not recognizing Mikoto from the rear, the blonde decided to try and ask for help.

(Excuse me?) The American called in Japanese. Although she was far from fluent, Chris had taken the time to try and learn the language during her time in the Wrestle Angels, aided by Risako. She knew enough to get by in casual conversation, but her accent was utterly atrocious. (Do you speak English? I need a little help)
The heavy clomping sound of someone approaching from behind would faintly register on Miko's radar as she continued her inattentive leaf raking. Fielding questions from tourists and wayward passerby's in as cordial a manner as possible was one of the many idiosyncrasies that a shrine maiden was expected to perform. Being the sole active shrine maiden nowadays brought that responsibility squarely on her shoulders, especially with her siblings having been sent away to live with relatives in the countryside.

Upon hearing the clonking footsteps and request for her attention, Miko inwardly appreciated the brief respite from her clouded thoughts to speak with someone for even the briefest of times. Miko turned to address what sounded to be a wayward tourist given the rather muddled Japanese accent, a cheerful smile across her face as she started speaking in her own well-practiced English dialect while turning around...

"Yes, of course~...How can I help-CHRIS MORGAN!!!" Mikoto yelped out her name on instinct when the statuesque blonde was revealed to be the wayward tourist, dropping her rake on the stone pathway before fumbling to pick it back up just as she was fumbling over her own stuttering words. "Wh-Wh-What are you going...How-How are you doing here? I mean-!!...*deep breath*..." After finally reacquiring the slippery rake, Miko straightened her posture and closed her eyes to take a prolonged breath to settle her nerves.

"...I'm-I'm sorry about all that Chris. I guess you just caught me off my guard there for a second...Like my wrestling world and my home life just sort of crashed into each other all of a sudden there...Heh...Umm...how-how have you been?" Miko nervously laughed at her own dreadfully embarrassing reaction, not quite sure how she would explain all this to her mother if she were to awake from her nap. The difficulty of diverting her attention from Chris' wounded arm was becoming more of an obvious chore for Miko, glancing down at it briefly but too polite to outright ask about it.
Although she knew there was a chance that she would encounter Mikoto, Chris was still surprised by the unexpected encounter. Her eyes widened, and she gasped "Wha- Mikoto?!"

However the American recovered her composure far quicker than the priestess seemed to. Eventually Mikoto managed to get out coherent statements.

"It's alright, Mikoto. I..um, well I didn't expect to meet you either. Which, considering it's your family's duty to tend this shrine, was short sighted off me." Chris replied. "I'm, to be honest I've been better. Despite my...issues with Risako, she's still a force to be reckoned with in the ring."

As she spoke, Chris shifted her grip on the envelope she carried, not wanting to drop it.
The initial shock of seeing Chris simply waltz up to her while she was tending to her shrine was starting to wear off once they started speaking naturally towards one another. Miko didn't now why she was consistently startled out of her wits whenever running into the Phenom like this. Perhaps, even after knowing her all this time, the priestess hadn't quite adapted to knowing someone of Chris' celebrity status and was still naturally star struck by her...or perhaps Chris' finisher from their last match made Miko develop a nervous tick or fearful impulse around her.

"Ah, yes...Risako hasn't lost a step has she? Your match was quite the...umm..." Miko hesitated and looked at the stone pathway beneath them before taking a quick breath and returning to eye level with Chris. "Actually, to be perfectly honest, I couldn't finish watching it. D-don't take it the wrong way!! Watching two Wrestle Angel legends in the ring once more...it was an honor and a privilege to watch a match of that caliber again. Heh...it was just like the good old days. But I realized halfway into it that...I didn't want either of you to lose. I've...I've always idolized Risako from afar...and you're such a close friend who's only trying to look out for us all...I just...I just ended up...tuning out and reading the results in the morning. I'm sorry..." Mikoto slightly bowed to Chris to punctuate her apology, straightening herself with a forced smile and nervously eager to keep prattling on.

"...Umm...ya-ya know...we actually ran into Risako on the beach right after sharing that drink with you in that seaside shack. Suzu and I were just...w-walking along..." Mikoto's voice petered away into a low mumble from mentioning Suzu, gripping her rake with twisted and straining intensity. Once again finding herself focusing intensely on the ground beneath them, the bangs of her hair partially shielding the concern on her face.
Chris raised an eyebrow as Mikoto confessed to having seen Risako as an idol of sorts. In truth, the blonde was only mildly surprised at that. Most of the old roster had various degrees of hero worship for the Panther. Chris had been no different, at first. After all, Risako moved with a grace that the larger American couldn't hope to match, and she fought with the aggressive savageness of the animal she named herself after. Things changed once the two of them became lovers, and that hero worship changed and became deeper, evolving into a love that Chris thought wouldn't end. But she had been aware of the way the other women looked at Risako, with various degrees of adoration in their eyes.

Chris blinked in surprise as Mikoto mentioned running into Risako at the beach. That particular beach was a place of memory for the two of them, back when they were lovers. Waves crashing on the shore, lips locked together as fireworks in the sky heralded the arrival of a new year. The American gave a scowl, ruthlessly suppressing the feelings that the memory had dug up.

"Well, to be honest, I'm surprised that Risako would ever be at that beach." Chris said. "It was...well, in happier days it was a place we often went to together. How strange that her and I would be there on the same day."

She shifted her injured arm slightly within the sling as she looked at Mikoto.
"Suzumi...how is she? Did she ever see anyone about her leg? I know she didn't think much of the idea when it came from me...." she asked, a note of concern breaking through her even voice.

Mikoto hesitated when she saw the inner turmoil inside of Chris play out before her, noting her grimacing expression and how the inflection in her voice when she mentioned that beach. Just peculiar observations from Chris that made it seem like it was a special place for the both of them...which made Mikoto wonder if their was more to their relationship than just an amicable friendship. If that were the case...

"Oh, I'm sorry. I hadn't realized you were both such close friends at one point. I suppose that means your match was about more than just some professional rivalry then, wouldn't it? When we spoke with her on the beach, she seemed as motherly and affectionate as I remembered her...until you were brought up..." Miko sighed and scratched her cheek. "...I think she was just under the same assumption that I once was. That you were just some cold hearted bully who bankrupted the old company for her own financial gain and is out to do the same to this one. It seemed like she was more...disappointed with you than angry." Mikoto stopped herself there and decided not to broach that subject any more until she got a firmer understanding for Chris and Risako's relationship. Telling Chris the truth about that day seemed to be the only thing she could think of to say.

"Suzumi...She...She's good...She..." Mikoto's chipper voice gradually eroded as she spoke up, her polite and priestly demeanor doing the same as she started slumping her shoulders and avoiding eye-contact with Chris. Hiding her face and summoning the will to speak up a few seconds later.

"...you were right...you were right all along, you know. About her injury and the toll it can take on you, mentally and physically. We were right in the middle of a spar that had gotten out of control, and no matter what I said to her...she thinks all I want is for her to fail. I...I was just so angry that she would even think that of me. I yelled at her..and ended up sounding just like you in that beach shack. Now she wants nothing more to do with me. She...She used to call us sisters all the time...Now, we're not even that anymore. We're not tag partners...we're not friends...I tried my best to help her get through whatever was troubling her....and she just hates me so much..." There was a noticeable lump in her throat around that particular word, giving it a high-pitched inflection as Miko tilted her head back up. Her smile was blatantly forced and clearly wasn't indicative of the turmoil tearing her up inside, Miko trembling slightly as her clenching fists twisted a torquing strain on the wooden rake...
The Californian nodded at the priestess's statement about Risako.
"I don't think Risako has much in the way of kind words when it comes to me...." she replied, drawing herself up straight. Whatever Risako thought of her, it didn't matter. She was here, and she had a purpose that didn't involve the former den mother of the Wrestle Angels' opinion.  



Chris's expression went from it's usual neutral, poker face to one of stricken sadness. Mikoto didn't deserve to have that happen to her, to be on the receiving end of that kind of unreasoning hate.
She put her good arm out, placing a hand on Mikoto's shoulder and squeezing it reassuringly.
"I'm sorry... so sorry, Mikoto." she said softly with a gentleness that sometimes surprised those that didn't know her well. "For what it's worth, what you did, what you said, it all came from a place of love for Suzumi. You have nothing to blame yourself for..."
Maintaining an aura of soothing peace and serenity was one more aspect of being a Shinto priestess that Mikoto dutifully upheld in every aspect of her life. Though her polite demeanor sometimes came at a great personal sacrifice, namely bottling up her emotions when they were twisting her up into knots inside. Normally she possessed the inner fortitude to do just that. But no sooner did the topic of discussion turn to Suzu than she found herself gushing over, on the verge of crumbling in tears before Chris' reassuring hand on her shoulder steadied her. She remained upright and pinched the bridge of her nose to dry her moist eyes, taking a throat clearing breath before lifting her head with a more honest and heartfelt smile on her face.

"...*sniff*...Th-Thank you, Chris. I didn't mean to just...unload all of that onto you. Seems like all we do recently is...hurt the ones we care about, huh?" Mikoto brushed one of her hair bangs out of her eyesight and gestured behind her to her house. "Umm...I think it's for the best if we finish this over a cup of warm Ginseng tea...or which ever you prefer. We have tons of flavors to choose from...if-if you'd like to come inside...of course."
Chris nodded as Mikoto thanked her. She was more than familiar with the concept of hurting someone who she had once cared for. Quite literally. She had the nearly healed separated shoulder to prove it.

When the priestess mentioned tea, Chris smiled, removing her hand from the smaller woman's shoulder.
"I'd love a cup of tea, Mikoto." the blonde replied. "And I have something that probably should make it's way inside the shrine, anyway."
With that, she produced the enveloped she had been carrying, preparing to follow Mikoto...
Page 1 of 4 • 1, 2, 3, 4


---
Permissions in this forum:
You
cannot
reply to topics in this forum