Champions & #1 contenders
Match For Max.
Thu Jan 19, 2017 12:52 pm by Scarf
Just wondering if I could get something going for my
newest Friction wrestler.
If anybody finds themselves interested or has any possible ideas for the future don't hesitate to hit me up, I'd be happy to hear from you.
Comments: 0
Inconsistent posting
Mon Jan 16, 2017 3:53 pm by RJD
I have stuff coming up in the next couple of weeks and will not be able to post anywhere near as often as usual/before. To be honest this has already been showing it's effects lately but it will do so even more from now on. I'll prioritise my Avalanche match and multi character matches but other than that I'll respond probably once every few days, I'll try not to leave anyone hanging though.
Comments: 10
Looking for Friction matches!
Sat Jan 14, 2017 9:07 pm by tehbohemian
Hey everybody just posting a notice I have 2 wrestlers that could use some love!
Shinobu just got out of her match and I'm looking for some wins or losses to add to her record, she is a serious fighter and is looking for more straight forward fights, she could be a good match up against other "martial artist" type characters looking for a challenge or she could stand up to a violent heel, anything works.
Sonic is also up for matches, people familiar with Ring Dream or Wrestle Angels should …
[
Full reading
]
Comments: 3
Page 1 of 2 • 1, 2

Makie Akamatsu
Height: 5'4" (162cm)
Weight: 115 (52kg)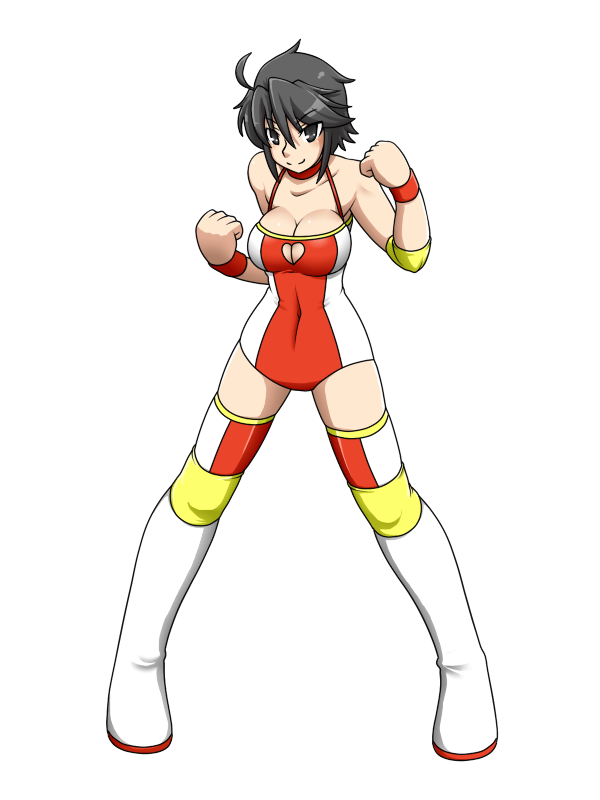 Vs.

Chesslara Rilynth
Height: 5' (152cm)
Weight: 105 (48kg)
http://www.afwrpg.com/t10724-the-emerald-moons

Match Type: Beat the Clock
Winning Conditions: Pinfall, Submission or Knockout
Special Conditions: Standard rules apply. Fastest times advance.
Last edited by Tatyina on Tue Mar 01, 2016 9:11 pm; edited 1 time in total



Posts

: 27333


Join date

: 2009-04-02


Age

: 96


Location

: VIP Box inside the AFWDome



The crowds were energetic tonight as they lined the stands, murmuring and chatting to themselves as they waited for the action to start. Another Friction match was about to begin, and even with a massive event like Avalanche going on, people still payed eagerly to see the attractive ladies of AFW go at it in regular matches. Tonight, hopefully, was going to be another exciting display of talent in a one on one match.



"Lotus" by Dir en Grey began to play in the background, and the fans cheered as Makie Akamatsu suddenly burst into the arena. Wearing her standard outfit-- white sports bra and boyshorts with matching boots and pads-- the youngest of the Akamatsu Siblings nonetheless acted her usual, energetic self, clapping her fans and appreciatively cheering her fans back as she made her way down the ramp. Hi-fiving a few fans as she walked past, Makie quickly burst into a run, athletically backlipping up onto the ropes and pulling herself up into a seated position on one of the turnbuckles.

From this perch, Makie stared at the opposite corner of the arena, waiting to see who would come out to face her.
_________________
UNDERDOG'S KENNEL:
FRICTION:
Emily Nelson, the Noble Fighter
Panther Risako, the Queen of Queens
Rainbow Mika, the Rainbow Warrior
TENSION:
Makie Akamatsu, the rising star
Kyo Akamatsu, the Samurai of AFW
The song Saber Dance starts to play as what looks like a pair of slim Identical girls walk down the ramp in nearly the same outfit except there is a moon patch on the left side of one sister with a moon on the right side for the other sister. The sisters reach the ring as only the one with the moon on the right side of her attire slides into the ring while her twin seems content to stay on the outside and not interfere in the match. Chesslara Rilynth will notice how much taller her opponent is even though she is perched on one turnbuckle and try to hide how nervous she is. Ginely will watch from outside the ring gulping to herself more listening to the much larger crowd than they ever performed in front of since making the trip to Japan. She would yell to her sister " just remember how we took down larger opponents before we got here and you will be fine." Chesslara will nod as she moves to her corner opposite of Makie waiting for the bell to ring hoping her opponent isn't going to be like some of the rough heels she heard that inhabit some of the different leagues.
Some more entrance music played, and Makie nearly jumped in surprise when she saw not one, but two identical girls stride into the ring. At first Makie tensed, thinking that perhaps she had unknowingly been set up for some kind of two-on-one handicap match, and given all of the underhanded things she kept hearing about the AFW management, she wouldn't have been surprised. As she watched, though, one of the girls stepped to the ringside, while the other climbed into the ring. So it wasn't a tag team, Makie realized with relief. Her opponent just so happened to have a sister who was cheering her on.

It was then that Makie realized that her opponent was significantly shorter than her. This was a first: Makie was used to fighting opponents who were roughly the same size as her, or larger (usually guys). To encounter a girl who was lighter than her....and possibly faster...was a new experience altogether.

Makie's surprise didn't last long as she focused on the match at hand. Meeting her oppnent's eyes, she settled, into her corner. As the bell rang, Makie hopped out, circling Chesslarra with her arms raised....
_________________
UNDERDOG'S KENNEL:
FRICTION:
Emily Nelson, the Noble Fighter
Panther Risako, the Queen of Queens
Rainbow Mika, the Rainbow Warrior
TENSION:
Makie Akamatsu, the rising star
Kyo Akamatsu, the Samurai of AFW
Chesslara will move to the center after the bell rings staying out of reach of Makie's grip knowing it will be trouble to get into a contest of strength with her. She will rush forward as if to try to grapple with her, but drop down to try and sweep her legs out from under her to knock Makie onto her back while hoping she is quicker than her opponent. If it works she will try to use the momentum to rise up then flip to land across her chest then roll backwards to her feet. If her opponent catches her before she can drop to try her leg sweep Chesslara will try to prepare herself for pain she will be soon experiencing.

While on the outside Ginely remembers Makie's look of worry that it was to be the two of them verse her instead of just her twin. She has no intention to do more than cheer her sister on in victory or defeat unless physically attacked while on the outside of the ring. She is more worried about the rumors that secret allies like to interfere in matches which could bring nasty injuries to her sister.
Makie had expected Chesslara to rely on speed rather than strength, and the lighter girl didn't disappoint. In the blink of an eye, Chesslara closed the distance between them, dropping low for a leg sweep. "Wha--?" Makie gasped, taken a little by surprise as the sweep knocked her onto her butt. Chesslara had gotten a good starting hit in, but Makie was no pushover: as Chesslara tried her follow up, Makie would try to roll out of the way. If she did so, then she would waste no time trying to spin back up to her feet and kick Chesslara in the side.
_________________
UNDERDOG'S KENNEL:
FRICTION:
Emily Nelson, the Noble Fighter
Panther Risako, the Queen of Queens
Rainbow Mika, the Rainbow Warrior
TENSION:
Makie Akamatsu, the rising star
Kyo Akamatsu, the Samurai of AFW
Chesslara went for the follow up splash except when she leaped to land across Makie she only grunted as she landed across the ring ground being her target rolled out of the way. Chesslara would work herself to her hands and knees pretty quickly except she was too slow to avoid the kick to her side that sends her back to the ground wincing in pain. She will try to roll toward the ropes to avoid any follow up Makie plans for her unless she is too slow from recovering from the kick she received with hopes to get to her feet.
Makie managed to dodge in time, and launched a counter that was too quick for the other girl to follow, sending her rolling sideways. She rolled rather quickly, denying Makie the chance for a follow up, so instead the Akamatsu girl followed after Chesslara as she rolled. As Chesslara reached the ropes, Makie grabbed at her arm to lift her to her feet. Upon doing so, Makie would whip her across the ring, aiming to follow after her and nail her with an enziguri kick.
_________________
UNDERDOG'S KENNEL:
FRICTION:
Emily Nelson, the Noble Fighter
Panther Risako, the Queen of Queens
Rainbow Mika, the Rainbow Warrior
TENSION:
Makie Akamatsu, the rising star
Kyo Akamatsu, the Samurai of AFW
Chesslara would feel relieved when she got to the ropes knowing if she got back to her feet she could attempt to launch a counter attack. When Makie grabs her arm to pull her to her feet so Chesslara would be sent to the other corner she would try to use her agility to lift herself on the ropes to kick backwards hoping Makie will be close behind her. She hopes Makie follows through otherwise her back will be really open for punishment. Ginely would still watch from the sidelines even though she really wanted to help her sister. When Makie kicked her sister she would cringe herself hoping that Makie isn't one of brutal wrestlers who love putting their opponents in the hospital.
As Makie followed after Chesslara, she tensed, readying herself for a brutal kick the moment the other girl followed up. Instead, however, she was taken by surprise as Chesslara mule kicked backward, hammering a booted foot hard into her face. "URGH!" was all Makie managed to say, spittle flying outwards as the blow snapped her head to the side, sending her spinning around in a daze and stumbling away from Chesslara, disoriented...
_________________
UNDERDOG'S KENNEL:
FRICTION:
Emily Nelson, the Noble Fighter
Panther Risako, the Queen of Queens
Rainbow Mika, the Rainbow Warrior
TENSION:
Makie Akamatsu, the rising star
Kyo Akamatsu, the Samurai of AFW
Page 1 of 2 • 1, 2

---
Permissions in this forum:
You
cannot
reply to topics in this forum