Champions & #1 contenders
Highfly Flying Out Of Town
Tue May 22, 2018 1:31 am by HighFly
Hello everyone, I just wanted to inform all I have threads with that I will be gone from this coming Wednesday through Sunday. I won't be able to post consistently if at all during this time, but I will try to make up for it next week! I am sorry for the inconvenience to everyone.
Comments: 7
The Austrailian Mudslide is Back.
Sat Apr 21, 2018 6:20 am by Softsquad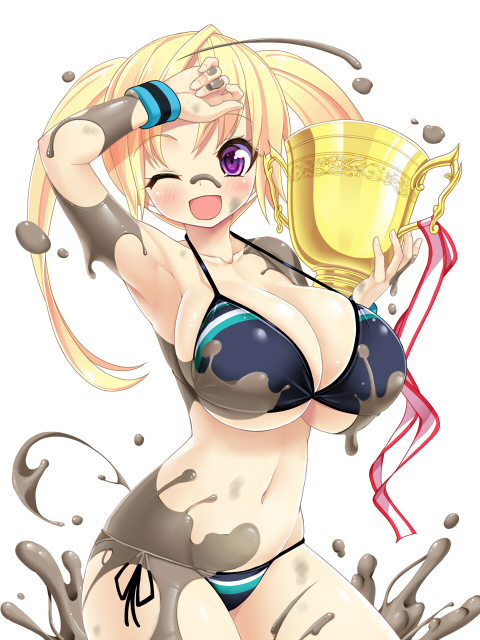 Granted that most of you won't know me or remember me, but I've had a few matches here and there some time ago. Well I think its time to become a regular around here and try to have some fun again, but at the same time keep coming back. Anyway I think its time to jump into some matches with Zoe Taylor, my mud wrestling character from Australia and get her back into the squared circle. Furthermore I will update my characters as I think some proper changes need to happen.
So if anyone would …
[
Full reading
]
Comments: 5
Page 2 of 5 •

1, 2, 3, 4, 5


To her surprise, Aniek reacted stronger than what she expected. Sig didn't think of herself as an expert in the style that the giantesses practiced, but maybe she wasn't too unskilled as she thought. She started to grind herself, slowly at first, but gradually picking up her pace. The ride was getting less smooth as it progressed, Aniek without a doubt starting to show more resistance. The blonde let out another soft moan. Her own breasts were engulfed by Aniek's bigger tits, and her head was almost buried between those orbs whenever she slided down. As long as the giantess under her was content to let her take the lead, though, she would try her best to grind the woman.

She found herself panting slightly already, though. Even with Radmilla's encouragement, trying to subdue someone as big as Aniek without a doubt took a lot of effort. And this was without the woman fighting back seriously. Normally she could be a bit smug when on top, but she knew fully well that it wouldn't take too much effort from Aniek to flip her over and put her on the receiving end if she wanted to.

"Nnnh.... mmhh... a-am I doing this right...?"
Even if one was on top, that didn't mean she was fully in control. This was something that she typically was more aware of when she was being crushed by a woman at least in the six foot range and not just Radmilla. Knowing when to angle one's body, to arch it up, how to move one's crotch in response to the opponent's rubs, even if they didn't throw the opponent off could arouse and distract them.

Strangely enough, it was harder to do this on the bottom, doubly so when training. Aniek squirmed but in reality, her twisting struggling body was attempting to swipe is abs against her's, hardening as she grinded down to maximize friction, and bumping her crotch upwards when her opponent was just about to grind. While it looked like mindless rutting, it required a lot of concentration and willpower to avoid giving in to temptation and remaining stalwart even on the bottom.

"Mmmmm... you put more effort into this than your pushing." Aniek teased, arching her tummy slowly in a wave motion. Her smooth marble abs slowly travelled like a current up her belly then against her breasts, nearly pushing her off with her erect chest. "... But if you'd like, I could show you more. Care to be on the bottom dear~?"

Radmilla hmmph'd and stepped closer, putting a hand on her shoulder.

"Or under me?" She asked, saying little and flexing her flawless rows of diamond hard abs lovingly.
"Heh," Sig now managed to get a bit of smug smirk as she heard Aniek's teasing. "Mmmhh.." followed by a sigh as she felt the woman's stomach rolled against hers, and her breasts as well afterwards.

Aniek seemed like she wanted to show how it's done, which she actually didn't mind. Having heard some bits about her and Radmilla before, she was quite curious about their famous body to body grinding style after all. The redhead, however, wanted to have her turn too, and Sig had to say she got a dilemma at her hands now. She wanted to feel Aniek's body some more, but she understood that Radmilla wanted to have her turn as well. Would it be alright to go through with Aniek first before letting Radmilla play with her next? Would it somewhat offend either of them if she choosed the other woman?

"Umm..." Sig gave it a thought while she stopped grinding herself on Aniek, her cheeks remained pinkish as she looked at Radmilla's fascinating figure. "I'd like to see both of your techniques, actually... This is a difficult choice..."
Aniek's lips moved and her tongue slid out to moisten her lips. She crawled forth seductively and her biceps bulged as she drew herself closer. "Well then, let us be-"

"Let me take care of that. How about we start with some basics?" Aniek interrupted, taking Sig's wrists and moving over her. Radmilla paused and almost gave her dutch friend a very disappointed look. Aniek looked away to hide her rather girlish smirk from the younger woman, her weight condensing into her palms that now pinned Sig's wrists.

She couldn't hog Sig though; one way or the other, Radmilla would have her turn. Yet it wouldn't hurt to help the somewhat antsy Sig get a taste of what this was all about.

"Have you ever pinned another woman Sig?" Aniek asked, spreading her legs out over Sig's. Her thighs were very warm against the German's legs and it travelled down to her toes as she stretched them out. It was a very calm and loving motion, enhanced by the feeling of her stony tummy settling onto Sig's smooth and still excited core. Her abs would find themselves pressed against a stronger set, one that would give with sufficient pushing. Like a warm blanket, Aniek settled over her yet pushed herself up just enough that she wasn't quite pressing her. "A true pin - body covering as we're doing now. They're quite lovely."

Slowly she began to let herself lean forward more. Perking mounds that once held those voluminous breasts were now forced to buttress them as their full weight began to settle. Many breasts were plush and soft but Aniek's were dense and tight, slowly bending inwards as those smaller German mounds struggled to support them. Breaths that once came slow now would start to struggle as Aniek's full weight began to settle onto her.

"Your legs should be spread; don't grapevine so much, it's an overrated technique that lessons your ability to leverage your weight." Her thunder thighs gave a reassuring flex - the sort where the muscles pushed out enough to cram her legs together. "Make sure they're in control first and then..."

Aniek's back began to bend, arching inwards as her breasts slowly rose above Sig's. Her still unflexed belly pressed hard onto Sig's, forcing her's to struggle or buckle beneath. Warm, womanly flesh seemingly hugged to her's and if she flexed it would reluctantly give out, flattening to her tummy. Weight rather than build was keeping the younger woman pinned now.

Radmilla's eyes narrowed and she exhaled from her nostrils loudly. Aniek was taking the *long* route. Radmilla was being denied what should be her's!

"Secure her... and see how she takes to a light rub." Aniek slowly slid her belly over Sig's. Her legs and arms were immobile from her strength yet her belly could still move, even if Aniek's would not. She kept the pressure steady, slowly working it up and down, her breasts almost but not quite grazing her face. It was more like she was being grinded by Sig; her smooth abs would fund much to sink into with Aniek's calm tummy being so receptive, molding to her's as it slid up and down.

"And if she likes it, then double the dose~" Aniek's body suddenly tightened up and her skin became taut. The abs she'd been hiding suddenly emerged as if in an ambush and the force of her sudden flex was like a great clamp over Sig. Thigh muscles squeezed and biceps bulged, but it was her belly that became the canvas for her art. Bellybutton to bellybutton, the bigger woman's arch would arch even further inwards and practically force the breath from her lungs.

As her iron-clad belly sunk further in, she would press harder on the girl's wrists as she slowly dragged her enviable washboard stomach over her's. Every inch it moved would pull tight skin against indomitable toning, forcing Sig's already strong abs to struggle their hardest. Yet even that would likely not be enough for the sensual steamroller dragging itself over them, disappearing months and months of hard work under a slow magma-like rub that would have many woman twitching and helplessly tightening themselves.

And it was a slow and confident grind, utilizing the full surface area of her tummy, even causing her ribs to bump up against the German's. It was a single grind, one that ended with her almost smothering her. Aniek drew her body down, lightly cresting her tummy over that panting tummy, smiling as she held herself up in a push-up position.

"And that is how one properly grinds~"
Sig gave Radmilla a faint smile as Aniek decided to be the one to show her the basics. There'd be some time for her and the redhead to tussle around later, she was sure of that. She allowed Aniek to arrange her to her liking, her curiosity grew quickly as she wondered what sort of thing the woman would do to her.

"Sure have... We're in the wrestling business after all...?" the blonde found Aniek's question rather weird, although it seemed that the woman had this idea she regarded as "true pin", with their bodies lined up against each other rather than the normal wrestling pins. "Err, maybe not this kind of pin..."

The law of physics alone was enough to put a bit of pressure already into her lithe form with someone as big as Anike on top of her. It wasn't crushing her yet, but considering they barely started, Sig had a bit of imagination on how this would turn out. She let out a grunt as the pressure increased gradually, flexing herself a bit to put up a little defense and avoid herself from being flattened before Aniek even began to crush her.

"Nnnghh..." a soft moan escaped her lips as the woman began to rub her toned figure against her smaller form.

Body to body grinding wasn't something she's not familiar with, but Aniek's method was rather unique to her. Given that the woman had the build for it, it's sensible that she made use of her weight and muscles to squish her, but the sensual element provided by the skin to skin contact gave the pinning a whole different sensation. It's as if Aniek was trying to absorb her or something.

"Uwaahh..." Sig groaned as the woman then pressed and grind harder on her, causing her lithe figure to wriggle and buck in response.

It prompted to flex her muscles as much as she could as a form of resistance, which was still insufficient. Aniek probably could crush her easily if she really tried, at least Sig had that impression. She never felt anything close to this. Most bigger people she faced was content with crushing her while being still or light grinding if they chose to ad some sensuality. Aniek's way was slow and steady, but far more devastating to say the least. Sig felt like a cloth being ironed, her struggle was pretty limited, and a single roll seemed to have taken a lot of her resistance. She found herself panting as Aniek gave her the room to breath.

"H-haa... w-wow..." was all the lithe blonde could say, her cheeks blushing deeply.
"She went softly on you; Aniek is too kind to young meat yet she likes them tender as much as I." came a familiar thundering voice. Aniek winced and rolled her eyes.

"You like them regardless of their size. I should just get you a bed made of pancakes and let you flatten them more huh?" Aniek retorted, huffing as she tightened up her bra again. "Well... it's her turn now."

"Indeed. Girl... your name again. I want to know who it is who will be singing praises of my body after!"

Aniek looked away and pursed her lips, trying very hard not to snicker at her friend's boasting.

She would walk forward on her knees, her shadow covering that of Sig's as she fell onto her sides rather than onto her. Her smile wasn't just seductive; it was handsome, strong, indomitable, something Sig could not disobey as the she-giant pressed out her body and flexed her tummy quickly. It was a quick flash of muscle that soon disappeared.

"You! On me. Your body to mine - show me what a real woman is made of!"
Sig couldn't help but to smirk a little hearing the two amazons took a jibe at each other. It kinda made her felt as if she's being fought over, which might be true. What an honor it was considering the size differences between them.

"It's Sig..." she said to Radmilla, watching as the girl approached her while Aniek went to the sideline.

The redhead had a stronger presence than her friend, she observed. Radmilla was more demanding, and it was illustrated clearly in her expression and tone. Sig obviously had no problem with that.

She let out a groan as Radmilla pressed her body on hers briefly, the sensation was different compared to Aniek's. It wasn't clear enough what exactly was different, but Sig knew she'd find out about it soon enough. For now, she'd try her best to satisfy the redhead amazon, flexing herself to endure whatever pressure the woman would give her.

"Okay, bring it on..."
"Aniek, is this the German steel-work you remember?" Radmilla called out casually to her friend. Aniek couldn't help but giggle. "How soft! This is a mere puppy compared to the wolves I used to grind on!"

She looked down at Sig and her eyebrows narrowed before she laughed, slapping her side. It sounded loud like a door slam.

"Ha, she thinks I'll crush her off the bat! Zig, that's not what I asked. Here, let me make it easier-"

Rolling onto her back and dragging Sig onto her, she stuck her her limbs in a T-shape and flexed, causing Sig to lift a little as her muscles expanded into a ready, sharpened state.

"Show me what passes for a woman in AFW!" she boomed, her belly's expanding and falling causing it to bump on the German's. "You flaunted that tummy so proudly earlier! Show me what it's made of!"
"P-puppy...?" Sig couldn't help but to blush slightly at what Radmilla said. "Waahh...?" she yelped as the redhead rolled them over instead of pressing her. "Uff..."

Even with her on top, Sig could feel the sturdiness of Radmilla's body very well. She wasn't sure if she could offer what could be considered as a pass for the redhead since she seemed to have a high standard, but there's nothing she could do but to try. The blonde gave Radmilla a bit of a challenging look, before she'd try to press the redhead and grind her with her compact form, starting with a single, long grind that she took from Aniek's book to be cheeky.

"Hnngg..."
"Nnnnnn..." Radmilla sighed the whole way, pleased with how the young and ripe body tended to her own. Every inch felt like it was getting a shakey but pleasant massage. Sig's abs didn't slot into her own like how Aniek's might but it was cute to see her try. She couldn't deny she wasn't being turned on but simply receiving wouldn't do. Radmilla sighed and ran a hand up her back, stopping at her chin. "You do well... but this is a lesson after all. Pay close attention."

In a flash of hair-swaying motion, Sig was now on the bottom but Radmilla's body was held above her. This close yet just about to fall, her body looked so much heavier. And the smirk on her face wasn't very soft looking.

"Aniek loves to rub her opponents. I love to crush them."

Her hands released and the short range splash quickly covered Sig. Rather than restraining her limbs, Radmilla simply lay upon her, letting her weight and raw muscle do the talking. Her body was barely flexed but even then with this crushing mass pressing onto her, it would be hard not to feel just how much bigger and heavier Radmilla was. Her flesh didn't just mold to her; it was actively bearing down, enforcing its rule over her body. Warm and sculpted muscle slowly began to pancake the younger woman as she started to sink into the mat, seemingly becoming one with the Czech wargoddess!
Page 2 of 5 •

1, 2, 3, 4, 5


---
Permissions in this forum:
You
cannot
reply to topics in this forum