Who is online?
In total there are
40
users online :: 14 Registered, 0 Hidden and 26 Guests :: 2 Bots
Alexandra
,
AnaMaria414
,
d_ultsch
,
kerflubble
,
KillerV
,
Link-mon
,
Old_Man_Tai
,
Person
,
Ragdoll_Jobbers
,
RJD
,
Teenwrestler
,
Teesta
,
ThunderFox
,
TripleHelix
Most users ever online was
155
on Sun Oct 09, 2016 3:33 am
Champions & #1 contenders
Anyone willing to take on Layla
Fri Dec 09, 2016 4:53 pm by Link-mon
Comments: 2
Got some people open for matches
Mon Dec 05, 2016 3:37 pm by TheEditor1023
Comments: 4
Looking for anything!
Wed Dec 07, 2016 7:18 pm by tehbohemian
Hey!! I'm Bohemian! I'm uhhhh new here! I've already debuted all 3 of my characters and wanted to know if you would want to include them in any storylines or start any new ones with them!
Shinobu won her debut match and is locked in a feud with Sandy White... so she is kinda tied up match wise but i'd be cool for any RPs with her
Sonic lost her debut... pretty badly... and even lost her crown! So she is up for a match or gym session or anything really! She is a much morr light hearted …
[
Full reading
]
Comments: 1
[Taken, with permission, from hamish1024]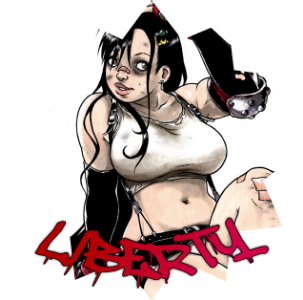 Real Name:
Libby Vella
Age:
23
Eyes:
Grey
Hair:
Black
Height:
5' 10''
Weight:
171 pounds
Nationality:
Italian / American
Entrance Music:
'White Riot' - the Clash
Wrestling Information
Strategy
: Liberty is a pretty crazy girl. Wild and reckless, in the ring she will launch herself into mad and dangerous moves without a thought for her own (or her opponent's) wellbeing. She more than lives up to her scruffy, punk appearance, showing a love of hardcore tactics, table slams, and suicide dives.
Her background is in street fighting, and though her style lacks some technical finesse, her hardened enthusiasm for physical conflict more than makes up for it. On top of being violent and unpredictable she is big, strong, and very athletic for her size. Liberty can be a handful for any opponent, and though she is by no means a sadist, her matches can get very nasty very quickly.
Her risky and volatile attacks in the ring can backfire on her; Liberty has suffered more than a few self-inflicted injuries and she has been known to knock herself out on more than one occasion. She is careless and carefree, her grimy, unkempt appearance showing how little she cares about other people's opinions. At heart she is surprisingly kind, and is more or less a fair fighter in the ring, though girls who irk her can expect to be 're-educated' through some unpleasant humiliation. She sometimes carries a small can of spray paint with her to graffiti a fallen enemy!  
Style
: Street Fighter
Type
: Hardcore Wrestling.
Preferred Attacks:
Power moves, hardcore attacks, aerial dives, any punishing combination of these.
Preferred Matches:
Liberty will take part in almost any kind of fight, though hardcore bouts are her speciality. However she does view a lot of hentai gimmicks as exploitative.
Physical Statistics
Endurance:
★★★★★ - Liberty doesn't have an ounce of quit in her.
Strength:
★★★★ - Not the strongest woman in the AFW, but she's up there.
Speed:
★★★ - Faster than you'd think for a woman her size.
Defense:
★★ - Tends to focus more on dishing out pain and less about stopping it.
Technique:
★★ - Though she's picked up some things in her time as a wrestler, she's not able to keep up with the more technical minded wrestlers.
Wrestling Statistics
Strikes:
★★★★★ - Liberty's a great striker, and her metal-assisted elbows and kicks are things to be feared.
Submissions:
★★ - Her dragon sleeper is formidable, but it's not her first choice. Unless you count a Skunkface as a sleeperhold.
Powerhouse:
★★★ - Has a few strong suplexes and slams in her repertoire.
Aerial:
★★ - It's not her native environment, but she will jump from a high elevation if she sees a good opportunity.
Counters:
★ - Not her thing.
Signature Moves
Hair Choke
Liberty is proud of her long, thick hair. She has been known to wrap her knotted ponytail around an opponent's neck and throttle them out.
Smell the Coffee
Liberty is quite fond of applying a vicious dragon sleeper to a kneeling opponent. On top of the pain of the submission hold, the poor victim gets a faceful of rather nasty armpit. She can even use her strength to convert this hold into a DDT slam.    
Dragon Sleeper:
Finishing Moves
Market Crash
An elbow-drop from the top of the turnbuckle, utilising Liberty's metal elbow-pad. Often done to the outside of the ring for added effect.
Market Crash:
Skunkface
Pure humiliation, Liberty will approach a girl sitting in the corner and unload a spray can straight into their face. This is usually spraypaint, though her history with riot control means she's experienced with mace spray too. While they are reeling from this attack, Liberty adds insult to injury by grinding her butt into their abused face, in a cruel (and often bare-assed) stinkface manoeuvre.
Skunkface:
Against All Authority/Triple A
A powerbomb, lungblower combo. She lifts her opponent up in powerbomb position, then jerks her knees up so their lower back crashes into it on the way down. Normally a devastating move, but when you take into account her size and strength, it's a guaranteed match-ender.
Triple A:
Personality:
Liberty loves playing the rebel. She has absorbed a lot of left-wing politics and likes to imagine she is fighting to 'bring down the system', though in reality she is simply addicted to the thrill of violence. Her addiction is at odds with her ultimately sweet, friendly nature, which is why she justifies her brutality as being for the 'common good'. Sometimes her enthusiasm overtakes her and she'll make quite klutzy mistakes in the ring.
Spirited, upfront and stubborn, Liberty doesn't look to make enemies but does enjoy starting arguments and fights. She loves a good scrap and is quite self-righteous, and has a natural dislike of all the rich, prissy or materialistic girls which populate the AFW. If these types take issue with her unusually grubby, unkempt appearance, Liberty will delight in rubbing it in their faces. When riled, she can be as nasty as you'd expect a hard-living anarchist to be.
Appearance
: Liberty is a tall, voluptuous girl, fairly athletic with broad hips and a large chest. She has soft, rounded facial features with big eyes and a cute smile, framed by her long, dark, tangled hair. Her milky white skin is covered with dark splotches, some of it dirt, some of it bruises from her constant brawling. Liberty loves this striking, rough look, seeing her numerous plasters as badges of honour. Always wrestling in the pictured attire, her worn, ripped clothing shows a similar amount of careless damage as her body. Opponents should take note of her metal-plated boots and studded elbow pad, as they can cause a nasty surprise.  
Liberty:
History:
Having lived a wholly unremarkable childhood, the young Libby Vella was visiting her ancestral home of Milan when she got caught up in a large anti-capitalist street protest. The raised passions and threat of violence triggered something within her, and soon the teenaged girl was enthusiastically battling the police and happily kicking the asses of several heavily-armed men. She was hooked, justifying her actions as political statements for the common good (rather than random thuggery). She fell in with a group of left-wing radicals, journeying from one pitched street battle to another. Frequent footage of her beating battalions of police made "Liberty" an internet sensation, an anarchist poster girl.
The gang of extremists she hung out with saw her fame as an opportunity to raise cash for their cause, and began entering Liberty in hardcore wrestling matches. Liberty wasn't entirely sure where the money was going, but loved having another excuse to help the cause by beating people up. With her group of anarchists eventually finding their way to Japan, Liberty was set to take her crusade to the AFW.  
Fighting in the AFW to raise cash and publicity for her radical left-wing friends. This could be seen as 'selling out' but Liberty was always much better at the violence than the politics (she always forgets whether she's supposed to be an anarchist, a communist, or whatever). She says she is looking to subvert and destroy all corporate structures, taking down money-grubbing machines like Primol, though for the moment this seems to mainly involve hitting people in the face.
Accomplishments
Former AFW Hardcore Champion
Friends:
River Styx:
A fellow anarchist - or something like that - Styx and Liberty bonded a little bit after a botched match between the two, discovering kindred spirits. Where they go from there is anyone's guess.
Allies:Rivals:
Adrian Kytes
: Though she respects the current champ, Liberty is hungry for her old title, and is eager to see just how hardcore Kytes really is.
Enemies:
Morrigan and Brittany Luuve:
Ran into these two in her path to become the hardcore champion. Though she came out on top in the end, Liberty is still watching her back for them.
Allie Parker and Syd:
Two bitches who attacked her right after she won the championship. Liberty doesn't know why and doesn't much care - she's just itching to get even.



Posts

: 10573


Join date

: 2014-02-14


Age

: 30


Location

: Charlotte, North Carolina, WOOOO!



YEAR SEVEN

|Record: 1-1-0|
1.
Karen Starring vs. Liberty
- WIN
Liberty tries to get back into the swing of things with a hardcore match, and decides to pick on someone her own size.
2.
FIGHT THE POWER!
Liberty stands up to THE MAN. Or, in this case, THE WOMAN.
3.
Odessa Brock vs. Liberty
- IN PROGRESS
Odessa's looking for some payback from their last match, and Liberty happily gives it to her.



Posts

: 10573


Join date

: 2014-02-14


Age

: 30


Location

: Charlotte, North Carolina, WOOOO!



---
Permissions in this forum:
You
cannot
reply to topics in this forum