Who is online?
In total there are
33
users online :: 9 Registered, 1 Hidden and 23 Guests :: 2 Bots
Cy_Man
,
d_ultsch
,
Daaharu
,
Harrier
,
kerflubble
,
killcarrion
,
LunarWolf
,
SleeperAgent94
,
Underdog21
Most users ever online was
155
on Sun Oct 09, 2016 8:33 am
Champions & #1 contenders
Gonna be slow the next week or so... just had surgery IRL
Wed Nov 15, 2017 2:33 am by SleeperAgent94
Hey guys, got back from surgery today. Ruptured abdominal wall. In a LOT of pain right now, so posts will be VERY brief the next few days.
Comments: 6
Character updates.
Wed Nov 15, 2017 4:14 pm by Lotuswarrior
Since I'm starting to get a bit busier here, I'm trying to be a bit more professional. With that I'm going to overhaul my characters and update their profiles or release them all together. I'll post any images here of the characters I release, so that you guys/girls can claim them if you want.
Also looking for some characters to interact with outside of matches.
Comments: 0
My Absence
Mon Oct 30, 2017 6:45 pm by Shutter
Heeeey again.

I wanted to apologize for my recent absence and state that I'm back, now!
I don't know if I mentioned it before, but I work a job that keeps me traveling quite a bit. Usually this is good time for me to write and kill time, which is why I was here in the first place, but I had limited data this time that kept me from using it for much recreation. It shouldn't be a problem anymore, or not for a while. That said, I will be messaging the people who had threads or ideas with …
[
Full reading
]
Comments: 3
Page 1 of 9 • 1, 2, 3, 4, 5, 6, 7, 8, 9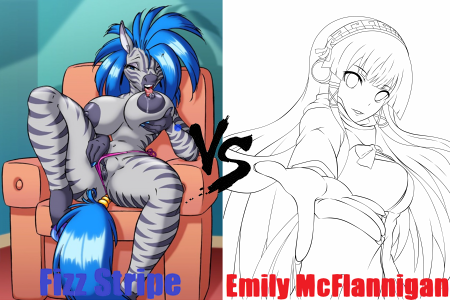 P.O.W Hentai Submission Cage Match Victory Condition: Make your opponent cum before forcing them into submission.Additional Information: The contenders have access to an assortment of sex toys which are located in each corner of the ring.
Tonight would be Fizz's first match in the AFW, and she was pumped up and ready to start making a name for herself with her first glorious victory. The sexy blue haired zebra woman didn't know who she would be going up against but she honestly couldn't have cared less, no matter who they were Fizz was going to humiliate and destroy them infront of thousands of people before taking them home to continue the fun in private.. This was going to be one hell of a debut match..
The very moment her heavily intimidating theme began to blast through the arena speakers Fizz burst in from backstage, raising her arms in the air and striking a pose for the audience in her usual sexy tight pink leather thong and bra before aggressively strolling down towards the ring, occasionally spreading her arms and threatening audience members as she went.
After making it to ringside Fizz slowly and seductively climbed up, turning around to give the audience members one last glance before slapping her ass and carefully stepping through the ropes. "This is going to be too easy.." She mumbled to herself with a sly grin, moving to her turnbuckle to wait for her poor unfortunate opponent.
In spite of her previous losses in this league, Emily came bounding onto the stage looking no less excited about this match. Hype-music blasted through the arena speakers as Emily made her way to the stage in naught by a simple red bikini, her Mantle unhindered and filling the air around her with the vibrancy and the fragrances of Spring. While Emily doubted her chances of winning this match, the stipulations alone were enough to get the Changeling excited, let alone the POW stipulation.

All but sauntering over to the ring, Emily climbed in through the ropes, looking at her opponent for the night, some kind of zebra woman.

"Well, no matter how this goes," Emily said, "Let's put on a show for these people, shall we?"
Watching her opponent enter into the arena Fizz was not impressed. This is who she would be facing in her debut match? This little miserable excuse for a wrestler? With all the effort which had gone into crafting this match Fizz was afraid that it would be over far too soon, and that she wouldn't get a chance to do even half of the cruel things which she intended.

Sarcastically raising an eyebrow at Emily's comment Fizz casually pushed herself from her corner, strutting over to her opponent to get within perfect striking distance. "Show? Honey this is going to be an exhibition. I'm going to have you cum infront of all these people before finally forcing you into submission. So don't even try to give me that nicey nicey shit talk." The irritable Zebra stated bluntly, apparently unamused with Emily's attitude, even if there wasn't actually anything wrong with it.
Emily smirked as the zebra woman stepped into striking range, going on about her assured victory.

"Well, an exhibition would still technically count as a show," Emily mused, "And you seem to be under the impression that I'll make this easy for you. Really, I can't say I care too much about who wins, just so long as the people watching get a good show."
Fizz narrowed her eyes at Emily's first few words, making her look more annoyed than previous. This little rat had the nerve to give someone like her backchat? The zebra was not going to let her get away with a stunt like that lightly.

"Good show huh..?" Fizz mumbled to herself whilst thinking for a moment, seemingly not making any form of aggressive movement until she abruptly lashed out, attempting to hit Emily with a full-force right hand slap to the face, a slap which would most likely have enough power to topple her if she wasn't careful.
Emily watched the zebra woman as she processed the Changeling's remark, but was completely unprepared for the hard slap to the face. The hit set her face aflame with pain as the Changeling toppled to the ground from the sheer force of the blow. Crying out for a moment with the pain, Emily lay there for a moment before trying to get to her feet.
Satisfied with the hard hitting slap but still very much annoyed about Emily's earlier comment Fizz intended on giving the smaller girl absouloutely no recovery time, immediately trying to follow up her initial attack by shooting out a sharp kick to the girls unprotected face. If this attack hit the zebra would aggressively strut back to her own corner once more, wanting the cage to lower and for this brutal match to properly get underway.
The Changeling cried out in pain as the kick snapped her head back, soon struggling up to her feet and making her way over to her corner. Taking a moment, the Changeling managed to recover just as the cage came down, watching her opponent as the bell rang.
"That's it then.. Now its just you and me trapped in a cage with all these lovely little toys.. Heh.. Lets see if you still have that positive attitude by the end of this.." Fizz taunted with an intimidating tone, seductively licking her lips before walking over to Emily, trying to distil as much fear as possible before actually doing anything else which involved violent physical contact.
"Well, if you want to take it from me so bad, let's see what you can do," Emily shot back, unable to conceal a slight quaver in her voice as the zebra woman drew closer. For the first time, Emily found herself wondering if this might have been a bad idea.
Page 1 of 9 • 1, 2, 3, 4, 5, 6, 7, 8, 9

---
Permissions in this forum:
You
cannot
reply to topics in this forum