Champions & #1 contenders
The Austrailian Mudslide is Back.
Sat Apr 21, 2018 6:20 am by Softsquad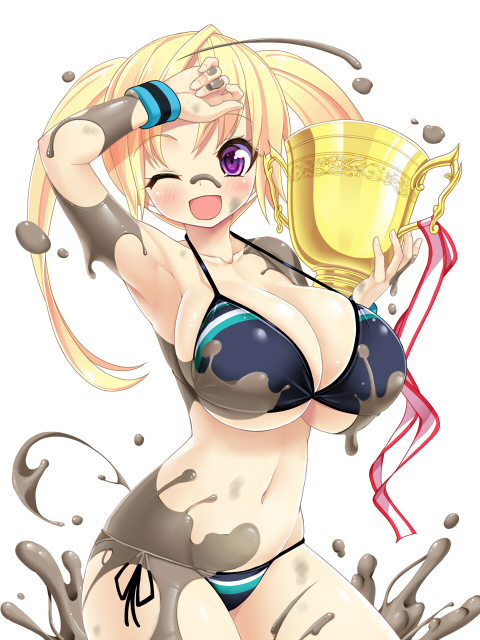 Granted that most of you won't know me or remember me, but I've had a few matches here and there some time ago. Well I think its time to become a regular around here and try to have some fun again, but at the same time keep coming back. Anyway I think its time to jump into some matches with Zoe Taylor, my mud wrestling character from Australia and get her back into the squared circle. Furthermore I will update my characters as I think some proper changes need to happen.
So if anyone would …
[
Full reading
]
Comments: 4
Looking for debut thread.
Sat May 12, 2018 9:28 pm by Hedgehawk
Hello All.
I am looking for a debut for my girl Trinity (http://www.afwrpg.com/t18107-trinity-cordova#495678).
This doesn't have to be a match, it could be a gym battle, interview or anything else. I just want something to help get Trinity off the ground. If you wanna plot feel free to reply to this message or fire me a PM.
Many thanks in advance and thank you for reading my message,
Hedge
Comments: 0
Page 7 of 9 •

1, 2, 3, 4, 5, 6, 7, 8, 9


Carmen doubted she would ever become as proficient with submission holds as a veritable savant like Akino, but as she kept the cyclops trapped in her leggy vise, she began to understand the appeal. This woman's life was in her hands. In her thighs. Dominating with a whip or a crop or a cane - or all three in tandem - was one thing, but using her body to punish Akino was a true sign of dominance. It was pure.

Carmen purred as she continued to rock against Akino's arm and the wetness built. She tested the hold, squeezing harder and harder, just enough to get a sense how much would be too much. Testing boundaries. Once that was done, however, she started to really work.

She would squeeze. Just enough to make Akino lose some breath. Only a moment of pain. Bring her right to the edge...then ease up, at the right moment. Pressure on. Pressure off. Using her consciousness like a yoyo.

And the whole time, she had the pleasure of Akino's skillful hand, working on her breast. That smooth skin against her pussy. Rubbing. Gyrating. Carmen had to keep herself from going all the way to a full orgasm, wanting to save that for just the right time.

"Oh, God..." Carmen ran her hand her through Akino's hair with real affection, trembling as the pleasure flowed through. She closed her eyes and let the hold grow weak for a final time, lazily keeping her legs wrapped. Akino's hand was just doing such good work, after all. She couldn't interrupt it. In fact, she wanted more.

Carmen released the hold and laid back, closing her eyes and leaving her body completely open. "Worship me." She whispered. "However you see fit."
Akino could feel her lover's arousal against her arm. But even more than that she could feel Carmen's legs completely controlling her. While Akino fondled her mistress' breast, the near-rhythmic squeezing of the thighs around her head and neck restricted her breathing entirely at Carmen's leisure. And at the same time, Carmen continued grinding against Akino and using her as a sex toy to further arouse herself.

Each squeeze made the one-eyed maiden wince in pain, and the pain was gradually increased each time. But that was only the warmup, it seemed. After a few moments the pressure was really poured on, and for a second Akino actually thought Carmen was going to knock her out, only for the hold to ease up and so air could briefly be allowed into her lungs again. Another squeeze brought her close, and again she was mercifully allowed the privilege of breathing again. Back and forth Akino moved toward the brink of unconsciousness, yet the bluenette never stopped tending to Carmen's breast. She could tell her mistress was quickly building toward an orgasm, and wanted to continue pleasuring her for as long as she could in spite of her own pain. However, every human body has threshold for pain, and Akino was rapidly approaching her own. And just when she thought she wasn't going to be able to hold on any longer, Akino brought her free hand up to tap out against Carmen's thigh in hopes that she'd be released, only for the perfect legs to completely loosen around Akino just seconds before she could.

The Japanese girl began to gasp and pant, and her body fell to lay over Carmen's hips and stomach, with the legs still wrapped around her for a moment longer. Never before had Akino ever been subjected to such an intense level of pure and thorough domination before. And despite nearly being knocked out several times in the last few minutes, Akino absolutely loved it. Truly, Carmen made a magnificent mistress. But Akino's work wasn't done. Another command was given, and it was time to get to work.

Akino raised her head to look over Carmen's perfect body, sprawled out before her. Then a soft smile tugged on her lips as she answered, "Yes, my goddess."

Carmen deserved nothing less than for every inch of her wonderful body from head to toe to be worshipped. Whether Akino would be able to accomplish that remained to be seen. But she was going to give it her best shot. And since she'd already worshipped one of Carmen's feet, she decided a good start would be giving the other the same attention. But before that she brought her lips to Carmen's toned abs and placed a soft kiss on them, then slowly slid back while lightly dragging her fingertips down her lover's body.

Akino crawled all the way back down by Carmen's feet and gently picked up the one she hadn't already tended to. She first nuzzled her face against it, taking her time to appreciate the smooth skin of the sole. But soon she began to trace her tongue along the foot, moving up the sole and along the sides until she came to the top. Then she closed her lips around each individual toe and slid her tongue over and around it, making sure each one was given equal treatment.

Once she finally felt this foot had been worshipped just as thoroughly as the other, Akino began to lower the leg, but began to kiss along the limb while gradually shifting forward up Carmen's body. One of her legs moved over her lover's so she could straddle it, and soon the trail of kisses was bringing Akino quite close to the top of Carmen's thigh. Whether she intended to continue in that direction remained to be seen, but before anything else Akino briefly looked up to see and gauge her reaction so far.
Akino was beautiful, but it wasn't just her looks that had Carmen enraptured. She smelled amazing - this heavy, heady scent that seemed to fill the room, her sweat mixed with the oils. She sounded amazing - her voice was so sweet, so caring, so cute, it was hard to believe it could belong to such a dangerous vixens. And the way Akino felt between Carmen's thighs, rubbing along that smooth, supple skin...

Could it get better? She couldn't see how. But that was why she was so excited to have Akino acting on her own accord. Her imagination was much better than anything Carmen could dream up.

For instance, Carmen wouldn't have had Akino start at the feet, especially after her lips had already met one of them. She would fear repetition. But her lover didn't see that as a problem, and she was right. Every kiss built suspense, every touch heightened the mood. It was like a sensual symphony, rising higher and higher, and the effect left Carmen in contractions.

When Akino started kissing higher, it became a struggle to contain herself. Carmen raked her nails along the mat and her legs tensed up, revealing every muscle in her sinewy thighs. Her eyes closed, her back arched, and she let out a low, tawdry growl than slowly turned into a throaty moan.

"Higher." She started to roll her head from side to side, sliding it along the mat. "And when you get all the way up, I'm taking you. I won't be able to stop myself anymore." There was still authority in her voice, but there was a deep longing, too. Even when she was in control of Akino, the blue-haired beauty still had some control.
Akino tried to stop herself from grinning when she saw Carmen rolling her head around and tensing up on the mat. Tried, but failed. Despite her lover being the one who was technically the "mistress" for tonight, Akino was in quite a good position to do as she pleased and enjoy the reactions she got from Carmen. And oh did she enjoy them.

But then came the command to go higher, and the firm announcement of what would follow. Carmen had definitely reaffirmed her control for the moment, but Akino was still going to have her fun while it was within her power to do so. "As you wish~" she replied, before bringing her lips back down to Carmen to place a soft kiss right against her sex.

More kisses followed, forming a trail that slowly lead up and along the latina's toned abs, pausing for a moment at the breasts so Akino could briefly but effectively work her tongue and mouth over both of them. And from there she placed the tip of her tongue against Carmen's collarbone, then dragged it along the side of her lover's neck, bringing her lips right beside Carmen's ear.

"How's this, Carmen-chan?" she whispered into her mistress' ear. By now Akino was essentially laying on top of the girl, and she started to lightly rub her thigh against Carmen's womanhood. Though how long that would last depended entirely on how serious Carmen was about what she'd said moments ago.
Carmen kept her eyes closed as Akino went about her work. She had to. It made everything so much better.

The kisses took her by surprise each time, everyone of them landing in a new spot, no warning before each one. Akino had the softest lips, like a butterfly's touch, and Carmen swore that every kiss lingered in the spot it landed on. And she kept getting higher and higher.

"Dios…" The word slipped out of Carmen's mouth with a breathless gasp as Akino claimed her breasts with her that sinful tongue of hers, sliding all over the hardened nipples and lathering them with her saliva. She was a tense shivering mess, and it only got worse - or better - as Akino neared her final destination.

Carmen opened her eyes as the two of them laid parallel. The height difference made things a little awkward, but it was nothing that couldn't be ignored. Especially when she had that haunting eye to look into, connected to that lovely face, right above the teasing little smile. "Almost perfect."

Carmen made good on her 'threat', right there and then. She became a whirlwind of motion and spun around, taking Akino from the top. It wasn't a pin, she let those arms go free to do what they wanted, giving her lover full access to whatever she could reach. Her own arms had much better things to do than hold this cyclops down after all. Things like running fingers through Akino's icy hair, caressing her chin, moving up the sides of her body and exploring every hill and valley they came across.

All the while this was happening, Carmen brought their wettening sexes together, sliding them along each other with rowdy humps, enjoying every bit of contact. Just a taste of what she had in mind. "There, querida." She wormed her tongue into Akino's mouth, letting their lips meet shortly after. "Now it's perfect."
From the moment Carmen opened her eyes, Akino could tell just by looking into them that her lover fully intended to do exactly as she said she would. It was just a matter of how and when. She'd expected to be almost immediate. And sure enough, Carmen made her move right after she spoke. Yet despite knowing it was coming, the sudden shift of their bodies still caught Akino off guard.

But in all of about a second, the one-eyed maiden found herself flat on her back with her mistress on top of her once again. For a moment she simply remained still, smiling up at Carmen and enjoying the feeling of her fingers roaming through her hair and letting out a few soft moans as her body was caressed. And of course for the icing on the cake, she had the blissful feeling of their pussies grinding together, while Carmen moved in for another passionate, dominating kiss.

Her eye closed, and Akino welcomed her lover's tongue with her own, offering the slightest bit of resistance initially, before submitting and allowing it to roam wherever it pleased while she moaned into the kiss. Meanwhile, Akino's hands moved to caress and travel along Carmen's curves. Up and down her sides they went, as well as over her back, before traveling down to her rear. Last time she'd tried this it had earned Akino some "punishment," but now that it seemed she was being permitted to move freely, she fully intended to make the most of it.
Carmen's tongue was thorough. Very thorough indeed.

She worked all over Akino's mouth, as if she were trying to map every corner of it for memory. She tried to cover every tooth, roll around them, slide along each side. She rolled over her lover's tongue, encircled it, probing all around it. She countered Akino's moves, pressing against her tongue every time it dared to rise, wrapping over it and pinning it to the underside of the jaw.

Carmen moved back, taking a moment to catch her breath, let Akino fill her lungs again...and then she went right back to it.

A pleased moan, almost a giggle, came from Carmen as Akino explored her body. Their hands couldn't have been more different - where she had rough, mannish hands, her lover's fingers were deft and immaculate, smoothly gliding over her skin, tickling the light hairs they passed over.

It was great. It was amazing. But it wasn't enough. Not quite. She could do better. They could.

Carmen pulled away, pecking away at Akino's chest as she made her way down Akino's body. She sat up, pulling their sexes away from each other, but it only momentary, a chance to replace it with something better.

Carmen turned to the side and grabbed Akino's leg, lifting it up just enough to get her hips off the ground. She brought her own leg over her lover's lap and pressed their pussies together, this time from the side. putting them perpendicular to each, slit crossing slit. From there, with the heat between them building, she began to press down, grinding, tribbing, harder and harder…
Akino closed her eye and enjoyed the wonderful feeling of Carmen's tongue going to work in her mouth. Every time her tongue moved, her lover's was right there to take control and pin it back down. And when Carmen moved back, Akino took several big breaths to refill her lunges. But then those lips descended to meet hers once again.

But soon her lover pulled back again, and a deep exhale escaped Akino's lips as she felt Carmen kissing her way down her body. She opened her eye once the kisses stopped, and looked up at her mistress as the beautiful latina adjusted her position to press their sexes against each other.

"Oh god.." she muttered, then bit her lower lip as Carmen started to grind against her. This time Akino was the one who began grasping at the mat by her sides as pleasure surged through her. But any attempts to restrain her reactions quickly died away as Carmen ground harder and harder. The bluenette began to moan, and she moved her hips in perfect sync with her lovers'. She wasn't sure how long she'd be able to last before a seemingly inevitable orgasm, but it appeared Carmen was determined to bring that about soon, and she was making good progress to that end.
Timing. Timing was key in female domination, Carmen had learned. It wasn't a matter of doing everything, but doing the right things at the right times for the right reasons. There was a time for restraint and a time to plow forward, and this was definitely the latter and not the former.

Carmen fell into a rhythm as she ground their pussies together, sliding harder and faster and rougher with each passing second. She was building up the moment, but it wasn't a conscious effort. The fact was that it got more and more difficult to hold back with each second. She didn't just want to go faster, she had to, like her body would take control and do the job if she wasn't willing.

"God, God, yes-" She pushed down for a long, hard thrust, held it for a moment, then followed it with several quicker slides.

"I got you, I got you." Carmen reached over and ran her nails down Akino's stomach, leaving a trail through the sweat on her skin.

"I'm close, I'm so close…" She had to close her mouth quick to keep drool from escaping, as a lascivious grin crossed her lips. It wasn't a lie. She could feel the pressure bursting, the tingling in her loins, that heavenly sensation that was creeping all over her body. The climax was coming, and it was going to come like a lightning bolt, raw energy down her spine.

Her breath was ragged and hot, like she'd just ran a marathon, but filled with starving passion. "You close, too? Huh, querida?"
The pleasure surging through Akino was completely overwhelming her, and now she was rapidly panting and moaning as Carmen continued to ride her straight toward an intense climax. Her hands could no longer merely rest by her sides, and the bluenette brought them up to to start fondling and playing with her own breasts, only adding even more to her stimulation.

A longer, throaty, drawn out moan fought past her lips as Carmen pressed down hard against her, then it was soon right back to being as quick and intense as the beating of her heart. She heard her mistress' words, and felt her nails glide down her sweat-glistened abs. Akino probably didn't need to answer for Carmen to know, but she did anyway.

"Yes! Fuck, yes!" she practically shouted. The one-eyed maiden kept thrusting her hips against those of her lover as they ground down against her. And if Carmen kept this up, it would only be a matter of seconds before Akino's body would tense up and a powerful orgasm would rock her body, sending pulsing waves of her juices washing right over Carmen's sex.
Page 7 of 9 •

1, 2, 3, 4, 5, 6, 7, 8, 9



Similar topics
---
Permissions in this forum:
You
cannot
reply to topics in this forum