Champions & #1 contenders
Summer Splash interest in Natasha Loclear?
Mon Apr 09, 2018 6:30 pm by daemongirl
Well my girl hasn't missed a summer splash yet, would anyone be interested in a match with her? Open to just about anything match wise, just pm me!
Comments: 1
Been Out with the Flu
Sun Apr 22, 2018 2:47 pm by daemongirl
Just letting those I have threads with know I've been out with the flu since early last week, but I will be back to posting tomorrow.
Comments: 0
The Austrailian Mudslide is Back.
Sat Apr 21, 2018 1:20 am by Softsquad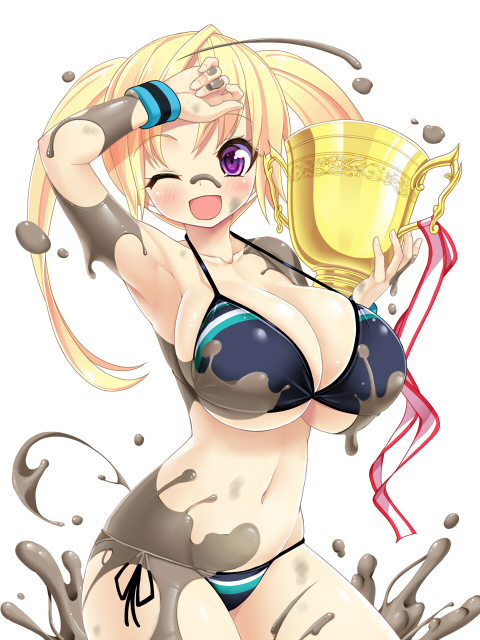 Granted that most of you won't know me or remember me, but I've had a few matches here and there some time ago. Well I think its time to become a regular around here and try to have some fun again, but at the same time keep coming back. Anyway I think its time to jump into some matches with Zoe Taylor, my mud wrestling character from Australia and get her back into the squared circle. Furthermore I will update my characters as I think some proper changes need to happen.
So if anyone would …
[
Full reading
]
Comments: 0
Page 2 of 3 •

1, 2, 3


Now Styx was liking the words that came out of Abattoir's Vader mask a lot more. She couldn't be sure with her mouth covered, but she was pretty certain that the Nak Muay was smiling under there, and she brought out her own wicked grin to mirror it. "Well…" She turned around and stuck her foot under the belt on the floor, then jerked her leg upwards and made it fly to her hand.

"Right now I've got a little thing going with Adrian Kytes, and I want her all to myself. But." She glanced over her shoulder as the subway train came roaring in, screeching to a stop only a few feet away from them. "After I'm done with her, I'll have a real belt to defend, and I've got a nice little list of people I want to start taking the fight, too. If you want in on the fun, you're more than welcome."

Styx moved towards the train as the doors swung open, though she kept facing Abattoir as she went. It was worth it just to see people fall over themselves to use the other doors instead of getting anywhere near them. "Want to come and crash at my place, talk about it some more?"
Abattoir was not smiling. It wasn't something that happened when she wasn't throwing down.

"Right." She watched Styx pop the belt back up to her shoulder (smooth. did she practice that?), and trailed off for a second, staring into an empty corner of the platform and apparently following the movement of something that was not at all there. "That...might be good. Yeah. More fights. Gotta keep fighting. It'll make sense then."

It felt connected, at least. All the violence had a purpose. Maybe it always had, her whole life. She just had to figure out what it was. Somehow.

The train screeched to a halt, illuminating both of them in a harsh sterile glow, and Abattoir watched as Styx moseyed through the doors. She'd expected to cut it off and head back, but was surprised when the bigger woman turned around and offered to let her tag along. The obvious response was no - calling her a lone wolf would be a noble understatement - but things had been insane lately. Literally insane, maybe. She needed all the help puzzling it out that she could get.

"....Yeah. Yeah, okay." Stepping through the doors, she found a pole and leaned on it. "Don't have to worry about my hog anyway, I, uh....I walked."

A moment passed in silence.

"I don't really know anything about what's going on," she admitted. "I'm still kind of...puzzling this whole thing out. Otherwise I wouldn't be here."
Styx wasn't entirely sure why she asked if Abattoir wanted to come along. It might've been curiousity, with her being a little interested in finding out just how tightly her clock was wound. She'd already dipped her feet into the craziness, might as well go deeper. And, truth told, she did like having someone around to talk to, every now and then. With Jessica out doing her thing with the Coalition and Liberty being so scarce these days, it had been awhile since she'd had an actual conversation with anyone not speaking from a fast food window.

There was also the fact that she was a tad worried that if she left Abattoir in her current state, she'd read about her in the morning. 'Crazed Goth Chick Is Found Dead in Park, Bathed In Goat's Blood'. That would probably be bad for their partnership, so…

"Hog?" She plopped down and brought her leg up on the seat next to her, while she laid the belt down beside her, taking up three whole seats. "You ride a motorcycle? That's…" Styx looked Abattoir over, pictured it, then nodded. "Yeah, I guess I can see that."

She eased back in the seat and crossed her fingers behind her head as the train lurched, stirring to life once again. Styx rolled her tongue around her cheek for a moment, considering her next words before she spoke. A rare thing for her. "Tell me," She snorted. "You think anything happens after you die? I mean, you seem to now, no shit, but what about before you had this radical, amazing, possibly schizophrenic experience?"
Abattoir watched the darkness go by outside the window as the train steadily jerked to a start and began racing ahead. Her reflection's eyes were spiderwebbed in scarlet; not a shock, with how she'd been sleeping. Had it been two days now? It probably had. She was losing track of the time.

Silence went by for a moment after Styx's observation, and then the words registered with her mind and Abattoir's attention snapped back to her dubious partner in crime. "Yeah, it's an S1000R, it's...I think it's illegal here, actually. Haven't had any problems yet, though."

Somewhere in the back of her mind, the part that was still logical, she had to admit being a little surprised that Styx was (presumably) living somewhere like a normal person, instead of hiding in some tunnel like an ogre. Not in a negative sense; Abattoir herself lived in what could generously be called a hovel (and, less generously, looked like the room the police uncover towards the end of every serial killer movie). Even the people who seemed sort of like her were worlds apart.

She bit down on her tongue, pondering Styx's question - what did she believe in? Should she believe in something, in light of everything that'd happened? - and when the coppery hint of blood tinged at her taste buds, Abattoir snapped back to lucidity and, for once, said the most reasonable thing possible.

"I never really thought about it." Not like now. Not when the question loomed, sitting astride her mind like a restless beast. "Most of the time, I had enough problems that were right in front of me. Immediate. Punchable, sometimes. Wondered about it a few times when things were really bad, but not often. It just didn't ever occur to me." The words were just kind of spilling out, having been vaguely planned and then left to run free. Like automatic writing, but for the voice. Abattoir was vaguely aware that this was probably not how she should be holding a conversation.

"I'm guessing it's not a thing that pops up for you often either?" she asked, leaning harder on the pole.
Styx didn't know the first thing about motorcycles, but S1000R sure sounded expensive, so she naturally assumed it was. Didn't know Abattoir had such refined taste in vehicles. Didn't know much about Abattoir at all, really, come to think of it. She typically wouldn't have cared to, but if they were on the same side, it wouldn't help to get a little more information.

"Not exactly." Styx brought her hands down and pressed them on her knees as she leaned forward. She started to speak in a low tone, like she didn't want anyone to hear it, but then she remembered that the people on this train probably didn't speak a word of English, anyway. Fuck 'em.

"My family was religious. Not casual-religious, either. In church every Sunday, Bible Study on Wednesdays, dedicated. And I think I bought it for a while, but..." She tapped the side of her skull. "I like to read. I like history, I like mythology, and the more I read that stuff, the more I could see little patterns. People wanting there to be something more to things than there really is. It just seemed off in my head."

Her eyes scanned over the ceiling, like she was replaying memories across her retina, before she settled back on Abattoir. "So I don't know. Do I think about it often? I know it kind of drives me. Knowing this life is all I've got makes me want to get the most out of it, and fuck anyone in my way. I don't live to appease some diety that may or may not exist. I get to just be me." She plopped back and spread her arms out. "It's fun."
"Oh."

Well, that was food for thought. She definitely hadn't pegged Styx as the kind of person who'd grown up in a stable home life, not to that extent - hell, even the classic 'stifling religious environment' experience had been impossible for someone who'd switched homes as often as Abattoir did growing up. The more they talked, the wider the gulf between them seemed to loom.

"Maybe that's what's happening," she admitted, dropping into a crouch and leaning back against the pole (it was a precarious position, particularly if the train decided to lurch, and so there was a very real chance that Styx would at some point behold the amusing sight of the otherwise-composed Abattoir tumbling everywhere. "Maybe I'm just trying to find meaning in what's happening to me. I guess it could just be...I don't know, delusions? I've been getting hit in the head since I was like seven, I guess it could add up after a while."

They were a picture of contrasts together - her tense, feral crouch highlighted against Styx's casual sprawl on the seats.

"I get my fun in the ring. Short means to an end, at least." Her voice seemed a little more ragged. Overuse, probably, with maybe the tiniest hint of stress from the last month added in. "Not that it always comes easy, they keep telling me I can't use the lighttubes. Eh. I'll find a way."
Styx snapped her fingers. "Exactly. People want things to mean shit. There's a word for that, uh..." She chewed her lip as she tried to jumpstart her memory. "Apophenia, I want to say. Yeah." She sat up and leaned forward, getting closer to Abattoir's face. Maybe not the best idea, really, but Styx was fairly certain she could handle her if she went batshit.

"People like patterns. They like things to make sense and have reasons. If your house gets ripped by a twister and it's just this random act of nature, there's nothing you can do about it. But if there's some god up in the skies fucking with the wind because he wants you to sacrifice a goat…" She bobbed her head to the side. "Well, there's still not shit you can do about it, but at least you can sacrifice a goat and feel like you're fixing the problem. Sucks for the goat."

She gave Abattoir a rough - but playful - push on the shoulder and sat back in the chair once again. "Or maybe I'm wrong and you're a zombie. But I kinda doubt it." Her gaze went to the window behind her, watching as another train passed by in a flurry of lights. "Since seven, though? You've been fighting that long?"
Apophenia. She mouthed it to herself under the mask. Maybe it would've been a better ring name than 'Abattoir', given how things had turned out.

Abattoir's eyes followed Styx implacably as the other woman leaned closer to stare at her. The situation was just barely calm enough that she didn't lean in herself and try any counter-intimidation; despite how on-edge she always was, even Abattoir could recognize that that kind of thing wasn't necessary in this case.

It was entirely possible Styx was right, despite the...vividness of everything she'd experienced. Not something she wanted to consider at the moment, but entirely possible.

"Not my problem, as long as somebody else's the goat," she answered, reeling lazily back against the pole at the good-natured shove. "Probably not the answer most people would want, but there it is."

Another train passed by in the distance, and Abattoir watched it race past. Idly, she wondered where they were headed. Not that it mattered; she'd be able to find her way with enough effort if Styx decided to throw her into the Sea of Japan or some similar shit.

It was quiet for a moment as the final question hung in the air. There was no way to answer it that wasn't awkward. At last, she decided to be as straightforward as possible: "No. Didn't start training until I was thirteen." She cocked her head to the side, a distinctly owl-like movement. "Guess you started late, then?"
Styx took a moment - an uncomfortably long moment - before she finally spoke up to answer Abattoir's question. Her history wasn't really something she thought about often. She almost felt like it was another person, another life, and she hadn't really started living until River Stevenson became River Styx. She couldn't even remember the last time she'd said her real last name out loud. It wasn't like anyone cared. Herself included.

"Never really trained, myself." She held her arms out, showing off her body. She clearly wasn't a bodybuilder, she lacked the cut tone you'd expect from someone who spent hours in the gym, but there was clearly a lot of muscle under her bulk.

"I've always just been big, you know? Right after I hit thirteen, I just took off. I was bigger than most guys, meaner than all of them. I knew where to hit to make you really hurt, like raw instinct. I didn't really learn anything beyond watching some movies." She gave her fist a good rub, like it was her prized pet. "I'm good at violence. Always have been."

There wasn't any remorse in her voice, no regret. She was stating facts.

"You, though." She folded up her arms. "Thirteen's pretty young to start fighting how you fight. Muy thai, right? Who'd you pick it up from?"
Feelings, in the traditional sense that most people had them, were not a frequent thing for Abattoir; for a very long time, she'd experienced a lot of otherwise-neurotypical sensations in the same way that a person with their ear pressed to the wall 'experiences' a conversation in the next room.  Still, as Styx pushed past the mention of her childhood and focused instead on her teenage years - on the time when she'd finally started being successful at hitting people back - she felt a muted sense of relief.  The conversation hadn't gotten even heavier.  Good.

"Mm.  Natural.  The old genetic lottery."  She eyed the muscular warrior before her up and down appraisingly.  Styx's power was unrefined but she clearly knew how to use her natural advantages.  It brought to Abattoir's mind a keen reminder that they really were exact opposites in basically every way possible.  Even their appearances were a direct inversion.  "Well, it works for you."

She glanced pointedly at the hardcore title.  "Earned" or not, possession was nine tenths of the law.  The point stood.

"Uh...yeah.  Eight limbs."  Abattoir shifted a bit, details springing to mind like an automatic recitation.  Her master had been a staunch traditionalist, and no matter how hard she'd fought him on it, she'd still learned respect for her discipline.  "My Ajarn was actually, ah, he was the guy that raised me.  From around age twelve, at least."  It briefly occurred to her that she could've had it all wrong, and Styx could've been asking about her lineage, but...come on.  Not fucking likely.  (Truthfully, Abattoir only remembered it herself through her ram muay, which she hadn't done in years and which would probably freak out the rest of the car.  Not a good time to draw attention.)

Master Sirichai would probably--okay, definitely not have approved of how she was using her abilities, but hey.  At least she was wearing a mask now.  Not like it'd be traced back to him.

"I had my first smoker before I had my first period," she mused.  "It's not really that young, they start when they're still seven or eight in Thailand, so I actually got a late start.  Good to finally have an outlet.  It took some time before we really understood each other properly, but I learned a lot."
Page 2 of 3 •

1, 2, 3



Similar topics
---
Permissions in this forum:
You
cannot
reply to topics in this forum