Champions & #1 contenders
Back after a long absence
Sun Feb 11, 2018 10:08 pm by Iron Soldier
First off, I apologize to my friends and roleplay partners who've been left hanging. Any desire to cancel old threads is completely understandable.
I've been struggling with a serious health issue the past several months. There was a long period where things would seem to improve only to relapse, delaying things further. All that aside, just wanted to let people know I'm around again and to contact me via PM or Trillian - ironsoldier, if anyone wants to get things going again.
[
Full reading
]
Comments: 9
Offline for next week or two
Tue Feb 13, 2018 11:17 pm by peek6
Comments: 0
Looking for a match
Sun Feb 04, 2018 9:23 pm by GrandAkumaShogun
Hey there everyone I was looking for someone to take on my newest guy Imai. Get in touch if you're interested.
Comments: 3
Page 1 of 5 • 1, 2, 3, 4, 5


Hentai match : first to cum, loses

Caleb makes his entrance in the ring. He tries to show himself confident, but inside he's not so much. This match is going to be a rematch against Wolfess. The Golem couldn't bear having lost against her. While he thought having things in hands, she turned the tides and made him cum against his will before he could reach for the ropes. Caleb swears it won't happen again tonight.
Wolfess also confessed something : she thinks Caleb's cute and she fell in love for his big muscles. She wants to feel them all night. But Caleb hates to be said he's cute. That's the other reason why he asked for this rematch : Wolfess has to win again in order to feel Caleb's body all night as she wants. But Caleb wants to humiliate her, and in front of the whole crowd, he clearly intends to change Aimée de la Lune from a proud wolfess to a mere bitch.

We can say that a kind of rivalry was born between the Golem and the Wolfess.
Meanwhile, Aimee de la Lune would walk over to the front of the walkway and flashed a toothy smile, licking her lips and teeth before zipping them up in her gag. Ever since meeting Caleb and beating him, she was ready to have more fun with him. The thought of those muscles just made her giggle in glee.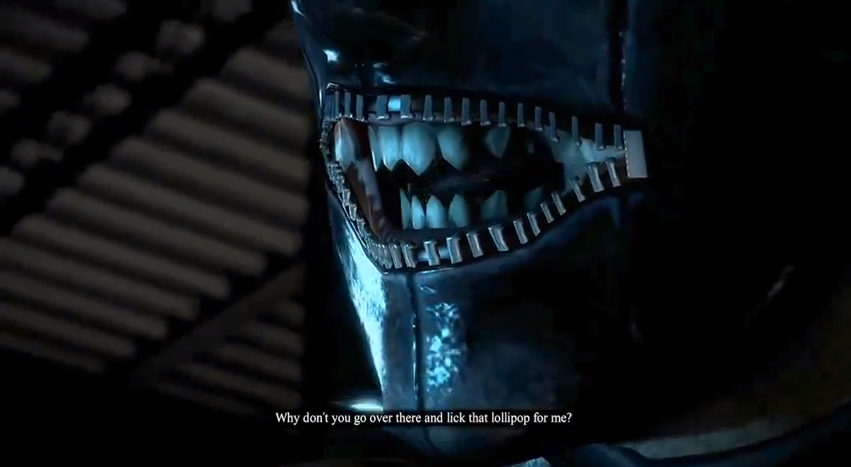 In the arena after 5 minutes have passed, the lights suddenly went dark and there was a sound of a howling wolf throughout the place. Then, there were glowing pink eyes nearing the front of the walkway. When "Lust Battle (edited for Wolfess" from Dead Rising 3 started to play, the lights would come up to reveal her...
The crowd would be surprised to see that her appearance was quite bold and vicious as an actual wolf though she was still fresh in AFW. She began walking like a wolf ready for the hunt and she was doing so in a seductive manner. She would eye the audience from the left to the right as the sound of seductive female laughter came on in the music, causing some chills to run down their spines. As the beat came on loud and clear, she would immediately perform a little sexy dance on the floor before continuing on her own two boots. She continued making her way to the ring and then go back on all fours to seductively walk between the bottom and middle ropes. She would stop at the middle of the ring to unzip her gag to reveal her smiling teeth as she howled up to the lights.
"HAROOOOOOOO-HOW-HOW-HAROOOOOO!!!"
That howling was enough to get some cheers from the crowd as they were excited to see how this match is going to turn out. When she was finished, Wolfess would go to her own corner and waved her fingers at Caleb to say hello in a teasing manner.
_________________
Focusing on good old fashioned basics and just having fun. Nothing else and nothing more.
The World of Dynamo
From his corner, Caleb would watch at Wolfess during all her entrance. The big boy gets a bit turned on by how sensual Wolfess moves all along. Only with her attitude, she manages to get the boy rather horny. She doesn't intimidate him however. Caleb just cannot stay focused on what he has to do, but he's not afraid. He is still sure to win. He just starts the match getting horny, and in a hentai match, it's not an advantage.

The referee eventually rings the bell, and the match starts. Realizing his cock is already half-erected, Caleb tries on his side to get Wolfess a bit horny as well : he rolls his pectoral muscles for her sight. He then slowly walks toward her.
Wolfess said it herself that Caleb's muscles are the one thing that really made have cute feelings for him and those pectoral muscle rolls had her panting. But as he was walking towards her, she would still have control of herself in order to be focused. She walked seductivelt toward him as she licked her lips and puckered them for a teasing air kiss.

Once they were face to face, Wolfess would say, "Bonjour, mon ami. Are you excited to see moi? I remembered you promised moi a...how you say..."date", no?" She raised her arms up for a test of strength against the golem.
_________________
Focusing on good old fashioned basics and just having fun. Nothing else and nothing more.
The World of Dynamo
« Bonjour beauté. », he answers. He locks up his arms with her.
« Only if you win. So you won't have this date actually. »
Wolfess is so seductive, she turns the boy on, and Caleb is only half-focused on the test of strength.
So Caleb is trying to sass with Wolfess, is he? Good. Wolfess can do the same. As soon as they locked fingers, hands, and arms together, she would start pushing as hard as he could. Perhaps with her seductiveness, Caleb would not be as focused and go down much easier. During the test, she would say, "You know, I would gladly offer myself up for you eef you started being a leetle more...obedient."

Whether or not Caleb would go down or not, Wolfess would admire his strength and muscles still.
_________________
Focusing on good old fashioned basics and just having fun. Nothing else and nothing more.
The World of Dynamo
« Obedient ?! Haha, you fool... »
Caleb opposes his own strength. He is overwhelmingly able to dominate in this test of strength. Wolfess can admire his muscles tensing and flexing. But the Golem is distracted by the close sight of her breasts and by her seductiveness. He lets himself get surprised and kneels before her.
« What... »
Because the Golem was distracted by Wolfess's seductive manner and figure, she would easily get him to fall on his knees and say, "Exactly...just stay down like a good boy and I'll be all yours for the taking. Heeheeheehee!!" She stuck her tongue at him teasingly as she kept pushing.

Then, Wolfess would try to make Caleb go lower until he is on his back so she can climb up on top of him seductively and with fluttering eyes. If she can hold him down, her hands would feel those muscles and hold onto his arms before leaning her face in close and opening her mouth close to his lips. "Keess me..."
_________________
Focusing on good old fashioned basics and just having fun. Nothing else and nothing more.
The World of Dynamo
Wolfess mocks him and the Golem doesn't understand how he could kneel and lose the test of strength against a girl. Impossible... Now Wolfess takes full advantage of it, shoving him down. Caleb lies on his back and the girl holds him down. She feels his muscles, making him shiver a bit, then closes her lips to his, and asks for a kiss.
Caleb has no choice. Maybe he can win a test of kiss. He engages the tongue wrestling, trying to invade the girl's mouth.
Wolfess would be glad that Caleb is complying to her request. Now, she could kiss the man who's muscles she admires. She slowly moved in and started to kiss him on the mouth and she starts to feel Caleb's tongue wrestling with hers. She couldn't but giggle a bit as she did the same, wanting the feeling of pleasure to happen in all areas. "Mmmm..." she moaned in her mouth and his as she is definitely enjoying the kiss. In fact, it was turning her on quite a bit.
_________________
Focusing on good old fashioned basics and just having fun. Nothing else and nothing more.
The World of Dynamo
Page 1 of 5 • 1, 2, 3, 4, 5



Similar topics
---
Permissions in this forum:
You
cannot
reply to topics in this forum