Champions & #1 contenders
Highfly Flying Out Of Town
Tue May 22, 2018 1:31 am by HighFly
Hello everyone, I just wanted to inform all I have threads with that I will be gone from this coming Wednesday through Sunday. I won't be able to post consistently if at all during this time, but I will try to make up for it next week! I am sorry for the inconvenience to everyone.
Comments: 7
The Austrailian Mudslide is Back.
Sat Apr 21, 2018 6:20 am by Softsquad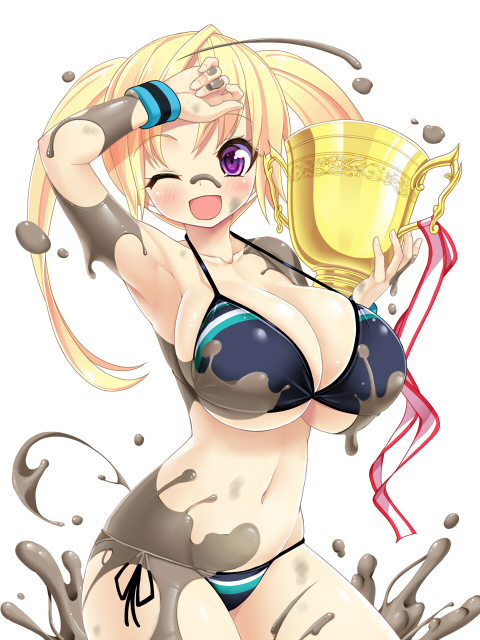 Granted that most of you won't know me or remember me, but I've had a few matches here and there some time ago. Well I think its time to become a regular around here and try to have some fun again, but at the same time keep coming back. Anyway I think its time to jump into some matches with Zoe Taylor, my mud wrestling character from Australia and get her back into the squared circle. Furthermore I will update my characters as I think some proper changes need to happen.
So if anyone would …
[
Full reading
]
Comments: 5
Page 1 of 3 • 1, 2, 3


Adin Kollen:
VS!
Eske Mal:
A tense sort of excitement was rushing through the crowd of the Tension League. There were rumours of a new face making their match debut tonight. No one had a picture of the supposed newcomer, or many concrete details in general. The only scrap of information people had managed to unveil was that this new challenger to AFW was apparently a former model, which seems to have been the cause of so many filled seats tonight. The lights over the entrance ramp began to dim, indicating that it was time for the next match, and the arrival of the first combatant.
There were several loud bangs, the crowd cheering on instinct, as pink fireworks streaked up into the air like fountains. The fireworks began on the middle of the stage entrance and spread to the sides, going off in perfect sync, as Paramore's Born For This began to play. A silhouette was clearly visible behind the fireworks, and glitter and pink and turquoise ribbons flew over the shadow as the fireworks cleared. The crowd continued cheering...but their hype began to subside into confusion as the silhouette turned around, revealing a platinum blonde haired male. Wearing square cut turquoise trunks with pink and black leopard spots, turquoise boots rising up to just under his thighs and a pink furred vest which was unbuttoned.
Many males leaned forward in their seats, staring at the chest area, and falling back in dismay as they realised the lack of one...or two very distinct features they had been eager to see. Pink sunglasses were worn over his eyes, which he lifted up to rest on his hair, revealing his eyes to be blue. He flashed a cheerful grin, and gave an even more cheerful wink.
"Look alive, Tension League, 'cuz the DIVA LAD IS ON THE SCENEEEEE!!!" He yelled at the top of his lungs. The audience was stunned, completely thrown off by the dress sense and gender of the newcomer. A few seemed so disappointed that they were beginning to leave their seats, in fact. This didn't go unnoticed to the brightly coloured wrestler, but he didn't allow it to bother him. In fact, Adin had expected a dismayed initial reaction.
...Ah, there
were
a few high pitched screams he could make out from the crowd. 'Least the girls were happy! He began to walk down the ramp to the ring with a kind of saunter, purposefully posing along the way with turns, finger points and even a few casual flexes. Cameras were flashing at him from every angle, and he wanted to be certain that they could get his good side. If he excelled in his debut today, he'd probably make a few front pages on pro wrestling magazine issues!
Of course, he already
had
featured on some, back in his home country. Both in wrestling
and
fashion in fact. But hey, a new federation meant new marks to make! The walk down the ramp was, in a way, nostalgic for him given his previous career in modelling. But he wasn't turning back on the catwalk just yet. No, the real stage was the wrestling ring before him, and he was going to give one hell of a performance!
Reaching the ring, Adin grasped the bottom rope and heaved himself up onto the side, before leaping over the top rope. His heels slammed down upon the canvas, bouncing as he strode into the centre of the ring. He twisted on the spot once, turning his head over his back and placing his fingers on his glasses with another hand on his hip. Another casual grin, the pose emphasised his style and flamboyant nature. Of course, the crowd had no doubt caught on by now, but just in case some had doubts
Adin strode over to his corner, propping his back against it and leaning back in an almost lazy nature, his legs crossed as his hands rested upon the ropes. He had no idea who his opponent was to be, so naturally he was curious. He hoped that, above all else, they'd be a partner capable of putting on a good show with him. In the meantime while he waited for them, the Diva Lad pulled from his vest pocket a small hand mirror, as he began surveying his facial appearance and hair, tweaking the latter ever so slightly with delicate, careful fingers.
Very...Eccentric and colorful to say the least.

As the song 'The Killing Moon' by Echo and the Bunnymen started, Eske would appear before the crowd and walk out on stage. In her hands was the same red book and a quill pen she started to carry in her last match. Like last match, she had very little idea about who her opponent was. Just the name.

He was new. Almost too new. As if this was his debut or something. And maybe it was. As into detail Eske was, she didnt care for those types of details.

She opens the book and holds it in one hand. Her other hand fixes her glasses a bit, they had a small scratch on one of the lenses. "So...Im assuming you dont know me either. In which case, my name is Eske." She licks the pen end of the quill pen.

"Name?"
_________________
Updated: 11/14/17
First Year
,
Home 2
,
Nick becomes a 'father'
,
Home 3
,
Juniper and Sabre
,
Home 4
,
Home 5: Ultimatum
,
Home 6: Regear
,
Update! With IndigoDragon
,
Home 7: Stage Setter
,
Home 8
Adin glances up from his mirror as the music for his opponent begins to play, signalling their arrival to the ring. His first thought upon laying his eyes on her was that the girl seemed...learned. The book she clutched tightly in her hand, along with the red quill and the glasses she wore on her face were the clues that made him arrive at that conclusion. She was kinda cute, honestly. But he couldn't help but think she looked more like a manager than an actual wrestler.

She enters the ring and introduces herself. Adin pockets his mirror and flashes a bright smile at her. "Name's Adin, Adin Kollen! They call me the Diva Lad." His eyes fell upon the book in her hand, with her quill at the ready. "Looking for an autograph? I'm flattered, but it's kinda early don'tcha think?" He teased. "This is only my first match...in AFW at least."

His smile fell slightly as he looked over her appearance again. "Er, don't take this the wrong way but...are those glasses of yours legit? It's just...you sorta look like you belong in a library rather than a wrestling ring." His tone was perfectly, genuinely polite. His intention wasn't to taunt her; far from it, he was curious about her. Of course, it remained to be seen if Eske would interpret it as such.
Her guess was correct. He was nothing but a new face. When he asked if ahe wanted his autograph, Eske dipped her head down and chuckled in a spiteful manner. She wrote his name in the book and then turned it around so that he could see it.

Eske would pull out another quill pen from the binding of the book and crossed out his name, written in black, with red ink. Eske put the quills and the book outside of the ring, carried off by a stagehand.

"Th only place I belong is above you after I've attained victory over you."
_________________
Updated: 11/14/17
First Year
,
Home 2
,
Nick becomes a 'father'
,
Home 3
,
Juniper and Sabre
,
Home 4
,
Home 5: Ultimatum
,
Home 6: Regear
,
Update! With IndigoDragon
,
Home 7: Stage Setter
,
Home 8
Adin gave an almost innocent look at the book Eske had written in. His name was there, scrawled in black. "Er...okay, I don't really get it but-" And then she produced a different quill, a red one, that she promptly crossed his name out with.

Oh. Oh no. Oh no she didn't.

Adin leaned back against the turnbuckle, looking amused. For a girl that seemed quiet and reserved, she obviously had some fire brimming inside of her. That made him all the more eager for the match to start. "Heh, is that so? I'd think twice about that if I were you, lady. I might look fragile..."

He removed the sunglasses off his hair and took off his vest, revealing his slender, but toned chest. He disregarded them at the side of the ring, sunglasses atop the vest, as he stared down Eske with a smirk. "But if you're not careful, I'll be the one breaking you in half."

Admittedly, he'd never go that far, even against a heel. But the words would highlight to the writer that he was from a pushover despite his flamboyant appearance. The referee checked his boots and the side of his shorts for weapons, and then the bell rang to begin the match. Adin edged out of the corner, tentatively approaching, but not reaching close proximity with Eske. He wanted to see what kind of move the female would make before he made his own.
He flipped off his clothes and showed off his body to Eske. She fixes her glasses and smirks. "What? Am I to be fearful of some flasher? Some man who clearly hits the gym just enough to keep his figure? I'd laugh but you arent worth it"

Eske was checked by the referee as well. She makes a confused face, as it hadn't happened before. Did Adin request it? Was he worried about Eske? If so, he was very good at hiding it. Eske made her stance and kept still in her corner as Adin approached
_________________
Updated: 11/14/17
First Year
,
Home 2
,
Nick becomes a 'father'
,
Home 3
,
Juniper and Sabre
,
Home 4
,
Home 5: Ultimatum
,
Home 6: Regear
,
Update! With IndigoDragon
,
Home 7: Stage Setter
,
Home 8
For the first time since he entered the ring, Adin's smile twitched at Eske's comments. "I wouldn't expect you to understand style, lady. But hey, maybe you'll learn something over the course of this match." He gave an apologetic shrug, smirking at the girl before him. "Just try not to look too upset when I say 'I told ya so'. I'm not big on crying girls."

Eske maintained her stance in the corner, causing a stare down between her and Adin. Both of them seemed to be awaiting the first movement of their foe, and the Diva Lad personally didn't want to be the one with the opening attack. But standing around would accomplish. And hey, he had a chance of taking Eske by surprise. It was worth a shot!

Adin suddenly darted forward, performing a brisk roll to clear the distance between him and his opponent. As he came back up, the Diva Lad smirked as he held the palm of his right hand open. He launched it towards Eske's chin, a strike known as a Shotei that he had learned during his time in Japan so far, intending to hit her with enough force to make her fall back against the turnbuckle.
Something that set Eske apart...What was lacking in strength was made up for in precision strikes. When he rolled closer to her, Eske widden her stance and got ready to throw something Adin came up and sends a palm strike upwards!

She was taken a bit by surprise. As she had to only block, not block and counterattack. She uses her left arm to send a knifehand at his right to deflect his attack.
_________________
Updated: 11/14/17
First Year
,
Home 2
,
Nick becomes a 'father'
,
Home 3
,
Juniper and Sabre
,
Home 4
,
Home 5: Ultimatum
,
Home 6: Regear
,
Update! With IndigoDragon
,
Home 7: Stage Setter
,
Home 8
Adin's eyes registered surprise as Eske's left arm came swiping in, parrying his palm strike. His right arm was thrown to the side, and it was an expert strike by his opponent. Seemed he wasn't the only one who specialised in those types of moves. The thought made him smile despite his failure. Looked like this match was going to be pretty exciting!

Of course, his collection of wrestling moves extended far beyond just strikes. Adin wasn't foolish enough to rely purely on one kind of style in the ring. Thinking fast, he swerved his right arm to the canvas, trying to ignore the slight numbness from where Eske had hit him. His palm was still open, and he pressed it down against the mat along with his left hand, doing the same.

He shifted his body, lifting up his legs to quickly handstand in front of Eske. His legs would aim to scissor themselves right around his female foe's neck, pressing tightly to try and lock her in with his feet behind her head. If he managed this, Adin would attempt to throw her through the air and down upon the ring surface using his legs. In other words, a headscissor takedown.
Eske was looking slightly to the right, so she was unable to see what was coning from the left. It was too late by the time she did. Both of his legs wrapped themselves deviously around her neck. Her eyes widden and the writer even blushes a little.

Not the move she was expecting him to use. Eske was even more shocked when Adin lifted her off of the ground and slung her through the air to crash down on her back.
_________________
Updated: 11/14/17
First Year
,
Home 2
,
Nick becomes a 'father'
,
Home 3
,
Juniper and Sabre
,
Home 4
,
Home 5: Ultimatum
,
Home 6: Regear
,
Update! With IndigoDragon
,
Home 7: Stage Setter
,
Home 8
Page 1 of 3 • 1, 2, 3


---
Permissions in this forum:
You
cannot
reply to topics in this forum