Who is online?
In total there are
47
users online :: 3 Registered, 1 Hidden and 43 Guests :: 2 Bots
killcarrion
,
LtLukas
,
Old_Man_Tai
Most users ever online was
390
on Tue Jan 02, 2018 2:02 pm
Champions & #1 contenders
Highfly Flying Out Of Town
Tue May 22, 2018 1:31 am by HighFly
Hello everyone, I just wanted to inform all I have threads with that I will be gone from this coming Wednesday through Sunday. I won't be able to post consistently if at all during this time, but I will try to make up for it next week! I am sorry for the inconvenience to everyone.
Comments: 7
The Austrailian Mudslide is Back.
Sat Apr 21, 2018 6:20 am by Softsquad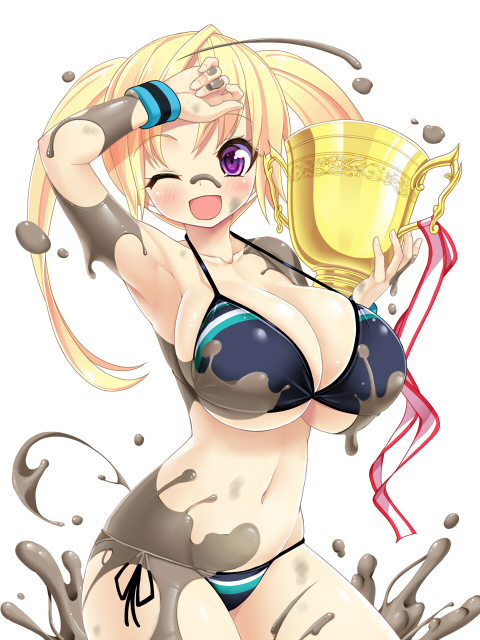 Granted that most of you won't know me or remember me, but I've had a few matches here and there some time ago. Well I think its time to become a regular around here and try to have some fun again, but at the same time keep coming back. Anyway I think its time to jump into some matches with Zoe Taylor, my mud wrestling character from Australia and get her back into the squared circle. Furthermore I will update my characters as I think some proper changes need to happen.
So if anyone would …
[
Full reading
]
Comments: 5
Page 5 of 6 •

1, 2, 3, 4, 5, 6


It was funny - they hadn't been wrestling all that long, but  Army already felt like they'd been at it for an age. This wa almost like his old boxing days, when a single round could wipe you out if you didn't pace yourself just right. Judging from the look on Ryuu's face, he ws thinking similar things.

Before Army could get his hands on the big guy and go back on the offensive, he was greeted with a fierce knee, crashing right into his chest. He grunted and staggered back, clutching the point where it hit, then quickly getting his fists up for defense. What he expected was a barrage of offense, as Ryuu took advantage of the opening. What he got, instead, was talking. A lot of talking, with some interesting things to say.

He was used to trashtalk, but it was typically aimed at him, not at his sister. Most people back home weren't stupid enough to bring Carmen up and threaten her to piss Army off, and it seemed like people in Japan got the message, too. Except for Ryuu.

No big deal. Army could could teach him easy enough.

His face hardened and he bolted forward - no punches this time, but a kick, a nice big boot aimed at Ryuu's chest, as the audience members behind him wisely ran out of the way. If Army had his way, he'd leave an imprint on this fucker's chest that would last for weeks.
At first Ryuu thought that perhaps Army hadn't heard or him, or that nothing he had said had gotten to him at all. It was odd considering his intel had suggested the exact opposite should be true. Whatever, he had doubled him over with that knee, might as well take advantage of it. Ryuu clasped his hands together and raised them above his head, taking a few steps and going for a double-axe handle.

The attack would never land. Army charged silently and swiftly, no roar of anger or other telltale signs he was going to act. Just a hard boot to the chest that sent Ryuu flying into the barrier.

As if he had been hit by a battering ram, Ryuu was thrown backwards into the barrier with such force that it dislodged the heavy thing and broke the continuity of the dividers. Ryuu blinked in confusion, one moment he was standing above Army and now he was flattened, he had never even seen it coming! But boy did the literal boot-print on his chest deliver the message. Ryuu's taunts were on the money, but they had elicited a silent, blazing, concentrated anger rather than the reckless kind. As he moved to sit up, Ryuu's head was spinning from hitting the barrier, and breathing was a concerted effort after Army's boot nearly caved it in. As he got up, his vision swam and he fell onto his hands and knees, unable to will through the sudden nausea and pain.
The most surprising thing here was that Ryuu seemed to be surprised. Army couldn't imagine why, but he was confused about exactly why the Puerto Rican Bomber was so pissed off, it was all too easy to explain.

"What's wrong, bitch?" He backed up after the impact, catching his breath before and righting himself before he moved back in. He spat out his mouthguard on the way, wanting to make sure his opponent heard him, loud and clear. "All the sudden, you ain't got shit to say!"

Army dropped down and grabbed Ryuu by the wrist, looking to lift him up and give him a hard Irish Whip right into the steel stairs. Behind him, he could hear the referee yelling something, probably warning him to get back in the ring, but he didn't much care. This guy was trying to get under his skin, and he'd succeeded. Army wanted to make sure he wished he hadn't.
Ryuu didn't have much to say when Army spat his mouthguard out and started to mouth off. Words were not easy to come by, his throat burned and his chest ached with every breath. Instead the sound that came out was somewhat of a chuckle as Army hauled him to his feet. Oh he'd really gone and done it now, and in his delirium of pain and dizziness, Army's anger started to seem so humorous.

"Why....so serious, hotshot?" he mumbled, grabbing a hold of Army's shoulder so he could support himself.

Again Ryuu was pulled and thrown with an irish whip into the stairs. He toppled into them chest first, making a horrible screeching noise as the metal grinded across the floor. Ryuu made the laughing sound again as he slumped to the floor, his upper half still somewhat draped over the steps. What he was going on about wasn't clear yet, but Ryuu was looking straight at Army every time he chuckled.
Army was battering this guy and getting battered by him, had been almost since the start. They were both bruised and probably had a few fractured bones, stuff that would only show up in an X-Ray a few hours later. Between the two of them, they probably had enough sweat to fill a decent sized bucket.

And Ryuu was still smiling.Still laughing. Still taunting. And quoting the Joker, on top of it. The guy was begging for it.

"Shut the fuck up!" Army threw caution to the wind and charged forward, raising his foot up as he closed in. He was going to plant his boot in Ryuu's chest once again, only this time there were some steel steps behind to make the kick all the more painful.
Ryuu let out another pained cry as Army's boot crashed into his chest, causing the sharp edge of the metal stairs to press into his skin. There'd doubtless be a mark left there later, but that was the least of his worries with Army towering over him and madness in his eyes.

So far the plan was going off without a hitch, though he would have preferred not having to get his ass kicked to do it. Army was completely concentrated on kicking Ryuu's teeth in, so he was oblivious to the counting of the referee. They'd both been out of the ring long enough for him to start a count, and he was already up to six. Another four and the match would be a draw, no matter whether it was 'obvious' that Army was going to beat him if they continued. And as far as S.E.M.E. was concerned, forcing a draw was still infinitely better than suffering a loss.

"Man, I hope your sister was the one to...hnghh...get the brains in the family....because wow you're a stupid fuck" Ryuu grinned, pointing towards the giant screen in the arena. It displayed a close-up of the two bruisers and had a timer countdown superimposed over them, already at eight. He hoped the cameramen were paying attention, because he'd definitely like to get a recording of Army's face when he realized he had been duped.
Somewhere in the back of Army's head, he remembered that pro wrestling had rules, and one of the big ones was that, in a normal match, you couldn't just indefinitely brawl on the floor. There was a count going on, and he only had so long to get back into the ring. Hell, if he went back right now, he could probably get in before Ryuu had the chance to follow, and score an easy win. Then he could right back to stomping a mudhole in his ass. Simple.

Unfortunately, Army wasn't thinking that logically. Ryuu was still talking which meant he had to keep on attacking, and that was all he could focus on. He grabbed hold of the bottom rope for balance, then continued to ride the pain train.

"Will." Stomp. "You." Stomp. "Shut." Stomp. "The Fuck." Stomp, stomp. "Up!"
THAT'S 10! I'M CALLING IT! the referee shouted, swinging his hand around in a circle above his head. DING, DING, DING! the arena's bell went off, and a large black 'DOUBLE DQ' was then superimposed over the image of the wrestlers.

That didn't seem to matter to Army, nor did it really give him any pause. His one track mind was still committed to giving Ryuu hell as he stomped and stomped between every word. At the sound of the bell Ryuu started to laugh in triumph, but Army's thick boot made the sound die half in his throat. As Army continued to pound on Ryuu he slumped lower and lower onto the floor. His body shook with each THWAMP of the Puerto Rican's boot, but he wasn't making any attempts to escape or defend himself, suggesting he was thoroughly incapacitated.  

(MEANWHILE)

When Army didn't stop his rampage after the sound of the DQ bell, the remaining two members of S.E.M.E. appeared on stage in an instant. They were a blur of motion as they raced to get ringside and to their teammates aid. The Wild Wolf Hikaru was the faster of the two and with a howl of righteous anger he plowed into Army's side like a bullet train, tackling him to the ground without any regard as to how they were going to land. There was a wild rage in Hikaru's eyes that rivaled what Army had going on; he had one hand on Army's throat and his fist was raised while looking more than willing to start pounding on Army. It was only a loud snap of his leader's fingers that he hesitated to throw the first punch, opting instead to shove off of Army and retreat back to his teammates side with a dirty glare.

Meanwhile when Mitsuru had arrived, she went straight and knelt down by the fallen Ryuu, checking his pulse and lifting his eyelids up to assess his status. She knew exactly what Hikaru was likely about to do and it wasn't going to help S.E.M.E.'s case whatsoever, she extended her arm and snapped her fingers loudly to recall him.

Ryuu's left eye fluttered open as he was helped back into a sitting position, but he made it clear through pained expressions and groans that he was still reeling from Army's assault. Together Mitsuru and Hikaru lifted the loopy Ryuu to his feet, looping his arms behind their necks so they could help him stand. His head was sunk low but he still managed to give Army a smirk of superiority as all three S.E.M.E. members stared him down.
There was a moment - a brief, flash in time, while Army was stomping  Ryuu into oblivioun - that he could have sworn her heard one of the weird things you could ever possibly hear in a wrestling arena:the cry of a wolf. She looked up, taking only a momentary pause from the beating, and that was when his memory became a little fuzzy.

Something plowed into his side and knocked him down. At first, Army thought it was just some random fan that jumped the barricade, but no - pretty odd for some nobody to move this fast. While the Puerto Rican bomber wasn't the fastest guy ever, he wasn't exactly slow, either. But this guy had his hands around Army's neck and was choking him before he even knew what was happening.

And then, all of the sudden, he was just...gone. He got off of Army, leaving him to choke on the floor. "-the fuck?" He spat out between gags.

Army sat up to find himself looking straight at Ryuu, and two guys he'd came in with. Well, a guy and a girl. The guy looked like a homeless man they'd found off the street, and the girl looked like the complete opposite - nice clothes from head to toe.

"Hey!" He grabbed the barricade and pulled himself up, beckoning them all to come on. "Fight's not over, get back here!"
Ryuu chuckled as Army got up from the barricades, looking just as pissed off and confused as ever. He was even egging them on, as daring all three of them to take him on at once. In his half-beaten to death, punch-drunk, or rather stomp-drunk, state the S.E.M.E. bruiser decided he liked Army, he seemed like a fun guy to have some drinks with.

Hikaru on the other hand was more than willing to accept Army's invitation for a scrap. He had already ducked Ryuu's arm and was mid way tearing off his jacket before Mitsuru took control of the situation. She gave Ryuu a gentle nudge and push, to which he responded by slumping onto Hikaru with all his weight. Hikaru growled in annoyance as he had to stop what he was doing in order to keep Ryuu's weight from flattening him. It was normally Ryuu's job anyway to keep their "attack dog" in line.

With her teammates back in order, Mitsuru stepped forward to take control of the situation. She had one hand on her hip and the other slid her ruby-red glasses down her nose just enough to look down at Army. With the same hand she lowered her glasses with she pointed her finger directly at the Puerto Rican. "Mmm, the fight ended when you disqualified yourself. Please make no mistake, if you start something here we will not hesitate to finish it for you. You don't have to accept your own failures, pero no soy tu madre, Armando. Actúe como un hombre, y vete a casa" she said, skipping into Spanish without skipping a beat. Spanish wasn't exactly her strong suit, but she was fairly certain that what she said was grammatically correct. Despite the man having a good half-foot height and nearly a hundred pound weight advantage, Mitsuru stood her ground without an ounce of fear or hesitation anywhere on her body.
Page 5 of 6 •

1, 2, 3, 4, 5, 6


---
Permissions in this forum:
You
cannot
reply to topics in this forum