Champions & #1 contenders
Summer Splash interest in Natasha Loclear?
Mon Apr 09, 2018 11:30 pm by daemongirl
Well my girl hasn't missed a summer splash yet, would anyone be interested in a match with her? Open to just about anything match wise, just pm me!
Comments: 1
Been Out with the Flu
Sun Apr 22, 2018 7:47 pm by daemongirl
Just letting those I have threads with know I've been out with the flu since early last week, but I will be back to posting tomorrow.
Comments: 0
The Austrailian Mudslide is Back.
Sat Apr 21, 2018 6:20 am by Softsquad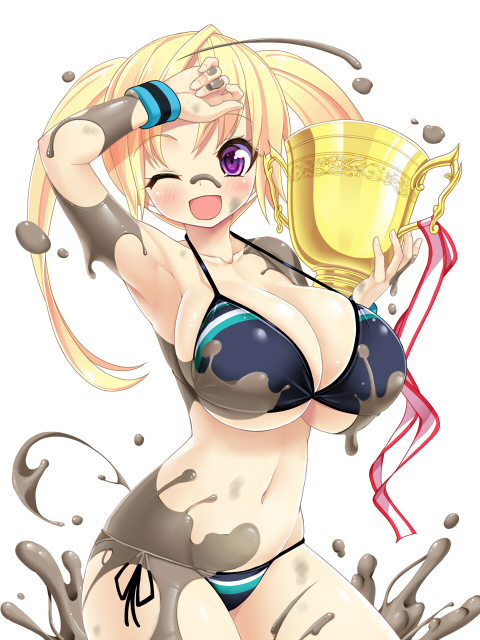 Granted that most of you won't know me or remember me, but I've had a few matches here and there some time ago. Well I think its time to become a regular around here and try to have some fun again, but at the same time keep coming back. Anyway I think its time to jump into some matches with Zoe Taylor, my mud wrestling character from Australia and get her back into the squared circle. Furthermore I will update my characters as I think some proper changes need to happen.
So if anyone would …
[
Full reading
]
Comments: 0
Page 4 of 6 •

1, 2, 3, 4, 5, 6


Army had to shake his hand a bit after the last hit, as the blow took some of the feeling clean out of it. When it retuned after a moment, there was a nasty sting all the way down his forearm, a little lingering phantom pain from the blow. Nasty stuff. Couldn't imagine how bad it felt on Ryuu, and he didn't much want to, either. "Like that?"

He knew how this would go - they'd exchange blows, hammer away at each other, until one of them finally gave out and went down. Ryuu, though, didn't seem to get the memo. Army was ready for another chop, but instead, he got a hard tackle in the stomach, as his powerful opponent plowed straight into him. The force was enough to lift him off his fee,t and the next thing he knew, his back was against the turnbuckle with a lot of pain going down his spine.

He groaned and slide down the ropes, only just barely managing to keep from landing flat on his ass. Ryuu hit hard. Damn hard. That one felt like it went through Army all the way, and he'd be reeling from the effects for a moment.

Crowd was eating it up, though. Silver lining.
Ryuu's surprise tackle works better than he could have hoped, he manages to scoop big ol' Army off his feet and ram him into the turnbuckle with his full weight behind him. As Army sinks down Ryuu takes a step back, his chest and shoulders heaving with exertion as he looks down on his opponent.

He places a boot on Army's chest, grinding his heel back and forth and trying out a double bicep flex to show superiority. It was pretty uncharacteristic of him, not that anyone would know that with this being his debut, and while he felt awkward doing it, the crowd seemed to eat it up.

Ryuu! Ryuu! Ryuu!

The S.E.M.E. bruiser could hear their chants more clearly now, it hadn't been a trick of the mind. Good, this was good! He had a following now, but he had to be smart, he couldn't risk eating up the attention and getting cocky. Ryuu removed his boot from Army's chest and grabbed a fistful of that black hair to yank him up. Raising his other fist in the air, Ryuu went for some personal payback and started to pound his fist into the top of Army's head.
And now they were chanting Ryuu's name. It looked like Army was helping a fresh, new Tension star be born. Lovely. Of course, he found it just a little difficult to appreciate that fact when said star had a big, ugly boot firmly lodged in the middle of his chest.

Army sneered and growled and pushed at Ryuu's ankle, struggling as the pressure was poured onto his pecs. His opponent's little show and dance didn't help things, either, though at least he was getting more into it. Army would take a guy with too much charisma over one with too little any day.

Army started to slump down when Ryuu removed his boot, but a hand in his kept that from happening, keeping him upright. He saw the incoming punch at the last second, had time to tense up and prepare for it, but that was about all he had the time to do - it rocked him upside the skull and drilled him back against the turnbuckle, shaking the ropes all around the ring.

The Ryuu chants were getting stronger, but the Army chants were still there, egging him on. He just needed a good opening...

The first blow to Army's head had an immediate effect and seemed to crush him against the turnbuckle. Ryuu followed up with a second and third strike, similarly shaking the ring and ideally having cumulative effects. Ryuu released his hold on Army's hair and let him slump into the ropes, confident that the beating would last long enough for him to set-up a bigger move.

Ryuu waved to the audience, pumping his arms into the air and trying to build up the anticipation. He grabbed Army's wrists and pulled him to his feet, and then hoisted the big man up over his shoulders in a fireman's carry. Slowly Ryuu began to climb up the corner post, going one set of ropes at a time. He hunched over and let Army slide into a sitting position on the top of the cornerpost.

A hand pressed on Army's chest kept him upright while Ryuu climbed up another set of ropes, raising his arms again for the audience. If he pulled this off, he might pull ahead in momentum and actually be able to shut Army down. It made him slightly apprehensive to be getting ahead of himself like that, but the energy of the crowd was starting to get to him more than he would have thought.

It was now or never. Ryuu climbed up the final rope and brought Army up with him. He draped the Puerto Rican's arm behind his neck and grabbed his waistband. He spent a second adjusting his grip to make sure he had a good hold, and then started to lift. The idea was to pull off a Northern Lights suplex, using the height of the turnbuckle to enhance the damage.
Army didn't know if Ryuu had any real training as a boxer or if he'd ever been in a  ring, but if he hadn't, he really should've considered it. He'd taken a lot of punches from a lot of guys in his days, and the S.E.M.E bruiser was throwing some of the best he'd ever suffered.

The crowd counted the blows off and the referee moved in, telling Ryuu to get off the ropes and give Army some space. He didn't have to worry, really - a guy this strong only needed a couple of solid punches to keep his opponent pinned for a moment, and he landed them in short order. As Army leaned against the ropes and tried to rearrange his brain, he expected the brute to come at him with something like a splash or a clothesline, throw him for a loop before he could recover. As it turned out, Ryuu had something a little more creative in mind.

Army didn't know what he was going for when he brought them up to the top rope, and he wasn't intending to find out. He went along with it, conserving his energy at Ryuu brought them up and started the suplex, but as soon as he started to jerk him back for the throw, Army wrapped his legs around the turnbuckle and brough it to an abrupt stop.

"Fuck!" He threw a punch into Ryuu's stomach. "Off!" And another. "Me!" And another.
Everything was going smoothly for Ryuu up till it was time to perform the suplex. Army had stayed quiet, the crowd was eating it up, and his set-up was perfect. But as soon as he started to tug and try to lift Army up, it was like the guy was a statue fixed in place. Ryuu didn't get a second opportunity to try yanking him up, as the not-so-deflated Army started blasting him in the stomach with point-blank punches.

With the first Ryuu was caught by surprise and with his guard down, ensuring that the subsequent punches had maximized effectiveness. Ryuu tightened his grip on the arm looped around his neck after the first punch to prevent him joining in with the other, but it didn't make much of a difference when the second punch punished him even more. He coughed and choked as the air was forced out of him, and his footholds on the ropes slid just slightly enough to jeopardize his balance.

By the time the third punch was hammered home, Ryuu was stunned in place. The fist dug into his stomach and threw him backwards from the ropes, crashing down onto his back in the ring. Confused where he had gone wrong and in pain, Ryuu covered his stomach with both arms and rolled away. His breathing at this point was more accurately described as wheezing as he crawled and dragged himself away to create some distance. He needed time to recover after that combo.
The crowd was cheering Army on after he made that escape, but he couldn't share the enthusiasm. That had bene close. Too close. If Ryuu scored whatever he was going for, that would've lights out - even if Army survived it, this was the sort of guy that would just hammer him into the ring and never give him a second to recover. He had to stay vertical as much as possible.

He started to get down from the turnbuckle, when he saw Ryuu on his back and an idea dawned on him. A stupid, crazy, borderline-insane idea, but those were the best kind.

He'd never done a high-risk move before. Maybe now was a good time to try.

"This is dumb, this is so dumb, this is duuuuuumb..." He started to stand up on the top rope and take aim, waiting for Ryuu to roll on his back. As soon as the target looked clear, Army jumped off and flew through the air, bringing 202 pounds crashing down on the S.E.M.E brute with a classic splash.
Ryuu is still hurting when Army climbs up and takes position, his thoughts are focused solely on putting as much distance between him and his opponent. He's still panting in exertion, starting to get tired as the cumulative damage catches up to the limits of his endurance. Every time he thinks he's beaten down Army and tries to set something up, Army roars back to life before he can put him down for good. What if he doesn't get another good chance? He had been careful thus far and it had only prolonged the match. He had taken his time to set up the suplex properly, and in a matter of seconds Army had knocked him down and forced him on the defensive. Perhaps it was time to rethink his strategy.....

It's the roar of the crowd intensifying that clues him in to what's going on behind him, and when he rolls onto his back, he spots Army standing on the turnbuckle. There's no time to get away, the Puerto Rican has already tensed his muscles and launched himself. Army's splash is inevitable, he's going to crush Ryuu no matter what, but he doesn't have to take it sitting down (so to speak).

Ryuu brings his arms up, shielding his face at a very specific angle. A moment later, all 202 pounds of the boxer comes crashing down into him.

"Gnnaghhh!" Ryuu shouts in pain as his body flops like a fish upon impact. His arms flop out to his sides and the pain in his chest and abdomen is so white-hot and crushing he wonders if his chest hadn't caved in. The only thing that gives Ryuu any semblance of relief was that Army was probably hurting some too. You see, Ryuu didn't have a lot of strength to counter him with, so he had to play it smart. The way Ryuu had angled his arms, Army's trajectory would have landed his jaw right into the hard point of his elbow, and gravity plus the Puerto Rican's weight would have done the rest.

However, now Ryuu's entire body felt like it had given up on him, he had ignored it's demands and now it wasn't going to listen. Army was fierce competition, there was no denying he had given Ryuu a run for his money and then some. He knew getting in the ring with him was going to hurt, and he had mentally prepared himself for it. But imagining it and experiencing it were two different things. Maybe it wouldn't be so bad to just lay there and let the big guy pin him....

No.....NO!

There was more at stake here than just Ryuu's debut. Hikaru and Mitsuru were counting on him, SEME's rep was on the line here. If they couldn't take down a titleless brawler, how were they going to expect anyone to take their claims about defeating the UKE seriously?

Ryuu threw his shoulders up like he was kicking out of a pin to get Army off of him. He rolled away from Army and under the ropes, literally falling off the side and onto his chest. Just as Ryuu had forced Army to make an escape into the apron, he was now forced to take that same option. An idea about the beginning of the match started to occur to him, but he'd have to wait to execute it. Ryuu's palms slapped at the cold concrete as he pulled himself away from the ring and into a sitting position, resting his back on the dividers. Hopefully he had rattled Army's skull around with that elbow shot, stunned him enough so that this brief R&R could actually give Ryuu some strength back.
Army connected with the splash, but a large part of wished it didn't happen. The bare mat might've been softer than Ryuu. It was hard to tell. Army did know one thing, though - the next time he considered doing a splash, he was going to have a bit longer to think about. Shouldn't have hurried into a move this painful.

The good news was that he hit Ryuu head on. The bad news was that he hit Ryuu head on. Whether it was on purpose or not, he couldn't be sure, but somehow he wound up with Ryuu's elbow striking him firmly in the jaw for a resounding hit, getting more power than he could've probably gotten if they'd been fighting on their feet. Army's body immediately went limp as the sense was knocked clean out of him, and when Ryuu pushed up toss him away, all the Puerto Rican bomber could do was flop on his back.

The referee moved in and looked like he might consider calling the match, but Army started to stir a second later. He was still conscious. Groggy, hurting, dizzy, but conscious, and still extremely pissed off. "Hijo de puta..."

Army rolled over onto his chest and pushed, grateful that Ryuu hadn't taken the chance to capitalize, but curious where he'd run off to. He found him soon enough, as the referee stared a count - he was outside the ring, trying to recuperate. Not going to happen.

"Come on, fucker." Army rolled under the ropes, landed near Ryuu with wobbly feet, and started to march towards him. He reached out to grab him by the hair and drag him up. "Not done, let's go."
Ryuu watches the aftermath of the splash and he was right, it wasn't pleasant for either of them. Once Army laid eyes on him, he was rolling out of the ring and trudging along towards him. Not much time to rest really, but duty calls.

Ryuu starts to get up on his own but Army gets there before he's finished, dragging him the rest of the way back up. Before the slugger could throw any punches, Ryuu got his digs in first. He grabbed onto Army's shoulders and shoved them down to meet the knee he was throwing up, and then pushed away from Army. Ryuu stumbled a bit but righted himself, bringing his arms up into another fighting stance.

Time to test that new strategy he had thought about. Ryuu had remembered earlier in the match that when he had pissed Army off, his movements got sloppier. And right now, that seemed like the best way to get Army to make an exploitable mistake.

"You're pretty much done here, Army. Look at you, you're built like a god and trained like a tank, and yet you STILL lose the majority of your matches. I mean really, you nearly just KO'ed yourself back there. You're decent jobber fodder Armando, but at least we know the Rodriguez family's bark is worse than its bite. Which reminds me, send your sister my regards. The 24/7 belt is a dangerous one to hold you know, anywhere you go you're liable for a match. It wouldn't be out of the ordinary for your hot sister to have a little 'accident'. S.E.M.E. isn't just here to take out the U.K.E. trash, we'll put down the stray dogs too"

Ryuu's little speech was more than he had said the entire match, and now that he was done he felt slightly flustered. Even if he hadn't meant some of the things he said, he was betting that at least one of them was going to upset his opponent and bait him into making a mistake.
Page 4 of 6 •

1, 2, 3, 4, 5, 6



Similar topics
---
Permissions in this forum:
You
cannot
reply to topics in this forum