Champions & #1 contenders
Summer Splash interest in Natasha Loclear?
Mon Apr 09, 2018 11:30 pm by daemongirl
Well my girl hasn't missed a summer splash yet, would anyone be interested in a match with her? Open to just about anything match wise, just pm me!
Comments: 1
Been Out with the Flu
Sun Apr 22, 2018 7:47 pm by daemongirl
Just letting those I have threads with know I've been out with the flu since early last week, but I will be back to posting tomorrow.
Comments: 0
The Austrailian Mudslide is Back.
Sat Apr 21, 2018 6:20 am by Softsquad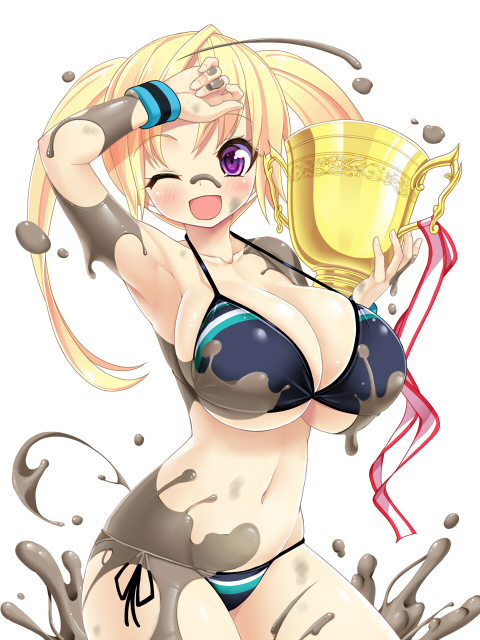 Granted that most of you won't know me or remember me, but I've had a few matches here and there some time ago. Well I think its time to become a regular around here and try to have some fun again, but at the same time keep coming back. Anyway I think its time to jump into some matches with Zoe Taylor, my mud wrestling character from Australia and get her back into the squared circle. Furthermore I will update my characters as I think some proper changes need to happen.
So if anyone would …
[
Full reading
]
Comments: 0
Page 1 of 5 • 1, 2, 3, 4, 5


Neske Aalpo is not a stalker. Or at least, she'd never say she was a stalker. Sure, ever since getting released from the hospital and having that little scuff with her debut partner, she had been checking up on her opponents from the same match almost on a daily basis, and occasionally watching from them from afar, but she wasn't stalking them. She was just... keeping an eye on them, for safety's sake. Especially the younger one. Honestly ever since she had gotten back onto the streets, Neske had some weird, conflicting thoughts and feelings going on in her. The last time she was less than 50 meters away from these girls, they pummeled the fuck out of her for what they saw as sexual assault. Sure, her partner had been the one to really make it personal, beating her within an inch of her life and actually raping her to top it off, but these two weren't exactly gentle. Besides, that "kiss" was just a tactical maneuver to make sure they weren't going to spray her with any hazardous mist, totally no personal feelings or sexual attraction involved. The pattering of her heart whenever she thought of it was just... coincidence. Embarrassment, maybe. It totally had to be something other than...

So far today wasn't anything special, but it was going to be. It had to be. She didn't load up her coffee this morning (well, early afternoon) with a generous amount of "liquid courage" just so she could not say anything. Just an apology, that's all she was here for, something so they wouldn't try to kill her on sight or anything from now on. Of course, she wasn't even sure if the two of them would recognize her. Her hair was mostly black now, so until they could get a good look at her face (or maybe another taste of her lips), she wasn't sure either of them would even know who she was. Still, it paid off to follow from a bit of a distance, at least until the two of them were relatively out of the public eye. Besides, getting herself mentally prepared was a bit of a task in and of itself, even with her buzz going on, so running through her words in her head while she followed suited Neske perfectly. Of course, she couldn't just watch forever, and the best moment to close in came as the sisters passed under a bridge. Sure, it wasn't totally private, but it was inconspicuous enough that she could say what she needed to without any eavesdroppers, and open enough that she could get pretty close to them without anyone making a scene. So this was it, it was now or never.

"Hey!" she called out as she increased her pace, her heart already pounding in her chest. "Hey, I need to talk to you for a second!"
The two sisters maids where now enjoying their day off.  Though Akiha could be demanding when they were on the clock, she gave them much time off.  Thus, the two red heads were now simply walking around, enjoying their day off.  The two were now talking about their own matches.  Hisui had only done the tag team match so far while Kohaku had done additional two, both of which she had lost.  It seemed that the sum was greater then the parts when it came to Kohaku and Hisui.

Suddenly the two stop as they heard someone yell 'Hey' before stating how they needed to talk to them.  Kohaku and Hisui both turned around at the same time and look at the person talking to them.  At first they didn't recognize her but after taking a moment to obeserve her they recalled who she was.  It was Neske, the person they had fought and defeated during their debut match.  Akiha had actually gotten mad on how they treated her after the match, stating it was unprofessional and all.  Think back on it all, they realize that Akiha had been right and they did take things a bit to far after the match.  "Greetings." stated Hisui in a polite tone as she gave a bow.  "Hello." stated Kohaku as she gave a wink.
Neske almost stopped dead in her tracks as the two of them responded. Either the pair of them didn't recognize her, or the risk of bodily harm she was facing was well below what she was expecting. Still, a feeling in her gut told her to go with the former, or at least act accordingly, so with a bit of a blush she continued a bit closer. "I... uh, I don't know if you remember me, we had a... er, a fight, or whatever," she stammered, her well-planned speech already in shambles. Neske was sorely tempted to add 'I'm the one whose spine you almost shattered,' but something told her that might not be the best etiquette and so she moved on.

Getting out what she wanted to say next took some mental preparation, and Neske had to clench her fists to keep her hands from shaking, her eyes glued to her feet. "Look... I-I know I kinda c-came off like I was... like, hitting on you or something, with that... when I... you know..." Breaking eye contact was not making this any easier, it seemed. "I just... I-I'm... I'm sorry...but I..." she trailed off, not sure if she had what it took to keep going.
The two red head maids listened to Neske as she had a hard time introducing herself again.  It seemed that she was scared, then again it was only natural.  The two maids had done a number on her during and after the match.  "We remember you, we defeated you in our debut match using our tag team finisher." stated Kohaku in a friendly and happy tone.  "Our manager said we were too rough on you and that we should apologize.  Thus, we apologize for how we acted in the match." stated Hisui in a polite tone as she gave a quick bow before returning to a neutral stance.

The two continued to listen as Neske then seemed to give an apology of her own.  She was apologizing for the kiss.  "Ah yes, the kiss.  Akiha said that you did it to check for possible green mist and you weren't being sexual or anything." stated Kohaku as she recalled the events.  It was that single event that had turned it from a simple match to sending out a message to everyone else about making an advance on Hisui.  "Apology accepted." stated Hisui in her usually robotic tone as she gave another bow to Neske.  "I guess its fine then, as long as you don't do it again." stated Kohaku as she then looked at her younger sister.
All things considered, Neske was pretty surprised at how understanding her former opponents were about all this. Or rather, she would be, if she could keep her shaking self under control for a scant second. Getting what she wanted to say was hard enough as it was, and part of her was just wishing the younger sister would get where she was going with this and get on her level. But of course, it couldn't be so easy, and so she'd have to make the extra effort herself.

With a bit of a strain, Neske brought her head up to look Hisui right in the eyes. As difficult as it was to maintain eye contact, as much as her brain screamed to run away, to say nothing and leave it at that perfectly pleasant note, Neske knew she wouldn't get another chance like this. "L-look... I don't want to-" she reached a hand out as she stammered, retracting it just before it reached the girl in front of her, "... I won't touch you i-if you don't want me to, but, well- I mean..."

She stuttered for a moment more before throwing her head back with a loud groan. "Ugh, why does this have to be so hard!" she sighed, waiting a moment before bringing back the eye contact with another step forward, reaching out past Hisui's head and placing her hand on the wall behind her. The two of them were close now, possibly uncomfortably close, but Neske had to get herself in a position where she couldn't back away. "Look," she said with a sigh, "I just... I r-really want to just like, h-hold your hand, you know? You get what I'm saying?"
The two maids could see that their former opponent was still nervous despite the fact that the two had already apologized and were being friendly.  Perhaps something else was bugging Neske, was she trying to tell them something.  She then said something about how she wouldn't touch Hisui if she didn't want to.  Kohaku then picked up on what Neske was getting to, but Hisui still remained out of the loop.  The two continued to listen to their fellow redhead as she began to state how hard it was.  

Then she finally said how she wanted to hold Hisui hand.  "Hold my hand?" stated Hisui as she was still a bit clueless.  "Basically she wants to date you.  I didn't know you were such a good kisser sister.  I mean just one kiss and she is already under your charm." stated Kohaku as she joked.  "That is not true.  Take that back!" stated Hisui as she now glared at her sister before looking back at Neske as she finally expressed some kind of emotions.  "Isn't it standard for us to learn a bit about each other before holding hands?" stated Hisui as she titled her head.  "Maybe we should get Akiha to take a look at her?" stated Kohaku as she now decided to circle around the two other redheads.
The older sister circling them like a shark, Neske found herself pushed ever further out of her comfort zone as she leaned back, giving Hisui her space. Another exhausted sigh was all she could manage at first, doing her best to keep from physically shaking as she tried to formulate a coherent sentence. "Take a look at- I... what?" she gibbered, feeling like there was another conversation going on without her. She turned her attention back to Hisui, not entirely sure what to say. "I-I guess? I don't know, maybe? I'm not sure what I'm even- I don't really... maybe you should just forget I said anything..." she muttered as old doubts crept their way into her mind, her eyes gliding back down to her feet as she crossed an arm nervously across her back. "I guess this was just like an impulse or something, ya know? I get it if you say no, I do..." she trailed off, too nervous to look Hisui in the eye.
The two maids took a moment to think about it.  Hisui was a bit nervous and unsure how to handle things.  Then Kohaku suddenly got an idea as she gave a smile and snap her fingers.  "How about you two talk to each other while you practice in the ring.  Don't worry she will be far gentler than before after all it is practice." stated Kohaku as she gave a smile.  Hisui gave a blank stare at her sister before then looking at Neske.  "That seems logical, we are still having a professional relationship while able to see if we want to go a bit further." stated Hisui as she now agreed with her sister.  "Also if Akiha suddenly shows up we can easily just state your training instead of dating." stated Hisui as she then hugged both Neske and her sister.
Neske took a hesitant step back at this suggestion they were so keen on. She was prepared to get rejected, and obviously she was hoping Hisui would say yes, but this... this was probably the last thing she was expecting. "We, uh... what?" Much of her earlier embarrassment was replaced by confusion at this point, though after a moment that only made her that much more embarrassed. Did she want to go along with this? She had to admit, her initial fears of getting her spine smashed were at least addressed, but... it just seemed kind of awkward. After all, if her debut had showed her anything, it was that she wasn't really a fighter in the same sense that these girls were, not yet. That could be reason enough to go along and spar with her, sure, but surely there was another way to get herself in better fighting condition? Something where she wasn't being watched by anyone?

Still, Neske felt this was the best chance she was going to get. She scratched the back of her head and sighed before responding. "Yeah... okay. I can do that. Why don't you show me where you girls, er, practice."
Kohaku gave a smile as Neske accepted her idea before giving both Neske and Hisui a hug.  "Don't worry, we actually aren't that good when doing single matches, in fact, you could call us jobbers." stated Kohaku as she tried to calm down Neske. "Let us get to practice." stated Hisui

The trio would finally arrive at the gym after a while but as they arrived they were greeted by a raven hair wrestler, Akiha.  "Kohaku and Hisui, what are you doing here?  I thought I gave you guys the day off." stated Akiha before she then notice a third redhead in the group. "Oh, well Neske wanted to date Hisui but we decided it would be better for them to have a match first before they got closer." stated Kohaku as she wanted to see Akiha reaction.  The raven hair wrestler raised an eyebrow and look at Hisui.  "It does make sense for us to learn a bit of each other before going on a date." stated Hisui in a calm manner.  Akiha then took a moment to look at the other redhead before realizing who she was.  "Ah, your Neske, pleasure to meet you, I am Akiha, Kohaku and Hisui manager and boss." stated the Raven hair wrestler as she offered her hand to be shaken while closing her eyes and forcing a smile.  It was clear that she wasn't happy about this.
Last edited by Person on Tue Sep 22, 2015 8:24 am; edited 1 time in total
Page 1 of 5 • 1, 2, 3, 4, 5


---
Permissions in this forum:
You
cannot
reply to topics in this forum