Champions & #1 contenders
Summer Splash interest in Natasha Loclear?
Mon Apr 09, 2018 11:30 pm by daemongirl
Well my girl hasn't missed a summer splash yet, would anyone be interested in a match with her? Open to just about anything match wise, just pm me!
Comments: 1
Been Out with the Flu
Sun Apr 22, 2018 7:47 pm by daemongirl
Just letting those I have threads with know I've been out with the flu since early last week, but I will be back to posting tomorrow.
Comments: 0
The Austrailian Mudslide is Back.
Sat Apr 21, 2018 6:20 am by Softsquad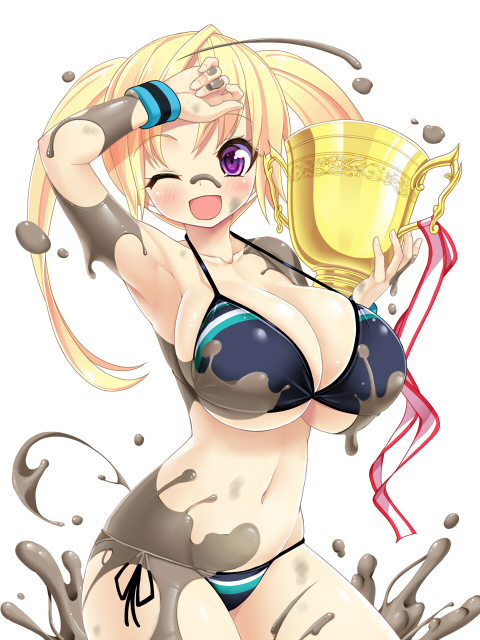 Granted that most of you won't know me or remember me, but I've had a few matches here and there some time ago. Well I think its time to become a regular around here and try to have some fun again, but at the same time keep coming back. Anyway I think its time to jump into some matches with Zoe Taylor, my mud wrestling character from Australia and get her back into the squared circle. Furthermore I will update my characters as I think some proper changes need to happen.
So if anyone would …
[
Full reading
]
Comments: 0

The Friction crowd was out in full swing tonight, filling up the stands for another standard show by AFW. Some decent matches, a few with women that could actually wrestle. The requisite hentai match, with an aftermath that was currently being cleaned up in the ring by the crew. Mops, squeegees, disinfectant.

The crowd was  just settling in for the second hour, when the ring announcer made her way out and headed down to the ring, microphone in hand and an annoyed looked on her face. The crew looked between themselves, not sure what to make of her approach, but they got out of her way and let her come in under the ropes, having the whole audience to herself. She strode her way over to the center of the ring, high heels tapping on the mat all way.

"Greetings." She waved to the audience as she addressed them. "The Won Sisters-"

She cringed as a wave of boos came her way. The Won Sisters had done relatively little so far in the AFW, but many of the fans already knew them for their infamous exploits with the Wrestle Angels. They were quite notorious for their pro-China/anti-anyone-else rants, and this mostly Japanese crowd was having none of it.

The announcer coughed and moved on. "Yes, well, the Won Sisters have an announcement they would like to make. Before that, however," She had a long, deep sigh. "They ask that we all rise in respect to the Chinese national anthem. So, if you would please...

Absolutely no one rose as the Chinese National Anthem boomed out over the arena speakers. In fact, as Cindy and Bridget emerged from the back, dressed in their matching red and blue qipao wrestling outfits, they might have very well been the only people standing in the entire building. Even the announcer had left the ring and found a chair next to the commenter's desk to sit on.

No respect. None at all.

Cindy and Bridget were not undeterred as they strolled down to the ring with their hands on their hips and their heads held high. The crowd booed. They jeered. They called them names and chanted in their ridiculous language. Such things did not bother them with the Wrestle Angels, and it would not be a trouble in the AFW. The Won Sisters had real matters to attend to.

They grabbed a microphone from the timekeeper's table and made their way into the ring, rolling under the rope and standing up in perfect unison. The SIster took up position in the center of the ring and stood, back to back, as Cindy began to speak.

"For many years, my sister and I have wrestled for you lowly dogs." She had a wry grin on her face, shaking her head as the crowd denounced their obvious greatness. "And even still, you fools do not know how to show proper respect. Shameless."

She passed the microphone off to Bridget.

"But we are not here tonight to talk about the unwashed masses of Tokyo." Her face was grim, more determined, more resolute than CIndy's. "No, we are here to speak about something that actually matters - the Purple Dragon, Hibiki Izayoi!"

The crowd cheered now, likely thinking the Sisters were about to meet their comeuppance at the hands of the Angel Slayer. They would be disappointed. Bridget shook her head in disdain and returned the microphone to her sister.

"We have seen your work, Purple Dragon, and know this:we are not impressed. Have you a match to go along with your boasts? A single win in this promotion? No. You are not a dragon, but a snake, slithering along the ground and striking when it is most opportune." She pointed out into the audience, getting downed thumbs wherever her gaze went. "Perhaps such antics are enough to fool the rabble on this island, but the Won Sisters are of higher stock."

Back to Bridget the microphone went, for the final time.

"Let us put an end to these games, Purple Dragon. We know you are here, in this building, tonight, and we are, either one of us, ready to destroy you and show the world what you really are. Come out now, if you dare, and let all these wastrels see how poorly founded their fears are."

The sisters turned around and faced the entrance ramp with folded arms, knowing that no one would be coming out. There had been a bit of untruth in their statement - the Purple Dragon was not in attendance, according to their source. Which meant she would not come out to accept the challenge, and the crowd would begin to see her veneer peeling off. This would throw the Purple Dragon off her game, and make her easier to deal with when the time came. The people would see her as a coward who would not even show up for a challenge, and the  Won Sisters would stand tall as her conqueror, getting the accolades they rightfully deserved.
Time began to slip by, as the Won Sisters watched the entrance to the arena. The seconds went by, and the crowd began to grow agitated. It was obvious that Hibiki wasn't here. If she was, she would have shown up already, right? She would have shown up and taught the Chinese siblings a lesson.

Time moved at a crawl, and the audience began to speak up, jeering and booing at the two arrogant sisters in the ring. They rose to their feet, screaming at the Wons to get on with it or to get out, when suddenly the arena went black.

Every light turned off. Everything went silent, and the crowd knew what was about to happen. Just as it had happened twice before, a number appeared on the jumbotron, and quickly began to count down...

5...4...3...2...1...

...and just like the first two times, the end of the countdown as heralded by an eruption of purple pyrotechnics around the entrance stage, exploding loudly as the lights of the arena suddenly flashed back on. Hibiki's entrance music blasted over the arena speakers, but unlike the first two times, Hibiki was nowhere to be seen. Not on the stage, not coming down the ramp, nowhere that the sisters could see.

If only they had eyes in the back of their head.

When the lights came back on, Hibiki was right there in the ring with the Chinese siblings, standing right behind them. With a sneer on her face, she leaned in close, sticking her head right in-between the twins. She whispered to them as her music suddenly cut off, her voice soft and quiet, a single syllable escaping her lips.

"Boo."
Time ticked away as the Won Sisters waited in the ring for something that would never happen. The crowd, of course, grew restless and bored, as their anticipation turned to annoyance. It was no small surprise, given the poor attention span of the AFW audience. If some idiotic little waif was not being fondled in the middle of the ring, their minds quickly wandered.

"As expected." Cindy raised her hand into the air like the triumphant conqueror she truly was, her proud voice booming across the arena. "Hibiki Izayoi knows her place, and so, too, will all of you." She put one hand on her hip and handed the microphone off to her sister, as they prepared to say their final words.

"Now you, all of you, know that we are the Wrestle Angels to be rightly feared!" Bridget thrusted her chest out as she proudly peered at the empty entrance ramp, a satisfying visiual if there ever were one. "There are only two, true dragons that the AFW need fear, and they are the Won-"

And then, everything went dark.

That music. That countdown. Such an overly garish and gauche entrance. It could only herald the arrival of a certain Purple Dragon, and the crowd, for once, cheered her approach. The Won Sisters knew better. It was all a trick, an overly elaborate ruse to put fear in their hearts. It would not succeed!

...in all actuality, Cindy had to admit, her heart was suddenly skipping quite a few beats. But she steeled herself. Even if their source - who would be meeting them after this for a long talk - was wrong about Hibiki being in the building, it did not matter. They were two. She was one. If she truly was foolish enough to show her face, then pain would be her only reward. One wrestler could not prevail against two wrestlers, particularly when those two were the Won Sisters.

When the lights came on, the Won SIsters were already in their fighting stances, ready for the Purple Dragon to make her grand appearance and come down the ramp towards them. They were eager. They were well-trained. They could handle whatever headed their, they were sure of it.

That bravado, however, quickly faded when Hibiki Izayoi made her presence known. Behind them.

"屁!"

"屁!"

The two sisters cursed, leaped away and spun around in unison, find themselves face to face to face with the infamous Hibiki Izayoi herself. In Wrestle Angels, their paths had rarely crossed, as the sister's efforts focused mostly on the tag titles. They knew she was impressively built woman, tall and sleek, but they had never properly appreciated it. Now that she was right there in front of them, however, her size was impossible to discount. Bridget, the bigger of the two sisters and the powerhouse, found herself quite dwarfed, and she could have sworn that Hibiki was smaller the last time she had seen her. It seemed she had grown stronger since Wrestle Angels. Troubling...

The sisters exchanged glances, unsure how to proceed, as their plan took an unwelcome turn. Cindy, the more loquacious of the two, snatched the microphone away and stood up straight with a weakened version of her usual confident smile, looking to regain control of the situation. From behind Bridget.

"Ha!" She snickered and turned her nose up at Hibiki. Given the size difference, it did not quite work. "As expected, you slink in the shadows like a thief, while we have no problem challenging you in the light of day." She pointed at Hibiki from over her sister's shoulder, as Bridget folded her arms and tried to stand up to Hibiki. Which, again, thanks to the size difference, did not quite work.

"Say your peace and begone, Hibiki, before our patience is tested even further."
Hibiki almost had a small measure of respect for Bridget, with the way she stood her ground, refusing to back down against her. Almost. Cindy's cowardice, though? Running and hiding behind her sister? Hibkiki made a mental note of that. She would have to take down Cindy first, just to ensure she didn't try to escape.

She rolled her eyes at Cindy's demand, and took a step closer towards Bridget. She stood almost chest-to-chest with the smaller woman, but ignored her, looking past her towards her sister.

"I have nothing to say," she spoke bluntly, narrowing her gaze towards the Won with the microphone. "You two called me out. You said you were ready to destroy me."

Her lips twisted back, into a subtle sneer, her voice lowering to a dangerous tone. "I'm here. You wanted me, you got me. Let's do this."
Even though the ring was filled with people they all typically despised, the crowd was clearly on Hibiki's side at the moment, and they all cheered when it became clear that the Purple Dragon was accepting the Won Sister's challenge. Not too surprising - she was Japanese, after all, and these rats would rally behind their own kind.

Cindy inwardly cursed as she looked left and right and left again, rueing her decision to come out in their ring uniforms. The schedule was cleared, and there was nothing to keep them from having a battle on the spot. Not that Cindy doubted their prowess and superiority, but she would have preferred things to be on their terms. Not Hibiki's.

Bridget looked over her shoulder and nodded, and the look in her eyes told Cindy all she needed to know."Do not be so quick to dance in the flames, Izayoi!" She stepped back and pointed between her and her sister.

"Be warned! My sister and I are as one. Our bond, unbreakable. To fight one of us is to fight both of us." She stepped forward and poke Hibiki in the chest, then quickly moved back. "Therefore, you must engage us in a handicap match!"

Cindy's smile began to return, knowing that this would be the point where Hibiki balked. She had to keep up her appearances, after all, and letting herself be destroyed by the Won Sisters would hardly help that. Her only recourse would be to back down.
Hibiki's sneer turned into a smile, as she heard Cindy's challenge. She tilted her head to each side, cracking her neck each way, and took a step back, folding her arms over her chest, giving the sisters a nod.

"A handicap match? Even better," she answered, her gaze still locked with Cindy's eyes. "I can break both of you at once. That sounds good to me."

She was ready for this, and ready to get things going. She finally broke her gaze from Cindy, just long enough to look towards the ringside officials, barking out an order towards them.

"Get a referee in here and ring the damn bell!"
Cindy and Bridget's eyes widened in unison, then quickly went back to normal as they tried to save face. Hibiki was acccepting? What sort of woman was this? Who in their right mind would willingly walk into such a clear a trap? Did her hubris know no bounds?

"Ha!" Cindy put a hand on her hips and smiled, baring her teeth in a proud smile.  "You...foolish fool! I was not yet finished speaking. For, you see, not only is there a strong bond between the Won Sisters, but so long as one of us stands, true victory can never be claimed over us. Therefore, you must not only defeat one of us to claim victory in this match, but you must defeat both of us!" She pointed at Hibiki's face, directly between her eyes. "The Won Sister's challenge you to a handicap elimination match!"

Cindy's confidence returned in full once more as the ringside officials began to get things set up. They need not even bother - soon, the Purple Dragon would see the error of her ways and protest the match!
Hibiki rolled her eyes again, glancing towards the referee as the woman began to climb into the ring. She stepped forward again, reaching out to shove Bridget aside, so that she could step right up to Cindy, and stare directly into her eyes.

"Elimination match? Fine. Any other stipulations you want to add before we get this started?"
Cindy backed away and nearly dropped the microphone as Bridget was pushed out of the way - she likely would have fallen out of the ring, if not for the ropes behind. She was merely taken back by Hibiki's monstrous size, that was all! She quickly regained her composure and spoke up, standing as tall as she could with the Purple Dragon's shadow falling over her.

"So confident, so headstrong, Hibiki. But you, uh, most also realize that the Won Sister's not only fight as one, but we are one! A true victory cannot be attained over us as long as we are apart. Therefore, in order for you to win, you must defeat both of us at the same time!"

There. That should put some pause in her steps. There was simply no way that Hibiki Izayoi would accept such an audacious challenge. She would have to be insane. Literally insane.
Hibiki would have laughed, if the entire situation wasn't so stupid.

She took a closer step towards Cindy, so that the two of them were standing body to body with each other. She looked downwards at the twin and smirked.

"I accept. Is that it? Or do you want to add more pointless rules to this? You can keep stalling all you want, but I'll warn you now. The longer you stall, the longer I'm going to spend breaking you before I beat you."

---
Permissions in this forum:
You
cannot
reply to topics in this forum