Champions & #1 contenders
Summer Splash interest in Natasha Loclear?
Mon Apr 09, 2018 11:30 pm by daemongirl
Well my girl hasn't missed a summer splash yet, would anyone be interested in a match with her? Open to just about anything match wise, just pm me!
Comments: 1
Been Out with the Flu
Sun Apr 22, 2018 7:47 pm by daemongirl
Just letting those I have threads with know I've been out with the flu since early last week, but I will be back to posting tomorrow.
Comments: 0
The Austrailian Mudslide is Back.
Sat Apr 21, 2018 6:20 am by Softsquad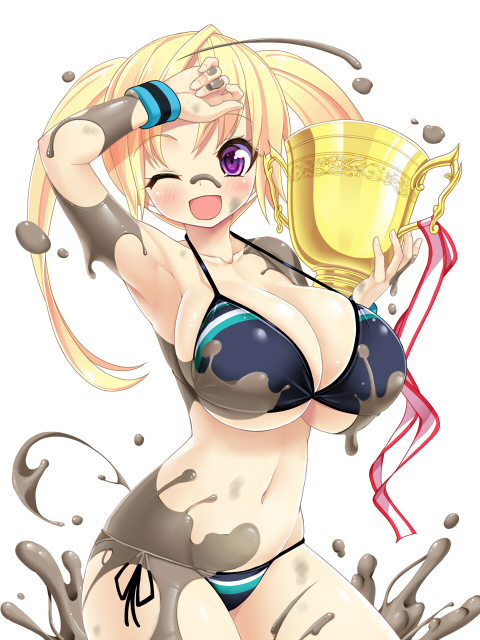 Granted that most of you won't know me or remember me, but I've had a few matches here and there some time ago. Well I think its time to become a regular around here and try to have some fun again, but at the same time keep coming back. Anyway I think its time to jump into some matches with Zoe Taylor, my mud wrestling character from Australia and get her back into the squared circle. Furthermore I will update my characters as I think some proper changes need to happen.
So if anyone would …
[
Full reading
]
Comments: 0
Page 1 of 3 • 1, 2, 3


Mari was excited to say the least, she had gotten her manager, O.Van to come to this meeting between him, Mari, Sermis, and her manager Akiha to meet up and talk about their rematch. Mari didn't think it would be hard for O.Van to agree to the meeting as him being him was always looking for matches for him and the other women in under his wing. The two of them were sitting inside one of the office rooms inside the AFW building that they rented out for their talks. Sitting on one side of the table with O.Van, Mari was waiting anxiously for her rival to arrive as she was really hoping that this rematch was going to go through and not be canceled for some ridiculous reason.

Hearing about the proposed match between the two, O.Van was elated to see that his protege was stepping out of her comfort zone and said that this Titfight was her idea after spending some time with Sermis backstage. She did not delve in much detail about what they did, but O.Van didn't care as he sat at the table with Mari sitting next to him. He felt that it was a good experience for Mari to have and especially one that she was excited for, he could only wondered what effect Sermis had on her for her wanting to do something so far off from traditional wrestling. Not to mention it also delved in the sexy side of wrestling, he couldn't say no to that. "I still can't believe that you of all people want to do a Titfight and didn't need me to convince you to do it!" O.Van exclaimed as their 'partners' did not arrive yet to the rented out office room. Mari's face blushed as she let out a huff and a scowl as she looked away from O.Van, trying to hide her embarrassment with her normal look of irritation. "I mean, you do know that you're just going to be in panties in front of a huge crowd where you and your opponent are gri-" he continued with his growing rant, but Mari decided to cut him off there.

"Shut up! I know what I'm doing!" Mari quickly shouted as she began to think about what would happen within the ring with a topless her and Sermis. She didn't need O.Van painting a terrible picture to fluster her. O.Van soon shrugged his shoulders and quickly stopped his rant, he really didn't want to pay for damages for the rented office room as it would cost a pretty penny out of his pockets. The office, although expensive to rent, fit the mood that O.Van got from his silver head wrestler and her wanting this rematch. At first he wanted to just have her opponent come to the gym that him and his girls trained in, but when the notion of another manager being involved changed everything. He wanted to keep up appearances so to speak and in a smelly gym wasn't going to cut it.

Hence this office that he sincerely hoped that nothing was going to fly out of control, he really didn't want to lose any more money than needed.

_________________
COME HERE FOR THE COLLECTION
Four ladies could be seen walking down backstage.  The one leading the group was a tall raven hair wrestler wearing her wrestling uniform know as Sermis.  Behind the tall raven hair wrestler, was her younger cousin who was also her manger know as Akiha who was currently wearing a uniform that compose of a professional white shirt that had a black bow tie.  Her legs were covered by a black skirt that almost reach her foot.  Behind Akiha where her two maids, Kohaku and Hisui, each of them wearing there perspective maid uniforms, one which was a Eastern style while the other was a Western style.  It was a very unusually sight to see, as most wrestlers traveled in groups of one or two's.

The group was here to do one thing business.  Sermis had told the smaller raven manager about being challenged to a tit fight and had agreed to it.  Akiha personally didn't like such matches but she understood the appeal of them and if her older cousin wanted to take part, Akiha would not stop her.  The four would then stop right before a door.  "Let's get this meeting under way." stated Akiha as Kohaku then opened the door and allowed Sermis and Akiha to enter first before the two maids then followed.  "Greetings I am Akiha Kosha, manager of Sermis, myself and my two maids Kohaku and Hisui." stated Akiha as she then offered her hand to be shaken.  She spoke in a very professional manner as her eyes along with her maids all focus on the only male in the room.  They look they gave was as if they were communicating psychically and harshly judging him.  Sermis on the other hand simply ignore O.Van and smirk at her rival Mari.
Hearing the door knob turn, Mari's eyes focused on the door as she awaited to see her rival enter the room while O.Van quickly scuffled to appear professional like, sitting with his fingers locked with each other and on the table in his light gray blazer over his white buttoned up shirt and tan khakis. Seeing the four women entered, Mari's eyes locked on the one that she was waiting for, looking right at Sermis while ignoring the maids and the manager who introduced herself. Standing up from the his seat, O.Van reached out to shake Akiha's hand, looking nervously between all four of the women that was now in the room, being horribly out numbered. Taking in a gulp of spit, O.Van knew that he had to mind his words carefully otherwise he and the room would probably be trashed along with his wallet.

"Hello to you too gracious Miss Kosha." O.Van said as respectful as he could as not to spark any tension with him having no leeway in this 'negotiation' as he stood up to shake Akiha's hand as he kept a wary eye on both the maids, "Please have a seat. " he gestured towards the open chairs at the other side of the table they were sitting at. "I'm sorry, but I was not expecting more than two of you to come, so I have to apologize for that." O.Van said quickly ashamedly as he made his way to his chair and waited for the others to take their seat.

Mari however had instead walked around the table to go face to face with Sermis, her body reacting to just the presence of her rival. "Hello Sermis." she greeted, waiting for Sermis' response until, "Hey! Mari! Sit down sit down! You can save that face off until after we're done!" O.Van quickly shouted out, beckoning Mari to sit beside him as she broke her focus off of Sermis, giving O.Van a glare before looking back at Sermis and walking towards her chair.

_________________
COME HERE FOR THE COLLECTION
It seemed that Mari manager had some manners which pleased Akiha.  That being said, she gave a serious look, not wanting to give him any confidence.  Yet when she was offered a seat, Akiha and her maids would give a deathly glare, as if they had been insulted.  In truth O.Van had insulted them by not giving his name when they had given their own names.  Thus they simply did not move nor did they say anything, they simply kept giving a deathly glare.

While Akiha and her maids look like they were declaring war on O.Van, Sermis simply gave a glance at it before looking at her rival.  "Oh my, not only did I beat you in our match but it looks like my manager and her maids are about to defeat your manager.  Then again my dear Mari, your manager did ask for it by not introducing myself." stated Sermis as she gave a small laugh before looking at the entire situation to see how it would unfold while still standing up.  If there was going to be a fight she would rather be ready for it.
O.Van's eyes and mouth fell when he just saw the maids and the other manager glaring at him, with little idea of what was going on. "Um..Ah...Is there something wrong?" he let out as he was taken out of his stupor when her heard Sermis taking about him not introducing himself. "Ah! My-my-my name, I mean, I am O.Van! Manager and mentor, I mean, Manager of Mari!" he quickly said as he fumbled over his words, "Pl-please for give me, I was taken aback by suddenly being surrounded by such beauties!" O.Van quickly said as he spoke of anything that could come to his mind to try and keep the situation from exploding in his face.

Mari scoffed at the notion of Sermis, "You shouldn't even think of comparing this to our match, O.Van has no place in it." she huffed as she was a little disappointed in her manager, the one time she wanted him to actually come in handy for her and she was let down by his idiocy and short minded nature.

_________________
COME HERE FOR THE COLLECTION
It seemed that O.Van could at least apologize and admit that he was wrong.  Akiha was about to let it all pass before he ask to be forgiven by such beauties.  This resulted in Akiha twitching her eyes while Kohaku gave a creepy laugh, like she was about to do something terrible.  Hisui on the other hand simply kept giving her deathly glare.  All O.Van had done was dig himself deeper in a hole by trying to flatter the ladies.  "Are you trying to hit on me?  Don't you think that is highly inappropriate?  Or perhaps you have a death wish?" stated Akiha as she knew she was over reacting but this was simply a negotiation tactic to get O.Van out of his comfort zone.

Sermis nodded her head at her rival words.  "I guess your right.  But perhaps we should get straight to the details instead of continuing to get worried over a few misunderstandings." stated Sermis as she tried to make the situation less tense.
O.Van didn't realize how close he was to mending the situation if he had just kept his mouth shut. His attempts to sweet talk the ladies in front of him only offered more pressure on himself. "Uh, wait! I didn't mean it like that! You have to believe me, even though I have a stable of girls, I'm not like that!" he shouted before realizing the implication he just implied. "But wait! I am like that, but not like that!" O.Van continued to panic and shout out random nonsense as he continue to flail about when he heard Akiha respond to his unintentional flirt, "Wait, no! I don't want a death wish! I know it's highly inappropriate, i-it just slipped out!!"

Mari almost had the urge to face palm herself but she didn't want to break her focus on Sermis. "Yes we should. We should talk about our up coming...Titfight." Mari stated as she sat in her chair, wanting O.Van's shenanigans to end.

O.Van caught wind of the offer to get over the misunderstandings as he quickly jumped on it, seeing it as an escape from the predicament that he was in. "Yes! That sounds like a good idea! Let's talk about the match and not my future funeral arrangements!" he quickly shouted as he tried his best to assume a professional appearance, save for his incredibly nervous smile and nervous laugh.

_________________
COME HERE FOR THE COLLECTION
Akiha was getting more enrage by the minute but it seemed that Sermis had managed to calm down the situation... for now.  She couldn't get too enrage or their would be no contract and she wasn't going to screw her cousin over, thus she decided to keep her anger in check.  "May I give a suggestion, before you speak, take a moment to think about what you are going to say.  A moment of pause can save your life." stated Akiha in a strict manner before she finally sat down but still glared at O.Van.  Her two maids simply stood behind her, supporting there manager in her glare.

Sermis was glad to see that Akiha had finally back down and that Mari was trying to focus on the tit fight.  "Agreed, the sooner we finish the negotiations, the sooner we can have our rematch.  I have much to teach Mari." stated Sermis as her words were a light friendly jab at her rival.  Akiha simply took out a laptop so that she could write the contract up. "Alright, standard tit fight.  So only blows to the breasts or using the breast are allowed.  This might get a bit boring, perhaps we should make it hard to be disqualified for not following that rule." stated Akiha as she waited to see what everyone else would say about it.  "I agree, also maybe that rule should only apply in the ring, thus if we are both out of the ring, anything goes then." stated Sermis as she nodded her head in agreement with her cousin.
"Hehehe..." O.Van let out a nervous smile, thinking that just barely he manged to miss a date with a cold, hard, smothering coffin. Having three women glare at him with the intention of bodily harm made him more open to the thought of discretion as he silently agreed to mind his words. Now with the four of them sitting at the table, negotiations could start as they sat at the table as Akiha began to go over the basic details of their clients' proposed Titfight and was liking the idea, however he decided that it was best for Mari to be the first to respond about her match.

Mari did not miss the jab at her as her lips curled into a small smile, deciding to accept Sermis' little bout of verbal play before responding to the proposed rule of having outside of the ring be contested with a No DQ stipulation. "I agree with that rule, it'll make it easier for me to show up Sermis with my breasts." she let out, smiling back at at her raven haired opponent before deciding to puff her chest out as a physical taunt. "I assume that with the territory of having anything goes outside the ring, comes with a No Count out rule? Or are we only going to have ten seconds of fun at a time?" she asked out, looking at Sermis as she said this.

O.Van on the other hand did his best not to say anything necessary as he felt like he was being watched by several snipers ready to take his head off he did even so much as sneezed. His nose twitched as he nodded his head, feeling that Mari was taking the negotiation rather well and continued to let her take the lead.

_________________
COME HERE FOR THE COLLECTION
Akiha nodded her head as she heard details about the match before typing it on her laptop.  Though she made sure to give a glare at O.Van every once in a while to keep him pacified just in case he got any funny ideas.  She paid little attention to the jabs between Mari and Sermis, as it didn't concern herself, in fact she was sure that her and Belinda would probably be doing the same thing if they were discussing their rematch.  Kohaku was now looking around the office, possibly plotting something.  Hisui on the other hand had taken out a pen and was trying to hypnotize O.Van, though she wasn't a professional, she had been practicing it for a while as a hobby.

It seemed that Mari was firing back, yet this did not get Sermis mad, no in fact she like it.  "My dear Mari, you probably only agreed to that rule cause you knew you couldn't beat me in a regular tit fight.  I simply threw it in to give you a chance.  I will be nice and say there is no count out but the pin must still be done in the ring.  Also how about we form a tag team after this rematch?  It will be a great way for us to bond once I defeat you again." stated Sermis as she then gave a small giggle as she took several more jabs at her rival.  She also wondered how Mari would react to the idea of doing a tag team.  Akiha simply waited to see how Sermis rival would respond to the idea of not having a count out.
Page 1 of 3 • 1, 2, 3



Similar topics
---
Permissions in this forum:
You
cannot
reply to topics in this forum