Champions & #1 contenders
Summer Splash interest in Natasha Loclear?
Mon Apr 09, 2018 11:30 pm by daemongirl
Well my girl hasn't missed a summer splash yet, would anyone be interested in a match with her? Open to just about anything match wise, just pm me!
Comments: 1
Been Out with the Flu
Sun Apr 22, 2018 7:47 pm by daemongirl
Just letting those I have threads with know I've been out with the flu since early last week, but I will be back to posting tomorrow.
Comments: 0
The Austrailian Mudslide is Back.
Sat Apr 21, 2018 6:20 am by Softsquad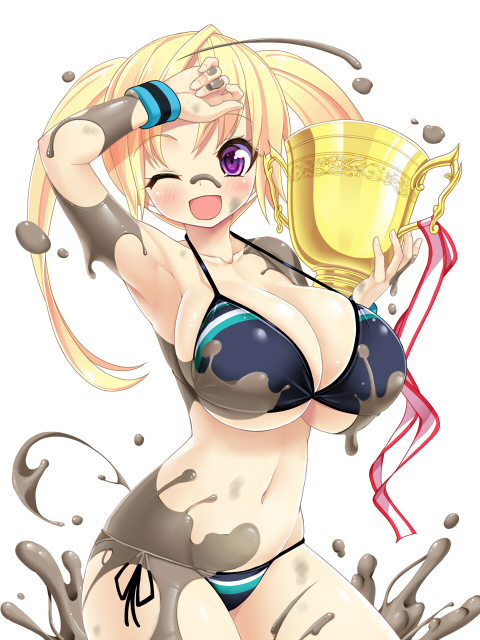 Granted that most of you won't know me or remember me, but I've had a few matches here and there some time ago. Well I think its time to become a regular around here and try to have some fun again, but at the same time keep coming back. Anyway I think its time to jump into some matches with Zoe Taylor, my mud wrestling character from Australia and get her back into the squared circle. Furthermore I will update my characters as I think some proper changes need to happen.
So if anyone would …
[
Full reading
]
Comments: 0
Page 1 of 7 • 1, 2, 3, 4, 5, 6, 7


Continues From Here!
Someone was gently petting Haru's hair.
"He's sorta lanky. But I'll take him!" Amanda Clare laughed gently.
"No, he's John's!" Ro Larren commented.
Haru wastightly bound in metal cuffs at both his wrist and his ankles. He would find himself waking up in the back seat of Ro's little used Fiat 500, his head resting on Amanda's lap. Ro was driving, while John was sitting awkwardly in the front passenger seat.
"I mean…I wasn't gonna really mess with him too bad." John mumbled awkwardly. Ro and Amanda had shown up when he least expected it, hijacking the end of his POW match and dragging Haru and John off in their car, driving to their place.
"Then your BORING!" Ro said, telling John off. "You need a proper dungeon, some whips, chains, maybe some pin wheals, cock rings—"
"Don't forget a camera!" Amanda interrupted.
"Don't *I* decide how to play with my prize? What if he's not into that? I'll feel like I'm raping the guy."
"It's not rape if he signed a contract…ooooo! He's waking up! Hi blue hair man!" Amanda giggled, petting his head gently, softly caressing his face.
Last edited by beangraff on Mon Aug 31, 2015 7:17 pm; edited 1 time in total
_________________
Your writings and head are disordered and mixed up, so that it is exceedingly annoying to read and difficult to remember what you write.
Primarily Tension (but will take the train over to Friction)
Ro Laren
Amanda Clare
Tension
John Mitchel
- Former Tension World Champion
Anthony Fuller
Haru started to come to with a low groan, aware first of all of the soreness of his body. Immediately thereafter was the sensation of someone caressing his face, which last time he checked he was trying to beat down another wrestler in the ring. Haru jumped up in surprise, smashing the top of his head on the roof of the car and falling back down into Amanda's lap. "Ow ow, shit! He jerked his as arms and legs trying to get away from this strange woman, only to find that his arms and legs were cuffed. He opened his mouth to start yelling for help and countless obscenities, but as his eyes raced around the car he spotted John and the pieces of the puzzle instantly fell into place. Well fuck. He had lost....

Haru sat up and rubbed the back of his head gingerly with a scowl. "You always travel with a kidnapping posse?" he said in a gruff voice, glaring at Amanda lest she try to continue stroking his face or anything else for that matter. "And what the hells this talk about fucking dungeon?" he demanded answers, though he wasn't really in a position to be demanding anything.

Amanda laughed hysterically when Haru bounced up and hit his head. When he fell back into her lap, she grabbed on tight and held him down with one arm. The other continued to play with his hair and pet his head. With his hands cuffed, he couldn't stop her.

"Hehehe, you're funny! And a little dumb. But it's okay, dumb can be cute." Amanda said, still laughing.

"Kidnapping posse…I like that. Amanda, you and I are now the kidnapping posse. That's our team name if we ever tag.
"YAY!" Amanda clapped loudly, inches from Haru's ears.

"Now, as for you…" Ro said, trying to keep her eyes on the road. She did a poor job of talking and driving at the same time, as she took a turn VERY fast when she did not have the right of way, causing the oncoming Nissan that they nearly hit to honk like a mad man. "Johnny boy here was too big of a goody two-shoes to do the REAL kinky stuff. So we're helping—"

"MIND YOUR FUCKING WHEEL!" John exclaimed, as the car drifted slightly.

"Fuck yourself. Anyway, so we're taking YOU to our dungeon so John can REALLY dominate you."

John just let out a sigh, sinking a bit in the chair. Clearly, he'd never done this before. Kinky BDSM play? Sure. With consensual partners. POW match? That was, again, Ro and Amanda's turf.

"If we don't die first…Driving the humvee in Afghanistan was safer than being in the car with you, you know that?"

_________________
Your writings and head are disordered and mixed up, so that it is exceedingly annoying to read and difficult to remember what you write.
Primarily Tension (but will take the train over to Friction)
Ro Laren
Amanda Clare
Tension
John Mitchel
- Former Tension World Champion
Anthony Fuller
Tripple Helix:
When Ro suggested John was going to take him to a BDSM dungeon for some fun, Haru started to laugh controllably. "This guy? A Dom? You can't be serious, He's the little drummer boy all grown up, he probably does three Hail Marys before bed each night" he cackled. "Besides, he may have won the first battle, but there's no way he could handle me in that kind of war" he said with a confident smirk. He didn't plan for a second on making Johns life the slightest bit easy while he was his slave.



Bean:
'Little drummer boy…' 'Hail maries…' 'CAN'T WIN…'

John's eyes twitched. That sounded like a challenge. John may very well be a goody two shoes, but he was nothing if not competitive. "Dom…isn't the right form of address." John said softly. He glanced to Ro, who smirked a bit. "That's more like it." She said with a chuckle. "You'll wana call me Master. Amanda?" John said, slowly getting into the spirit of things. Amanda smirked, then she brought her hand down to give Haru's cheek a firm slap. "Bad!" She said with a chuckle.



Tripple Heelix:
"Sorry snowflake, couldn't hear you" Haru retorted when John spoke softly about his incorrect usage of terms. He did however hear that John now told him that he ought to call him 'master' from now on. Master? Pahh, this guy clearly didn't know who he was dealing with. Just then however Amanda brought her palm down squarely across his cheek, making a delightful smacking noise and vibrating his face slightly. "Hey!" he snarled, narrowing his eyes at her. "I'm not your prisoner, witch! Hands off! And I'm not calling you master either, unless it's master Firecrotch" he said smugly.


Bean:
"Mouthed off…didn't call me master…called my best friend a witch…" John said, taking out his cell phone. He started typing what Haru was doing into a list. "Amanda." He said with a slight smirk, "That's three." He said. Amanda grinned, and ave him three progressively harder slaps in the face, giggling all the while. "Your MY prisoner." John said, "Which means your now the LOWEST on the totem pole in here." As John spoke, Ro pulled into her and Amanda's shared driveway. "We're here." She said with a grin. Ro parked the car, and John got out. Before Amanda could say anything, he was opening the door and yanking Haru out. For a brief second, he was reminded of his days as an MP, hauling drunk, handcuffed fellow soldiers into and out of cars. He was conditioned since he was 18 not to abuse a prisoner…this was going to be an interesting experiment. "OUT." He said, pulling him out. With his hands and ankles cuffed, John had to throw him over his shoulders ina fireman carry tog et him in the house.
_________________
Your writings and head are disordered and mixed up, so that it is exceedingly annoying to read and difficult to remember what you write.
Primarily Tension (but will take the train over to Friction)
Ro Laren
Amanda Clare
Tension
John Mitchel
- Former Tension World Champion
Anthony Fuller
"Ow! You! Bitch!" Haru yelped as Amanda's palms of fury landed on his face on Johns command, each harder than the last. When she was done the air stung his face a teensy bit, and he scowled while John explained how things were going to work. Soon enough the death trap they called a car pulled to a stop and he ceased worrying about slamming his head into any more car doors.

John yanked him roughly out of the car sooner than he had a chance to talk back, causing him to stumble thanks to the ankle cuffs. He went up and over John's shoulder when he was picked up, which was fine considered he would have done a shoddy job walking on his own. Still Haru hung there like dead weight to make the trip more annoying on John. He also glared at Amanda and did the "I'm watching you" maneuver with his fingers, dramatically pointing at his eyes and then at her. He was going to remember those slaps for later.
Amanda grinned as she saw him making that gesture to her. She giggled a bit, then blew a kiss in his direction, leaving the implication unclear.

"Yeah, yeah, get inside." John grumbled as he pulled the other wrestler inside over his shoulders.

Ro and Amanda had a decent place, a house they rented together. They were on the first floor, which had a decent kitchen and a nice-ish living room. Tatty furniture, but an awesome TV and game consoles. John brought Haru in with confidence, untill he took him to a basement door.

When Ro saw him pause, she took her hand out and slapped the back of his head. "Stop being such a face, seriously! Besides…I bet he likes it." Ro said with a wink, then gave Haru's rear a quick slap. John chuckled, and then opened the door, dragging Haru downstairs.

What he found was exactly what Ro said they'd find, a dungeon. Pure ans simple. The walls had been done up red, and the light dim, with pale red light bulbs that cast an earie glow on both of their bodies. There was a stockade in one corner, a large X shaped mount to chain up a slave in another. There was a galllow for breath play on one wall, a vacuum bed in another corner, and a wooden horse in the third. On the far wall, shelves lined with toys from pin wheals, to strap ons, to vibrators, to cock rings. In the center of the room, there was a normal bed with red silk sheets.

John hauled Haru in, the door closed, and John dumped him on the bed. In the veeeeery top right hand corner, a small camera was rolling, though it was almost impossible to see in the low light.

Without a word, John fished a key out of his pocket. First he went over to Haru's ankles and took the cuff's off.

"See, here's the deal." John said a she turned the key. "I'm the Master for 24 hours. You wana fight me, ignore the terms of the match, try and act like you didn't loose…go ahead."

John moved over to the cuffs on his wrists. "But you DID loose, I DID win, and you DID agree. So let's see what kind of man you are, slave." He said, taking the cuffs off and leaving him unrestrained. "Say 'I submit, Master…' or…try and fight me."

_________________
Your writings and head are disordered and mixed up, so that it is exceedingly annoying to read and difficult to remember what you write.
Primarily Tension (but will take the train over to Friction)
Ro Laren
Amanda Clare
Tension
John Mitchel
- Former Tension World Champion
Anthony Fuller
Entering a house backwards was probably one of the strangest experiences of Haru's life. It was odd having the backside of the front door the first thing you saw when you entered. The place wasn't all that bad as he was expecting, though it certainly wasn't like his apartment in the highrises downtown. Usually a house could tell you a lot about the people living in it, though he still wasn't sure what to make of these friends of John's. But now that he thought about it, he didn't really know all that much about John either. Sure, he had held a title belt and that was the first reason Haru wanted a crack at him, but other than that, John might as well be a stranger. Suddenly though his backwards mini-tour of the house stopped, and Haru wasn't sure why.

Haru ended up having his ass slapped to answer his question, though this time it was the crazy red-headed driver Ro, and she ushered John to take them downstairs. Was John really all that much of a prude that he shied away from a little fetish play? Haru rolled his eyes. If so, this whole POW thing was going to be a total snoozefest.

Once downstairs, Haru had a little bit of time to look around when he was dumped on the bed. The sheets were soft enough and the place seemed to be decently stocked with different kinds of playthings, which meant this Ro and Amanda had better taste than he would have expected. Add in the fact that Haru was still wearing his gear from the match meant he was pretty much ready to rock. Haru's eyes focused carefully on John's approach and most curiously unlocked his ankle cuffs without a word. What was he playing at? But then John explained as he slowly worked the handcuffs, he was giving Haru an out? Haru didn't trust that statement, there had to be a catch, but John seemed to be serious, and he seemed like the kind of man who was serious about his word.

Still, calling Haru a slave again had gotten on his nerves. By this point his loss had doubtlessly been recorded and posted all across social media, meaning that he'd likely lost a lot of face when this was all done. He was ready to deliver some payback to this punk of a redhead, and if John was stupid enough to dare Haru to fight back, then he'd naturally oblige.

With a grin, Haru rolled his eyes as he massaged his wrists. "Such a boy scout" he laughed, launching himself up from the bed and straight at John. But rather than tackle him or attack, Haru slammed John's back into the wall and slapped his hands loudly onto the wall on either side of John's head. While Haru's chest pinned him there, Haru lifted his knee and began rubbing it into John's crotch. "First of all, let's get one thing straight; I am NO one's slave. One measly little knockout isn't going to get me to say I submit to you." Haru declared with a feisty, energetic look in his eyes.
To John, he was giving Haru the choice of humiliation or humiliation. Humiliation by submission or humiliation by appearing a liar or coward. To JOHN, the latter was worse. But Haru may not have seen it that way.

Even though he was very experienced in dealing with prisoners, he suddenly got a surprise when Haru jumped up on him. His back slammed into the wall with a thud, banging against the door that led upstairs. But instead of being attacked, he suddenly found himself with his chest up against Haru's, and two hands next to either side of his head.

Even more interesting, he felt Haru's knee rubbing on his crotch, and he saw Haru's feisty look in his eyes. That look told John that his earlier worries were groundless—this was a game Harru wanted to play.

John smirked back, not even bothering to hide that fact that his member was fast becoming hard in the compression shorts he wore under his trousers. "Hmmm, well I hadn't thought of it that way." John said, with an obviously mocking tone. He then tried to take Harru by surprise and slam his forehead right into Harru's nose. At the same time, both of his arms came up to grab Harru's right arm. John hoped that, while Harru was dazed from the headbut, that he could slip around and use his ankle to trip Haru into the wall, while at the same time wrenching Harru's arm behind his back. This would leave Harru mostly restrained with his face against the wall. It was a move he'd used many times on unruly people. Well, sans the head butt.

It would be VERY impressive if it worked. It would look absurd if it failed.

_________________
Your writings and head are disordered and mixed up, so that it is exceedingly annoying to read and difficult to remember what you write.
Primarily Tension (but will take the train over to Friction)
Ro Laren
Amanda Clare
Tension
John Mitchel
- Former Tension World Champion
Anthony Fuller
To Haru's delight, John began to smirk back at him and despite the mocking tone, he knew his message had gotten across. John was definitely getting harder by the second judging from the way his knee met a stiffer resistance with each kneading pass, to which Haru planned to use to his advantage. However contrary to his plans, his face exploded in pain when John headbutted his nose, making him momentarily forget all else.

In an admittedly impressive display of skill and athleticism, John seized the moment to reverse the situation, slamming Haru up against the wall face first with a hammerlock to boot. While John might not be able to readily see it, this turn of the fates really had Haru grinning. His heart was racing with the thrill of the challenge that John presented him, somewhat of a rarity in Haru's experience.

"Hah...hahh...Fun trick, boy scout" Haru panted and replied with glee, bringing his free arm up to the wall so he could stabilize himself and start to push back. "Bet you loved dazzling those young, impressionable, wet-behind-the-ears cadets when they asked you for "tips"....overpowering them during training and trapping them flush against the wall with that experienced body....How you must have loved that rush it gave you to see them powerless to resist you...." he taunted while he prepared his next move. While Haru was weaving his imaginary tale he managed to sneak his left knee up so that he could now push against the wall with his foot. Gathering his strength, he shoved off with as much force as he could, hoping to drive John off balance and onto the bed.
John smirked at the impressive tale Harru was weaving. Clever boy, did his homework, knew that John DID use to train soldiers in combatives. But the nonsensical story just amused John more than it flustered him.

"Ahhh, slave, no one I taught would have been caught by that trick. But you're not a student. You're a POW. The United States Army has been handling prisoners of war for two hundred and forty years." John said as he held Harru secure, one hand moving up to keep his head pinned against the wall. "And aaaaalllll of that experience is distilled into MPs like me. Don't think for a second that you're in control here."

Unfortunately, JUST as John was trying to assert himself, Harru fought back. In some ways, it was annoying that it happened while John was trying to show force…in another way, it was dam exciting to have a slave who had spirit and fought back. There was a thrill to the danger of being overpowered.

John ended up on the bed, but he didn't let go of Harru's arm for a second. He kept his grip, and grabbed onto Harru's blue hair with his left hand. As he fell back, he kept Harru with him and tried to land so that Harru was basically laying his back on top of John's front. The perfect position for John's legs to slide up and scissor his waste.

"You were defeated, I was better today. You're fun to fight, you'll be even more fun to tame."
_________________
Your writings and head are disordered and mixed up, so that it is exceedingly annoying to read and difficult to remember what you write.
Primarily Tension (but will take the train over to Friction)
Ro Laren
Amanda Clare
Tension
John Mitchel
- Former Tension World Champion
Anthony Fuller
Page 1 of 7 • 1, 2, 3, 4, 5, 6, 7


---
Permissions in this forum:
You
cannot
reply to topics in this forum