Champions & #1 contenders
Highfly Flying Out Of Town
Tue May 22, 2018 1:31 am by HighFly
Hello everyone, I just wanted to inform all I have threads with that I will be gone from this coming Wednesday through Sunday. I won't be able to post consistently if at all during this time, but I will try to make up for it next week! I am sorry for the inconvenience to everyone.
Comments: 7
The Austrailian Mudslide is Back.
Sat Apr 21, 2018 6:20 am by Softsquad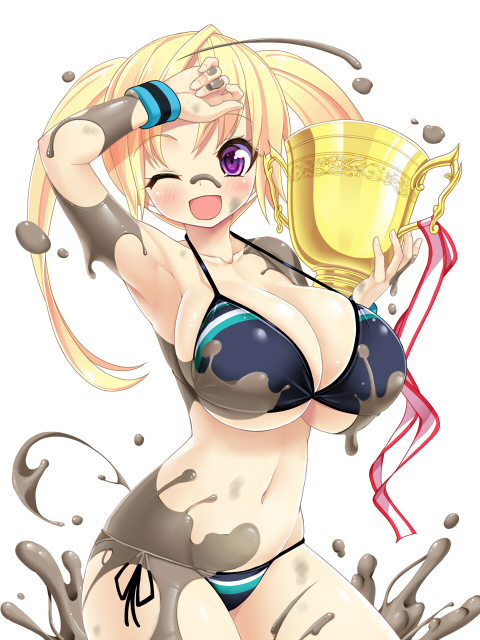 Granted that most of you won't know me or remember me, but I've had a few matches here and there some time ago. Well I think its time to become a regular around here and try to have some fun again, but at the same time keep coming back. Anyway I think its time to jump into some matches with Zoe Taylor, my mud wrestling character from Australia and get her back into the squared circle. Furthermore I will update my characters as I think some proper changes need to happen.
So if anyone would …
[
Full reading
]
Comments: 5
Page 1 of 2 • 1, 2


"C'mon, we're going," Taylor said, and she wasn't taking no for an answer.

"Where?" Cassie asked.

"Anywhere you want."

Outside, parked on the curb, was Johnny, sitting in the driver seat of his old beater Barracuda with a thin wisp of smoke rising from the tailpipe. Akashi was upstairs rounding up the supplies. Cassie was kneeling in the doorway, tying her orange Converse high tops. Taylor couldn't hold still.

The time until Cassie's inevitable departure was now measured in hours, not days or months or years. In the morning, the little redhead would be on a plane with her brother back to Canada, this time to stay. Taylor could not bear to spend those last hours any other way, and so she got Johnny and drove to Tokyo to grab Cassie and Akashi and stuff them both in the car for... whatever came to mind. It didn't matter. It was Cassie's last night in town, and all that was important was that they all spent it together.

No sleeping, no going home early, no excuses. What began as forever was now just shy of eleven hours, and until they all put Cassie on the plane she wasn't leaving their sight.

For the first half hour, they managed only to meander around town, Cassie in the middle of the back seat with Taylor and Akashi both wrapped around her. They stopped for gas, and Taylor became resolute. "Okay, Bear," she said, as she leaned forward to hit play on her phone, fed into the car stereo. "Where to first?"

Cassie put a finger to her lips in thought. "Umm... Maybe one last look at Friction?"

"Friction it is."
Armed with a supply of Pocky from the gas station, accompanied by Jimmy Eat World, the four set out for the Friction building as the last rays of sunlight were finally extinguished by the clear night sky.

In the back seat, Cassie and Taylor both sung along at the top of their lungs, like they had done as teenagers before either of them had ever wrestled a real match.

"IF YOU DON'T KNOW, WHY WOULD YOU SAY SO! WOULD YOU MEAN THIS PLEASE IF IT HAPPENS..."
"IF YOU DON'T KNOW, WHY WOULD YOU SAY SO! WOULD YOU MEAN THIS PLEASE IF IT HAPPENS..."

It was in one of the rare occasions in New York when Taylor succumbed to Cassie's relentless friendship and allowed herself to relax and have fun. They had stood in the dimly lit parking lot behind their wrestling gym one night, around another wrestler's car. Matt White, a tall and hefty wrestling trainee with an unimpressive physique, but generally an okay guy, had left his car running to warm up while he ran back in to close the place up. Taylor knew the song playing on the stereo, and she rolled the window down and turned up the volume and did her best to teach Cassie the chorus.

"IF YOU DON'T KNOW, WHY WOULD YOU SAY SO! WON'T YOU GET YOUR STORY STRAIIIGHT!"
"IF YOU DON'T KNOW, WHY WOULD YOU SAY SO! WON'T YOU GET YOUR STORY STRAIIIGHT!"

For a moment, the cool night air coming in all four windows reminded her of that cold February, fresh snow blanketing Manhattan and making Cassie nestle her chin down into her striped scarf, while Taylor resisted the urge to brace against the cold. They went their separate ways that night, and the next evening in training Taylor was back to mostly ignoring the little Canadian.

There was so much she used to hate about her. She was so nice and everyone loved her. She obviously came from a good family. Her life seemed so easy. No one loved Taylor like everyone seemed to love Cassie. Taylor's dad had split and her mom hated her. She found everything Cassie did, every word she said, to be more annoying than the last, and every attempt to befriend Taylor got Cassie one step closer to being punched in the face. Taylor just wanted what she had.

And now she had Cassie, and she thought that with a friend like her, what else could she need? She kicked herself for being so stupid, for being such a jerk, and not taking Cassie with open arms from the moment they met. What a wasted year it was.

"IF YOU DON'T KNOW, WHY WOULD YOU SAY SO! AND I NEED THIS NOW MORE THAN I EVER DID!"
"IF YOU DON'T KNOW, HONEY, WHY'D YOU JUST SAY SO! AND I NEED THIS NOW MORE THAN I EVER DID!"
The moment Johnny stopped the car in front of the notorious Friction building, Taylor threw open the door and bolted. Cassie slid her way out and hurried after her, pausing to look back for Akashi.

"Here we are!" Taylor declared, spreading her arms out wide and turning to face the other two from in front of the main doors. "What do you want to do? Wanna go in and break stuff?"

Cassie just laughed. "Nooo... That wouldn't be very nice."

Honestly, she had no idea what, if anything, she wanted to do. She supposed that she just wanted to see it one more time, get the feel of the door handles and the floor tiles and the sound of her footsteps in the hallways. It would be something she could take home with her.

Taylor swiped her card to unlock the door and threw it open. "Come on!" She grinned, and took off inside at full tilt. Cassie looked up at Akashi next to her, and then back at Johnny.
Akashi threw her arm around Cassie and walked her inside. Johnny followed behind them closely. "I know where she should go, Cassie-chan. It's probably something everyone here should do, and probably never does, but, it's really amazing." Akashi grinned.

She took Cassie by the hand and dragged her to Taylor, taking her hand as well and pulling them along like they were a couple of school girls.

The walk was something that all three of them could make in their sleep. They'd done it dozens of times. By the time the walk was finished, the four of them were in the backstage staging area.

"It's the ring." Akashi said almost in a hushed tone as if she felt the need to pay reverence. "But no one's out there..."
Taylor and Cassie merrily strolled along with Akashi, swinging their arms and kicking their feet. They both knew where they were headed, but neither were prepared for the sight.

It was so big, and so empty, without a solitary soul in the seats and only the dim off-hours lights bringing the room to life in quiet reverence. It was like a shrine, the little ring all the way down in the middle, and without the house lights and the spotlights up it seemed to be sleeping.

"Whoa..." Cassie marveled. "I guess you never really realize how huge it is."

"Mh," Taylor grunted, and looked around. After a moment, she nudged Cassie with a grin. "C'mon!"

She took off running up the stairs, up to higher and higher rows of seats, farther and farther from the ring. "I know you've never been up here before!"

Cassie glanced up at Akashi and then hustled after her. Her shorter legs, and her lack of Taylor's cheetah-speed, left her lagging far behind. When she finally did reach the top, Taylor was there, bent over with her hands on her knees and breathing hard. "Look," she said, and pointed out over the arena.

The view from the top was the best yet. It was like looking out over the ocean at sunset, just before everything became dark. For all the pain and conflict and suffering, for all the petty feuds and vicious battles, the wars won and lost by young women and the glory and the misery that went with them, it felt peaceful. It was a serenity that Cassie had never felt in her pro wrestling career, and it felt like the twilight. It felt like the end.

She reached out and took Taylor's hand, and in a moment the two strolled back down the steps and climbed into the ring. Taylor took up a perch sitting on the top turnbuckle. Cassie laid down flat on her back in the middle of the ring and looked up at the lights. With only a few of them lit, and none very bright, she could see for the first time the details of the arena's ceiling, the way the metal support beams arched from one end of the dome to the other, the huge square cage that supported the lighting rigs and the screens.

She tried counting the lights that were lit, marking each one with her finger. "They look like stars from here," she remarked.
While Taylor and Cassie went up to the nose bleeds, Akashi hustled down tot he ring, holding her arms outstretched and waving them at the two with a big grin on her face. She slowly twirled in a circle, looking at the empty arena with the biggest grin on her face.

It was everything and nothing at the same time and it was magical.

When Taylor and Cassie slipped into the ring, Akashi smiled at them both. She stood over Cassie and looked down, smiling at the red head. "I got used to this..." She said. "A long time ago. I've been in the Sumo hall when it's been empty so much that, it was kind of a natural thing for me. So, when i came to AFW, this was one of the first things I did. Somehow, it has the same sort of feeling.

"This is a place i revere and I want my name to echo in the halls forever like so many others who have come and gone before us. Even though it's not that old, it still feels like the hearts of warriors long forgotten beat within these walls."

Akashi knelt down ans felt the canvas. "This is a tapestry and each one of us have weaved a little bit of our blood, sweat and tears into it and no matter where we go or what we do, that can't be taken away from us."

Akashi turned her head up and looked at the arena lights. "We all shine brightly." She said, smiling peacefully.

She then looked at Cassie and grinned. "FROG SPLASH!" She said and let her weight fall onto Cassie while she laughed. "Imouto-chan! From the top rope!" She said, hoping the blonde really wouldn't crush them both with that kind of splash.
"Guuuh!"

Akashi landed heavily, but she landed in Cassie's guard. She squished the little Canadian while she wrapped her legs around Akashi's soft midsection. "Careful, Akashi," she warned playfully, hugging Akashi's shoulder and the back of her head to pull her down low.

"Wheeee!"

Taylor leapt off the top rope and kicked her legs out to the side, coming down with an elbow drop on the mat just beside the other two. Cassie and Akashi bounced as Taylor hit, and Taylor got up to her knees holding her elbow and shaking her hand. "Ow," she grinned.

Cassie's hold on Akashi slowly became less of a potential threat, and more of an embrace as she drifted off in thought. "Sometimes I wish jiujitsu was as big of a deal as wrestling, so we could have an arena like this. But... I think I'm glad that it isn't. I like that it's smaller. I don't think I'm really cut out for this stuff... Not like you guys. It's not a bad thing, I'm just... I'll be happier when I'm back where I belong, I guess."

Taylor's smile quickly faded and she sadly lowered her head. She wanted to change the subject, but could think of nothing to say. After several more minutes in the ring, the three walked in silence down the halls, out the door, and back to the car. They piled in just like they were before, Johnny in front and the rest in back with Cassie in the middle, and they set off while Taylor flipped through the music on her phone.

"Next... I want street vendor teriyaki," Cassie said with an affirming nod. That was an easy one.

As they drove off, Taylor was still quiet and buried in her phone, and Cassie looked back and forth from her to Akashi. "Hey, Akashi," she said, poking the sumo in the stomach. "Tell me a story I've never heard before. About... being a sumo, or growing up, or being in love."
"Oh?" She said as the four of them zoomed off down the bright streets of Tokyo. "Well, why not all three?" She said. "Now, you know I fancy the fairer sex, but there was a time when the Akashi you know and love was beginning to bud from a young girl into the woman you see before you."

Akashi sighed and leaned back in her chair. "Since my family runs a Sumo Heya, there's always lots of boys coming and going. All of them were eager to work with our prestigious family, but not everyone is cut out for sumo. Still, that never stopped them from coming in. All ages, all skill levels. Well, there was one shin-deshi who seemed like he didn't belong one bit. He was about my age at the time. He was very young and very determined, but lacked the physique required for really making any progress."

"The other new recruits, being older and much more capable, tried to wear him out and get him to quit. It was kind of sad to see, but not entirely unusual. Because i was part of the family and did know as much as anyone there about Sumo, I was allowed to observe and help where needed. Feeling bad for the boy, I started to give him words of encouragement when I could. I helped him with his technique and told him that if his heart truly beat for sumo, then he should pursue it no matter what."

She paused. "I am sure i was telling myself just as much as I was telling him." She said. As she took a moment to reflect, Johnny pulled into a parking spot and they all shuffled out.

"Well, my words of encouragement developed into a real friendship and soon we were together even when we weren't in the stables together. He had really become my best friend... at least, that was a boy."

Once they had gotten their yakitori, Akashi paused to eat it, thinking about everything a bit. "My brothers were always very protective of me for various reasons." She continued. "And as I developed, the younger shin-deshi naturally gravitated towards, well, me. What they thought they saw in that boy, they wanted. They were jealous for lots of reasons, I guess. Maybe they thought I was giving special treatment to someone who didn't deserve it, maybe they just wanted a pretty girl to pay that kind of attention to them. I don't really know..."

"In the end... well... one day I came home from school and saw my brothers talking very seriously to him. I didn't know what was going on at the time, but I didn't see him again after that..." She said with a bit of a shrug.

"Who knows if it was love, but I was kept out of the stable as much as possible after that. They all had their excuses, but I found myself hanging around my girlfriends more and more and I was so determined to be a Rikishi that, well... I guess the rest is history. Now I'm a big fat carpet muncher." She grinned, laughing a bit breathily at her own story. "If my Father had still been around, maybe I would have ended up with that boy. In the end, I guess it worked out though. He ended up becoming a very good Rikishi. I think he's made Ozeki rank." She didn't have to think about it at all, but there was a pleasant smile on her face.
Cassie listened intently to Akashi's story, even while munching on a skewer of grilled chicken. She had rarely, if ever, heard the sumo tell a story in such detail, especially about her time in her family's heya.

She had never thought before about the similarities of their two families, though the one glaring difference was that while Cassie's family encouraged her love of jiujitsu and embraced her for it, Akashi's did not similarly support her desire to be a sumo.

It was really sad. For all Akashi's good cheer and her perseverance and spirit, there were a lot of things about her that were just... sad. Cassie wished they weren't so.

"That's so..." She couldn't think of another word beyond the one in her thoughts. "Sad."

Taylor held her own skewer of chicken, but only nibbled at it disinterestedly.

"I know that you'd just tell me that you have no regrets because all of that led you to where you are right now, but... Akashi, everything leads us somewhere, and we should try to grab the good stuff while we can. Right?" She held her wooden chicken stick upright while she thought. "Like... maybe you don't regret the bad stuff, but that doesn't mean you don't try your hardest to not to... Taylor knows what I mean, right?"

Taylor shrug-nodded. "Yeah, totally."

She did, though the current situation had her struggling to reconcile it.

"Do you..." Cassie fidgeted. "What do you think would've happened? If nothing came between you and him?"
Akashi shrugged. She ate her chicken much more greedily than the others. Despite being Japanese, where seafood was king, Akashi always loved chicken quite a bit, probably because she felt close to it thanks to Sumo.

"I guess we might have married and I would have had lots of little Rikishi running around. I probably wouldn't have been a fighter, though." She said. "I don't really know. There's expectations for a Japanese woman regardless of the path they end up in. I still would have been expected to do my duties as a wife. I never really thought about it though." She said seriously.

"I'm upset at the way I ended up getting where I am more than that I got here, but I am glad I am where I am. I'm happy. I do something I love and something I'm very good at. I have a family, it's just not... the usual kind of family. I don't have little babies running around." She then looked at Taylor, stuck her tongue out and grinned. "Though sometimes, they can be a bit fussy and immature like kids. But I love them as much as I would a child of my own."

Akashi shrugged. "I don't know." She said. "I love life and I love being me. It's kind of fun and kind of sad to think about the roads that get us to where we are, but I don't dwell on it too much." She said finally.

She was silent for a moment before she spoke up, trying to hide her devious grin and speak casually. "So, are you and Shinobu-kun going to have your wedding in Canada or Japan?"
Page 1 of 2 • 1, 2


---
Permissions in this forum:
You
cannot
reply to topics in this forum