Champions & #1 contenders
Highfly Flying Out Of Town
Tue May 22, 2018 1:31 am by HighFly
Hello everyone, I just wanted to inform all I have threads with that I will be gone from this coming Wednesday through Sunday. I won't be able to post consistently if at all during this time, but I will try to make up for it next week! I am sorry for the inconvenience to everyone.
Comments: 7
The Austrailian Mudslide is Back.
Sat Apr 21, 2018 6:20 am by Softsquad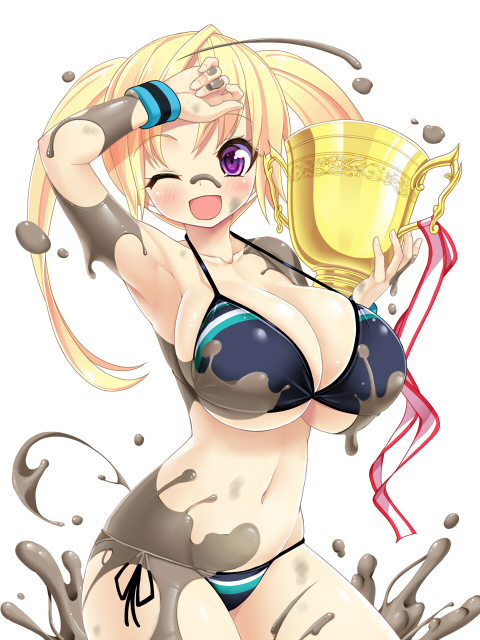 Granted that most of you won't know me or remember me, but I've had a few matches here and there some time ago. Well I think its time to become a regular around here and try to have some fun again, but at the same time keep coming back. Anyway I think its time to jump into some matches with Zoe Taylor, my mud wrestling character from Australia and get her back into the squared circle. Furthermore I will update my characters as I think some proper changes need to happen.
So if anyone would …
[
Full reading
]
Comments: 5
Page 2 of 9 •

1, 2, 3, 4, 5, 6, 7, 8, 9


From what she had seen of Ari in her preparation for tonight's bout, Minerva had seen some glimpses of actual wrestling ability, though she certainly didn't think it was anywhere near being on a level that could match her own. And yet, this glorified sex queen was surprisingly having little trouble keeping up with the amazon, having already brought Minerva to the ground and gotten on top of her twice in a matter of mere moments. Either this was all just a big fluke, or Minerva had drastically underestimated her foe... No, that couldn't be it. Surely it was just Ari's feisty aggressiveness and experience in these sort of matches that was carrying her this far. Once Minerva took control back, she'd put this would-be queen in her place.

Fortunately, Minerva was able to bring Ari down moments later and applied a headlock, squeezing Ari's head and face against the side of the amazon's large breast. Hearing the girl grunt and kick about in her clutches only encouraged Minerva to wrench on the headlock to inflict more pain and discomfort with the hold. However, it didn't last long, as the raven haired beauty was suddenly blasted in the face with a handful of pudding. Such a tactic was something Minerva was quite unaccustomed to dealing with. "Ugh!" she grunted out, releasing the hold and stumbling back while trying to wipe the chocolatey substance out of her eyes.

It was only seconds before she could see again, but that was plenty of time to allow Ari to close the distance between them and apply a headlock of her own. Again Minerva grunted out while grimacing in discomfort and irritation. Just when she'd thought she had a chance to start showing Ari who the true queen here was, Minerva was once again finding herself held in her foe's clutches! Still she once again refused to stay there long, and sent her hands up to wrap around the back of Ari's head, before attempting to roll her forward with a snapmare, hoping that would be enough to free her head from Ari's clutches.
Taking her fight to Minerva, Ari managed to slip out of the hold after lobbing her precious pudding into Minerva's face giving her enough time to turn the tables on her would be challenger for her throne. Pouncing on Minerva, she taken her hold in the side headlock, kneeling next to Minerva as her breast pushing into her opponent's face. She was feeling good about herself, showing up the proficient wrestler with her wrestling ability and use of the pudding to her advantage. "What's wrong? Are you a little embarrassed in wrestling in pudding?" she would prod at Minerva, which apart from her normal teasing of her opponent came off as an insulting taunt.

This wasn't a normal Ari match, usually she and her opponent were already getting naughty with each other. But this time, Ari wanted a different approach. Still with the notion that she wanted to prove herself against legitimate wrestlers there was also the same salty feeling that Minerva claimed that this pool was hers. What better way to shut her up by showing that she could and would out wrestle her inside a glorious pool of pudding?

Ari decided to wrench back on Minerva's head to give her back a taste of her own medicine to the haughty woman, but she soon felt the pudding covered arm of her opponent wrapping around her head. Attempting to try and slip her head out from the hold, Ari wasn't not able to do so as Minerva pulled her forward, snapmaring her down into the pudding again and on to her back. Luckily she wasn't standing on her feet, which made the snapmare a lot less painful but succeeded in freeing Minerva's head from her headlock as she laid on her back, but it wasn't going to be for long as she would quickly attempt to spin around on to her fours, looking to keep the pressure and aggression on Minerva.

_________________
COME HERE FOR THE COLLECTION
"Tch. How absurd!" Minerva quickly retorted at Ari's taunt. Her, a dominant queen, embarrassed over a bit of pudding? HA! Not in a million years! Or at least, that's what she would have Ari and anyone watching believe. Though if there was anything worth being embarrassed about, it was the fact that she wasn't able to control the WAM specialist as easily as she'd hoped.

The snapmare succeeded in rolling Ari forward, while also forcing her to relinquish the hold she had on Minerva. Because they were already so low to the ground, the amazon wasn't able to get as much as a "slam" from it as she would've liked. But the important thing was getting free, and she'd managed to do just that. And as Ari quickly spun onto all fours, the two combatants were locked in a stare down, eyeing each other like wild animals getting ready to devour one another. The crowd applauded as the first exchange ended in a stalemate between the pudding-covered women, but Minerva paid that no mind, and kept her focus entirely locked onto Ari.

Willing to bet that Ari was getting ready to pounce once again and continue her aggressive streak, Minerva made an abrupt shift forward, feigning an attack in an attempt to bait her foe into coming at her. If it worked, the Dane would try to duck down underneath Ari, then firmly push a hand right up against the girl's crotch while attempting to flip her over with a firemen's carry takedown.
Ari smiled, seeing Minerva react the way she did meant that she was getting underneath her skin. She thought that it was a fitting state for an arrogant woman like her to believe that this pool was hers. On her fours much like her opponent, the two contending 'queens' stalk each other, looking more like animals fighting over for territory as it wasn't that far from the truth. Ari was willing to go as far as she needed in order to reaffirm her claim as Queen of WAM.

The tension was broken between the two as she saw Minerva bolt towards her, causing Ari to do the same as she leapt at Minerva with her arms ready to wrap around the taller woman to bring her back down to the pudding with a splash. However she had fallen into her opponent's trap as Ari saw Minerva quickly duck down and slipping her arm between her legs, sending her flipping over head right over Minerva and back down into the pudding on her back, splashing pudding everywhere.

"Oooh!" Ari cried out as she rolled over on to her stomach, the fall had taken her breath away as she quickly took in a gasp. "Tch!" she looked up at Minerva seeing that her opponent was getting used enough to rolling around in the pudding to pull off a move like that, showed that her mind state wasn't as shaken as she thought. Ari knew that she needed to get that spirit cracked if she wanted to keep the invader under her grasp as she shot her hand out to try and grab the front of Minerva's bottoms and give them a yank up, attempting for a front wedgie.

_________________
COME HERE FOR THE COLLECTION
One of the advantages that came with being as overconfident as Minerva typically was was that she rarely needed a boost in that regard. So, despite mild irritation setting in at how well Ari had fared thus far, it was going to take quite a bit more to make the amazon truly believe she was in any legitimate danger. But she did, at least in the back of her mind, accept that more thought and care would be needed to subdue and tame this woman than expected. Simply throwing her brute strength around wasn't going to get the job done. She was going to have to be smart.

Though fortunately for Minerva, she was a keen strategist as well as a powerhouse. All it took was a simple feint to bring Ari charging into the trap, and from there it was no trouble at all to flip the snowy-haired beauty through the air! Ari flopped and splashed into the pudding back first, and Minerva was quick to spin around to face her adversary once again as Ari rolled over.

"Getting tired, are we?" Minerva asked with a sly smirk as she shifted on her knees to get closer to her downed foe. Finally it seemed she was making some headway in establishing some momentum over Ari, and she wasn't about to let it slip away so easily. However, her opponent once again showed her craftiness by grabbing onto Minerva's bottoms and pulled up, eliciting a sharp yelp from the amazon while making her cringe and jolt from the sensation. "Ugh! You little bitch!" Minerva spat out while hurling a vicious backhand right out toward Ari's cheek, hoping to punish her and force her to release the pudding-soaked bottoms.
Seeing that Minerva had some of that wrestling skill that she boasted about as she took Ari down with that fireman's carry takeover, but she wasn't that impressed as she figured any girl with a wrestling background. But that didn't matter much to Ari as she retaliated with pulling up on Minerva's bottoms, watching the challenging queen being stopped by the sensation of having the fabric pulled up into her crotch. It was a pleasant sight to behold, especially after Minerva taunted her after her one move giving Ari a necessary feeling of payback, bringing a smile to her face. "Oh? Were you not prepared for that?" she teased right back to Minerva.

But then what Minerva did next, completely shocked Ari. She smacked Ari in the face with a back hand as she was forced to release the hold and fell into the pudding. Ari's eyes widened as she brought her hand up to her stinging cheek. Never before was she struck like that, her matches never escalated to where her opponent hit her in anyway shape or form that wasn't a spank to her butt.

Ari couldn't believe it, the nerve of her opponent. There was no need for striking like that backhand as Ari's blood began to boil. She has never felt this way before in a while, where she utterly detested her opponent as she would whip her head up to Minerva, her eyes reflecting her turbulent mind state as she would pop back up with her hand swinging at Minerva's face to slap her back. "You bitch!" she shouted back, a stark difference in personality from the WAM wrestler as she swung her first strike since coming to AFW.

_________________
COME HERE FOR THE COLLECTION
The teasing comment from Ari seemingly went unnoticed by Minerva. Given this girl's history with these kinds of matches, she had come into it fully expecting her foe to be playful even when being aggressive. However, yanking Minerva's trunks to give her a wedgie? That earned Ari every bit of the pain and disrespect that accompanied the resulting backhand. Minerva was royalty, after all, not just some bimbo to be toyed with however Ari saw fit!

The shock on her opponent's face almost revived Minerva's smirk, until Ari popped right back up and preemptively slapped it right off! Now it was the Dane's turn to wear an expression of shock as her head whipped to the side. As if wedging Minerva's own bikini bottom into her crotch wasn't enough, Ari had the audacity strike the Danish queen back?! Who the hell did this woman think she was?!

Without warning, Minerva shouted out and pounced at Ari, aiming to tackle her down into the pudding while mounting her. "That's it, slut! You asked for it!" she'd say while raining down punches at her opponent's pretty face! Certainly not very typical of this sort of match, but Minerva clearly didn't care. She just wanted to make Ari pay for her insolence and disrespect!
Ari smiled as she sent her opponent's head whipping to the side, she felt a great surge of satisfaction feeling her hand stinging from the slap and could only imagine the stinging sensation in Minerva's cheeks. Her joy was cut short pretty quickly when Minerva jumped at her and tackled her into the pudding. It was clear to her that her challenging Queen was not happy with the smack as she easily mounted her, Ari began to kick her legs about trying to get Minerva off of her as she splashed pudding about.

What happened next only strengthened Ari's disdain for striking as Minerva was now swinging wild hits at her face. Covering up her head, protecting a few hits as some slipped past her arms Ari found the situation not only painful, but distasteful as well. There was nothing sexy about this, nothing pleasurable from having Minerva wailing away at her face. Despite her current disdain at striking, Ari quickly felt each hit that got past her arms smack into her face, despite what she thought about Minerva, she knew quickly that she wasn't going to win a slugfest against the opposing queen.

Letting out a few cries from being hit, Ari's defenses were completely lacking in trying to block the punches as her disinterest in this way of fighting was now hampering her. She knew that she needed to bring this match back into the direction that she was most suited at as she raised her hands quickly to try and grab Minerva's breasts to pull on them to try and roll Minerva off of her. Also at the same time, she tried to take that top off while she was at it.

_________________
COME HERE FOR THE COLLECTION
One after another, Minerva's punches descended down upon Ari in a relentless assault, which resulted in boos directed at her from the audience. But the Dane didn't care one bit about what these people thought of her actions. This bitch needed to be taught what happens when you disrespect a queen! And rearranging Ari's pretty face would no doubt get that point across.

However, the onslaught suddenly came to a halt as two hands suddenly grabbed onto Minerva's breasts. The unexpected touch elicited a light gasp from the amazon and sent a shiver up her spine. But not even a second later, Ari pulled down and Minerva was brought off of her foe and rolled into the pudding, some of which splashed into her mouth. After a few quick coughs, she spit out the chocolatey glob and pushed herself back up to her knees, and heard quite a few cat calls suddenly being directed toward her.

The reason quickly became clear, as Minerva glanced down and noticed her top was gone, completely exposing her breasts! "What the--?!" she exclaimed while instinctively covering her chest with her arms, while growling through grit teeth as anger boiled in her. Turning her focus back to Ari, whether the girl had managed to get back up or not, Minerva then pounced at her again, this time reaching out to try to grab the stolen top out of her hands. "Give that back to me this instant!"
Ari successfully managed to get the raging Minerva off of her, rolling the woman off and also taking her top off like she intended. Smiling with accomplishment, Ari would push herself to her knees as she immediately rose the top above her head to ensure that everyone saw that she stripped Minerva and freed her breasts. Stripping a girl of her top always made Ari feel great, but this time around it felt a little bit more sweeter with the fact that it was Minerva being the one she stripped. However, in doing of parading the pudding soaked top above her head, left her back turned to the enraged queen as she was quickly pounced on and forced back into the pudding. "Guh!" Ari let out as she noticed that Minerva was reaching for her top and Ari was not willing to let her do that so easily as she stretched out her arm to keep it away from Minerva.

"No! You don't deserve it!" she shouted at Minerva, trying her best to keep the top away from Minerva, however she would soon get an idea burst in her head. "You want it that badly? Then take it!" she shouted as she attempted to flick throw the top back into Minerva's face, hoping that the smacking pudding top into her face or even keeping her eyes on it if it missed would distract Minerva long enough to then try and wrap her arm around Minerva's head, attempting to roll over to her side and lock in another side headlock, looking to press her side boob into the self-absorbed Queen's face.


_________________
COME HERE FOR THE COLLECTION
Page 2 of 9 •

1, 2, 3, 4, 5, 6, 7, 8, 9


---
Permissions in this forum:
You
cannot
reply to topics in this forum