Who is online?
In total there are
47
users online :: 9 Registered, 1 Hidden and 37 Guests :: 2 Bots
acuya
,
Berial
,
Cicilia
,
Deus001
,
Hedgehawk
,
Kelsea
,
kerflubble
,
Person
,
RadiantKarna332
Most users ever online was
390
on Tue Jan 02, 2018 2:02 pm
Champions & #1 contenders
Moonhearts Promo intro thread is O p e n.
Mon May 21, 2018 4:21 am by XSirenX
Feeling brave?, lost?, or without a thread to post in?, hit up the newest Moonheart if any of those apply!
CLICK HERE
What Moon has to offer?, many things...:
Comments: 0
The Austrailian Mudslide is Back.
Sat Apr 21, 2018 6:20 am by Softsquad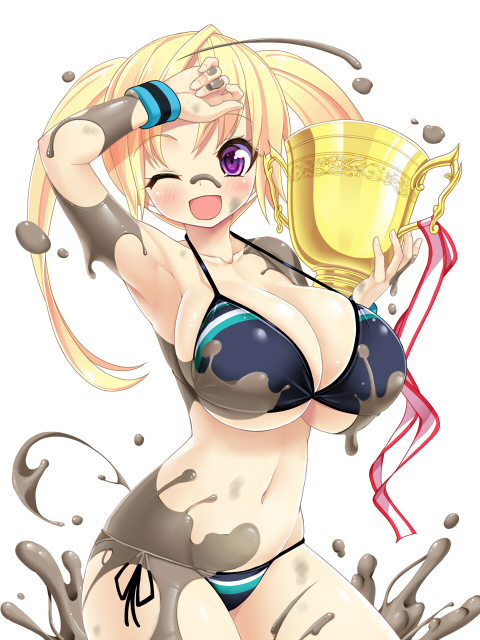 Granted that most of you won't know me or remember me, but I've had a few matches here and there some time ago. Well I think its time to become a regular around here and try to have some fun again, but at the same time keep coming back. Anyway I think its time to jump into some matches with Zoe Taylor, my mud wrestling character from Australia and get her back into the squared circle. Furthermore I will update my characters as I think some proper changes need to happen.
So if anyone would …
[
Full reading
]
Comments: 4
Page 1 of 2 • 1, 2


OOC:

This is meant as an open thread for Kozlova to meet other wrestlers and have interactions outside the ring! I'm game for anyone showing up, but if you have questions or doubts you can always just message me and plan something out a bit more!
"Hnn...~!"
Muscles strained just beneath the skin as Kozlova precariously dropped into a low squat with the weight bar balanced across her shoulders, gripping the metal bar tightly in her gloved hands, gritting her teeth as her body ached and screamed for her to give up the ghost and just collapse under the weight. Sweat ran in rivulets down her body as she held the squat for several seconds before she began the torturous process of straightening back up and hoisting the weight bar up and off of her shoulders.
"Hah...Probably enough squats for the day," Kozlova mused to herself as she set the bar down with a heavy clank and shifted over to sit on a bench with more grace than most would expect of the imposing woman. It was her first time using the AFW facilities and it had been her prerogative to determine if they would be up to the task of supporting her grueling regime or if she would need to find an independent location to keep in shape...so far she liked what she saw! The young woman's large chest heaved in the tight confines of her black sports bra as she grabbed her towel and dabbed the sweat off her brow, taking the chance to peer around the gym at those others who might be working out at this time of day. It wasn't like she stood out that much with her choice of gym wear which was composed of simple sports bra, yoga pants, gloves, and boots, but it was her imposing physique that would most likely draw attention to her.
As it turned out, beneath her uniform was a well-defined and muscular frame that explained some of the absurd physical feats that people claimed that she was capable of performing. And on a woman her size...? Well, it could be a bit daunting but Kozlova lacked much of the characteristic cruelty and spite that she exhibited in the ring and around fans, which softened some of threat that she posed. After catching her breath, the Russian moved over towards a treadmill to get in some much needed cardio to augment her strength-training. As she punched in her 'course', Kozlova took another chance to take a discreet look around the gym before giving a wry shake of her head.
I still cannot decide if this is a heaven or a hell! Where did they find all of these women? I would have thought that I was more..singular in my desire for active combat...
Whistling could be heard not far from where Kozlova was beginning her run on the treadmill, the cheerful tune actually the theme music to the legend Hulk Hogan back in the United States though without the lyrics it was near impossible to tell that was what it was supposed to be. For Hikari, the source of the whistling, it was just another day in the gym keeping herself in top shape for in ring competition, something she hadn't been getting lately but that had never stopped her from getting on a good sweat. She was dressed much like most everyone else was in the gym, wearing a tight sports bra and yoga pants she had cut into shorts from the looks of them, but unlike most of the others her outfit was deep pink and bright purple making her stand out quite well. Hikari didn't mind the glances she got, in fact she quite enjoyed the extra attention as it had helped her meet quite a few new faces here.

Currently though she was more focused on the steel bar hanging above her head rather than those around her, Hikari having already completed three sets of bench presses and now working on her fourth and final one. "Just one more." She said out loud and to herself, beads of sweat dripping down her arms as she slowly lowered the bar and its added weights down to her chest, stopping only once the bar was pressed an inch into her large breasts. Taking a deep breath Hikari began working the bar back up, inch by inch until she dropped it back into place on the rack with a loud clang.

Hikari swung her legs skyward and then back down, hopping off the bench with a broad grin on her lips as she was quite pleased with having gone up another ten pounds on the bench press. "Whew...okay then whats next?" Hikari asked herself as she brushed the sweat from her forehead with her forearm, more smearing the sweat than anything though. She quickly glanced around the room at the machines but found most of them in use already, the only downside of coming to the gym on such a busy day, but thankfully there were a few treadmills open.

She stopped to get a drink of water from the fountain and then made her way over to the treadmills, playing a quick game of eeny, meeny, miny, moe in her head before settling on one next to a woman who dwarfed Hikari. She approached from behind and stepped up onto the treadmill directly to the left of the woman whose face she didn't know, letting out a low whistle while her eyes ran from Kozlova's feet to the top of her head. "Wow you're really tall you know that? I mean of course you do, its just really impressive is all. Mind if I run next you? My names Hikari."
It might come as a surprise to most people but the reason why Kozlova was usually so quiet was because she was absorbed in her own thoughts, not because she was silently planning how to murderdeathkill everyone else around her. The future of her contract seemed to be set in stone for the time being but that didn't mean she didn't have to squirrel away as much as she could in case of an emergency. Not to mention that she was having trouble convincing the sound guys to amp up the volume of her theme when she entered, saying it would drone out anything else but that was the point! Didn't they understand that the bombastic and over-the-top music was part of her psychological mind games? The padding of her shoes on the treadmill and her own even breathing was the only companions that she needed for the time as she focused on her cardio.

Thus it was no mystery why it took her a moment to acknowledge the whistle that had come from beside her, continuing on silently for several moments before her head tilted to the side. Blue eyes ran up and down Hikari's figure with no small amount of appreciation before a half-smile pulled at her lips.

"Thank you very much, a kind compliment," she said breathlessly as her treadmill dinged and entered into one of the cool-off periods to give her a bit of a breather. "I do not mind the company, running by oneself can get depressing after a time. My name is Miroslava, new to the promotion."

With the slower pass she took the chance to extend out a hand for a brief handshake but there is a hint of lechery in her gaze as she gives a throaty chuckle. "A pleasure Hikari. You are quite large yourself you know, even if not tall. Be proud of that~!"

The large Russian woman fell silent for a time after that, her own large breasts heaving in the tight confines of her over-full sports bra before glancing over again. "...You...you are wrestler, no? What sort?"
It took a few moments for the Amazonian woman running beside her to notice Hikari was there but she didn't take any offense at that, she was the one interrupting her after all. She just kept smiling until the woman turned her head to see who was talking, doing her best not to stare at the impressive figure the woman had, at least until she noticed she was being checked out herself. Hikari didn't mind the close look she was getting a d returned the favor, doing nothing to try and hide that she was admiring the woman's body with a appreciative grin.

"Oh that's a lovely name, Miroslava, sounds russian. Are you russian? I mean you're tall so probably Russian right?" Hikari rambled a bit, speaking quickly but not so much she wasn't understandable. "Oh and welcome to the club then! Always nice to meet new people, especially when they look as good as you." She said smiling brightly all the while, happily shaking the woman's hand with both of her own before starting up the treadmill on a warm up setting.

Hikari brought her right hand up to the top of head and then moved it straight over to Miroslava to see where she reached on the woman. "Well I am tall just not to you!" She said, giggling as she brought her hand back down though making sure to accidentally brush it against the woman's barely restrained breasts. "Thank you for saying as much, that's high praise coming from someone as gifted as you are. And yes I am a wrestler, I do normal matches, submission matches, I love hentai matches, and lots of other ones. What are you hoping to do?"
Miroslava kept up her even pace as she ran, waiting for a reply from the other woman before daring to say something else, after all she could be off-putting in certain situations. And if she was being perfectly honest with herself, the smaller Japanese woman was definitely easy on the eyes, especially while on a treadmill.

"I am Russian but that has nothing to do with being tall, may not have seen many of them but many short Russians...we just hide them away," Miroslava jokes giving a little wink as she does, purely to try and seem more approachable as they chatted. "Thank you, very good facilities in here and thought it best to give them a try before going to a private gym."

The tall Russian paused as the hand moved from the top of the redhead's head to her own before another hearty laugh bubbles out of her. "No shame in not being as tall as me, many are not and I have grown used to it." The hand brushing up against her tightly contained chest brings her up short and a flicker of something a little less warm to her smile. It wasn't that she minded such a touch along her heaving breasts, it was simply that she wasn't...used to such acts being taken on her.

Normally SHE was the one doing the touching.

"Myself? Many types of matches, I do not mind any but I definitely prefer the hardcore when I can truly cut loose," she finally speaks up again. "Have never tried one of those..what did you call it? A hentai match? Those are foreign to me but seem very interesting and perhaps I will attempt one soon."
While most anyone else would be at least a little nervous around the tall Russian woman, cautious with what they said for fear they got on her bad side, Hikari was not most people. It never even crossed her mind that Miroslava might get annoyed with her, she was far too curious about finding out more about the woman to give it any thought, that and she was distracted by how curvy Miroslava's incredible body was. Watching her running even at a slow pace on the treadmill was making it difficult for her to keep from stumbling over herself as she ran, Hikari keeping her own machine at a slightly slower pace so she didn't trip up while checking Miroslava out.

"Oh where do you hide them all? I guess Russia is a big place, plenty of room to tuck them all away." Hikari replied, giggling at the joke and returning the woman's wink with one of her own. So far Miroslava was proving a lot of fun to talk to as well as look at, a good find for Hikari.

Unable to resist the temptation of those heavy mounds bouncing gently beside her Hikari let her hand accidentally brush against them, flashing Miroslava a smile to make sure she knew it hadn't been a mistake. She withdrew her hand quickly though when she saw a momentary change in the woman's smile, Hikari tilting her head sideways to look at her with an inquisitive stare, not quite sure what to make of it.

"You do look like you would do well in a hardcore match, I know I wouldn't want to be trapped in a cage or whatever with someone half as big as you are!" Hikari said with another laugh before quickly adding. "Though if it was a hentai match I'd make an exception. Wait never? But you would do so well in one! You have to try one!"
"You know history, don't you? Plenty of empty gulags for short Russians to be hidden away in," Miroslava joked as Hikari continued to banter with her and take another chance to cup a brief feel of the heavy mounds that the General openly flaunted. The quick glance that the dark-haired Russian gives Hikari combined with the grin that flashes briefly across her face proves that she didn't exactly disapprove of the shorter woman's aggressive advances towards her.

"Haha and yet I would quite enjoy finding myself trapped in a cage with you~!" she points out with a wicked gleam in her eyes, waiting until Hikari took a moment to focus on her own cardio before her hand snaked out to clap down loudly across the girl's spandex-clad backside. Loud enough to get several people to look around for the source of the noise though they wouldn't find very many clues depending on how Hikari responded to her. "I could take my time and enjoy making you...scream."

Any other time and that comment might have seemed...vaguely threatening but the salacious wink the Russian throws at Hikari dispels that notion rather quickly. Maybe she hadn ever participated in a hentai match before but apparently that hadn't kept her from enjoying her matches regardless! "Mhm? No, never an official one. Why do you think that I would do so well in one? I have heard others voice a similar opinion if I'm being honest, I've just never understood it."
Hikari tended to talk very quickly and take few pauses in between to catch her breath, a trait that wasn't doing her any favors since she was trying to talk and run on the treadmill at the same time. As much as she didn't want to pull her eyes away from the killer curves and smile of Miroslava Hikari turned to focus on her running, at least for a few moments, getting back into a rhythm as she ran and getting her breathing under control. She had just managed to do just that too when she felt the Russian's hand slap down across her ass, the woman holding on so tight she undoubtedly felt the muscles tensing as Hikari kept up her pace.

"Well if you mean what it is I think you just meant then I wouldn't mind that either Miroslava, I'm sure we could both make each other scream quite loudly and often." She replied with a look in her eyes that made it quite clear she was trying to peer through Miroslava's clothing, the slight disappointment in her eyes a few seconds later coming as she realized she couldn't use x ray vision no matter how hard she tried.

"Oh come on you know why! You're a giant amazon with gigantic tits that look like they could knock someone unconscious, you're like perfect hentai material!" Hikari exclaimed with a bit of laughter following. "Even I'm a bit jealous of those mountains you have." Just to drive the point home Hikari quickly grabbed her own breasts, giving them a look and then a squeeze before reaching over and doing the same to Miroslava's chest.
"One to find out," Miroslava responded simply to the comment about being made to scream, the same impish smile on her face as her treadmill began to tick down on its course into the cool down period. Cardio was a significant part of her training but it wasn't the largest after all...besides, now she had a rather pleasing distraction to engage in as well. "Mhmm..nice ass."

Unfortunately Hikari doesn't spontaneously gain the ability to peer through Miroslava's sports bra just because she wants to but she is treated to the gorgeous sight of those gigantic tits heaving with each breath, the exposed skin glistening with sweat as the big Russian woman steps off the machine and towels off her forehead and neck as her new work-out partner gave her chest a quick squeeze.

"Mhm...? You think so? I've found most are too intimidated by me to think of me seriously in that manner," Miroslava laughed out before reaching out to pull the smaller red head off the treadmill and back up against the pillowy chest that she seemed to enjoy so much. Hikari's head rested quite comfortably against the Russian's breasts as muscular arms slipped around Hikari's midsection just beneath her own chest. "You should not be jealous...your own are quite sexy..I've barely been able to keep my eyes off them while you were jogging, let alone carry you into the back as a trophy~!"
It wasn't unusual for Hikari to run into forward women around the gym, this was the AFW after all where nudity and sex were a part of everyday life, but Miroslava was as forward as she herself was and that was rare to find. "Why thank you, I am quite fond of it myself!" Hikari replied with glee to the much appreciated compliment as she hopped off her own treadmill, more interested in talking with Miroslava than she was with running. It was mesmerizing too, watching the woman towel herself off, Hikari was happy for the show though she left her own exposed skin glistening with sweat.

"Intimidated I can understand, but how they can resist your body is beyond me." She answered with a grin only to then yelp in surprise as Miroslava yanked her in for an up close inspection of the Russian's gravity defying breasts. "Oh you will go far here talking like that!" Hikari laughed in return as she nestled her face deep into those tremendous mountains, her hands reaching around to feel up the woman's ass as well. "You are quite the flatterer! You know if you are having trouble finding an opponent for a hentai match...well I would be happy to volunteer anytime!"
Page 1 of 2 • 1, 2


---
Permissions in this forum:
You
cannot
reply to topics in this forum