Champions & #1 contenders
Summer Splash interest in Natasha Loclear?
Mon Apr 09, 2018 11:30 pm by daemongirl
Well my girl hasn't missed a summer splash yet, would anyone be interested in a match with her? Open to just about anything match wise, just pm me!
Comments: 1
Been Out with the Flu
Sun Apr 22, 2018 7:47 pm by daemongirl
Just letting those I have threads with know I've been out with the flu since early last week, but I will be back to posting tomorrow.
Comments: 0
The Austrailian Mudslide is Back.
Sat Apr 21, 2018 6:20 am by Softsquad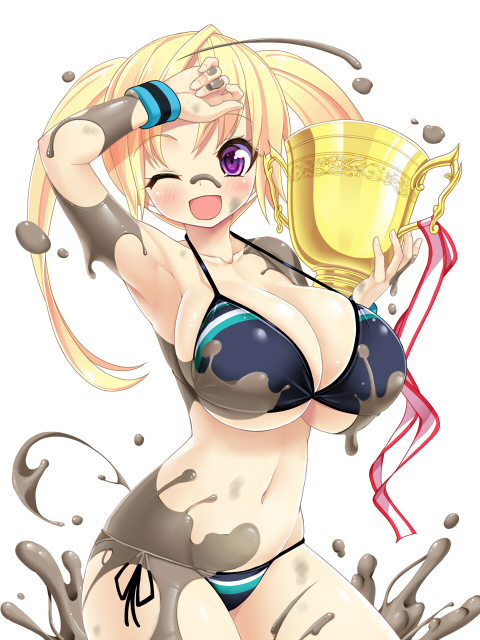 Granted that most of you won't know me or remember me, but I've had a few matches here and there some time ago. Well I think its time to become a regular around here and try to have some fun again, but at the same time keep coming back. Anyway I think its time to jump into some matches with Zoe Taylor, my mud wrestling character from Australia and get her back into the squared circle. Furthermore I will update my characters as I think some proper changes need to happen.
So if anyone would …
[
Full reading
]
Comments: 0
Page 1 of 5 • 1, 2, 3, 4, 5


Match rules: Standard. Achieve victory by pinfall or submission.
Spoiler:
In the back Hayley was getting herself ready, this was going to be her in-ring debut at the AFW. It'd been some time since she'd signed on with the company, she was going to be based in Friction. But she'd agreed to do matches in Tension too, Hayley had seen no problem with it. And it could even be fun! Since being to Japan the young woman had gone right to the nightlife, coming from Ibiza she was no stranger to it. Her Father owning a chain of clubs, and here in Japan the Amazonian woman had taken to it like a fish in water. Although Hayley had made sure to keep up her training regime, for that debut match of course.
Hayley had looked up who she was going to face here, a cute little thing by the name of Astolfo. The Ibiza girl grinned and admired the looks of her opponent, truth be told Ms Valeria didn't know how to have a better debut match. And speaking of that it was soon time, Hayley was looking herself over in her beautiful white dress. Checking that her bunny eared headdress was going to stay on, her Mother commissioned it for her child. Having been a model before marrying her Father, the two people combined had resulted in Hayley being quite the popular girl. She gave it one last upward tug, just to make sure the dress would cover up those ample breasts of hers!
A stagehand notified the young woman it was time to get to the entrance ramp, and there Hayley stood behind a curtain. To the crowd the lights would dim out, and then envelop them in pitch blackness. That is until various coloured lights would begin to dance around the arena, as the song
Heavenly Star
by the Genki Rockets would start to play.
The curtain Hayley was behind would start to glow a bright white, with the woman forming a black silhouette. Then when the song hit the 0:40 mark, that was when the party girl burst out the curtain. To a large roar from the crowd, being the party girl that she was quite a few people had seen Hayley about in the nightclubs.
As the Amazonian teen moved down the entrance ramp she'd slap hands with the members of the crowd at the front row, and also being sure to take selfies with some lucky guys and girls. Upon nearing the ring Hayley would climb up the stairs and ring post, waving and blowing kisses to the crowd. She then entered the ring and awaited near the far left turnbuckle, eagerly awaiting her opponent with a smile on her face.
_________________
Check out my wrestlers
here
, but PM me for match requests.
Solaire of the AFW.
Spoiler:
It was time for another match again.  Astolfo was curious and excited for his latest match.  He didn't know much about his opponent aside from a name he was given, Hayley Valeria.  He was curious about her.  Was she a nice person, what did she like to do, how big was she and why did she join wrestling but the most important question was, was she a face or heel.  Astolfo had fought both in the past and honestly fighting heels weren't fun, thus he hoped that this Hayley was a face.  In all honesty he would rather lose to a face then win verse a heel.  Faces tended to at least show him respect and have a good time, while heels would constantly be swearing at him, even when getting their asses kicked by him and then they would make up excuses or vow revenge after losing the match.
Though Astolfo mind soon began to run wild and those thoughts were lost as he now looked at his uniform.  He began to check it and made sure everything was correct.  Due to his body and uniform most people confused him for a girl, though every once in a while a wrestler might be able to see through it or figure it out.  That being said the audience for the large part was kept in the dark.  Right now there were only a few hard core fans that knew about Astolfo gender, aside from them, everyone else thought he was a girl.  Honestly he didn't mind and actually enjoyed confusing his opponents and the fans.  This was probably one of the reason he had been recruited to Tension.
A knock could then be heard on Astolfo door as one of the AFW staff told him it was time for his match.  The male wrestler would nod his head before making one last inspection, seeing that everything was in place and nothing was wrong, the pink hair wrestler would then make his way out of his locker room and towards the entrance.  He then waited for his theme song to play before exiting and making his way out towards the ring.  Here he would wave towards the fans and even given them high fives before finally arriving at the ring.
Astolfo would grab the bottom ropes before performing a split and entering the ring.  He then got up and looked at his opponent... she was massive, far larger then him.  In fact this might be the biggest opponent he had ever fought.  "Wow, your tall." stated Astolfo in surprise before he regained himself. He would then move to the center of the ring and offer his hand.  "Greetings, I am Astolfo.  I hear this is your debut match, so lets have a fun and great match." stated Astolfo as he continued to observe his opponent while giving a friendly smile.
Last edited by Person on Sat Jul 18, 2015 8:28 pm; edited 1 time in total
Hayley was waiting at her corner for her opponent to arrive, going over her wrestling training in her mind. Had to keep that in mind, she was going to need it for her debut after all. Although her face had a real ditzy look, tilted to the left as she stood there. But then came on the music of her opponent, which Hayley found to be a rather catchy beat. And so she began to dance to it, swaying her ample hips and shuffling her feet while moving her arms. It was a good song, and Hayley was no stranger to dancing. Thanks to her lifestyle and habit of being a frequent nightclub visitor.

When Astolfo entered the ring Hayley took the chance to size up who she was going up against tonight, hmmm. Similar coloured hair, cute looks. If Hayley didn't know any better she might be looking at like a younger Sister version of herself, or at least it looked like a girl. And the first thing her opponent does is comment on Hayley's height, which elicited a giggle from the party girl. It wasn't the first time her height had been spoken of, moreso in Japan where the women tended to be rather on the short side. It'd earned her quite a bit of attention from the boys and girls of course.

"Oh heya! Astolfo right? Name's Hayley, I'm from Ibiza. Heh it's my debut alright, really looking forward to going up against you." the party girl waved gleefully, it seemed that Hayley would certainly have the height advantage, which was good as she relied mainly on being a powerhouse. How to mark the occasion of her debut however?

Hayley would skip over to Astolfo, taking out a phone and selfie stick from the copious pockets in the folds of her commissioned dress. "You know why don't we take a selfie together before we fight?" it might be a tad surprising. But Hayley was of course a fun loving girl from Ibiza, so it was kinda the usual thing for her. She'd kneel down next to Astolfo and lean forward with the top of her breasts getting shown, Hayley would grin and capture a moment with her opponent before the battle would get underway. After that she'd go back to her corner and get herself ready for the match, she wasn't going to wrestle in that dress. It was one of a kind after all!
_________________
Check out my wrestlers
here
, but PM me for match requests.
Solaire of the AFW.
Astolfo was a bit surprised by what he saw as he finish giving high fives to his fans.  His opponent Hayley was actually dancing to his theme song, sure this might be something that Astolfo does but he had never heard or seen any other wrestler do something like that.  As he then entered the ring and looked past the size difference he saw all sorts of similarities between the two.  She had a cute look just like him and they had similar hair color.  But it wasn't just the looks, it was also how happy they both seemed, how care free they both look, like they just wanted to have fun.  Just by looking at her, Astolfo felt he had found a kindred spirit.

The smaller wrestler then listened to what his female opponent had to say.  She introduce herself and stated she was from Ibiza and how this was her debut match.  Her personality seemed really friendly and her actions supported this as she waved at Astolfo.  Her dress on the other hand seemed a bit to complicated for wrestling.  It would restrict her movements and give heels all sorts of chances to cheat and use it to there advantage.

Yet before Astolfo could saw a word, Hayley would skip over to Astolfo while then taking out her phone and making a comment about how they should take a picture together.  "Really?  That sounds awesome!  Also your dress looks really great!" stated Astolfo as he then smiled while Hayley knelled beside him.  Sure she had not accepted his handshake but a selfie seemed much cooler then a simple handshake and nicer as well.  The crowd was shock by what happened and where now talking and whispering to each other, trying to figure out what was going on.

Once the picture was taken, the female opponent went back to her corner and thus the smaller wrestler did the same.  He was now super excited to start this match, these were the types of opponents Astolfo loved to fight, thus he couldn't help stop smiling while hoping from one leg to the other.  He then spotted his opponent changing clothes, it seemed she wasn't going to wear that awesome looking dress.  Astolfo would wait until his opponent was done changing before hearing the bell ring and trying to circle his opponent, looking for a weakness.  She was bigger then him, maybe he could use that to his advantage.
"Ah you like the dress? Thanks! It's a one of a kind." Hayley had said to Astolfo, her Mother having commissioned it for her child. This was also a chance to get the clothes modelled, and get them sold. The Amazonian teenager was no stranger to that, having done modelling for a children's clothing company at one point. There was of course no way Hayley was going to compete in it though, her Mother would have gone pure apeshit. not to worry though.
For Hayley's wrestling attire was concealed under it, the rabbit eared headdress was first to go. Sticking it on the iron behind the top turnbuckle, the party girl let out a small smirk that couldn't be seen as she had her back to the opponent. Sure enough though the dress would be removed, and be neatly folded under the bottom turnbuckle. The ring attire outfit that Hayley had was made with the help of her Mother, something that screamed fun and outgoing.
Spoiler:
The party girl took the chance to do some last minute stretching, the crowd certainly showed their approval of her outfit. Hayley had gone from one fancy outfit to another, but that was how she preferred things. Soon enough the bell would ring, in which case Ms Valeria would clap and say "Right! Let's go!" with an enthusiastic tone as her breasts bounced up and down somewhat. The bra and some adhesiveness was going to make sure they didn't pop out, Hayley might have been a party goer. But she wasn't some shameless hussy.
Now it was time to get down to the business of the match, Hayley had the height and most likely the power advantage. And she had been trained mostly with that in mind, so with that in mind Hayley was going to go forth. Astolfo was circling around, seeming a bit hesitant perhaps? Well.....
"Don't be shy, come on!" Hayley would yell, suddenly trying to rush forth with her arms out. The Amazonian teen would try to get in close at Astolfo, and attempt to cinch in a standing side headlock. For now Hayley was thinking about starting things slowly, as in when the party just started and only one or two people had just arrived. Besides Astolfo was kinda cute, time to see if he could be more than a pretty face though.
_________________
Check out my wrestlers
here
, but PM me for match requests.
Solaire of the AFW.
Astolfo watch as his opponent got out of her dress and into a new one.  He was glad he wouldn't have to fight her in that dress, as he was afraid that he might ruin it.  He then took a moment to take a good look of the wrestling attire his opponent was in.  "Mind if I give you a warning?  It might not be a good idea to enter with that dress.  Some wrestlers who are heels might attack before the match starts and ruin that dress.  As for your new dress, it looks pretty good." stated the smaller wrestler, as he would be disappointed if the dress was ruined by a heel or anyone for that matter.

He then watch as her dress was folded and put away.  That actually got Astolfo thinking, maybe she could help him make a dress like that.  "Hi, after this match, mind if I can purchase a custom dress of my own from you?  I am a little jealous." stated the smaller wrestler as he rub the back of his head and gave a shy smile.  He would love to wear something that look as great as that.  His wrestling attire was actually pretty simple and felt outdone by Hayley.  Thus if he could get a dress to look better it would probably help his wrestling career a bit.

The bell then rang and Astolfo started to circle around while his opponent would clap while her chest would bounce.  Astolfo couldn't help but to look but he didn't let himself be distracted though.  The larger wrestler then made a comment about him not being shy.  "If I start by charging that will make me look desperate.  Can't have that, now can we?" stated Astolfo as he then saw his opponent come at him.  Astolfo would then attempt to counter by performing a drop kick, if successful it would create a bit of room and probably knock down his opponent.  This would probably give him enough time to perform another drop kick.  Though if the first drop kick missed, then he would fall on the mat and hurt himself while being vulnerable to an attack.
"Oh I need to enter with the dress darling, modelling it." Hayley had said, her Mother had wanted her to go into the business alongside her. But had the idea that if Hayley was wrestling then she could go down to the ring in various outfits to advertise them, and based of what Astolfo was saying. This was going according to plan, seeing as how the smaller person was inquiring on if he could get one of his own.

"Eh? Well maybe if you get lucky, but now let's have some fun~" Hayley gave a beaming smile, when the girl had heard that her debut was going to be in Tension. She was inwardly worried that she'd go up against some brute, but Astolfo didn't seem the type. Her opponent seemed kinda cute, could even be a younger sibling if they had the same sirname.

But in regards to the ring Hayley had basic wrestling training, which focused on using her strength and height to her advantage. The Amazonian teenager tried to bumrush Astolfo and hopefully start to control the pacing of the battle, but her opponent dropkicked her. Hayley let out a loud grunt as Astolfo's lower limbs blasted out onto the chest of the party girl, knocking her onto her ample backside. On instinct Hayley would make to try and get back up, putting her verticality to use.

But Astolfo was going to fire out another dropkick, and it caught the party girl again. Inwardly Hayley kinda felt stupid, but outwardly? She would yell "Ngh! Owwie!" the Amazonian girl was down now. Hands over her breasts and upper body to try and numb the pain that could only come from a pair of dropkick attacks, for the start of the match it wasn't looking too good right now for Hayley it seems.
_________________
Check out my wrestlers
here
, but PM me for match requests.
Solaire of the AFW.
It seemed that Astolfo warning had fallen on deaf ears.  He understood why she wasn't listening to his warning, she needed to show the dress and act as a model in order to sell them.  Yet this meant that in several matches they would get ruined as heels would attack her before she undress or after winning they might ruin the dress just to spite her.  Either way he took one last look at the dress before it was folded away.

As for his request about getting a dress it seemed that his opponent was more interested in fighting him then selling product.  He really wanted something that look that good but she was right, he needed to focus on the match and not let himself get distracted.  "Alright but after this match I want to be your first customer!" stated Astolfo as he smirk not knowing how long his opponent had been in business.  Maybe he could also got a job as model for her as well.  The two did look similar, they would make a great pair in modeling.

His opponent was larger then him but Astolfo had done several matches in Tension, in fact this was his sixth match.  He had won several of his previous match, so despite his opponent being bigger then him and probably stronger, Astolfo had experience on his side and possibly speed as well.  As his opponent rush towards him, the smaller wrestler would jump up and hit her dead in the chest with a drop kick.  The kick connected and as a result Astolfo got up again and fired another drop kick which once again connected to Hayley chest, causing his opponent to yell out in pain.

The match had just started and Astolfo had gotten the early advantage.  He would then run towards the larger wrestler before jumping up in the air and attempting a leg drop on Hayley chest.  The reason he aimed for her chest is that his two drop kicks had hit her there and when he had fought bigger wrestlers he had beaten them by focusing his attacks on one place, thus he was doing the same here, trying to focus the damage on her chest.  That being said, if Hayley managed to roll away, Astolfo would hit the mat and hurt his own leg.
Hayley was a bit of an airhead when it came to life, it wasn't that she was dumb. She got through highschool with no real issues, it was just when it came to tact she was a ditz. This equated over to the squared circle, where she just kept going at the enemy till either was too pooped to party. It'd worked back in Ibiza, where she had competed in amateur wrestling. But considering how this match had started, with Astolfo getting in the opening shots. It didn't look too good for the party girl right now.

The Amazonian knew one thing, she didn't want to be on the ground if she could help it. Astolfo seemed to be relentless right now though, but the match had just begun. And Hayley was fresh and ready to go for her debut match, she was going to be ready as best as she could.

So when Astolfo leaped into the air for a legdrop, well Hayley wasn't going to be there. The girl from Ibiza could be rather nimble when she had to be, so Ms Valeria was going to dodge this move. And then try to spring onto the smaller opponent in an attempt to try and wrap her arms around Astolfo. Using her impressive upper body strength, the Amazonian party girl would try to hoist the cute little thing right up into a standing bearhug. "Hehe, mine to keep!" Hayley would playfully state as she approached Astolfo.
_________________
Check out my wrestlers
here
, but PM me for match requests.
Solaire of the AFW.
The crowd began to cheer as Astolfo landed not one but two drop kicks against his larger opponent.  Strenght was useful but so was speed and wit's, something that Astolfo had plenty of, well maybe not to much wit's but he had plenty of speed.  Either way he now had the advantage and ran towards his opponent, attempting to perform a leg drop.  It was a risky attack, in fact it was a risk that he was about to pay as Hayley rolled away causing him to hit the wrestling mat. "Ahh, my foot." cried Astolfo as he held on to his leg.

While holding his foot, he would then find himself being warp by his female opponent.  He was then lifted up while being squeezed.  "Gak" yelled the smaller wrestler in response to being crushed by the attack.  He heard her opponent stated something about how he was hers to keep. "Sorry but I am a hard catch." stated Astolfo as he managed to give a smirk and a wink despite the situation he was in.  Though this was not the first time he had been place in a bear hug by a stronger opponent.  Thus he would pull his head back before attempting a brutal headbutt in hopes to escape.  If it didn't work he would attempt a second headbutt.  Assuming that his plan work, Astolfo would then attempt another drop kick, in hopes of spending his opponent into the turnbuckle.
Page 1 of 5 • 1, 2, 3, 4, 5


---
Permissions in this forum:
You
cannot
reply to topics in this forum