Champions & #1 contenders
Highfly Flying Out Of Town
Tue May 22, 2018 1:31 am by HighFly
Hello everyone, I just wanted to inform all I have threads with that I will be gone from this coming Wednesday through Sunday. I won't be able to post consistently if at all during this time, but I will try to make up for it next week! I am sorry for the inconvenience to everyone.
Comments: 7
The Austrailian Mudslide is Back.
Sat Apr 21, 2018 6:20 am by Softsquad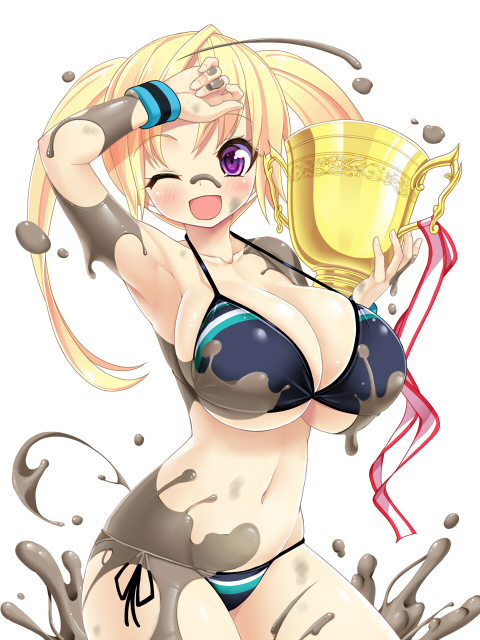 Granted that most of you won't know me or remember me, but I've had a few matches here and there some time ago. Well I think its time to become a regular around here and try to have some fun again, but at the same time keep coming back. Anyway I think its time to jump into some matches with Zoe Taylor, my mud wrestling character from Australia and get her back into the squared circle. Furthermore I will update my characters as I think some proper changes need to happen.
So if anyone would …
[
Full reading
]
Comments: 5
Page 2 of 7 •

1, 2, 3, 4, 5, 6, 7


The crowd went wild as the two began to writhe in the red jello as Ari looked up at the beauty on top of her. Hearing her opponent's words, she let out a coo of excitement, "Ooooh? Chocolate syrup? After I beat you again, maybe we should tango inside some syrup the next time we meet." she offered, thinking about the wonders of a syrup match and having their bodies practically becoming glued in the goop. As they struggled, splashing jello around and feeling Lily beginning to untie the top of her bikini, Ari decided to do the same to Lily reaching down to her waist to unbuckle the strapless bra that had become dislodged from her chest.

Remembering the amazing feeling of their breasts rubbing against each other, Ari was quite anticipated for it to happen again as she unbuckled the hooks the same time Lily untied her bikini, leaving the two topless once again much to the delight of the crowd. The MC was calling the hot action as it was happening, quickly becoming match of the night with how straight forward both girls were in the beginning of the match. "I don't beg for orgasms, I get them. You're the one who should be thinking about, 'When is Ari going to make me her toy? She was so great the last time.'" she joked with Lily as now she attempted to roll the two of them over and cover Lily's back in jello.

Ari didn't plan to slow down at all from here on out.

Once on top of Lily, she would immediately begin to grind their jello covered breasts against each other, feeling the bits and clumps of jello breaking apart from their rubbing as she looked with a big smile at Lily.

_________________
COME HERE FOR THE COLLECTION
Bianka watched the action in a bemused silence. She had never gotten out to watch her cousin perform back in her club days so it was quite interesting to see her in this light. For her part Lamya cheered Lily on through her veil, although she kept her language modest and rather general. Alexis, "Anne Archy", Mallory moved right up to the edge of the pool where she could get a good view of both topless beauties and squatted down. From where they were both wrestlers would be able to see Anne's panties, "That's it, Lily, just let her take all of your clothes off! Rub yourself all over those big ol' titties!"

Ignoring Anne's charitable advice Lily couldn't help but moan a little as their bare chests met again, her own soft globes pressing into Ari's larger pair. She was feeling pretty good about her odds right now, smirking as the pale goddess teased her from below, "Gonna make me your toy, huh? From where I am it looks like I'm the one on to-aaah!" Mid retort Lily found herself suddenly rolled onto her back, her breasts crushed beneath Ari's once more drawing a loud moan from her throat.

Now fully covered in jello she squirmed beneath Ari's body, her heels pushing against the bottom of the pool but didn't gain any traction. Grunting softly she found herself stuck for the moment. Letting her short brown locks rest back against the jello strewn floor she went back to pushing her thigh up between pale thighs and rocking her hips to and fro to please Ari from below. "Gotta say, you were great last time... And you moaned so beautifully each time I made you cum."
Ari paid little attention to the fan who was a little too excited of the match and set herself up right next to pool side. It didn't bother the white haired beauty at all as she managed to take top position. Watching Lily squirm in the jello beneath her, splashing about jello as both of them were covered in it, it made Ari so turned on as it was feeling like her little pocket of heaven wrestling around with a girl who had the same liking as her and was sexually experienced enough to give her a rush of sexual arousal. Much like how she was getting right now as she felt Lily's thigh pressing up into her thinly covered crotch.

"Oh I was beautiful? You should've heard yourself when you moaned in the mud. It was so arousing...I could've cum from that alone." she continued their lofty banter inside of the jello as Ari wouldn't waste any pleasure that Lily could be missing out on as she would slide her hand down to try and slip it into Lily's panties and begin rubbing it. "Come on Lily, I think we're close enough to skip the foreplay and go straight for the fuck. Or maybe....are you feeling a little cold feet in front of all of these people?"

_________________
COME HERE FOR THE COLLECTION
Lily could hardly forget being held upside down in the mud, her shoulders flat to the ground as Ari worked her pussy through a chorus of glorious orgasms until she slipped into unconsciousness. Just recalling it sent a shiver down her spine. Still squirming, trying to find a way out from under Ari's curvacious form she felt fingertips trailing down her stomach. With her legs parted around one of her rival's pale thighs she could do little to stop her, and as those fingertips set to work Lily would bite her lower lips with a muffled squeal of pleasure. She was already hot and wet, ready for those trespassing fingers. "Mmmmm, Ari, not a single part of me is cold."

She couldn't let the rubbing and groping go on for long, not with the match set up the way that it was. Taking a chance she raised a leg to hook it over one of Ari's wide hips, opening her pussy up and giving the woman's fingers easy access, but it also gave her a firm hold on her body. Wrapping her arms about fair, jello stained shoulders she would pull and try to roll them again sending them towards the edge of the pool and Anne's lap.
Ari cooed as she heard Lily's response as she and her were plenty of heated up from their rubbing up and against each other. Soon she would feel Lily lifting and wrapping her leg around her waist as it brought the two closer and made Ari have that much more of an easier time to rub in to her rival's sex, smearing more of the jello over it. Ari only got in a few more rubs until she felt Lily's arms wrapping around her and began to roll them across the jello before they eventually reached the edge of the pool and into the lap of the overzealous fan that took her place next to the pool.

Ari didn't notice the change of environment except for the fact that she didn't care much as Lily was on top of her, still rubbing their jello covered bodies against each other as Ari let out a hot pant. Looking up at the beautiful woman over her, Ari saw her splendid figure in a much more non-obscuring view as the jello was easier to see through than mud. Her face, covered in jello Ari licked her lips as she took in the jello on her lips before moving her hand up to the back of Lily's head and pulling her in for a tasty kiss. While kissing, Ari would attempt to roll them over again more towards the girl sitting at pool side and unintentionally causing the both of them to roll into the girl.

_________________
COME HERE FOR THE COLLECTION
The kiddie pool was far less capable of retaining the sexiness that was Lily and Ari than the mud pit had been, and as a result their combined mass bowled straight over the inflatable wall and nearly crashed into Anne. The girl with the dyed black hair fell backwards to avoid being dragged into the match, but sat with her legs outstretched and watched with lecherous delight...

Lily stared down at Ari from on top now as their bodies writhed together, hot, wet and wild. The translucent layer of red clung to their bodies, sticking here, sliding there, smelling sweet all the while. She was ready for some more heated banter from the snowdrop beneath her, but instead found herself pulled down into a passionate kiss. With a pleasant little squeak the brunette hungrily returned the kiss, tasting the combination of tender flesh, saliva, and sweet jello as she snaked her tongue into Ari's mouth with an unabashed moan. One hand clutched the back of Ari's shoulder while the other ran down her side to work at one side of her bikini bottoms. For a moment the match was forgotten and there was only the two of them. Shamelessly she rubbed herself against a fair skinned thigh, her own leg grinding against Ari's crotch in turn.

Lily didn't even register the danger in being rolled again, happily taking up a position beneath the woman. Geez, this ring was kinda lumpy... They had tumbled up over Anne's outstretched legs now pinning the girl's lower half beneath them.

The younger woman's jaw dropped, half ready to protest and half simply in shock. She'd talked her way into Lil's bed once, but this was a decidedly different scenario. The two gorgeous, jello smeared women were squirming over her nearly bare legs to the sounds of the soft gasps and grunts of love making. And truly, this looked more like a couple throwing themselves at each other than a wrestling match... Biting her lower lip Anne said nothing and just took in the moment. Given the chance she'd get involved more, but for right now she just appreciated her small part in this.
Ari moaned as she and Lily kissed each other on top of the random girl that was sitting at pool side, making out ever so hotly on top of her legs. The lewd sound of their kisses rung in Ari's ears, overpowering the roaring wild crowd over their action as they greedily sucked on each other's lips as if they were trying to eat the lips right off of each other's mouths. Moaning into the kiss, Ari's crotch was starting to moisten with the thigh of Lily pressing into her crotch as she returned the good feeling back as she rubbed Lily's crotch directly under her panties. Caressing the back of Lily's jello covered hair, Ari pulled her rival even closer to her face to increase the pleasure of their kissing.

Of course while kissing and rubbing Lily, she did not forget about their bare breasts as she continued to roll her breasts over their rivals as her erect nipples pierced into the soft flesh while feeling Lily's do the same, clipping each other every so often. Eventually, Ari would attempt to roll the two again, this time back towards the kiddie pool, rolling over the edge to get the two back inside of the jello as she would try to get on top and push herself off of Lily and pulled her hand out of Lily's panties.

She was panting heavily, not from exhaustion, but from heavy arousal as she looked at Lily's jello soaked panties with lustful eyes as she then reached for them. She was not calmly or elegantly trying to slide them off of her rival, it was full of haste and mistake showing that she wasn't planning on anything spectacular but rather just to get her rival in her nude beauty.

_________________
COME HERE FOR THE COLLECTION
Anne watched with a wolfish grin as the two women went at it on her lap, rubbing and grasping at one another, kissing passionately as they moaned. As jello was smeared over her legs her own panties were already getting noticeably moist. Maybe she would try dragging Lamya off to a bathroom when this was all over.

Lil's own breaths came in lustful huffs as her heart raced, letting her body get carried away with itself in spite of the hazard that posed. She wasn't pacing herself, not staying cool to stave off her orgasm. The loud moan that tore itself from her throat at Ari's rubbing of her sex, and the way her dense globes pushed about her own soft breasts, told just how reckless she'd let herself become so early in this match. If she didn't do something soon she was going to be forced to beg or else concede to ten seconds as Ari's fuck toy, and that could only lead for further disaster in this match.

But Lily wasn't thinking about any of that now. She was focused on Ari and her remarkable beauty. By the time the woman had rolled them back into the pool Lil was panting doggedly, almost whimpering with lust. When Ari climbed off of her she tried to roll onto her side, trying to gain a little space to breath, but the other woman had taken hold of her panties and aggressively torn them off. Lil flopped onto her belly in the jello with a sloppy sound of half liquid gelatin pushing out from beneath her soft flesh.

Rather than giving the pale beauty her back, a deceptively dangerous decision, the brunette rolled over once again now covered thoroughly in globules of red gelatin. Gasping breathlessly, breasts heaving with every wanton sigh, she parted her thighs exposing her sex to her lover and opponent. If she was fast enough she would reach out and pull on one of Ari's legs trying to drag the woman into a trib before she got the chance to capitalize on the vulnerable and dripping pussy presented to her.

Now liberated Anne arched her back to look at Bianka and Lamya behind her, smiling to them upside down, "If I cum without permission, do I get fingered for ten seconds?"
Sliding the panties off of Lily, Ari tossed it immediate out of pool and coincidentally right into Anne as she looked on with lustful anticipation at the sight that beheld her. She was hot as well, that intense session was pushing Ari over the arousal cliff as she has been only skirting around the edges all night leaving herself on perpetual suspension on the orgasmic bridge. However since Lily arrived, she was feeling that she would fall off the bridge with her newest rival here.

But before she could take advantage of the now naked Lily, her rival immediately turned defense into offense as she managed to quickly rolled Ari over on to her back, sloshing through the jello. "Ah!" Ari let out as before she knew it, Lily was already on top of her locking in a tribbing position. "Aaaaaaaahhhhh!" Ari moaned shamelessly as even though she still had her bottoms on, it did nothing to lower her pleasure as she arched back into the jello.

Beneath her bottoms, Ari was soaking wet all that arousal that was being pent up wrestling other girls was all being released against her rival. She would lay there, squirming with pleasure before her hips began to rub back against Lily's, wanting that orgasm she's been waiting for.

_________________
COME HERE FOR THE COLLECTION
The best Lily could manage was a neutral trib, her arms pulling desperately at one of Ari's long, supple legs; her hands sliding along pale, jello coated skin. The goop made loud, sloppy noises with every wriggle and undulation her body made as she forcefully rubbed her bare, sugar slick pussy against Ari's bikini clad crotch. The symphony of panting and moans that flitted from her rival's lips only worked to heighten Lily's rampant lust as their hips vigorously slapped together.

Brown eyes shut tightly as her clenched jaw fell open to release her own whimpering cries of carnal pleasure. With each gyration of her hips against Ari's another loud gasp was ripped from her heaving breast. Vigorously she shook her head spraying flecks of crimson goo from her short, brown locks at the nearby fans. Her back arched and her toes pointed, betraying just how close she was to giving up an orgasm without permission. She could tell Ari was close too, and it was just a matter of who would cave in to their pleasure first.

On the sidelines Anne caught the flying panties with a giggle before making a show of collecting some of the jello from them with the tip of her tongue. Scooting up until her knees touched the edge of the pool she twisted at the waist and, like a sling shot, flung the discarded undies at Lamya. The buxom Kuwaiti squealed as she was hit in the tit by the projectile leaving a red stain upon her dress everywhere they touched. Blushing beneath the veil the kawaii picked up the sodden underthings and set them down on the table beside her drink, which was virgin.
Page 2 of 7 •

1, 2, 3, 4, 5, 6, 7


---
Permissions in this forum:
You
cannot
reply to topics in this forum