Champions & #1 contenders
Summer Splash interest in Natasha Loclear?
Mon Apr 09, 2018 11:30 pm by daemongirl
Well my girl hasn't missed a summer splash yet, would anyone be interested in a match with her? Open to just about anything match wise, just pm me!
Comments: 1
Been Out with the Flu
Sun Apr 22, 2018 7:47 pm by daemongirl
Just letting those I have threads with know I've been out with the flu since early last week, but I will be back to posting tomorrow.
Comments: 0
The Austrailian Mudslide is Back.
Sat Apr 21, 2018 6:20 am by Softsquad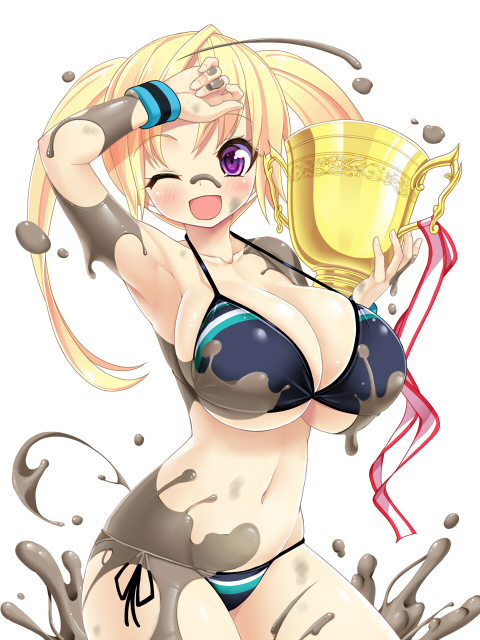 Granted that most of you won't know me or remember me, but I've had a few matches here and there some time ago. Well I think its time to become a regular around here and try to have some fun again, but at the same time keep coming back. Anyway I think its time to jump into some matches with Zoe Taylor, my mud wrestling character from Australia and get her back into the squared circle. Furthermore I will update my characters as I think some proper changes need to happen.
So if anyone would …
[
Full reading
]
Comments: 0
Page 1 of 7 • 1, 2, 3, 4, 5, 6, 7


This time of day, in the middle of the week, Fallon Terrazas would usually be in the gym. She loved going to the gym and working out, working up a nice sweat and getting a chance to show off her toned body to all of the other girls in the gym. It also gave her a chance to ogle countless other sexy girls in their revealing spandex workout clothes. Often, Fallon got a chance to play with some of those other girls, to test their tight, sexy bodies against her own. For all those reasons, she loved going to the gym. As a matter of fact, it felt weird to not be doing crunches or some jumping jacks right now. Her muscles were itching for that exertion.

Fallon had diverged from her usual routine, but she had diverged from it for a very good reason. She loved the gym, but it was always the same routine. Go to the gym, do the same workouts she had been doing for years, ogle some spandex-clad girls and maybe fondle one of them. She wanted to change it up—to try something new.

That was why Fallon was visiting the AFW natatorium, two doors down from the gym in the same training building. Here, she could swim some laps, and then ogle some bikini-clad girls and maybe fondle one of them. That was her idea of an exciting new experience. Expanding on the theme of "new," Fallon had bought a new bikini just for this occasion: a lovely little pink and white number, with a G-string thong that just barely covered her crotch and essentially disappeared up between her firm butt cheeks, and a stringy top which could barely contain her bulging breasts. Her toned, perfect abdomen was, of course, on full display in the swimwear, as well, and Fallon ran a hand over her belly absentmindedly as she walked into the room.

Fallon opened the door to the pool area and bounced in, moving lightly on her feet as she took in the surroundings. The pool, though Olympic-sized, was not as crowded as the gym. There were only three or four wrestlers in the pool right now, and, to Fallon's disappointment, only one of them was wearing a bikini. The others were all wearing more...conservative swimwear, and they were taking so few breaks from their swimming that Fallon could hardly even appreciate their bodies in that state, for they barely came up above the surface of the water. The occasional appearance of their toned swimmer's butts above the surface was just not enough to satisfy Fallon's eager eyes.

"Rrrgh," Fallon grunted, putting her hands on her hips and shaking her head. The pool was really disappointing her. The Californian was about to give up and go back to her apartment when she heard a little chorus of giggles from around the corner, in a more secluded part of the natatorium. Now that piqued her curiosity. She would bounce across the room, beginning to break into a jog—only to get a stern look from the lifeguard on duty that necessitated she slow down to merely a brisk walk. She turned the corner and finally found what she was looking for.

There were seven or eight girls, in and around a big, round hot tub. In the far corner was an iPod placed into a speaker deck, which was right now playing an upbeat K-Pop song. Everyone was laughing and chatting, and they were all dressed in cute, revealing bikinis. Fallon grinned. This was what she had been looking for! She would hover near the entrance to the hot tub area, wanting to get a feel for these girls and what sort of get-together was going on. Seeing as how it was a big hot tub and the girls seemed to be broken into several smaller groups, there might not even be an official get-together going on. Fallon would nod to a green-eyed brunette she had met a couple of times before, then look around to see what other sorts of girls were here.
_________________
Okay, one more thing here. I'm sure most of you have noticed that I suck and the old Daaharu who could finish a thread in three days is gone now. But even so, I shouldn't be leaving threads for more than a week, and that has been happening with alarming frequency lately. So, please, if I have not replied to our thread in the last SEVEN DAYS, please LET ME KNOW on here or on Trillian so that I can suck a little bit less and not leave you hanging for a month.

Officially caught up to my AFW replies on February 9.
The hot tub was an "official-unofficial" party spot, quite popular not only with the wrestlers but their friends outside of the league. Officially it was meant only for the athletes but more than a few bribes and good friends in management meant that it was often filled far past its official capacity. It also meant that it required frequent cleanups... and not just for spilled drinks and food.

Steam misted around the air and the air conditioning was nearly nonexistent. Lithe, curvy, smooth, hard - a variety of bodies curled fingers at one another, sliding amidst the obscuring clouds. It barely gave a few more intimate couples their privacy while others gyrated and shook rhythmically with the lull of the beat. Hands caressed her, giggles followed her, hungry eyes ate her - everyone here was aware of one another yet hidden.

However she would not need to look hard to hear the hissing, sucking breaths and the wet sound of skin slicking on skin. Low voices commented on a hard body, belonging to a medium height green haired girl. She was too built to be a friend of a friend but it was hard to see with two young Japanese girls laying against her. Not laying, pressing - their arms were holding the steel railing and the ledge and their wet bodies slid slow and audible over her abs. Occasionally she would arch out her back and from between them would peak a smooth belly. A central plateau of power that included her bellybutton was cutoff near the sides by sharp slopes and the smallest hints of tensing muscle.

Her shoulders lay against the edges of the pool and two more girls felt those puffy, cute muscles that emerged like buoys or floats. It was soft in appearance but the way their fingers dug meant it wasn't just for show. Beneath the layers of "baby fat" lay power and potential. Even her breasts, pillowy things that somehow retained that ovular shape, followed that same paradigm, squished and sunk into by those horny young bodies yet were never truly squished.

In fact, those testing her were losing. Doing little more than pushing her body outwards, her Japanese counterparts twitched and held back sighs. Their muscles flexed harder than the green haired girl's body, their motions gradually becoming more and more erratic until they simply slid off and back into the water. Panting and laughter was shared as Sang-Mi pushed herself off, striking a power pose with her arm bending in over her belly, shoulders arched forwards.

It didn't work, mostly because her bright eyes and welcoming body simply didn't look very fierce. She knew that, they knew that - the next thing they knew they were splashing water and blowing raspberries on one another's tummies. The girl squeaked and chirped with joy, sending up great big waves and wolfing down onto exposed tummies and breasts. The sound of k-pop was superseded by crude farting and girlish giggling.

"Huhuhu, it's not that hard to fend off these feisty barbarians with a bit of water moisture!" She giggled, punching back and forth with a few squirt pistols. She bent her spine towards the water, making a low "woooooooooosh" sound like in the Matrix, just without the successful dodging. She fell over backwards, bumping her head against the pool and feigning extreme agony. The ladies were all to tend to her head (and the rest of her body for that matter).

One of these wrestler-groupies however took note of the g-stringed, slightly bronzed hardbody that passed by. Fallon Terazias was the apple of many an eye and star of more than a few wallpapers. And it wasn't long before Sang-Mi caught sight. Ducking beneath the surface, she stealthily approached and...

"THINK FAST!" A spurt of water erupted in front of Fallon as a dual-wielding attacker blasted her face, squirt-guns akimbo.


Yes, this hot tub party was definitely Fallon's speed. It was casual, not too serious, and seemed to be a very welcoming atmosphere. There were groups of two—or, in one case, a group of three—that had paired off together to have some fun, but there were also some girls who were just relaxing in the warm water, or even just dipping their legs into the hot liquid while enjoying the music. One girl was laying on her belly outside of the hot tub, her thong-clad butt stuck up in the air, quivering slightly as she seemed to be moving in response to the music, as well.

The atmosphere was sexy, but not completely sexual. Some of the lovers were making out, or touching each other in suggestive fashion, but no one was actually getting it on in the steamy enclosure. That would have been just a little bit awkward. Fallon was largely shameless herself, but she always preferred to give other girls some privacy if they were going to get it on. Once or twice back in Fresno, she had had to clear out early in order to give one of her friends some space to get freaky. It had happened that she had almost walked in on a couple of couples in the locker rooms during her time at AFW. As for herself...well, she had bedded plenty of girls since she had joined AFW. Recently, though, she had been involved in...well, it was all very complicated, but Fallon hadn't really been feeling the desire to go out and get some as of late.

She had no problem enjoying the view, though, as some of the girls in the hot tub were playing around. Several girls that Fallon didn't recognize were on the other side of the hot tub, with one at the center and three or four congregated around her. The group was caressing the center girl's body, rubbing themselves up against her, enjoying the contact between their hot, wet, bikini-clad forms. Fallon looked them all over, and couldn't help but grin as she did. They were all very attractive. The girl in the middle was very worthy of the attention, too—her breasts were round and beautiful, and she had a nice, tight belly that looked to be muscular, but with just the tiniest bit of fat to keep it smooth and sexy.

All of a sudden, the girls stopped caressing and started tussling and shouting. Mouths found bellies and blew raspberries on them, while hands splashed water, then grabbed squirt guns that had been lined up along the edge of the pool to do the same more efficiently. Fallon was surprised, and her gaze was locked onto the girls as they played. Raspberries had always been a...weakness of Fallon's. She was staring at two of the Japanese girls as one pinned the other up against the edge of the hot tub, then ducked down until only her head showed above the surface and began to blow raspberry after raspberry, making fart noises on the other's belly as the trapped girl hooted and hollered and begged for her friend to stop, enough so that Fallon worried the girl might pee her bikini with all the tickling.

Fallon's attention was soon grabbed, however, when someone popped up in the water right in front of her and shot at her with one of those squirt guns. The water hit Fallon in her chin, with the droplets dribbling down over her breasts and running into her cleavage. Fallon gasped and would wipe at her face with one hand. She looked down at her attacker, seeing that it was the Korean girl who had been lavished with attention by the others.

"Why, you..." Fallon would start. She paused, realizing that she couldn't just dive into the water on top of the girl, since the hot tub was probably a little too hot to dive into all at once. "You know what? You hold on one sec! We'll see who's the quickdraw queen of the Wild West..."

Fallon spied a couple of spare squirt guns on the other side of the hot tub, and ran around the edge to collect them up. Once she had, she would find the stairs and take a tentative step into the water. It actually was not nearly as hot as she had thought it might be. Fallon would put both legs into the water, and then slowly move forward, sliding into the hot tub up to her waist. With her own squirt guns, she would now approach the Korean girl, grinning as she prepared to retaliate for that sneak attack.

"Ready?" Fallon would ask. Then, before the other girl could react: "Draw!"

As soon as she yelled that, Fallon would take aim with one squirt gun and open fire at the Korean's face, then, smoothly switching to aim with the other gun, she would fire that one as well, hoping to embarrass her fellow wrestler with that one-two burst to her pretty face!
_________________
Okay, one more thing here. I'm sure most of you have noticed that I suck and the old Daaharu who could finish a thread in three days is gone now. But even so, I shouldn't be leaving threads for more than a week, and that has been happening with alarming frequency lately. So, please, if I have not replied to our thread in the last SEVEN DAYS, please LET ME KNOW on here or on Trillian so that I can suck a little bit less and not leave you hanging for a month.

Officially caught up to my AFW replies on February 9.

Sang-Mi raised her eyebrows and winked at her recent admirer club. Posed like an action star on a movie poster, she had her weapon pointed towards the ceiling, elbow crooked, and was blowing nonexistent steam off of its barrel. While Fallon had many fans, Sang-Mi was the star of this little club as her cocky air and hard body made more than a few girls swoon. As she walked into the water, the korean's little gaggle would murmur among themselves and give her a wide berth. Everyone knew that while Fallon looked cute she was one tough customer with abs that were as tough as many a heavyweight's.

Her opponent merely giggled and put her hands behind her back, propping out her breasts as she leaned forwards for a bow. "I'll have you know, this will be a gentleman's duel~" she announced, putting on the stuffiest British accent she could conceive, stroking her upper lip as if she had a moustache.

Of course, this left her rather unprepared for the draw. A pair of bursts smacked her right on the nose and Sang-Mi yelped, stumbling backwards and splashing into the water. She blubbed up a few bubbles before bursting right out, leaping sideways and sending up a wave! Her two pistols squirted wildly, hitting the woman attempting to change the music, someone bringing drinks, and likely Fallon as well!

"That was a cheap trick! Fight like a man!" She quipped, diving underneath and rising up to splash a big gout of water at Fallon point blank. Her large breasts would bump against her in the process.
Fallon was more than happy to make the squirt gun fight a gentlemen's duel, and she even added in her own British-accented "Here, here" in response to Sang-Mi's announcement. But she did not hesitate to fire as soon as she announced the draw. Both of her squirt gun blasts hit Sang-Mi squarely in the face, and they sent the Korean girl stumbling backwards, blubbering as she now had a faceful of water to deal with. Fallon giggled and would shoot the squirt guns into the air in celebratory fashion.

"Yeehaw!" she would exclaim, looking around at the faces of some of the other girls in the hot tub. They seemed impressed, and most of them were smiling. They probably figured it wasn't over yet, though, and they were still going to get a good show out of this encounter. Fallon figured that they might be right. She was surprised by how the Korean girl reacted overall, though. The girl started firing wildly, hitting multiple bystanders with water blasts. Only one actually came near Fallon, and the Californian would raise her forearm and let the water drizzle all over her wrist instead.

When her counterpart started complaining about Fallon's trick, though, Fallon would scoff and roll her eyes dramatically. "I didn't trick you! I said draw and you weren't ready! Your fault!" she would explain, but her foe was diving under the water. "Hey! Listen to me!" Fallon would complain, before the other woman rose up right in front of her, smacking her bikini-clad breasts into Fallon's and splashing Fallon with a big burst of hot water, dampening the Californian's luscious brunette locks—and pretty much her whole body.

"Kyaah! Hey!" Fallon would exclaim. "Now that is a cheap trick! You're not even making it an Old West-style gun battle anymore!"

Fallon would raise one of her squirt guns and put the barrel against the other wrestler's forehead. "Take this!" Fallon would say, before unloading all of the water in the gun at point-blank range, right onto the Korean girl's pretty face!
_________________
Okay, one more thing here. I'm sure most of you have noticed that I suck and the old Daaharu who could finish a thread in three days is gone now. But even so, I shouldn't be leaving threads for more than a week, and that has been happening with alarming frequency lately. So, please, if I have not replied to our thread in the last SEVEN DAYS, please LET ME KNOW on here or on Trillian so that I can suck a little bit less and not leave you hanging for a month.

Officially caught up to my AFW replies on February 9.
"That would be boring and we- aaaaaahhhhhhggglllbbbblll!" Her explanation was cut short by a spurt of water smacking into her face. Her charisma disappeared as she stumbled blindly and sprayed water everywhere, hitting Fallon and anyone in the surrounding area. Not her most graceful moment and one that wasn't going to disappear from memory as the camera phone snapshots implied! Drat, she needed to salvage this! "Bleh, spuh!" She coughed out the last of the water. "Okay, it won't even be an old west battle now!"

Tossing the gun away, the green-haired energy bunny shot out her arms, flexed, and let out a weird howling noise as if she was a mad parrot. Of course, everyone didn't care that it looked silly as much as the fact that she was really well built for her age. Crests of strength and protruding tension lined her body yet never became bulky and a long hilly "plateau" rose across the middle of her tummy. She thrusted out her breasts as she power posed and the more dainty girls whistled and sneaked in a few caresses.

"Let's play with some real guns chica!" She announced, kissing her biceps as she strode forward in an odd, robotic gait - she was really curving her arms and standing stiff, intent on bumping body to body. If Fallon made no move, she would push her arms out over Fallon's, attempting to grab for her shoulders and let the latina feel the hard work that stood before her!
Fallon had definitely gotten the better of the Korean girl in the squirt gun exchange. She had taken one early hit before she even knew that they were dueling, and one glancing blow while the girl was firing wildly in all directions. Meanwhile, she herself had scored three direct hits on her opponent's face, and that water had dribbled down the Korean's pretty face and formed a little river through the canyon of cleavage between her breasts, too, which was fun to watch. Fallon had always been good at gunplay. One of her first experiences in AFW had involved a gun battle—of sorts—with a sexy assassin bunny.

And now, this girl evidently wanted a different kind of gun battle, as she tossed her squirt guns down, brought her arms up, and started flexing, showing off her stuff, letting her muscles tense as she showed off her toned body for the assembled hot tub inhabitants. She did have an impressive body, and when she flexed it became more impressive. But Fallon knew that, if they were going to take a trip to the gun show, she was still the one packing the heaviest firepower. "Oh, yeah? Real guns it is, then!" Fallon would reply, tossing aside her squirt guns and bringing her own arms up.

"Pow! Kapow!" she would exclaim as she flexed her muscles, her biceps becoming obvious in her arms. She swung them around into a couple of different poses for the audience's viewing pleasure, and got a chorus of whistles and cheers just as loud as the other girl had gotten. A few girls patted Fallon's mighty muscles or caressed them gently. It seemed that some of the wrestlers were taking sides now, choosing between the green-haired Korean or the brunette American.

Fallon splashed forward to meet her new rival in the center of the hot tub. As she did, three or four girls followed her. Three or four girls were following Sang-Mi, too. They wanted an up close and personal view of the battle, as their champion and the other champion did battle. The waves of women met in the center of the hot tub almost like two armies. Fallon flexed her abs, tightening her smooth, toned stomach into something that looked like it was chiseled out of granite. She got a loud chorus of whistles from the girls gathered around.

"Hey, Whatever-your-name-is, get ready to get out-gunned!" Fallon would declare, as she would lift her arms in response to the other girl lifting hers. Fallon would grab onto the Korean's shoulders, and let her counterpart grab hers, so that they were in a fine position for a little pushing contest. Their arms slid across each other, their full lengths touching. Fallon flexed her arms and grinned. "Feel all that power in there?" she would ask, as she would press her bicep against the Korean girl's arm.
_________________
Okay, one more thing here. I'm sure most of you have noticed that I suck and the old Daaharu who could finish a thread in three days is gone now. But even so, I shouldn't be leaving threads for more than a week, and that has been happening with alarming frequency lately. So, please, if I have not replied to our thread in the last SEVEN DAYS, please LET ME KNOW on here or on Trillian so that I can suck a little bit less and not leave you hanging for a month.

Officially caught up to my AFW replies on February 9.
Both ladies were now in a test of strength but the aim wasn't to break the other's attack and leave them open. No, this wasn't really even a test in some ways. Koh's arms bumped up against Fallon's and flexed biceps bent in just he slightest, a testament to immense strength behind these sensual youths. Fallon was an inch taller but Koh's body had a bit thicker build. The thin layer of plush had given way to a veritable wall of smooth and unrelenting muscle that seemed to bulge as Fallon attempted to force it back. Her arms in particular were quite well built but she had something else on her mind, a part of one's body that was anything but muscle.

Pushing out her chest, Koh's generous bust blobbed over Fallon's, half-molding to her underbreast and over her front. Topless and unashamed, she bobbed her large mounds up and down forcing Fallon's to wobble around on them like ships on a stormy sea. She could not help but smirk, comfortably letting her breasts harden and grow erect, forcing Fallon's further away. "Cute little puppies, can I pet them a little~?" she teased, pulling Fallon closer and attempting to go for a preliminary breast squashing.

As she did so, she spread her legs a bit for balance and bumped her belly against Fallon's, letting her muscle-plateau rub against the latino's. In particular she targeted her bellybutton, nicking the two together. She was quite hard there and the curious korean could only help but wonder how much exactly! As she rubbed her chest left and right, she slowly started to angle her belly forward, slipping her arms under her armpits to secure her grip.
The test of strength was not really so much a traditional test of strength as it was a biceps comparison. Fallon and her Korean counterpart were both flexing the muscles in their arms, showcasing some impressive muscles that had been hiding underneath their smooth, unassuming arms. They were similar in size, similar in build, and obviously both had plenty of pride when it came to their bodies. Not just the muscles—but every part of them.

The green-haired girl puffed out her chest, and Fallon would respond, arching her back and pushing her own chest forward, as well. Her breasts were almost naked, covered only by the tiniest of string bikinis. But the green-haired girl was topless, and Fallon was almost disappointed when their breasts pressed into each other, as she did not quite get that full, luscious experience of skin-on-skin contact. Still, Fallon would eagerly squash her breasts into the Korean's. It was obvious the Asian girl wanted to be in a dominant position, with her breasts moving and Fallon's being moved—hers superior, Fallon's inferior. But that wasn't going to happen. Fallon pulled her breasts down and adjusted the position, and soon had her breasts underneath her counterpart's. The Korean girl's breasts molded slightly to the shape of Fallon's as Fallon's breasts pushed upwards into them. Fallon laughed. When she laughed, her breasts jiggled. And when they jiggled, the Korean girl's breasts bounced on top of them.

"Mm...my puppies love to be petted! And they love to play with other puppies, too...even a smaller breed like yours!" Fallon would say, snickering a little as she implied that the Korean's breasts were just a tad on the small side when compared to her own. "Why don't I give them some room to run, hmm?"

Fallon would reach behind her back with one hand and tug on her bikini. The knot came undone easily enough, and as soon as it was undone, the little stringy number could not stay on Fallon's chest. Her breasts spilled out, her nipples already erect and pushing into Sang-Mi's soft breast flesh. Fallon would toss her bikini top aside, and now the both of them were topless. She would run her hands over the tops of her breasts, and then over the tops of the Korean's, giving those opposing breasts a little squeeze. "Good puppies," she would coo, before sliding her arms under the Asian's armpits to initiate a hug. The green-haired girl seemed to have the same idea. Their breasts started to squash together more closely, and Fallon would move hers up and down, using her hard nipples to flick at Sang-Mi's nipples, moving them up and down like turning on and off a pair of light switches.

Then, as they got closer, Fallon felt their bellies come into contact. She moaned slightly, a little bit of drool pooling in her mouth. That felt good. Really good. She loved belly play. She would start to arch her back in a slightly different way, moving her belly forward, as well, to let her green-haired friend feel her hard abdomen.
_________________
Okay, one more thing here. I'm sure most of you have noticed that I suck and the old Daaharu who could finish a thread in three days is gone now. But even so, I shouldn't be leaving threads for more than a week, and that has been happening with alarming frequency lately. So, please, if I have not replied to our thread in the last SEVEN DAYS, please LET ME KNOW on here or on Trillian so that I can suck a little bit less and not leave you hanging for a month.

Officially caught up to my AFW replies on February 9.
"Unnnnnnnn, you're gonna need to get those eyes checked missy!" Sang-Mi found it hard t talk when Fallon moved her breasts beneath her's, jiggling them about with her own. They flopped about happily with each wiggle making them tingle with pleasure. Her nipples began to jut out and scrape against Fallon's top but this was accidental rather than intentional. She couldn't help but feel flustered as her clearly more voluminous pair molded and bent ambiguously, much to the shock of her admirers. Fallon wasn't above using her hands and gave them a little grope and combined with Fallon's poking nips, it felt like she was being speared from beneath!

It took all of Koh's efforts to avoid glazing over and making some rather unbecoming facial expressions. Fallon had struck back good and with her reciprocating the bearhug they were being squeezed together even tighter! Nipples now duelling, Koh knew she had to impress Fallon and make an impression on her body soon. "Careful, I bite!"

Doubling the strength of her squeeze, arm muscles hard with power, Koh burned with strength and attempted to pull Fallon upwards. She arched her back forwards, her solar plexus forming a small ridge that would bump up against the latina's torso even with all the sweat and water glistening over them. It would make her shiver with delight and her abs would flex unintentionally. In the process her breasts would slick their nips down and under Fallon's as she attempted to go for the underboob rub. However Fallon was heavier than she looked and it was hard to maintain a solid grip when they were both so slippery. Koh would begin to wobble off towards the edges of the pool, aiming to go for a wall press if possible.
Page 1 of 7 • 1, 2, 3, 4, 5, 6, 7


---
Permissions in this forum:
You
cannot
reply to topics in this forum