Champions & #1 contenders
Match For Max.
Thu Jan 19, 2017 5:52 pm by Scarf
Just wondering if I could get something going for my
newest Friction wrestler.
If anybody finds themselves interested or has any possible ideas for the future don't hesitate to hit me up, I'd be happy to hear from you.
Comments: 0
Inconsistent posting
Mon Jan 16, 2017 8:53 pm by RJD
I have stuff coming up in the next couple of weeks and will not be able to post anywhere near as often as usual/before. To be honest this has already been showing it's effects lately but it will do so even more from now on. I'll prioritise my Avalanche match and multi character matches but other than that I'll respond probably once every few days, I'll try not to leave anyone hanging though.
Comments: 10
Looking for Friction matches!
Sun Jan 15, 2017 2:07 am by tehbohemian
Hey everybody just posting a notice I have 2 wrestlers that could use some love!
Shinobu just got out of her match and I'm looking for some wins or losses to add to her record, she is a serious fighter and is looking for more straight forward fights, she could be a good match up against other "martial artist" type characters looking for a challenge or she could stand up to a violent heel, anything works.
Sonic is also up for matches, people familiar with Ring Dream or Wrestle Angels should …
[
Full reading
]
Comments: 3
Stage Name: Teddy-Cat Hori
Real Name: Sakie Hori
Sex: Female
Age: 26
Eyes: Blue
Hair: Pink
Height: 5"5'
Weight: 145 lbs
Nationality: American-Japanese
Alignment: Face
Entrance Music: Revvin Up by Crush 40
Wrestling Information
Strategy: Teddy likes to use a blend of hard punches and old school slams and throws to weaken an opponent, before going for heavy power moves to finish her off.
Type:  Classic/Modern Power Type
Preferred Attacks:  While not focusing as a striker, Teddy Cat enjoys delivering hard chops, double axe handles, and dropkicks, while mixing in old school throws with heavy power moves.
Preferred Matches: Typically goes for standard, but is interested in trying out new kinds, even willing to do hentai.
Favored Moves: Power type moves and old school moves
Signature Move:  Back Drop Suplex, Top Rope Splash, Piledriver, Shoulder Breaker, Top Rope Leg Drop.
Finishers:
F-5: A new move that takes advantage of her added height and strength, Teddy Cat drapes her opponent onto her shoulders and, grabbing their legs, she throws their body outward from her body, turning her body opposite from  her opponents, leaving them to crash onto the mat, a five foot drop leaving them crashing chest and face first onto the mat.
Leg Lariat: A version of a Lariat using the leg, this attack is seen when an Teddy runs towards an opponent, jumps and wraps her leg around the opponent's neck knocking the opponent to the ground. Can also be done off the turnbuckle or springing off the ropes
Lariat: The classic original. Unlike a clothesline, which involves just sticking her arm out, for this Teddy Cat builds up speed and momentum by bouncing off the ropes, rebounding towards her opponent, and throwing her arm out with all the strength she can muster, slamming her arm against her opponents neck or chest.
Personality: Highly motivated and personable. Enjoys talking with people both in and out of the ring and has been known to even keep a dialogue up in the middle of  a match. Gets disappointed upon failure, and tends to criticize herself when things go wrong. Tends to be very open with people and has no real boundries, with the sole exception being her ex.
History:  Born in Nagoya, Japan, an offspring of an American-turned Japanese Nationalist mother and a Japanese father, Sakie Hori had always been an active person, constantly running, playing, and engaging in various physical activities. It was in her early teens that she discovered pro wrestling, fascinated by the physicality of the sport, as well as the flashy outfits and crowd support. Signing up for her high school wrestling team, Sakie was able to make the cut and spent four years learning a traditional wrestling style.
Upon gradtuation, she signed up for a professional wrestling school, spending a few months getting basic training, learning and adding some old school style moves to her moveset, while looking to find somewhere she could ply her new craft. It was then she learned of a rising, all womens, wrestling promotion, only a couple years old and still expanding. With help from her trainers, she got in contact with an agent from the promotion, named Wrestle Angels, and at the age of 18 found her self signing a contract with them. When suggested she develop a ring name and some kind of gimmick to entice fan attention.
Dying her hair pink, and donning a flashy (and skimpy) outfit, all that was left was picking the name. Drawing off her love of her cats, she focused on her favorite one, a Japanese Bobtail cat named Teddy, who had to be put down from old age a few years earlier. In tribute, she named her wrestling persona after him, as well as adding some catlike mannerisms in her movements and promos, thus becoming: Teddy Cat Hori!
Over the next couple years with Wrestle Angels, Teddy Cat tried hard, but with her limited moveset, she never really achieved much, every victory over the likes of a Cutie Kanai, Anny Beach, Riyu Kikuchi, Tomomi Wantanabe or Chigusa Yuuki, was met with a defeat by higher level opponents such as Megumi Mutoh, Toshimi Minami, Bomber Kishima, Mighty Yukiko, and Dark Star Chaos. Even a surprising victory over Blade Uehara, while impressive, didn't do much for her career.
Between a lack of major success, and slowly dwindling fan support, and her relationship with her long time boyfriend culminating in his proposal of marriage, and his request she leave wrestling before she got hurt.  Teddy finally decided to end her career after a tag match loss to Eclipse. Retiring at 20 years old, she left Wrestle Angels without getting a single title match.
Four years passed by. She got married, and got a new job as a fitness trainer at a gym in the meantime, staying fit over time and helping others stay or get in shape. Over time however, Sakie felt ...tired. She began to feel as if she was in a rut, and there wasn't anything exciting going on in her life. Too much of the same old routine had left her bored.  Just to make things worse for her, she found out that her husband, who had tried to get her to forget her fondness for the ring, had been cheating on her, leading to a divorce. Finding herself more and more depressed, she spent her nights at home, with only her beloved cats for company.
One night, as she was channel surfing, when to her surprise, she came across a channel showing womens wrestling, and one of the wrestlers was none other than her former Wrestle Angels opponent, Chigusa Yuuki. Having heard that Wrestle Angels had gone bankrupt and went out of business, which only added to her depression, she honestly  thought to see the Eclipse member again. While she didn't recognise her opponent, a woman named Taylor Parker, the cage match they were involved in quickly took her attention, the excellent match sparking the old rush, the old feeling of excitement she used to get when she was in the ring. After the match ended, Sakie looked up everything she could about this new company, AFW, that had started soon after Wrestle Angels did, and while WA had fallen, the AFW had risen to global status in a shockingly short amount of time, and many of her former friends and opponents had joined up.
Realizing that pro wrestling, which had been absent from her life for so long, was exactly what she needed to make herself feel better, Sakie went to work, working out in the gym more, lifting weights, and entering another wrestling school to retrain herself. Over the next two years, she trained, and worked. Already taller her younger wrestling days, she added on a bit more muscle, and while she kept her old school training of classic grapples and small amounts of top rope work, she learned and added new power moves into her arsenal.
Finally, excited, retrained, and eager to compete, she contacted some of her old Wrestling Angel friends, who used their contacts to arrange her a meeting with AFW talent scouts. Luckily for her, they were always open to hiring former Wrestle Angel talent, and signed her to a contract. Now, having sold her old home and moved (with her cats) to a small apartment in Tokyo, Teddy-Cat Hori has returned, and is eager to prove herself once again.
Fun Facts:
She loves cats, owning 3 of them currently, and having owned several others in her youth, and adapting some cat movements and mannerisms in the ring as a gimmick, even imitating purring and adding "nya" at the end of sentences when in character. When not on camera or around fans, she leaves it out.
Her ex-husband is a sore subject for her, and not one she enjoys talking about.
During her Wrestle Angel days, she had no real special moves, and was small, at 5'2 and only 120 pounds. In the 6 years since those days however, she has managed, to her surprise, grow 3 inches, and in the interm, added 18 pounds onto herself, her retraining improving her strength, allowing her mostly maintain her sleek appearance, while having a core of steel strength hidden underneath.
Never really an overly modest person, Teddy has no issues with showing her body off, hence her skimpy outfit, and upon learning that this AFW Friction League had such things called Hentai Matches, became interested in trying a few, though she intends to put the wrestling first.
Allies:
Enemies:
Win/Loss Record: 1 wins/2 losses
Wins:
Teddy Cat Hori defeated Black Fang via Pinfall (F-5)
Losses:
Teddy Cat Hori defeated by Valley Doll via pinfall (Full Moonsault)
Teddy Cat Hori defeated by Gemma Faraday via Pinfall (450 Splash)
History:
1.
Teddy debuts, accepting an open challenge
2.
Teddy has her first AFW match against Valley Doll, and proves she still has some lives left in her.
LOSS
3.
Teddy has her Hardcore debut against high flying Gemma Fareday!
LOSS
4.
Teddy meets her Kitty Idol, Saint Tigresa!
5.
Teddy faces the debuting Black Fang!
WIN
6.
It's a Wrestle Angels Reunion, as Teddy Cat Hori faces the returning Cutie Kanai!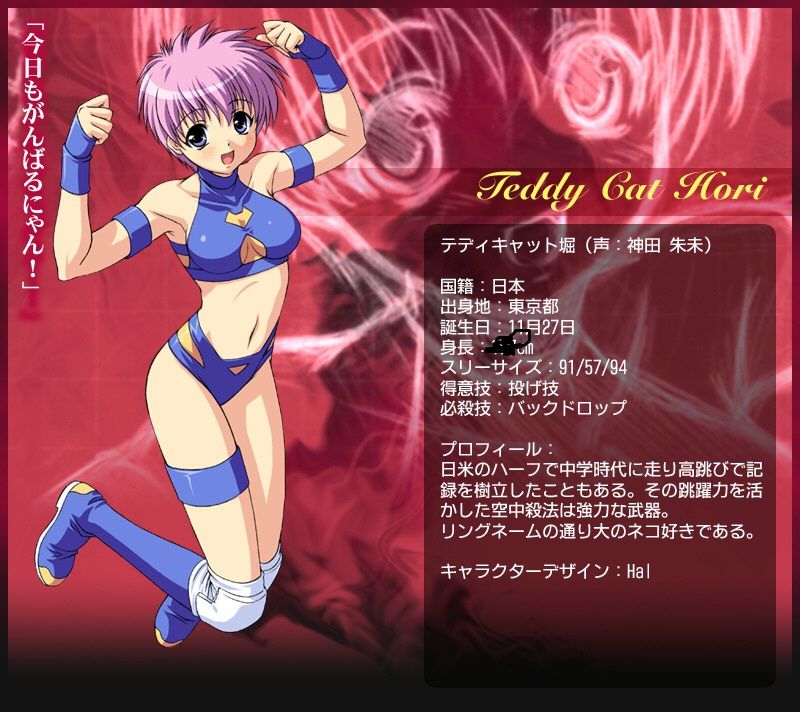 Posts

: 6191


Join date

: 2008-04-29


Age

: 26




Similar topics
---
Permissions in this forum:
You
cannot
reply to topics in this forum