Champions & #1 contenders
Highfly Flying Out Of Town
Tue May 22, 2018 1:31 am by HighFly
Hello everyone, I just wanted to inform all I have threads with that I will be gone from this coming Wednesday through Sunday. I won't be able to post consistently if at all during this time, but I will try to make up for it next week! I am sorry for the inconvenience to everyone.
Comments: 7
The Austrailian Mudslide is Back.
Sat Apr 21, 2018 6:20 am by Softsquad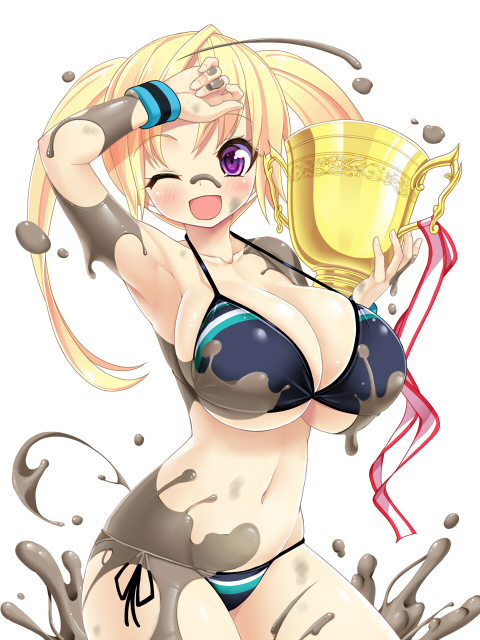 Granted that most of you won't know me or remember me, but I've had a few matches here and there some time ago. Well I think its time to become a regular around here and try to have some fun again, but at the same time keep coming back. Anyway I think its time to jump into some matches with Zoe Taylor, my mud wrestling character from Australia and get her back into the squared circle. Furthermore I will update my characters as I think some proper changes need to happen.
So if anyone would …
[
Full reading
]
Comments: 5
Page 2 of 6 •

1, 2, 3, 4, 5, 6


Chuang was sincere in his statement of how Mikoto had been one of the best things that had happened to him since coming to Japan, being buried in the sand by her and then her coming back to pull him out had that sort of effect. Most girls back home didn't really act like this with Chuang, usually because of his martial arts background.

Upon reflection Chuang at first hadn't thought of him coming to Japan following Qi as a sort of folklore tail, but now given that perspective by the Japanese priestess it had made sense. And the young man was happy that at least it wasn't compared to a flimsy detective novel, well unless it was of those where Chuang wore a trenchcoat and....never mind no point thinking on it any further.

Still when Mikoto giggled and asked for forgiveness Chuang just smirked and said "Heh it's fine don't worry, it is kinda like a folktale. Just replace the flying dragons with airplanes and the mythical kingdoms with Tokyo, too bad I don't have some kinda super mode to go with it." the mind of the Chinese warrior picturing himself with golden hair and floating in mid air.

"You know it might be a surprise but me and Qi aren't actually related by blood, she was adopted by my parents. But heck we might as well be, I always feel like she'll have my back even through the thick of it. Aside from that time at the beach, even if she was gonna come back I was still buried to the neck." Chuang snickered at his own comment, but when Mikoto went to shut a door he fell silent. Lifting an eyebrow the young man was curious, and peered behind the Japanese priestess to maybe get a look.

Mr Lingxian didn't get it at first, looked just like an empty room. Then again there was pictures on the wall, someone must have lived there at some point. And after the door was shut Mikoto had become oddly quiet, not like in the way when one was shy and not willing to add to a conversation. Ms Kusanagi's head seemed to droop down slightly as if she was contemplating something, Chuang frowned slightly and said "Um is everything alright Mikoto-san?" his tone laced with some concern.
_________________
Check out my wrestlers
here
, but PM me for match requests.
Solaire of the AFW.
While it may not have been Chuang's intention, mentioning his sister and their familial bond couldn't help but compel Miko to reflect back on her own siblings. Her thoughts drifted from that point on towards their well-being and wondering what they were doing at this exact moment until being coaxed from her brief contemplation and back to present time by her concerned guest. Perking up and easing down on her stride so they could be shoulder to shoulder once more as they spoke.

"Hm?...Oh, I'm so sorry. My...my mind was elsewhere. All this talk about your sister and how close you both seem to be just gave me a moment to pause and think back on my own family for a second. It's just...This place wasn't always this serene, you know? My little sisters would have had free reign of this place if I wasn't there to help my mother keep them in line. Running around and causing mischief..." Mikoto paused and studied her peaceful surroundings with a kindhearted smile on her face, almost getting lost in her thoughts once more.

"I wished you could have met them today, but...well...times were rough and finances were growing scarce. Not as many customers frequenting the shrine, the rising cost of upkeep...in the end, we had no choice but to send them away for the time being. I suppose it was for the best though, until we get things straightened out around here. It's why I returned to wrestling actually, another stream of income that I hope will be enough to bring us all back together. I don't get to visit them as often as I would like though. They live with relatives in Okura village now, bored out of their minds I'm sure...*giggle*..." Throughout their tranquil stroll towards the doors of the dojo, Mikoto found herself opening up to Chuang more than she thought she would, perhaps compelled to divulge more about herself thanks to how forthright he was in opening up to her...
Mikoto did look like she was out of it there, it was of course a case of reflection. Chuang recalled a similar time when he last looked at his room back at where he lived, before embarking on the trip to Japan to follow the track his Sister took. The young man had been the kicker for the Japanese priestess pondering, his talk of his sibling prompting it.

Chuang being honest and open with his family and past seemed to have spurred Mikoto to do the same, as she began to speak of how the home of the Kusanagi wasn't always as quiet and peaceful as it currently was. Which in due in no small part to the younger siblings of her family, the way Miko went on with it reminded the young man of the times when he was like that with Qi.

Still it seemed that her siblings had to be sent to alternative homes with extended family, due to lack of funds. Mikoto seemed to be upbeat in the situation, rolling up her sleeves and getting to work on it by stepping into the squared circle. Chuang took a deep breath, enjoying the peaceful air alongside the young priestess. He'd then say "Mikoto-san, you know....I can kinda relate to all of that. When me and my Sis grew up, we used to get into all sorts of hijinks. And our parents run a dojo, although money wasn't the reason for it. It was more....teaching and looking out for the young generation. Like all the kids in the block."

The Chinese warrior scratched the back of his head, as if trying to find more of the right words. He then went on with "Kinda feels hard when you don't have that around, the sibling you look out for. And would do the same for you. You going back into wrestling, to work for a better future for you and those close to you. That's inspiring, Mikoto-san." giving a grin to Mikoto as he walked alongside her.
_________________
Check out my wrestlers
here
, but PM me for match requests.
Solaire of the AFW.
By now the young couple had finally arrived to their destination after walking nearly the entirety of the lush grounds, stopping just shy of the dojos entrance. The priestess herself found it puzzling how forthright she was being with Chuang. She was so accustomed to shouldering hefty responsibilities without a second thought and keeping her troubles to herself so as not to burden others, yet here she was allowing divulging her family woes with the chinese warrior. Perhaps it was just that she felt so comfortable speaking with him, or she was compelled to by his own candidness...either way, the priestess was taken aback when Chuang actually referred to her as...inspirational...
"N-no...I just...it was...it was just what I had to do...but thanks all just the same. Speaking to you about it...having me say it out loud...it helps..." Miko blushed once more from Chuang's earnest flattery, smiling warmly before reaching out to take the young man's hand in hers. "Come on, let's get in that quick spar before we end up talking the day away, which would also be fun I suppose~..." Turning around to guide Chuang inside by his hand, Miko would slide the door to the dojo open.
Spoiler:
Wooden beams and worn out punching bags dotted the martial arts facility, along with various other weight training tools, equipment, and battered makiwara striking posts. Assorted weaponry such as staffs and wooden bokken swords hung off of racks on the walls along with a bow and arrow stand close by. In the far off corner would be a makeshift wrestling ring no higher than a few feet off the ground, somewhat shoddy but overall entirely serviceable for their purposes. "Well...this is it~..." Miko cheerily stepped inside, releasing her grip on Chuangs hand and striding to the middle of the room with her hands behind her back. She took in a deep breath as she gradually scanned the room, almost overcome with intricately laden nostalgia. "Hmm~...Oh, sorry for spacing out again, but uh, why don't you change into your training gear here, and I'll just change in the next room over. I should only be a few minutes..." With that Mikoto would leave the dojo for an adjoining room, taking her time as she changed so as to allow Chuang ample time to change into his own gear.
Roughly ten minutes later the priestess would nervously reenter the dojo, knocking first on the slide panel and certainly not wanting to walk in on him changing...although it was a thought she had trouble shaking out of her head. Sliding the panel back to the side, Mikoto would step forward now clad in her classic ring attire, a skimpier version of her traditional priestess garbs. "So, what do you think? O-Of the dojo, I mean..." Mikoto shyly stated as she rubbed the side of her arm.
Chuang relished the chance to just be able to talk with Mikoto, most women back at his school didn't go close to him. Oftentimes because of his martial arts training, it was the same with boys and Qi. But being the optimist that Mr Lingxian was he took it in stride, his honest outlook on things seemed to have brought the introverted Japanese priestess more out of her shell. Mikoto's response to it was to hold the hand of the Chinese warrior, he gave a sheepish smile in response to it. For a woman who was a wrestler and knew judo, Miko had remarkably soft skin.
"Uh...heh no problem Mikoto-san, sometimes it helps to just talk about things. If something bothers me then Qi usually can tell right away..." Chuang said, enjoying the feeling of holding hands with the young woman. The pair was now at the dojo where Mikoto would have learned Judo, it felt looked after. Not used in recent days, but still maintained.
When Ms Kusanagi let go of Chuang's hand the young man watched as she walked forward while he would stand still, his eyes looking at the long Rapunzel style hair that she had. Chuang hadn't seen hair that long before meeting Mikoto back at the beach, it really suited her. Mikoto had seemed to go into a nostalgia mode, the young man could relate. If he was back home, and he went into the room where he learned his craft odds are he'd do the same.
"Right then, I'll go and change quickly. Always been good at doing that in a pinch." Chuang said with a nod of the head, once Mikoto left the room he opened his bag. Which contained his outfit for this spar, it was something that his parents friends had made for the young man shortly after he arrived in Japan. Sent to him over the mail.
Spoiler:
Chuang would then enter the squared circle, he'd only been in one once. Doing some sparring with Qi there as opposed to the free form fighting the young man was often used to, still being a part of Tension was going to require him to compete in a ring. Better get used to it the now, besides it had it's pros. He could use the turnbuckles and ropes to get about faster.
Mikoto entered soon thereafter, dressed in what looked like her earlier attire. However it was attire that was suitable for battle, Chuang blinked a couple of times as he looked her over. And here he thought the stuff he was wearing was fancy, but it did suit the Japanese priestess. Giving her a sort of lady of war look to her. Mikoto then asked Chuang what she thought of the place, he was silent for a second before saying "Uhh, well it's a lot better than where I grew up. When me and Qi were learning how to fight all we had was a floor covered with mats, oh and a large radio in a corner. This place feels...looked after and aged well. But I gotta say, you look really nice. Like a....priestess prepared to quell a demon."
Giving a small cough Chuang would wait till Mikoto got into the ring, and would then proceed to do some stretching. The last thing anyone wanted during sparring was to pull something, it would pretty much end the whole session there and there. "So Mikoto-san, shall we lay down any ground rules? I'm thinking no attacks to the head." Chuang said. That was probably going to be a handicap if it was an actual match, seeing as how the majority of his signature moves targeted the noggin of the enemy. But this was just a sparring session, besides in the mind of the Chinese warrior Mikoto was a bit too cute to be hit in the head.
_________________
Check out my wrestlers
here
, but PM me for match requests.
Solaire of the AFW.
Despite Mikoto's not so subtle redirection of her questioning, deep down she was secretly curious as to what Chuang thought of her priestly wrestling attire. It was something of her own original concept initially, though the designers at Wrestle Angel took some liberties with it once she presented it to them. Noticeably hiking up her skirt and parting her rope to for a more unobstructed view of her cleavage. Changes she wasn't thrilled about at the beginning but eventually grew into, hardly being one to complain once she laid eyes on her fellow wrestlers vastly more skimpy outfits.

"Th-thanks...The officials at Wrestle Angels seemed really excited about having a wrestling priestess on their roster. I think that's what primarily got me a leg up over the other applicants..." She approached the ring and stopped on the edge to stealthily scan the Chinese warrior's own wrestling outfit and hopefully not be caught staring at his chiseled physique. "It...it suits you perfectly. Like a burgeoning martial arts apprentice ready to embark on a noble quest...*giggle*...Almost like what we discussed earlier~..." Mikoto smiled shyly as she brushed one of her bangs out of her line of vision. Her eyes shot down to the floor when she felt she was lingering on his handsome facial features, something about his outfit making him noticeably more eye-catching. She shook her head to clear her mind and climbed up and under under the bottom rope to join him inside before she could get anymore distracted...

"That's quite admirable, Chuang-san. Going so far and excelling with your training despite not always having the best equipment. Maybe one of these days I can visit your family and see the dojo where you trained, if you don't mind." Mikoto suggested while doing her own stretches and breathing exercises to center herself for the upcoming spar. "Ah, but yes...let's keep things lite when it comes to head strikes. But aside from that I guess we should keep it as close to your typical match as possible with a pinfall, tap out, or submission putting an end to it. That should help get you used to incorporating your own fighting style alongside basic wrestling mechanics. But don't hold back, okay? I've heard rumors about how ruthless some of the Tension ladies can be..." Once Mikoto finished limbering up she hopped in place and widened her judo stance, approaching him with concentrated footwork with her arms extended for an amicable lock-up.
Chuang was wearing this outfit for pretty much the first time, in a battle that is. Granted he put on the first time he saw it when it came in the mail, but now he was going to be testing it out for real. Qi said that it suited him, and Mikoto had also stated her approval. Recalling the earlier discussion that the pair had, the young man now resembling a martial artist who would be embarking on a quest. Mr Lingxian couldn't say he was familiar with the clothes, often times when he fought it was in just casual clothes like blue jeans.

Still he was a member of the Tension roster, and they had gimmicks to them. So Chuang was going to have get used to it, but he did know one thing. Mikoto was really pulling off her outfit well, as the Japanese priestess looked at Chuang's features. The sight enhanced by the bright emerald green dominant colour of his attire, as well as the minor ruby red. But Ms Kusanagi wasn't the only guilty of looking at the candy, Chuang had clocked the cleavage that the upper part of her outfit exposed. And those boots of hers, it made it seem that Mikoto had legs that could go on for days.

Chuang snapped himself out of this however, now was the time for learning. Being the upbeat guy that he was Mr Lingxian once had his Mother say you learned something new everyday, now it was time to learn how to do wrestling. The Chinese warrior had heard Mikoto state that one day she'd like to perhaps visit his parents, that would require going back home to Beijing. That'd be later in the future no doubt, still it would be great to do. Chuang and Qi already spoke about Mikoto to their parents, with his Sister teasing him by saying he'd found the holy grail.

"Heh you know when I spar with Qi the only ground rule we had was that there was none. I'm sure my parents would be happy to see you. But now then, let's get to this then Mikoto-san. I won't hold back don't worry, rude to do so." Chuang said giving a small bow to the Japanese priestess after his stretching. In the past when he fought Qi as soon as they bowed they would be right at each other like rabid dogs, here though it was going to be half sparring and half learning. Plus Mikoto didn't fight like Qi, at least based on what he knew. Judo was going to be the thing here, Chuang had never fought a user of it before. He'd heard about it but never went up against it.

Add to that Mikoto's background in the wrestle angels business and odds were she had more fighting expertise than Chuang, no matter. Whatever Chuang lacked he always backed it up with heart and enthusiasm, the priestess was offering a lockup against the Chinese warrior.

He slightly hesitated, based on what he knew about Judo if he got into a grappling situation then odds were he'd play right into Mikoto's hands, but this was just a spar after all. With a smile Chuang would slowly intertwine his hands with Ms Kusanagi's, eager to get the lockup started by attempting to start pushing her forward. After all Chuang did have quite impressive upper body strength thanks to his training regime, Mr Lingxian decided to put that to the test here and attempt to overpower the Japanese woman. Still he might just end up playing into a trap, but Chuang was mostly a "Rush in and make the plan up as he went along." sort of person.
_________________
Check out my wrestlers
here
, but PM me for match requests.
Solaire of the AFW.
The priestess hoped she wasn't overstepping her bounds just then when she practically invited herself to one day meet Chuang's parents. It was just an innocent, off the cuff suggestion. Though once it seemed like it may come to fruition, perhaps during her vacation days, her curiousity abounded as to what his parents were like. Surely well-mannered and delightful people considering how polite Chuang was, however she couldn't help but feel apprehensive upon the thought of meeting them one day. Perhaps feeling as nervous as Chuang was a few minutes ago...

Mikoto bowed courteously to her sparring partner as well before the practice match would properly kickoff, a respectful gesture she appreciated but was not one she had seen utilized in AFW as much as she would have liked. That may come as a surprise to Chuang given his distinctly well-disciplined background, and one among many subtle differences he would need to adjust to once his Tension career starts to pick up.

The priestess stood her ground and graciously accepted the lockup with a smile as both their arms intertwined in the lock up. She faltered slightly at first but steadied herself by extending her leg behind her to balance against. Eventually though, despite her concerted effort to stiffen her body the impending tide, eventually she began to be overcome by Chuangs muscled efforts to push her back.

"...Hugh...P-pretty s-strong...Chuang-san..." She groaned in exertion as she lost ground with each retreating step backward, her own muscles flexing as well but the difference in strength was absolutely clear. It was an outcome she had anticipated though, given the copious times her eyes secretly drifted to admire the handsome young mans sculpted physique and burly biceps. Therefore once Miko had taken several steps back, she would attempt to use Chuangs own forward momentum against him by leaping in place and pressing both of her feet against his stomach to monkey flip him up and over the priestess. If successful Miko would roll along with him and end up seating her rear on his chiseled abs with her legs bent at his sides.
Chuang had told his parents about Mikoto, and knew that one day she'd be required to visit them. That would most likely be no trouble, although odds are that the young woman would be required to endure the teasing comments of his friends back home. But if the pair had already weathered the pranks of Chuang's Sister Qi then odds were fairly good on that front, however the young man only briefly entertained that. Now he was engaging in some friendly sparring with Ms Kusanagi, a part of Chuang had been equally looking forward to this and inwardly a tad worried. Seeing as how he had never gone up against a Judo user, one time he and Qi fought a Tai Chi user who was near 80. And they lost.

Mr Lingxian knew that he certainly had the upper body strength, in the past he had managed to lift up guys who were taller than him over his shoulders. And give Qi a piggyback ride following a sprained ankle, still he had never done a test of strength lockup before. But one didn't need to be a rocket scientist to do well in one, and Chuang's eyes had clocked Mikoto moving just back a little. Enough to believe the Chinese young man that he was doing well, smelling blood if one used that term. But maybe he was getting just a little overconfident......

So Chuang had tried to press on, he had no idea where he'd go from there. But Mikoto had an idea, using her flexibility she had combined with the movements of the young man allowed for a monkey flip move. Mr Lingxian's eyes went wide in response followed by a "Ah!" from his lips as the sudden move sent him for a loop. And the Japanese priestess had come along for the ride, the move ending with her atop Chuang.

The young man gasped quietly, Mikoto had taken him by surprise. The Japanese priestess having now mounted the Chinese warrior, looking up at her from this angle was something Chuang inwardly wanted to admire. She didn't weigh much, so it wasn't that taxing to draw breath when her ample rear was pressing down on his chest.

But he knew one thing, he was down on the ground. The one place he never wanted to be in the first place, and Chuang felt that if he didn't do something he was going to be in more trouble. With that in mind the Chinese warrior did what came to his mind, looking quickly up and down at Miko Chuang would use his free hands to try and start delivering quick blows to her belly. Striking was what he was best at, and considering the Japanese woman had background training with Judo it might serve to get her to back off and maybe attempt an escape back to a vertical position.
_________________
Check out my wrestlers
here
, but PM me for match requests.
Solaire of the AFW.
It wasn't until Mikoto had officially began the engagement with Chuang that she realized that the Chinese warrior was her first, well, gentleman opponent since her own dojo shuttered it's doors close to six years ago. Back then when her father was the sensei, he would encourage her to train and practice right along with the other pupils, even the heftier boys who would dwarf her in size. All to ensure that Mikoto would not be treated any differently than his other students...though once his daughter began heaving those same pupils to the mat did they politely request to their sensei that they could switch sparring partners with someone else.

"Ha...gotcha..." Flipping Chuang up and over came with a certain sense of satisfaction on her part, proud that she hasn't lost her touch when it came to tussling with the guys...no matter how handsome they were, especially from this angle. She could tell from the shocked look on his face that he wasn't expecting such a seemingly fluid transition back down to the canvas. An effective and seamless takedown was an essential technique for any judoka. However before Miko could capitalize from her mounted advantage with several ideas for submissions passing through her mind, the Chinese warrior demonstrated his own fighting style with several jabs to her unprotected stomach.

"Hugh...Nngh..." Mikoto groaned out loud from each pelting strike, lurching over him with a wincing expression until she finally conceded that this position was not as advantageous as she thought, sliding off him to her hand and knees while rubbing her bruised belly. Miko had conditioned her body to take certain levels of punishment, but off the bat she could tell that Chuang's strikes were simply not to be taken lightly. Rising back to her feet right a second faster than Chuang, if uninterrupted she would attempt to lock her hands around his head in a front headlock, her bicep tensing around his neck to hopefully wear him down.
Page 2 of 6 •

1, 2, 3, 4, 5, 6


---
Permissions in this forum:
You
cannot
reply to topics in this forum