Champions & #1 contenders
Highfly Flying Out Of Town
Tue May 22, 2018 1:31 am by HighFly
Hello everyone, I just wanted to inform all I have threads with that I will be gone from this coming Wednesday through Sunday. I won't be able to post consistently if at all during this time, but I will try to make up for it next week! I am sorry for the inconvenience to everyone.
Comments: 7
The Austrailian Mudslide is Back.
Sat Apr 21, 2018 6:20 am by Softsquad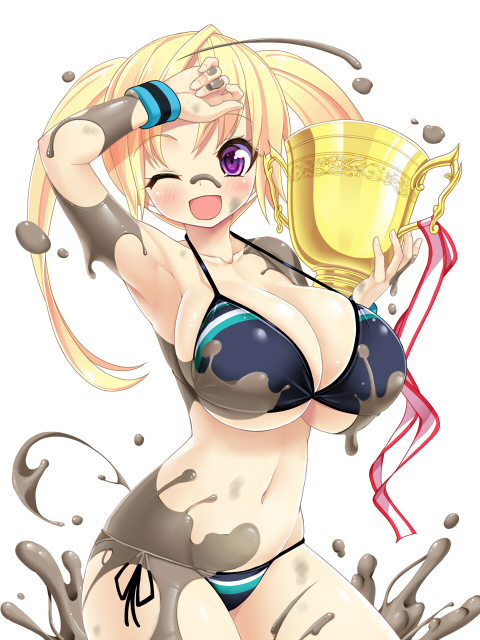 Granted that most of you won't know me or remember me, but I've had a few matches here and there some time ago. Well I think its time to become a regular around here and try to have some fun again, but at the same time keep coming back. Anyway I think its time to jump into some matches with Zoe Taylor, my mud wrestling character from Australia and get her back into the squared circle. Furthermore I will update my characters as I think some proper changes need to happen.
So if anyone would …
[
Full reading
]
Comments: 5
Page 1 of 5 • 1, 2, 3, 4, 5


Standard Match won via pinfall or submission.
In the back Eliza was getting prepared for her next match, since coming back to Tension she'd been more and more popular. They were people in friction requesting her presence over there, Ms Harenwood was quite flattered by all the attention she'd been getting. More so than the ballrooms that she was in ever since she was a child, but there was a small fear within her. That Eliza might let all of it go to her head, overconfidence was a slow and insidious killer after all.
But Ms Harenwood wasn't going to entertain those thoughts, it was time to cast them aside for the time being. As right now Eliza had a match to be in, against a man named Ralph Acker. The dancing passion had seen his progress so far, she followed everything that was related to Tension to stay on top of current events after all. And Eliza was looking forward to this match, her first one coming back was against Kira Tenshin. Resulting in the dancing passion obtaining a proper win for a long time, her new appearance. That of a flamenco dancer as opposed to the ballroom one also was central to showing she was much more serious this time around.
Dressed in her entrance attire with her ring clothes under it Eliza waited in the back, her dress was black with red around the edges. A pair of fans were held in her hands, a gimmick idea she had after her last session of flamenco dancing. Likewise a rose was held in her mouth.
The lights in the arena would go out, rending the whole place in pitch blackness. Then suddenly a spotlight would appear, as the opening notes of Eliza's new song Pena Flamenca began to play. The spotlight covered a large curtain, in which a silhouette would dance behind it. Once the song reached the 0:15 mark Eliza would emerge from behind it, to the roaring applause of many.
Eliza took a moment to bask in the adoration of so many, her smile concealed behind one of her fans. And then she proceeded to gracefully walk down the entrance ramp, spinning and dancing the entire way. Upon nearing the ring Eliza would climb to the nearest turnbuckle, shutting her fans closed and tossing the rose into the audience. From there the dancing passion would walk to the far corner opposite the one she was just at, and placed the fans below the bottom turnbuckle. In a couple of fluid motions Eliza's dress was removed, showing her trademark red leather corset and black stockings. Her dress was then placed on the iron ring post, and from there Eliza would place her right leg on the top rope to stretch it out. She was intrigued to see if her opponent for tonight would be good, based on what she'd seen so far he ought to be.
_________________
Check out my wrestlers
here
, but PM me for match requests.
Solaire of the AFW.
Ralph Acker:
Ralph was casually chilling in the backstage, just walking up and down and from time to time take a look on tv that was there and was showing one old match. He heard Elizas entrance song, followed by loud applause. Ralph was amazed, but admittedly little irritated as well. Ralph love when crowd cheer for him, but he's not too happy when opponents get simmilar attention.
Anyway, waiting in the hall backside Ralph was preparing his entrance. When he heard his music he jumped high from the backstage and imidiately got same applause as Eliza did before. Ralph was slowly walking toward the ring and playfully pounding his chest with one arm.
Ralph performed his favourite entrance once he reached the ring; jumping on it, following by jumping over the top of the ropes. It is attractive and always ignites extra cheering. He glances over to his opponent and smiles
So, another cutie to beat today?
Eliza remained calm, not showing any outward emotion as her opponent for the evening made his way to the ring. This was a good chance to size up the dance partner for Ms Harenwood, even if the dancing passion had already made a good profile from seeing Ralph's previous matches. After all Ralph could have made a change in gameplan, so Eliza took this time as best she could. She was intrigued by the fact that he was not like most men of Tension, granted he was taller. But not big and overly burly, this could prompt maybe altered tactics in this battle.

The young woman was intrigued by Ralph's entrance, it seemed that tonight he was making an extra effort. Perhaps to help entice the crowd, well it worked. But they knew Eliza longer, and there's was mixed noises. But all cheers, things like "LET'S GO ELIZA!" and "LET'S GO RALPH!" it seemed like this was a match that the fans of Tension had been waiting for. Two skilled combatants giving their all, in the mind of Ms Harenwood there was no greater thing. And she would applaud her opponent's entrance, a small smile on the regal features of the dancing passion.

The smile would widen somewhat upon Ralph referring to Eliza as a cutie, Eliza would wag a finger in front of her while saying "Flattery gets you nowhere Mr Acker, skill does. I've heard good things about you, let us have an entertaining battle." giving a polite bow to him.

With that Eliza would settle into her stance, knees slightly bent and arms bent near her belly. And once the bell rung Ms Harenwood would begin, taking a few light steps towards her opponent. Before suddenly leaping forth, and the dancing passion would proceed to break into a spinning pirouette. Eliza hoped to confuse Ralph with this acrobatic display of dancing, but it was just a ruse as Ms Harenwood would then try to blast out her leg to drive it into the side of Ralph!
_________________
Check out my wrestlers
here
, but PM me for match requests.
Solaire of the AFW.
"Oh don't worry, you'll see my skills soon enough.." he smiles and continues when looking around at the crowd "I'm amused that we both got equall support from crowd, but you know there can be only one. And at the end of the match, i can assure you all you'll hear will be GO RALPH!"

When Ralph heard the bell, he assume the fighting stance and looks at Eliza. Since she started approaching him, Ralph just stood on his place and waits for her attack. But then something weird happened: Eliza starts dancing out of nowhere, completly confusing Ralph. He tilts his head on the right and starts scratching it, keep staring in Elizas pirouettes.

Than out of nowhere, he felt hard hit on the side of his body. Ralph stumbles backwards, rubing part when he just got kicked. He glares in her, turns around and runs toward ropes to bounce from them. Ralph got some more speed with it and just when he's about to reach Eliza he jumped, trying to land superman punch in her face.
Eliza didn't let Ralph's words phase her, many people tended to talk trash. To try and get into the head of their opponents, understandable to be sure. But Ms Harenwood would take it in stride, years of being raised amongst nobles had taught her to be calm and have a poker face. This carried over to her career as a wrestler, a boon to be certain in this line of work. Ralph talked a big game, like many suitors who tried to win the hand of the young woman. Time would tell if Mr Acker would prove it or not.

And the first strike in the match had gone to the dancing passion, those dance moves always helped to serve Eliza. The confusing attacks insured that Eliza would have a better time of keeping the pace of the battle. Where she could be the leader of the dance so to say, a far cry from the lessons in the ballroom that she was taught growing up.

Eliza quickly recovered from her spin kick attack, with routine practise and professional precision. However Ralph was also quick to recover too. And the movement from her kick moved him to the ropes, cause and effect would soon kick in. As Eliza's opponent used the nearby ropes to his advantage, and the next thing Ms Harenwood knew she was blasted in the head. The British aristocrat grunted out loudly and staggered back, falling onto her back spread eagled. Eliza was stunned for the moment, the momentum she hoped to build cut off. All the young woman could do was lift a hand up to her forehead to try and nurse the sting, it was like a blow that mirrored her kick only it had been with the upper limbs instead.
_________________
Check out my wrestlers
here
, but PM me for match requests.
Solaire of the AFW.
Ralph smiled and shaked his hand a little after it successfully land on Elizas face. He moved backward a little to get some distance between them. He began flexing his muscles to taunt Eliza a little.

Ralph return to her and grabs her arm. He pull on it trying to irish whip her in closest corner, following my doing running clothesline just when she land in corner.
Eliza knew that getting knocked around was part of the job when it came to wrestling, but she liked to believe that she'd come a long way from her origins as a fighting in the squared circle. This was just a setback, the match had recently begun and she was still fresh. Still Ms Harenwood would need to make sure not to let Ralph dictate the fight's pacing too much, else it'd only hamper the chance of victory for the young woman.

She was expecting Ralph to maybe try a ground move on her, ground and pound or a simple submission. But it didn't seem the case, Eliza was intending to try and get herself back up. When Mr Acker did that for her, but not in the manner of a gentleman. Fair enough Eliza wouldn't expect quarter given till after the match was over, and Ralph then flung the dancing passion towards the corner with a good old Irish whip.

Eliza was left with no choice but to go with the momentum, but it was giving her an idea. Something that she could do following this, Eliza made sure to quickly turn around once she reached the turnbuckles. Sure enough Ralph was coming at her, Ms Harenwood would wait for it. At the just the right time.....

The dancing passion would move forward and bust out into the splits, with practised execution. Ralph's attack would fly harmlessly over her head, way above it in fact. And the dancing passion would hope to then move her legs around, and drop toe hold Ralph right into the turnbuckles. That'd ought to knock the wind out his sails, and nip whatever he had next in the bud.
_________________
Check out my wrestlers
here
, but PM me for match requests.
Solaire of the AFW.
Ralph successfully whiped Eliza to the corner and he wasted no time. Ralph didn't want to give her any break, so he start running after Eliza right away. She turns around and Ralph jumps and fly toward opponent.

But nothing happened... Ralph just casually glides thru air when Eliza ducked and avoided him. Ralph was very fast by himself and didn't expect that Eliza will be able to match his quickness. He land down on his feet, but realized that he will has to be more carefull as the fight will progress.

But it wasn't over yet. Ralph couldn't even turn around, since Eliza already wraped her legs around his. Casing him to lose balance and hit the corner turnbuckles. He gasped for air and slides down on the mat with his leg still traped in Elizas hold.
Eliza slightly winced as Ralph went right into the turnbuckles, but the man gave her no alternative. Well she could have of course taken the hit, but Ms Harenwood's style of combat revolved around that not occurring to her. Granted she could now take a beating, but still the more healthier she was the better her chance of winning.

The crowd of course yelled out in shock of the move, it was another impressive display of agility from the dancing passion. Float like a butterfly and sting like a bee, this adage certainly applied to Eliza. Her background as a dancer didn't seem like much on paper, but it allowed the young woman to perform feats such as converting from the splits into the drop toe hold. The only downside was that Eliza's upper body strength was lacking, she could do some power moves but her strength was in her lower limbs. Still work to adjust and all that, with that......

After dropping Ralph down Eliza still had his legs trapped, and an idea rose up in her mind. Ms Harenwood would try to stand herself back up and then place her feet down onto Ralph's legs just above his kneecap, followed by wrapping his legs around hers. If Eliza managed to get this done she'd try to grab hold of Mr Acker's arms, and attempt to move herself backwards to trap him into a surfboard hold. Still if Ralph could rouse himself from Eliza's previous counter then he could perhaps get out of this little pickle.
_________________
Check out my wrestlers
here
, but PM me for match requests.
Solaire of the AFW.
Ralph heard the crowd enthusiasm after Eliza performed her trick and he wasn't too fond of her getting so much attention. But he should focus how to escape from corner first, before thinking what to do to gain crowd back on his side.

And just when he was thinking how to escape his legs suddenly get free. Ralph looked over to Eliza and saw that she already get back on her feet with one leg up in air already. Ralph was wasting no time. He grabed end of the ring to pull himself out of it and escape Eliza. It comed with side effect tho - since he performed everything in rush, Ralph fall down on the side of his body, but lucky for him it wasn't anything serious.

ONE!

Ralph heard referee starting the countdown, so he quickly get back on his feet, move to the other side of the ring and when referee was at the 4 he was already back in the ring. With one swift jump, Ralph get on the top of the turnbuckle and instantly jumps off it toward Eliza, trying to perform frog splash over her body.


Page 1 of 5 • 1, 2, 3, 4, 5


---
Permissions in this forum:
You
cannot
reply to topics in this forum