Champions & #1 contenders
Moonhearts Promo intro thread is O p e n.
Mon May 21, 2018 4:21 am by XSirenX
Feeling brave?, lost?, or without a thread to post in?, hit up the newest Moonheart if any of those apply!
CLICK HERE
What Moon has to offer?, many things...:
Comments: 0
The Austrailian Mudslide is Back.
Sat Apr 21, 2018 6:20 am by Softsquad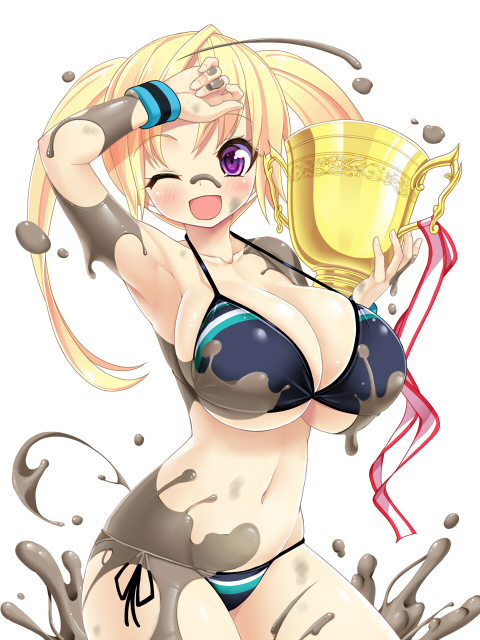 Granted that most of you won't know me or remember me, but I've had a few matches here and there some time ago. Well I think its time to become a regular around here and try to have some fun again, but at the same time keep coming back. Anyway I think its time to jump into some matches with Zoe Taylor, my mud wrestling character from Australia and get her back into the squared circle. Furthermore I will update my characters as I think some proper changes need to happen.
So if anyone would …
[
Full reading
]
Comments: 4
Page 1 of 4 • 1, 2, 3, 4


Mikoto Kusanagi huh? Marina was in the locker room still, changing into her other identity, Mariko. She just finished putting her contacts in before taking a good look at herself in the mirror. Dyed blue hair, bright and yellow eyes... damn, she felt like an anime character. "Still, at least I can wrestle with it." She said offhandedly. She had her father's blessing, and this disguise would keep her father's reputation safe... well, for as long as it could anyway. And luckily nothing would get in the way while she fought.

Still, this Mikoto Kusanagi chick might be a tough customer. If the files Marina got on her were right, Mikoto was in that Wrestle Angels group from awhile back before it got shut down. So she was plenty experienced, and the last time Marina faced an experienced opponent... Well, that wasn't going to happen this time. She may had not have the same kind of experience, but she'd be damned if she'd just roll over and lose like a jobber.

Just as she was getting lost in her thoughts, she heard her theme music start to come on. "Oh," To took on more good look at herself in the mirror and winked at her reflection. For her debut she'd don a bright blue sport's bra and a bright blue skirt to go with it. White gym shorts were underneath to keep people from getting a peek, and she had white tennis shoes and pads to match. For a Heel, I sure do look like a Face. She mentally remarked. "Alright then, time to kick some ass!" With that, she headed out the locker room and onto the stage. 

The crowd looked pretty excited for the match considering it was her debut, as it was a lot more than she was expecting. Maybe Mikoto was more popular than she thought. If so she definitely wouldn't have a advantage winning the crowd over... Well, Heels are meant to be bad guy, so that's to be expected. She wasted no time getting into the ring, running past the crowds of people and sliding on in. "Alright, where's the shrine maiden sacrifice meant to be my first victim!" She shouted, placing her hands on her hips to give a confident pose. "Oh Mikoto-chan~ Come and out and play~"
Huddled away in her own newly refurbished dressing room, Mikoto's own pre-match preparation ritual took place nowhere near the waist-high mirror, the priestess performing breathing exercises to calm her mind while kneeling against the wall and sitting on her ankles. To her own shame the modestly-sized dressing room was a perk not many in the federation were afforded, recently gifted to her in particular for her semi-celebrity status due to her history with the Wrestle Angels organization as well as a small recompense for her selfless actions during her last match.

It was so deeply traumatic an evening in fact that Mikoto veered away from the stadium and wrestling in general soon after, taking time off to settle her shaken nerves. Thankfully the timely intervention of her closest friend, Suzumi, treating her to a delightful day at the beach was just what the doctor ordered. The sandy excursion cleared her head while introducing her to numerous new acquaintances, including one particularly cute boy...whom Mikoto had to concentrate not to think about right now, shaking her head and resuming her soothing breathing exercises. Her first match since returning from her sabbatical was minutes away and she needed to focus.

A knock at her door startled her from her meditative state, signaling that her entrance theme was impending. Clad in her customized priestess wrestling attire, Mikoto would lift herself up off the floor and stretch her slender back out before stepping outside and towards the blackened curtains at the top of the ramp. The second the guitar riffs of her theme blared through the speakers, Mikoto would brush aside the curtains and unveil herself to the audience, cheering wildly for the priestess to her own stark surprise. The priestess would be compelled to pause briefly on the top of the ramp and take some time to receive the warm accolades, wide-eyed from the reception at having gained some new fans since her absence due to her heroic actions that night against Hibiki Izayoi. She always had a solid fan base before, but now she was getting applause on a level she had never received...

After a few seconds of reflection Mikoto would stride down the ramp meekly smiling and waving to the crowd, not quite knowing how to react to the sudden new-found adoration. After climbing up the stairs into the ring and reeling from the buzz of being the latest fan favorite, Mikoto would briefly size up her opponent and was taken aback by Mariko's glowing yellow eyes and marine blue flowing hair. Certainly more eye-catching than the priestess' more typical appearance. Still, slight pangs of jealously aside, Mariko seemed pleasant enough from first impressions alone...

"H-Hey, Mariko-san, was it?...Welcome to AFW, it can be overwhelming at first, but with time you'll settle in no time...Oh, and I love your hair~...But you know, when they told me who I'd be facing, all they could give me was a name, so I'm afraid I don't know much about you aside from that..." Miko shyly stated before approaching Mariko with a chipper smile and an extended hand, unaware that Mariko was in fact simply a clever alias...
When Mikoto first came onto the stage, Marina's first thought was that she looked more like a ninja in white than a shrine maiden. Her outfit just gave off a more ninja-theme to her. Still, it was a hell of a lot more eye-catching than Marina's basic skirt and sports bra combo. Marina even gave a sharp whistle as Mikoto made her way down. Damn, now that's a girl I wouldn't mind rolling around with for a bit. She thought as the woman made her way to the ring. 

The second thing Marina noticed was that Mikoto was... a lot shyer than Marina expected.A lot politer too, but she was an actual shrine maiden if her files were right. She probably was raised to be really traditional and stuff. She had that kind of air about her. Though this woman's shyness made her seem weaker than what Marina had pictured. Well, guess we'll see how she fights when the fight starts. Best not to assuming things, as last time Marina got wrecked when she did. 

Seeing Mikoto's hand out, Marina took hold of it and smiled back. "Thanks, got it all touched up for my big debut." She said with a smile. Might as well try to be a little friendly. "Probably gonna' get it ruined in the fight, but hey, first impressions, y'know?" She removed her hand from Mikoto's and continued. "So... background on me? Well, I was just so inspired seeing all these fighters and wrestlers doing their best here. I wanted to join in the fun and see if I could try to make a name for myself." Not a complete lie, but she couldn't exactly give the real story yet. "Just so you know Mikoto-chan..." She began, her smile turning into a cocky smirk. "I'm quite the athlete, and I was serious about what I said before. You're going to be my cute maiden sacrifice on my road to glory." She took a step back from Mikoto before doing a backflip, elegantly landing about a meter away from her opponent. A little bit of showing off for the crowd and giving Mikoto a display of her skill. 

"I'll say this straight out Mikoto-chan, I'm not a nice person. I'm here to use you as a stepping stone and break your fighting spirit like the fragile twig it is!" Marina gave the woman a wide grin, her yellow eyes gleaming with passion and confidence. She went into a fighting stance, fists raised and bouncing on her balls of her shoes. Not much of a wrestling stance, but a sign that she could fight. "Much like the demonic youkai you try to fend off, I'll torment you and make you beg for mercy that you'll never receive! So, Miss Shrine Maiden, think you can exorcise this demon? Or are you gonna' be consumed by it?" With that said, she gestured Mikoto to come and attack her, daring her to try her luck.
Mikoto graciously smiled and nodded throughout their initial handshake...inwardly knowing full well that Mariko was not being entirely truthful about her background. Acting as a surrogate den mother to several rambunctious siblings most of your life tends to give you a developed radar towards childish fibs. Nevertheless...the priestess greeted her as warmly as she could, still harboring some envious feelings towards Mariko's radiant hair and eyes inwardly wishing she was bold enough to experiment with her own looks.

Though her own expression darkened as Mariko apparently justified Miko's earlier suspicions about something being off about this girl. After the gamer girl outright confessed her true intentions in an utterly narcissistic fashion, the priestess had to take a step back while the gamer girl back flipped across the ring to the scattered applause of a few spectators. Mikoto was honestly taken aback at the arrogance of her opponent and how obnoxiously forthright she was with predicting her demise. Her opinion of Mariko quickly diminished as a result.

"...Well Mariko-san, congratulations. You certainly have the theatricality of this business down pat." Mikoto stated coldly, reacting nonchalantly towards Mariko's gymnastic feat as she brushed one of her bangs of hair out of her eye sight. "Being a shrine maiden means steeling your resolve and maintaining your composure when facing down irritable apparitions...and I see no reason why this should be any different. I don't intend to be so easily overcome, Mariko-san. There's a reason I was given the moniker "Indomitable"..." Mikoto raised her arms in a widened judo stance with her knees slightly bent as she glared towards the loud-mouthed gamer girl. Not since her Wrestle Angel days has Mikoto has been pitted against someone she so sincerely felt compelled to defeat.

Once the bell rang signaling the beginning of the match, Mikoto took a deep breath to settle her irritated nerves and cautiously approached Mariko with concentrated steps and footwork. From the gamer girl's fighting posture and her earlier, admittedly impressive back flip, Mikoto surmised that Mariko may have some skill to back up her threats. As the priestess inched toward Mari she would offer arms for an amicable lock up, intending to put them both on the same level, eye to eye and face to face...
Seeing Mikoto's expression change the way it did just gave Marina thrills. That kind and welcoming aura turning so hostile with just a few cutting words, she couldn't help but snicker at it. Looks like she really ruffled the shrine maiden's feathers with that proclamation. "Well then, bring it Miss 'Indominable.'"

Getting a look at Mikoto's stance, it was clear she was verse in combat, namely grappling if she had to guess. And she wanted the two of them to lock up as well. That's a... judo stance right? Pretty sure it is. Sweet, TKD vs. Judo, this'll be something! A lock up was pretty traditional way to start a wrestling match. However... "Nope!" With Mikoto in range, Marina brought her foot up, aiming a snap kick to slam into Mikoto jaw. She was no where near as versed in wrestling and ground fighting like Mikoto, and this girl already had wrestling experience in another league. To meet her on equal foot, to fight on her terms rather than Marina's, would be suicide. There was no way in hell she'd let this girl get her in a grappling situation that fast.
Mikoto knew that eventually she would be pitted against a thoroughly obnoxious opponent with a chip on her shoulder, the locker room was filled to the brim with up and coming rookies who felt they could steamroll their way up the rankings with little to no effort on their part. And it was always up to the more experienced wrestlers to set them straight and thoroughly educate them on the folly of their ways...it just felt strange that she would actually be in that role someday...

The priestess cautiously approached the spring-footed Mariko with a concentrated glare towards the gamer-girl and her posture. Studying her opponent's bouncing movements and nimble footwork, Miko only just barely recognized the fighting stance as taekwondo before she quickily sidestepped the rapid snapkick. Mikoto widened her eyes at the swiftness of the strike, hearing the whizzing sound of the kick barely grazing her ear. But after whiffing on the strike, with the priestess so close to Mari, Mikoto instinctively recognized an opening and attempted to capitalize.

"Hyaah!!" After stepping inward towards Mari and bending low to dig her shoulder into the gamer girl's abdomen, Mikoto would wrap her arms around Mari's lethal legs to clutch the back of her thighs. With her grip synched in Mikoto would attempt to scoop Mari off her feet and drop her back first to the mat in a practiced double leg judo takedown, still holding her legs and kneeling in front if all goes as planned.
Marina's eyes narrowed as the shrine maiden just barely dodged her kick. "Tch," That sucked, the girl was more agile than she planned for. And a lot more aggressive too. No sooner did Marina put her leg down did Mikoto duck under her and grab her legs. "What the-?!" Crap, this was bad, this was really bad. If this fight got to the ground Marina would be in for some punishment, and Marina honestly didn't know if she could take it or not. Punches and kicks she could handle, backbreaking holds... not so much, if her last sparring match taught her anything. 

She could already feel Mikoto lifting her from the ground. Shit! Shit, shit, shit! It wasn't long before Marina's back slammed into the mat, all she could do was brace for the impact. "Aah!" The air was knocked out of her from hitting the mat, but she wasn't out. The gamer's eyes were locked onto the shrine maiden's, filled with pain and irritation. "Effin' hell that hurt!" She shouted in frustration.
Heaving Mariko off her feet and back down to the mat was as fluid a motion Mikoto could have managed considering she was coming off nearly getting her face kicked in. Her heart was still racing from how close she came to starting off the match on her back, much like Mariko was now.

After implementing the judo take down Mikoto instantly recognized that she was in a prime position to start putting the pressure on Mariko with a plethora of leg submission techniques, ones that would that would truly hamper the offense of the gamer girl and her kick based attacks. Releasing her other leg but with Mari's right ankle firmly tucked away in Miko's armpit, the priestess would stand tall over the irate gamer girl with a cool, poised, almost emotionless demeanor in contrast to Mari's angered glare and rhetoric.

"You can't honestly be complaining about the pain already, Mariko-san..." Mikoto uttered unsympathetically before cinching in her lock on the ankle by flexing her bicep and clasping her hands together. The priestess would lean back and in doing so heft Mari upward as well until only her upper back touched the canvas, the gamer girls' ankle under renewed strain now that it was forced to support Mari's entire weight lifted off the mat, a rudimentary but efficient judo ankle lock.
Marina clicked her tongue again at Mikoto's words. She had a point though, Marina couldn't be a little bitch that whined about taking a little pain. In these kinds of fights she'd be giving and receiving quite a bit of it, her sparring matches taught her that. But it was still probably the worse case scenario that she got in this particular position. Mikoto had a good grip on her legs, and Marina knew she'd go for a hold that would do some heavy damage to them.

The moment Mikoto's hands locked together, Marina knew her move was coming. Oh shit... She immediately felt the fire burning around her ankle from the shrine maiden's hold. "Gh..." Yeah, it hurt, but it wasn't bad enough to make her tap out. This move was probably just to wear out her legs before Mikoto tried anything really damaging. However... "You think I'm just gonna' lay here take this?!" She growled out. Like she was just going to let Mikoto continue this hold or go into something worse. She started to reach out with one arm to grabbed Mikoto's hands and force them apart, while using her other to lift her upper body to keep her body straight and reduce the pain of the hold.
Mikoto groaned in exertion from heaving Mariko upward until she was dangling upside down by her captured ankle, but the priestess retained her stoic composure throughout her implementation of the rather basic ankle lock. The strain would be considerable but nowhere near enough to illicit any submissions so early in the match. Instead intended to work over Mariko's ankle before seamlessly transitioning to a more agonizing maneuver that would be even more potent on Mari's trapped limb.

It was plain to see that Mariko's frustration was bubbling over at this point, hanging upside down not being an entirely flattering position for someone as stubbornly prideful as she was. Her struggles to alleviate the pressure on her ankle by lifting herself up and attempts to reach out towards the ensnared limb was Mikoto's signal to shift over to her next maneuver before the gamer girl could squirm her way free.

"Settle down, or you're only gonna make this more painful than it has to be.." Miko advised before laying in one kick to the back of her opponents thigh to settle down her resistance. Mikoto would use the grasp on to Mariko's leg to turn them both over until Mari was laying down on the canvas. From there the next maneuver could be easily predicted, Miko sitting her backside on Mari's lower back and rearing back gradually in a single leg boston crab submission. A splattering of applause showed the audience's appreciation for the efficiency of Miko's fighting style, with the priestess more concerned with working over Mari and showing her she wasn't to be taken lightly...
Page 1 of 4 • 1, 2, 3, 4


---
Permissions in this forum:
You
cannot
reply to topics in this forum