Champions & #1 contenders
Summer Splash interest in Natasha Loclear?
Mon Apr 09, 2018 11:30 pm by daemongirl
Well my girl hasn't missed a summer splash yet, would anyone be interested in a match with her? Open to just about anything match wise, just pm me!
Comments: 1
Been Out with the Flu
Sun Apr 22, 2018 7:47 pm by daemongirl
Just letting those I have threads with know I've been out with the flu since early last week, but I will be back to posting tomorrow.
Comments: 0
The Austrailian Mudslide is Back.
Sat Apr 21, 2018 6:20 am by Softsquad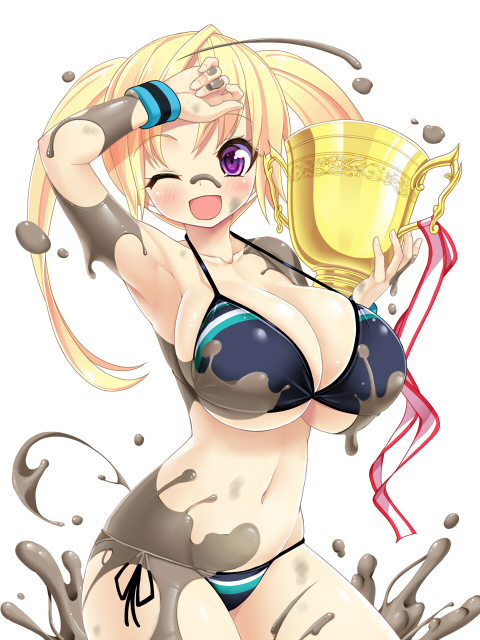 Granted that most of you won't know me or remember me, but I've had a few matches here and there some time ago. Well I think its time to become a regular around here and try to have some fun again, but at the same time keep coming back. Anyway I think its time to jump into some matches with Zoe Taylor, my mud wrestling character from Australia and get her back into the squared circle. Furthermore I will update my characters as I think some proper changes need to happen.
So if anyone would …
[
Full reading
]
Comments: 0
Page 1 of 11 • 1, 2, 3 ... 9, 10, 11


Hentai Penalty Match
Victory Condition: Pinfall, 5 counts
When one wrestler taps or submits, she'll take a penalty of a free, non painful move for 10 seconds.
The wrestlers will be sprayed with tiny amount of aphrodisiac perfume on these following body parts before the match starts: Breasts, Crotch, Armpits, Ass.

"Ugh, they sure have all sorts of match here..." Mayu said to herself as she waited for her upcoming match in the preparation room. "But I can do this! Ganbatte, me!"

It's been a while since she had a hentai match, but the anxiety only seemed to be growing each time. She hadn't won a single match yet in this department, which also made her curious, among other things. Was this type of match going to be a hurdle she'd never overcome? The short haired girl definitely hoped not, even if she's not thinking about being an expert erotic wrestler.

The signal finally came, and Mayu quickly came out to the backstage so she could make her entrance the moment her theme was played. Even if she's far from being the most popular girls around in this league, the responses from the crowds were always felt heartwarming for her. Smiling to the audience, the raven haired girl waved to them before she proceeded to the ring and slipped herself under the ropes.

She was dressed in her usual black tank top, paired with a black bikini bottom this time to fit in the match's theme. At least she's gotten slightly more comfortable wearing this kind of outfit in public. Mayu waved around the crowds some more, before she settled in her corner to wait for her opponent's arrival. She tried to make herself as relax as possible, or at least, looking like she's not too nervous about this whole thing. Occasionally, her eyes wandered to the perfume bottle the referee's holding, while her mind wondered just how much it could affect one's performance.
Cinder was a jittery bundle of nerves waiting for this match to begin, she got here early so that she could beat the crowd and was not sure that she had made the right choice.   Sitting in the ready room watching her feet swing like pendulums from beneath the table, then back under again, she thought about this Hentai match-up. "What the heck did I know about Hentai," she wondered aloud.  Cinder tried to psyche herself up for this match, but she was slow convincing herself that she was ready for this.  She wasn't even sure that she understood the rules or how she got another match so soon after her disastrous showing with Hyacinth. She probably thought that Winter had something to do with it one way or another, she had learned a lot about herself and about wrestling after Winter took her under her wing.  
"But I still can't figure out how I lost that match,", she said over and over in her head, like a mantra.  She would either have to put it behind her or let it drag her down, and she would not let it drag her down with it like an anchor around her pretty ankle.
She heard the first few beats of her song start to play and headed to the ramp. "OK, lets do this the right way", she said under her breath,  then again out loud for the crowd to hear.  She started walking down her ramp and spotted Mayu from a distance. "Oh my, she is beautiful.........", Cinder thought to herself with a little awe, "I hope that Winter was able to prepare me enough for someone like that", she said after she eyed her opponent.   She waved to everyone and skipped from side to side  of the ramp so that she could let the fans (probably Mayu's fans) get a close look and give a few hugs and smiles to as many people as possible.  "Wow!! Someone had a sign with her name on it, she had a fan", she thought with amazement.
Once she got to the ring, she was glad that she had opted to wear something sexier for this match, she hoped that it would have some effect on Mayu, she needed any edge that she could manage.  "Her favorite pink bikini bottom and halter top always got her lots of looks at the beach, let's see how well it works on her opponent" she thought with a big grin inside.  She waved to Winter who had somehow managed to get a ringside seat, she saw Winter mouth the words "you can do it", to encourage her.  That gave her a much needed boost as she slipped through the ropes to go greet her opponent.
"Hello Mayu, I have heard lots of good things about you" said Cinder greeting Mayu and offering her hand to the beautiful woman so that she could feel that first electric charge of sexual excitement that she always got.  "She looks just delicious, I can't wait to taste her", Cinder thought with a huge amount of lust aimed at Mayu.  She locked eyes with Mayu and wondered if she was thinking the same thing.  Those dark eyes seemed to mirror her own feelings about this set up.
As the Ref started going over the rules for them. "OK, now listen closely, blah , blah, blahh......"
Cinder's Hentai Outfit:
Alternate View:
Mayu couldn't help but to smile a bit as she watched her opponent, who appeared to be quite a lively girl. That pink outfit only seemed to emphasize her cheerful personality, so they might be getting along quite well together. The look Cinder gave her as they shook hand, however, gave the raven haired girl some sort of chill on her back. It's not exactly a mean gaze, but it did make her slightly nervous.

It's as if she's going to jump at me anytime and... ugh, better not think about that...

"Nice to meet you, Cinder-san!" she greeted, trying to give her best smile. "Let's have, uh... fun, together!" her words were slightly disrupted as she was reminded about the type of match they were in today. "Tee-hee~"

The ref went through the rules again, which was good considering that it's a bit complex compared to the standard match. Then it's time for the spray, and Mayu twitched slightly whenever she felt the perfume applied at her chest, crotch, armpits, and rear. That felt awkward, and for some reason she's now tempted to smell those parts, even her own armpit!

T-this is the effect of the aphrodisiac...?
Cinder was thankful that the Ref was going over the rules again. She had missed most of it the first go round, having spent most of that time admiring Mayu's slender sexy body.  Cinder was always a sucker for a slim, beautiful woman.  And the way that you could just see a hint of her pert nipples under that tank top was a wondrous sight.

So this aphrodisiac will affect your mind in some way, the Ref was kind of vague on that point,  that could definitely leave you vulnerable to your opponent.  Also for the penalty part of the match, she could definitely imagine a few choice holds that she would like to put little Miss Mayu in for the 10 second penalty, if she could get her to tap out or submit.   Looks like it will be a fun match for sure

Cinder was getting a spritz of the aphrodisiac in all the places specified in the rules and she closed her mouth and pinched her nose shut every time that she was sprayed. "Hey that's cold!!", she giggled. Winter told her to not inhale that stuff no matter what, it would be bad enough just getting the exposure during the match.  She had to think of an edge so that Mayu got significantly more exposure than she did.

She was so excited about this match starting that she was literally hopping from foot to foot, "I need to save some of this nervous energy for the match." Cinder chided herself.  Her opponent seemed to be the essence of calm, Cinder guessed it was not that big of a deal for a pro like her.  

She was so tempted to take a little sniff of the spray, she was just moving her nose over to her arm when she saw Winter vehemently shaking her head "NOOOOO!!!!".  Reluctantly, like a child that has been chastised,  she returned her focus back to Mayu and began her planning.  Noodling her arms and fingers, she loosened up her muscles as she prepared to attack at the sound of the bell.
Mayu managed to fight the urge to smell herself for now, but she hadn't been paying attention to Cinder while the girl was getting sprayed because of that. By the time she looked at her opponent, the ref was already signaling for the bell, which was sounded seconds after. Rather abruptly, the raven haired girl assumed her grappling stance and took some distance from Cinder. Ugh, focus, focus...!

She didn't want to think about how it'd be when she's exposed to a sprayed body part of her opponent for real. At least not now. Even the air around her somehow felt different thanks to all the spraying.

Mayu decided to take the initiative, or at least, try to. She'd leap forward, attempting to lock arms with Cinder to test the water first. Her start might have been a bit delayed, but hopefully the other girl had to adjust herself too in this rather unusual environment...

"Hyaahh!"
"Ding.....", the match had finally begun.  Cinder was already fully loosened up and as soon as she heard the bell she was approaching the middle of the ring to see if she could get Mayu to put her hands up for a fingerlock contest.   She really wasn't sure how strong this girl might be and it was always good to find out early.  

"Hyaahh", she heard Mayu yell as she sprung across the ring to lock up with Cinder.

Cinder was not prepared for the quick attack that Mayu presented her with, so she was thrown a little off balance by the sudden force of the other girls quick hands grabbing her shoulder and bicep.  She quickly caught her balance, and brought her face in line with her opponent's until they were only inches apart.  "Grraaahhhh", Cinder let out as a battle cry in response.  They were practically the same height, but Cinder did have a slight weight advantage which might come in handy.  

Her opponent clearly was determined to try to take Cinder down. She stared straight into Mayu's eyes in as blatant a challenge as she could muster with her pretty face.   Cinder attempted to bring both of her arms quickly up through the middle of Mayu's and circle down to the outside of her grip, hopefully going against the weak link in the chain, her thumbs, she might be able to break the hold.

She was already planning to face off with Mayu for a test of strength to show this girl who had the strength here in this battle, "hopefully, "she thought with less conviction than she would have liked.
"Unngghh..." Mayu grunted as she's met with Cinder's resistance in the lockup, gritting her teeth as she tried to push the girl harder.

It seemed that her opponent had the advantage in terms of physical strength, though, so the raven haired girl had to utilize another tactic to get the upper hand here. That's not too much of a problem as she's faced a couple of much stronger opponents.

Mayu would attempt to twist herself to the side, aiming to drag Cinder along with her movement slightly and throw the girl off balance. One of her legs would then lash at her opponent's, hoping to sweep Cinder's supporting limb and take her down with Mayu crashing on top of her.
Cinder was smiling to herself as she easily was a little stronger than the slim waif,  alas sheer strength is not always the winner of the battle she well knew.  As she reviewed in her head what she knew about Mayu, she suddenly remembered a key point.  JUDO!!!!

"whhhhooooaa", Cinder hissed as suddenly there was nothing there for her to push on, Maya had smoothly sidestepped her like a matador and let Cinder's own momentum take care of the rest.  As she stumbled forward, still gripping on to Mayu for support, she thought that she might just be able to hold onto the girl and maybe whip her back around into the ropes.

Other thoughts soon took precedence as she felt her leg being swept out from underneath of her and she became airborne.  "Boy is she fast", Cinder thought in the midst of her slow motion flight.  Once she was in the air, she didn't know whether it was better to keep the grip on Mayu or try to get separated from her.  Her instincts for self preservation made her hold onto the girl and try to bring her down also.  Which might end up being a bad idea, since Cinder also remembered that Mayu was just about an expert in submission holds.  Maybe she should have paid a little more attention to these things about Mayu, as they now seemed to be pretty important.

"oooooommmmpphhhh", Cinder went down back first into the mat, with Mayu crashing right on top of her.  Whatever air she had been trying to breathe was suddenly floating away forcefully from her lungs.  "This can't be good at all", she mumbled to herself as she lay there, her grip on Mayu now released from the impact and Cinder slightly dazed from that unexpected reversal of fortune.
"Uff..." Mayu let out a puff as she landed on top of Cinder, breasts to breasts.

Thankfully she wasn't too full in the chest department, which was quite helpful when it came to landing roughly on her front. Slightly smirking at her downed opponent, she'd start shifting herself up, aiming to straddle the girl's belly while trying to pin Cinder's arms with her hands.

Obviously, Mayu knew better than to try going for a pin so early in this match. Nope, that would barely work. So she'd pull her opponent's upper half instead while sliding herself a bit lower, aiming to use her legs to squeeze Cinder's waist with her legs while sitting on the girl's legs. She doubted she could get a submission either, but this would be a nice start from her perspective.
Cinder fought to catch her breath so that she could form some kind of defense. Mayu was all over her so far in this match and they were not even a full minute into it. She would have to do something to slow this girl down so that she could better deal with her. The first thing that she needed to do was regroup, and in order to do that she had to get away from her somehow.

Once she opened her eyes fully, she saw Mayu smirking down at her as she straddled her belly. Cinder felt her wrists being pinned by Mayu as the girl leaned forward over her. "For someone so slender she had a very good grip," muttered Cinder. The "Flower" was obviously setting her up for something worse than a mere school girl pin.

Mayu had to lean over to keep her weight on Cinder's wrists and that just might give her an opening. At the apex of Mayu's lean, Cinder would bridge up suddenly and twist her body trying to buck the lightweight girl off to the side. Hopefully if she used enough force Mayu would loose her grip on Cinder's wrists and she could roll away to get a little distance from her. Otherwise she knew that she would be in the perfect position to get caught in a scissor hold around her waist, but she had to do something.
Page 1 of 11 • 1, 2, 3 ... 9, 10, 11



Similar topics
---
Permissions in this forum:
You
cannot
reply to topics in this forum