Champions & #1 contenders
Match for Takeichi
Tue Jun 12, 2018 6:13 am by GrandAkumaShogun
So with my other two guys having their own matches I figure I should do something with my first character on here, Takeichi Mori. If anyone is interested feel free to post here or get in touch through a pm so we can plan it out. I can either have Takeichi remain a jobber or begin to work him towards being a more serious competitor.
Comments: 1
Kawaii Opportunities
Sun Jun 17, 2018 3:04 pm by Daaharu
Hey, guys!
With the kawaii title match at Avalanche taking on an interesting wrinkle with the interruption by the Brat Pack, we are moving forward with the overall kawaii storyline, and at this point I'd just like to take stock of what kawaiis are out there that are interested in participating in a cohesive storyline.
Can't make any promises about titles or what exactly each girl's given role would be. We can talk a little more about the specifics of where the story is going soon, but I …
[
Full reading
]
Comments: 2
Match or RP?
Wed Jun 13, 2018 3:48 pm by Lotuswarrior
I'm just looking to do something while I wait for match replies. Really want to get some characters cemented a bit with a rival or some interactions with other characters here.
If anyone wants to do something hit me up.
Comments: 0

Name: Felina Rodriguez
Sex: Female
Age: 26
Eyes: Green
Hair: Brown
Height: 5'10"
Nationality: American (Puerto Rico)
Alignment: Face
Entrance Music: Avalancha by Heroes del Silencio
Wrestling InformationPhysical Stats
Endurance: 4/5
Strength: 3.5/5
Speed: 4/5
Defense: 3.5/5
Technique: 4/5
Wrestling Stats
Strikes: 5/5
Submissions: 3/5
Powerhouse: 3/5
Aerial: 2/5
Counters: 3/5
Fighting Style:
Felina has trained as a kickboxer for most of her life. She's an extremely proficient striker, especially when it comes to using her quick and powerful legs. She focuses much of her effort on breaking down her opponent's limbs to soften them up and weaken attacks sent at her later on, though she'll target the head or torso when possible both to keep her foes guessing what she'll do next, and of course to wear them down and set them up for an eventual knockout blow. While not the most technically proficient as far as pure wrestling is concerned, Felina can pull out some submission moves now and then to help her wear down an opponent, though she much prefers striking as her method of attack. She's not above using erotic tactics in her matches from time to time, but only does so sparingly.
Preferred Match Types: Anything
Favored Moves:
Punches and kicks in general, knee strikes, rear naked choke, armbar, dropkick, enziguri, triangle choke
Signature moves:
Roundhouse Kick: Exactly what it sounds like. Felina swings her leg up and blasts the opponent in the head or face with a vicious kick.
Spinning Backfist: Again, pretty self explanatory. She spins while swinging the back of her fist right at the face of her opponent
Finishers:
Tornado Kick: Essentially a spinning roundhouse kick. Felina spins while lunging toward an opponent, getting extra momentum behind her leg as she swings it at the target's head or face.
Whiplash: After taking a running step or two toward the opponent, Felina leaps up while driving a knee up into the target's face.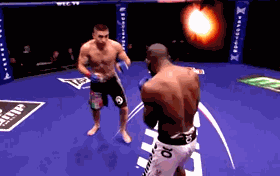 Personality:
Felina is a very confident girl, both in her looks and in-ring capability. At times she can almost come across as arrogant, but she usually does a good job of avoiding crossing that line. Despite her looks, she's actually quite a tomboy. She can be a bit sarcastic and a smartass at times, though it's always in the interest of simple humor. Outside the ring she can be pretty carefree, fun loving and adventurous. But once the bell rings, she's focused on her opponent and whatever she needs to do to win. Although, depending on her opponent or how the match is going, she may try to open up and have some extra fun with the fight, often at her opponent's expense. She's no seductress, but she doesn't see anything wrong with teasing her opponents either physically or verbally from time to time. Like everyone else in the family, she was bred to fight, and absolutely loves to do it. The only thing more important to her than fighting is her family. Although, she's always had a bit of a competitive rivalry with her cousin, Armando ("Army"), since the two were little, and that always seems to find a way into things whenever the two meet.
History:
Felina grew up with two older brothers, which very much inspired the tomboy nature she developed over the years. But the Rodriguez family is one that for generations has been breeding men into elite fighters. Men, not women. So her father poured his soul in training both her older brothers to become boxers, but refused to teach her. But, that didn't last too long. Her brothers knew she wanted to fight just as much as them, so they refused to train with their father anymore unless he included Felina as well. Reluctantly, he agreed. That was one problem solved, but then another became apparent: Felina didn't have the natural talent for boxing the rest of the family seemed to have. She wasn't bad, per se, though it quickly became clear she didn't have the kind of potential her brothers did. She didn't win nearly as many fights, and the victories she did pick up usually weren't overly impressive. However, while she didn't have what her brothers did, what she did have were a pair of powerful and quick legs. So, she decided to take up kickboxing. The turnaround that followed was almost miraculous. Felina's legs were lethal in the ring, and though this style was a bit different from the traditional Rodriguez mold, the success she started having was soon even enough to make her father proud.
Felina spent several years making a name for herself and rising through the ranks in kickboxing. She wasn't undefeated, though the wins she picked up vastly outnumbered her losses, and she even managed to win a couple titles during that time. Eventually, she heard her cousins Armando and Carmen suddenly decide to go to Japan to transition into pro wrestling. Initially, she laughed at their decision, and thought they were throwing away their careers. But the more she saw their matches on TV, the more intrigued she became by the AFW. Army and Carmen weren't trained to be grapplers, but even still, the level of competition they got from their opponents seemed much higher than in the boxing scene. Eventually, following their progress got Felina interested in joining too, and she started incorporating grappling into her training in preparation. She soon got in contact with AFW officials, who didn't waste much time in offering her a contract once they knew she was related to Army and Carmen. She packed her things and bid her family in Puerto Rico goodbye, and was off to start the next chapter of her career, as a professional wrestler for the AFW.
Fun Facts:
Felina's first official boxing match ended in a double knockout five seconds into the first round. She and her opponent both threw and landed hard a right hook simultaneously, which dropped both girls instantly. It was one of the most embarrassing moments of her life.
While spending most of her life fighting, she also had a brief stint as a fitness model. She liked the attention it brought her, but grew bored of it fairly quickly and gave it up.
Any time she and her cousin Army are together, some type of contest ensues. In the past these have included everything from races, thumb wars, and breath holding contests, to full on fights.
Appearance:
Record:
3-0-0
Wins:
vs "Army" Rodriguez
via pinfall (Whiplash)
vs Daisuke Takeuchi
via pinfall (Piledriver)
vs Jacob Blake
(24/7 Match) via pinfall
Losses:Draws:Other Events:
Rodriguez Reunion
- Having just signed with AFW, Felina makes the big move to Japan and is reunited with her cousins, Carmen and Army. And her friction with Army leads to Felina throwing down a challenge.
Getting Adjusted
- Felina trains in Tension's gym for the first time, and meets a new potential friend.
You're in a Wrestling Ring!!
- Felina has a less than friendly spar in the gym with Daisuke Takeuchi after the "wrestling prince" insults her credibility as a fighter.
Dolores Reales
- Felina has serious doubts in herself following her spar with Daisuke, and gets a desperately needed pep talk from Carmen.
Matches/Events in progress:Championships & Accomplishments:Friends:Allies:Rivals:Enemies:Crushes:Lovers:Relations:
Elonzo Rodriguez (Father)
Vinita Rodriguez (Mother)
Alejandro Rodriguez (Oldest brother)
Santiago Rodriguez (Older brother)
Carmen Rodriguez (Cousin)
Armando Rodriguez (Cousin)



Posts

: 4657


Join date

: 2014-11-13


Age

: 25





Similar topics
---
Permissions in this forum:
You
cannot
reply to topics in this forum