Who is online?
In total there are
29
users online :: 6 Registered, 0 Hidden and 23 Guests :: 2 Bots
acuya
,
Cicilia
,
Cy_Man
,
LunarWolf
,
SimplyMoon
,
Yori
Most users ever online was
390
on Tue Jan 02, 2018 2:02 pm
Champions & #1 contenders
Looking for a debut (Tag Match)
Sun Jan 14, 2018 10:29 pm by Person
I am looking for a debut for my new tag team:
Rulers of Divinity
Something to build them up before I start their main feud.
Comments: 0
Trying to get back into the saddle.
Sat Jan 13, 2018 8:11 pm by Deus001
Hi all. Deus here.
You may have noticed I am a bit quiet on the forums these days. My parents split up, I split up with my girlfriend and moved house. I am moving house again in February as well. 2017 was one slow motion punch to the dick for me and my balls are still numb to be honest.
However now that I have some semblance of normality I felt why not see if anyone wants to talk RP ideas, I have a long work week ahead but a clear weekend it seems. If you have any ideas you want to do send me …
[
Full reading
]
Comments: 3
Post Delays after Winter Storm
Sat Jan 06, 2018 4:38 pm by BrittanyW
Cause the best thing after coming back from holiday is for a bomb cyclone to hit where you are. -_-
So yeah, expect more delays of posts and stuff while I have to sort out problems from this shit.
Fuck my life.

Comments: 1
Page 1 of 6 • 1, 2, 3, 4, 5, 6

Preceded By:
SS 15 Softcore Tournament Round 1: Amaya Vs. Masako
Followed By:
SS 15 Rewind! Panther Risako Vs. Chris Morgan: Wrestle Angel Battle!
Kagami Celeste:



Vs.

Serina Kashibara: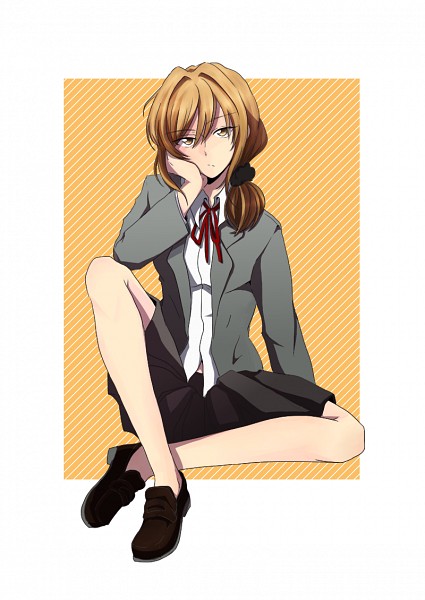 Match type: Softcore Smother
Winning Condition: Smothering the opponent unconscious with any part of the body
Special Stipulation: The loser will face a Penalty. They must worship the relative body part of the winner as they see fit
Last edited by Tatyina on Fri May 27, 2016 9:23 am; edited 1 time in total



Posts

: 27333


Join date

: 2009-04-02


Age

: 97


Location

: VIP Box inside the AFWDome



Kagami stood backstage waiting for her match to start. Smother matches were not something new to Kagami as she had been in a quite a few recently. Kagami soon heard her music began to play and Kagami stepped out into the arena to the cheers and catcalls of the crowd. Kagami walked down to the ring with a determined look on her face as she wanted to win this match and advance in the tournament.

Kagami entered the ring and turned to face the entrance as she waited for her opponent to arrive. Kagami was going to smother whoever came out of the entrance and Kagami was going to do her best to avoid the humiliation that a loss would bring on her.
After her rather infuriating loss against Lucy, leaving her record even worse than before, Serina was desperate to get in another fight to try and redeem herself. At her manager's suggestion, she even signed up for this ridiculous tournament. To her, she thought the title of "Softcore" sounded, well... soft. But, at her size even she had to admit she probably stood no chance against those behemoths in the Hardcore division, and she avoided that nasty hentai crap like the plague, and so she had to find her stage somewhere.

Actually having read the rules of the match for once, Serina knew she was in for a smother match. It wasn't exactly her style, but she figured she could just beat the shit out of whoever she was facing and then just put them out with a face sit, a 'strategy' she had used once before. Albeit that time also ended up with some bite marks on her vagina, as long as she wasn't up against some gross, shameless lesbo again, well... she just hoped it wouldn't come up.

Emerging to her heavy metal jam, and dressed in her usual outfit, Serina marched cockily down towards the ring, where her opponent was already waiting. Climbing up into her corner, she peered over to size up her victim for tonight, only to be visibly disappointed.

"What the fuck? Did they seriously pair me off against some brat?" Serina scowled loudly, insulted by the presumed notion. Management must have been mocking her, thinking she could only handle some little kid.
Kagami didn't have to wait long for her opponent to arrive and Kagami had to admit that she was a little nervous as her opponent made her way down to the ring. Kagami however was determined to prove herself and she stood tall as she watched Serina enter the ring. Kagami moved towards the center of the ring and she clenched her fist as she was called a brat. "Hey, i am not a brat. Besides it is better than being a bitch." Kagami said as she stared Serina down while waiting for the match to start.
Serina just sneered back at Kagami, "Whatever, brat. This bitch is about to kick your ass." Cracking her knuckles, she advanced forward to meet Kagami in the center of the ring. Having a bit of a height advantage, she looked down on the smaller girl, with a taunting grin. "If you think you're so fucking tough, let's see what you can do!"

And with that, the bell sounded, beginning the match. Wasting no time, Serina suddenly lashed out with both arms, grabbing at Kagami's top while at the same time sweeping her legs, attempting to slam her to the mat with a basic judo takedown.
Kagami locked eyes with Serina "They only thing you are going to do to my ass is kiss it after i smother you out under it." Kagami said as she childishly stuck her tongue out at Serina right before the bell rang.

Kagami was bout to make a move towards Serina but Serina was faster and with her size advantage Serina would toss Kagami down to the mat with a judo throw.
"Fat chance of that!" Serina laughed as she slammed Kagami down against the canvas. Wasting no time, she quickly moved to straddle the smaller girl's chest and pin her down. "Got you!"

Raising her arm, she swung downwards, aiming to catch Kagami across the face with a hard backhanded strike.
Kagami groaned on the mat as the sudden trip to the floor had her disoriented. Kagami was about to sit up when Serina's larger frame straddled Kagami's chest causing her to shift uncomfortably beneath her opponent. "Get off of me." Kagami said with a groan as she tried to push Serina off of her.

However, Kagami's struggles imemdiately stopped when the backhand slapped across her face stunning Kagami for a moment. Kagami's head had snapped to the side and one of her hands moved to rub her sore cheek as she turned to look at Serina. "I am going to get you for that." Kagami said from her trapped position.
"I'm hearing a lot of talk, but I ain't seein' shit!" Serina continued to taunt, shoving her palm into Kagami's face and pressing her head down against the mat. At the same time, she reached her other arm behind her, bringing her fist down hard into the trapped girl's midsection.
Kagami grunted in piscomfort as Serina pushed her head against the mat. Kagami was about to say something to retort but Serina's fist burying itself in her stomach cut Kagami off. Kagami let out a few coughs before gritting her teeth and swinging her legs up as hard as she could to try and kick Serina in the back to get the girl off o the trapped Kagami.
Page 1 of 6 • 1, 2, 3, 4, 5, 6


Similar topics
---
Permissions in this forum:
You
cannot
reply to topics in this forum