Champions & #1 contenders
Highfly Flying Out Of Town
Tue May 22, 2018 1:31 am by HighFly
Hello everyone, I just wanted to inform all I have threads with that I will be gone from this coming Wednesday through Sunday. I won't be able to post consistently if at all during this time, but I will try to make up for it next week! I am sorry for the inconvenience to everyone.
Comments: 7
The Austrailian Mudslide is Back.
Sat Apr 21, 2018 6:20 am by Softsquad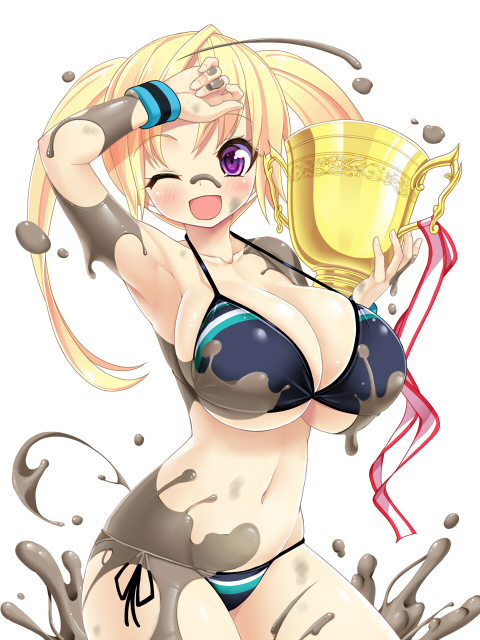 Granted that most of you won't know me or remember me, but I've had a few matches here and there some time ago. Well I think its time to become a regular around here and try to have some fun again, but at the same time keep coming back. Anyway I think its time to jump into some matches with Zoe Taylor, my mud wrestling character from Australia and get her back into the squared circle. Furthermore I will update my characters as I think some proper changes need to happen.
So if anyone would …
[
Full reading
]
Comments: 5
Page 8 of 9 •

1, 2, 3, 4, 5, 6, 7, 8, 9


One distinct disadvantage of having come into this round on the losing end of the last one was that Gwen wasn't exactly coming into this final bout fresh as a daisy. Even with the allotted time given between rounds for her to recoup, the heiress still felt the lasting effects of Julia's offensive surge before being pancaked to the canvas. The rush of adrenaline that encapsulated her senses numbed those pains to an extent, but whatever momentum that Gwens rage-fueled assault may have gotten her would come to a crashing halt once the spine buster did what it's name suggests.

"Nngh..." Gwendolyn breathed out a sigh of relief from the noticeable absence of the dojo lackey weighing her down. Although being unaware of where Julia was did instill a certain amount of urgency to get back on her feet. Lethargically rolling to her side to push herself upward off one elbow, Gwen blinked sharply from the burning sensation of sweat in her eyes. Giving her a fuzzy and distorted vision that could barely make out what was in front of her before the roundhouse kick seemingly came from nowhere to collide across her masked face. The dazing blow left Gwen a prime, X-shaped target for the followup moonsault almost immediately  afterwards.

"Oooph!!" Curling up beneath the cowgirl after once again having her well-toned midsection splashed down upon, the squashed heiress resorted the last of her energy reserves into retreating, rolling away in the direction of Julia's legs. By some manner of sheer happenstance the ropes were in close vicinity, Gwen clasping onto them tightly to steady her groggy ascension. With Gwen almost buckling back down to one knee even with the additional support, the entirety of the arena erupted from the shocking sight of the Entropy champion literally on the ropes with as of yet no answer for Julia's fleet-footed offense. The rattled heiress stumbled back to her corner with the ropes as a guide, slouching against the turnbuckles in an exhausted slump with her back to the cowgirl luchadora...
Another round of cheers burst from the crowd in Julia's favor as her boot smashed into Gwen's skull to put the heiress on her back again, and immediately followed by crashing down onto the Entropy Champion with a standing moonsault! The aristocrat had come at Julia at full speed right from the start of this final round, but all she was able to get for her efforts was more punishment at the hands of the challenger.

However, while Gwen clearly wasn't in peak condition at the moment, neither was Julia. The cowgirl was feeling the fatigue from this war, and the landing of the moonsault had also knocked a bit of wind from the luchadora's sails too, even if she didn't get the worst of it. She intended to go for a pin, but just as she was about to try it, the heiress went rolling and was quickly out of reach. "Dammit..." she muttered under her breath, cursing herself for not acting quicker. Now Gwen was already in the corner and picking herself up. But, she looked completely spent and gassed. Adrenaline might've carried her that far, but Julia felt certain she had an easy target in front of her just waiting to get blown away.

"Still think I'm nothin' but a glorified substitute?" Julia asked with a grin while getting in position facing Gwen, standing about half the length of the ring away form her. Then, not waiting for an answer, she charged forward with as much speed as she could muster. Once she was close, the cowgirl threw herself at her cornered foe in an attempt to splash right into Gwen!
With one arm cradling her battered abdomen, the heiress retreated back to her corner as if it were a holy sanctuary where she could gain a brief reprieve from this increasingly drawn out war. In one successive swoop Julia had reignited each and every one of Gwens lingering aches and pains from the last round, as if the recovery time between rounds had never happened. Whether intentional or not, it was more than enough incentive for Gwen to fall back and attempt to regain her senses.

Anyone with eyes and a general feel for the tempo of a match could surmise just from the lethargic movements of both competitors that this round was not going to be anywhere near as drawn out as the previous ones. Events winding down where one false misstep or dynamic finisher was all that was needed to put a pretty bow on this match, a competent betting man definitely putting his money on the dojo lackey at this point.

Cornered and exhaustively slumped against the turnbuckle, Gwen remained eerily tight-lipped as the brash cowgirl tossed the heiress' own words right back at her. Though she did slyly turn her head just enough to shoot her cocky opponent a spiteful glare, she remained otherwise motionless with her slackened legs clear evidence that she was incapable of staying upright without the support of the ropes. A seemingly helpless target with no means of fighting back...

...and a role Gwen seemed to continue to excel in portraying. The heiress flashed a malicious grin as she collapsed to the floor the instant Julia took flight, revealing that the top turnbuckle had been completely removed and leaving only metal wiring to greet her crash landing!!!
One spiteful glare from Gwen was more than enough to answer the cowgirl's rhetorical question. Would the heiress ever openly acknowledge that she was wrong in her original estimation of Julia's ability? Not likely, but she didn't have to. To this point the dojo trainee had given Gwen everything she could handle, and now had her cornered in the final round. Whether the pompous aristocrat would ever admit it or not, Julia knew that somewhere deep in the back of her foe's mind, the heiress understood that Julia was a threat to take seriously.

And as the luchadora soared through the air toward the cornered champion, for a moment it seemed certain Julia was about to crash into Gwen and blast her battered torso with a fresh surge of pain. From there, the end would seem all but inevitable, along with the crowning of a new Entropy Champion! Julia could already see it, until a different sight completely derailed the thought.

She noticed the grin being flashed and immediately knew something was wrong. But before she cold figure the details out and react accordingly, Gwen was suddenly gone and Julia was smashing face first right into a now-uncovered turnbuckle! "AGH!" she screamed out in pain while stumbling back and collapsing onto the mat, feet kicking against the canvas as her hands moved up over the aching spot on her skull. Once again Gwen's damsel in distress act had successfully baited Julia into a trap, a fact that stung the cowgirl just as much as the pain in her head.
The collective majority of the audience gasped in shock not just form the sudden reveal of Gwen's dastardly ploy, but from the disturbing image of Julia's masked face bouncing off nothing but metal wiring!! The devious heiress herself would collapse to the side and lay her back to the bottom ropes, crossing her sinewy legs with her arms hanging loosely behind the ropes in a relaxing pose as if she were soaking up the sun on some secluded shoreline. Instead of radiant sunlight though she was basking in the boos and jeers raining down upon her from the underhanded tactic.
Despite the fact that even the nationalistic fans in attendance were voicing their disapproval in their hometown representative, Gwen muted them out at the moment by reveling in the glorious aftermath of her actions. The fire in her chest cooled down with every exhausted breath, eventually tilting her head back and laughing maniacally from how effectively her plan unfolded. The excess amount of time she rested at her corner was spent more than just recuperating, but also stealthily loosening the strings of her top turnbuckle beneath her golden curls to further obfuscate her actions.
After catching her breath and flicking the turnbuckle cushion in her hand out of the ring, the heiress crawled forward with a predatorial glint in her hazel eyes. Her muscles ached and the fatigue of this blasted match shone through and nearly made her incapable of rising up to walk to her anyway. Once at Julia's side, Gwen would clasp onto the cowgirls arm and flip her over so she was laying on her stomach. Lifting Julia's left leg to trap her limb between Gwen's thighs, the heiress shuffled herself over to drape herself atop Julia before clamping her hands across the impudent cowgirls sore face. Before wrenching in the STF though, Gwen would lean closer and whisper a fitting retort to Julia's earlier questioning in a sultry tone.
"My apologies...you're not just a glorified substitute...you're every bit the loathsome, pathetic, cowardly wretch that Cassie was. Unworthy of licking the grime off my boots...now
TAP!!!
" With every last ounce of strength, Gwen would torque in the STF and apply intense pressure on Julia's neck and spine!! Her interlocked grip across the cowgirls face exasperated any facial injuries from her earlier head bashing, the submission applied square in the middle of the ring as well!! Her "wounded gazelle" gambit had worked out perfectly, but it was a small miracle that Gwens backup plan came through for her. Now she needed to capitalize on what was perhaps the last opportunity of the night for her to walk away Entropy Champion...
There were a good number of fans in the arena yelling at the ref for failing to notice Gwen's underhanded tactic or even reprimand her for it. But on top of being an excellent actor, the heiress had also happened to be at an angle that masked her hand from the ref's line of sight while in the corner. As far as the ref knew, it could've happened completely by accident. Highly unlikely, but with no absolute evidence to convict the Entropy Champion otherwise, the match continued.

Too busy writhing in pain while covering her pain stricken face, Julia didn't even notice her adversary closing the distance between them. And suddenly, the cowgirl was being rolled onto her stomach, and her leg was wrapped up. Julia felt Gwen's weight settle over her back, and finally had a pretty good idea what was coming. But she wasn't nearly quick enough to act, and the aristocrat's hands wrapped themselves around Julia's masked face. However, before pressure was applied to the hold, the luchadora was forced to listen to Gwen insult both her and Cassie once again.

Julia would've loved to tell the pompous champion just what she thought about it, but all that came from the challenger's mouth was agonized screaming as Gwen pulled back to apply pressure to the STF, painfully bending the cowgirl back. "AAAAGGGHHHH!!!" she cried out, instinctively moving a hand to paw at Gwen's in a likely futile effort to pry it off. Within seconds the ref was kneeling by Julia asking if she wanted to submit, only for Julia to respond by screaming out, "NO!"

The ropes weren't extremely far away, but with Julia as tired as she was combined with Gwen's full weight on top of her, that was a journey that looked considerably longer, and no doubt would feel like it too. Regardless, it seemed to be Julia's only chance to stay in this match and keep her chances of becoming Entropy Champion tonight alive. So, slowly but surely, the luchadora dragged herself forward with her forearms, grunting out with each movement along the way. Fans were clapping and cheering, egging her on as she went. Just when she was almost there, Julia's progress momentarily came to a halt, and she again screamed out as the pain of Gwen's torturous hold continued to surge through her. Again the ref asked if she wanted to surrender, but Julia simply wouldn't. "NEVER!" she shouted in response, before pushing herself back up with her hands, then made one final push toward the bottom rope and slung her right hand out to grab it!
The heiress ruthlessly wrenched back on the hold until the cowgirls neck was curved backward to it's utmost limits, squeezing her eyes shut and gnashing her teeth from how much of a strain she was putting on the hold. Feeling Julia's spine quiver from the arching contortion gave the heiress fleeting hope that this was to be the culmination of this horribly exhausting affair, the entire ordeal absolutely worth it if she could make the cowgirl tap out to her!!

"ENOUGHHHHH!!!" Once the arduous trek towards the bottom ropes began, Gwendolyn redoubled her efforts with a shrill scream of her own. The heiress' petite frame made the agonizing crawl somewhat more bearable, though at times she Gwen would intentionally relent for a brief second just to reapply it once more to mentally torture the cowgirl further. Every obstinate refusal and creeping forearms to the ropes only rallied more Englishmen to her cause with rhythmic stomps and applause until Julia finally grasped the bottom rope!! The roar from the audience practically tore the roof off the stadium, enough for Gwendolyn to finally take notice and relent in the hold of her own volition, not because the referee was close to ending the 5-count.

She propped herself on her knees and scanned the crowd to a truly disconcerting sight...nearly all the English loyalists that were previously in Gwendolyns camp had jumped ship...not a fan in sight showed a sign of disappointment that the heiress was unable to make the cowgirl submit. She remained wide-eyed and in a state of shock, never having felt so lonely with so many of her own countrymen around her. Eventually though her stunned silence would fade away, knowing exactly who to blame for this travesty...

"YOU!!! THIS IS ALL YOUR FAULT!!!" In a spite-fueled rage, Gwendolyn would pounce atop Julia's back and clench her fuzzy locks before repeatedly banging her head against the canvas!! The referee immediately chastised Gwen and shouted warnings of a disqualification, but it was obvious to anyone with eyes that Gwen had lost it. She wanted to make the cowgirl suffer for upstaging and usurping the audiences attention away from her!! Nothing else was occupying her mind, not even winning the match...

After rattling her skull with those sickening face slams, Gwen tucked Julia's neck upward and in the crook of her arm in a makeshift headlock. Enough to immobilize the cowgirl but leave her pretty face on display so see the entire world could witness what was about to transpire. Before Julia could mount any credible resistance, the cowgirl would feel tugging on the back of her head as Gwendolyn would start to furiously untie and loosen Julia's mask, yanking it off completely and raising it high above her!!
Each time Gwen reapplied the pressure of the agonizing STF drew a fresh scream from Julia's lips in reaction as her body was bent back. Yet still she pursued, refusing to succumb to the pain, and unwilling to submit to the heiress! This match was for much more than just the cowgirl, after all. Her parents, who had raised her into pro wrestling from the very beginning; her mentors and friends in the Higurashi dojo; and her boyfriend were all rooting for Julia, confident she would make them proud. Hell, she had even managed to win this seemingly pro-Gwen crowd over to her cause. The luchadora wasn't about to let any of them down so long as she had an ounce of will power left in her being!

When her hand finally grasped the rope, the crowd exploded in thunderous cheers and applause. And she held onto the rope for dear life, gritting her teeth and fighting through the pain as much as possible as the heiress milked her hold for everything she could get out of it. Then once Gwen's weight shifted off of her and the STF was released, Julia took several big breaths while still clinging onto the bottom rope. Hang in there! You can do this! she thought to herself, feeling confident she could turn this around in her favor if she just stayed calm and held on just a little while longer.

But unlike Julia, Gwen had lost any and all motivation to keep her calm any longer in this match. And while the luchadora expected her foe to back away so she could get up, she instead felt the aristocrat pounce onto her back again and grab onto her long golden locks. Before Julia could even attempt any sort of defense, her head was suddenly brought smacking into the ground, then again, and again, and again, each collision to the mat drawing an agonized shout from Julia. And all the while the ref was throwing warnings of disqualifying the defending champion. Gwen finally ceased her assault momentarily, but she wasn't done with Julia, who was currently too dazed to immediately know what was going on.

Julia then felt something moving against the back of hair, as well as her mask shifting against her face. It took a few moments to realize that Gwen was trying to take off her mask. But when realization finally hit, Julia's eyes went wide with shock and she quickly tried to bring her hands up to keep the mask in place, only for it to slip off her head just before she could prevent it! Fortunately she managed to get a hand over her face to cover it as much as possible, but that wasn't the important issue here. Julia knew what Gwen's actions meant, and with her free hand she waved to the ref to try to get her attention to stop her from disqualifying the heiress. "Wait! Don't--!"

Ding ding ding!
Too late. Julia froze there on the mat, mouth agape and one hand over her unmasked face as the official announcement she was afraid of was made over at the announcers' table.

"Ladies and gentlemen, your winner by disqualification.... JULIA ROGERS!!!! .....However, a title cannot change hands on a disqualification. Therefore, STILL your Entropy Champion..... GWENDOLYN DUPONT BETTENCOURT!!!!!!"

Julia was utterly speechless. How? How could she have come so close, and even won the match, yet still failed to capture the Entropy Championship? After all the confidence and promises, and the strict stipulations designed specifically to prevent a tragedy like this, Gwen's underhanded tactics had once again allowed her to retain the highly coveted Entropy Championship. All Julia could bring herself to do was bury her face into her hands, while her body began literally shaking because of the disappointment, sadness, and anger all rapidly welling up within her simultaneously...
While it appeared that thought driven logic had gave way to unbridled contempt for her opponent, a voice in the back of Gwens mind kept her aware of the implications of her actions. A voice imploring reason but would otherwise be wholly ignored with every frantic tug of the strings on Julia's mask. So blinded by her rage that at this particular moment she was willing to sacrifice her own winning streak just to ensure that the impudent cowgirl would leave this ring a shattered husk of her former self. In her preparation for this match the heiress researched the symbolism of a luchadora mask, and a prime target to strike at what the cowgirl holds sacred...

After further untangling, Gwendolyn yanked off Julia's crimson mask and stood back up with a grandiose flourish of her wrist. She stomped a boot between Julia's shoulder blades as she hung her trophy by the strings with a maniacal grin across her face. There was a brief, hushed silence from the crowd over what they had just seen, a cardinal sin and ultimate form of disgrace amongst the lucha libre culture having been perpetrated that night. No one quite knew how to react until the explanation from the announcer's table made the conclusion of this match abundantly clear...then they reacted. An endless cascade of boos and distinctly British expletives rained down along with tossed bits of rubbish pelting the ring. A disqualification victory was nowhere the satisfying conclusion that a match for the Entropy Championship deserved, especially one with half as many highlights this match had.

Even with the chaos erupting around them, Gwendolyn remained fixated on the quivering cowgirl beneath her. While her undefeated streak was in shambles, her penchant for leaving her opponents an utterly devastated mess by the time she was done with them remained intact. Eventually after some calming breaths soothed her blistering temper, the heiress regained some semblance of reason, now speaking in a much less bloodthirsty tone. "Sooo~...How does it feel to be victorious at your first pay-per-view? Everything you imagined, I hope~..." Gwendolyn lifted her boot and stomped once more on Julia's spine to ensure that remained stationary, remorseless to her whimpering. "There, now you've truly taken Cassie's place. But sear this into your memory...I allowed you to win tonight simply so I could impart this lesson unto you...what being an obstinate wretch who doesn't know her place will get you. But come now...no need to sully this grand unveiling with a case of shyness~..."

With one more brutal stomp, Gwendolyn would bend herself down to grab on to Julia's wrists. Stretching them far behind her, Gwen's boot remained positioned against the cowgirls upper back as she synced in a surfboard submission!! Now there was nothing to shield Julia's unmasked face from being showcased to the world, a cameraman at ringside begrudgingly zooming in on her tortured visage!!
Drake had gone from cheer and support to horror in such a short time. It wasn't anything Julia couldn't handle. He kept telling himself that. But that STF looked horrible, and hearing his girl scream like that was difficult to take.

'She's tough. She can handle it.'

She caught the rope, and a flitter of hope lifted his spirits. And at the very moment Gwendolyn began slamming his girlfriend's face against the mat, it left. Julia was put in a modified chinlock. Gwen's hand began fiddling with the mask.

Drake's eyes widen. His hands lift to his mouth, horrified.

"Nonono..."

The announcer makes the declaration. Julia wins, but with the caveat of no title changing hands. Her boyfriend remains silent, hands still in place, hiding teeth worrying over his lower lip. Watching Gwendolyn taunt with the mask and seeing Julia quake in the aftermath is heartbreaking.

Drake's already begun pushing the rest of the way out of the audience to approach the ring by the time Gwendolyn has decided to add further torture to her prey. And this time, the security personnel aren't getting in his way. As soon as the path is clear, Drake gets a clear view of the surfboard stretch in motion. "Ohmygod..." Without another second's hesitation, the young model surges to the ring like a bolt of lightning. With a dive, he slides under the bottom rope and springs to his feet to close the remaining distance separating him from his girlfriend.

If Gwendolyn doesn't release her and back off before he arrives, she may find a forearm slamming across her chest in a discus clothesline. The only warning she'll get is a roared, "BACK OFF!"
Page 8 of 9 •

1, 2, 3, 4, 5, 6, 7, 8, 9


---
Permissions in this forum:
You
cannot
reply to topics in this forum