Champions & #1 contenders
Highfly Flying Out Of Town
Tue May 22, 2018 1:31 am by HighFly
Hello everyone, I just wanted to inform all I have threads with that I will be gone from this coming Wednesday through Sunday. I won't be able to post consistently if at all during this time, but I will try to make up for it next week! I am sorry for the inconvenience to everyone.
Comments: 7
The Austrailian Mudslide is Back.
Sat Apr 21, 2018 6:20 am by Softsquad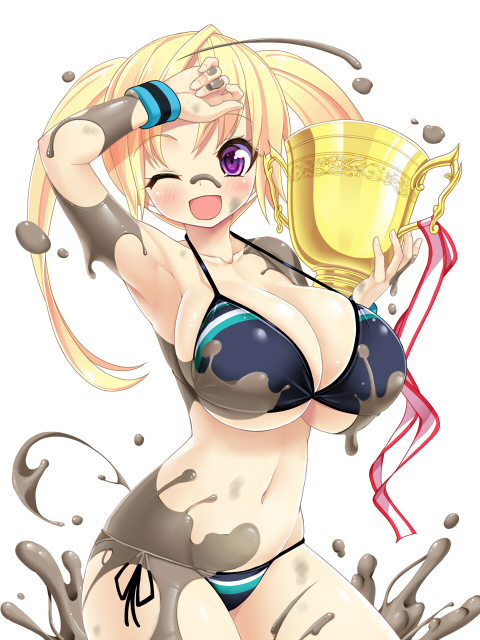 Granted that most of you won't know me or remember me, but I've had a few matches here and there some time ago. Well I think its time to become a regular around here and try to have some fun again, but at the same time keep coming back. Anyway I think its time to jump into some matches with Zoe Taylor, my mud wrestling character from Australia and get her back into the squared circle. Furthermore I will update my characters as I think some proper changes need to happen.
So if anyone would …
[
Full reading
]
Comments: 5
Page 2 of 8 •

1, 2, 3, 4, 5, 6, 7, 8


In a moment of rapture and genuine eagerness induced by the pleasures of her mild erotic domination, Ataru had temporarily forgotten that the terms he had accepted made him completely hers for tonight. And if he had thought that such rule was not to be meant in strict terms, then he was going to think it better soon enough.

Gasping in confused surprise as she suddenly boomed about broken rules and their consequences in terms of freedom, Ataru was quite shocked when she went down to practice demonstration of her words, sealing His wrists at the headboard. Cuffed like that, he was now really at her mercy no matter what...and being at the mercy of a sexy, craxy vixen like her was not a very reassuring thought.

"Uhhh...b-but..but I wasn't mean..mh!", he bit His lower lip in concerned nervousness to stop himself from talking, blushing like a scolded schoolboy at the idea that arguing would only earn him more punishment.
It was possible that such kind of shy, reluctant obedience by his part would pour fuel on the fire of Winter's lust too, and that was not entirely good for him...from a point of view.

Whatever, His attention was guided to other things right now, namely to suck her finger like a sorry little boy, his body responding with cute gasping and twitching at her teasing touch to his sensitive spots
"M-mnnn...*suck*..mm...*lick*".
"Well for number 'two'", Winter said with a slow sultry voice, "we will use this silk blindfold to leave you in the dark, I definitely can't lock that mouth away with a gag that's for sure." She reached under the pillow that Ataru's head was resting on and pulled out a black, silk blindfold that seemed perfectly fitted for his head. Winter lovingly tied the blindfold over his eyes and felt a great surge of power at having her Ataru totally at her mercy, he would have to place all of his trust in her for the night, she could do anything to him but she could only think thoughts of pleasure. "Remember Ataru, you can also gain these freedoms back with exceptional performances on your part," "The Wolf" reminded him with a growing feeling of warmth in between her smooth thighs.


She leaned over Ataru and placed her lips lightly on his, Winter could hear his sharp intake of breath with every unknown touch and movement. She lightly brushed her lips across his, feeling the heat from each exhale of his breath as she concentrated on tenderly kissing his mouth, his ears, his neck, his cheeks and his silk covered eyes. Winter then pressed her lips against Ataru's and began a longggg, sloowwwwww, sensuous kiss, as she played with his tongue and he followed suit, she could taste her essence on his tongue from his previous explorations of her now sensitive clit. All the while she slowly ground her wet pussy against the tip of his rock hard dick, feeling him press his hips up to her in anticipation of being able to finally enter.


"Not yet", admonished Winter, as she broke off the kiss with a pull of his lower lip between her teeth. She then began to resume her position on top by straddling his chest and sliding her wetness towards his mouth. She knew that he could tell what was coming his way, as his tongue searched furtively to find her. Once she reached his tongue, she controlled his access this time so that she could prolong his pleasuring of her pussy. She held his head by the sides and guided his tongue lightly to her waiting folds. "Mmmmmmmm," purred Winter contently, "nice and slow Ataru, nice annndd slowwwww".
Ataru would gasp in amix of fear, arousal... and a hint of kinky pleasure that left himself a bit suprised and embarassed, at the velvety touch of the silken blindfold getting tied behind his head with slow, practiced movements by Winter.

A sigh escaped from his lips, almost like in unhappiness at being unable to see his beautiful captrix anymore...but her lips would soon make it out with him, starting to tease him with slow, lovingly possessive kisses to each part of his face, mouth and neck.
Winter would surely not miss to notice the difference in Ataru's behavior now that he had been deprived of freedom of movement and vision. Gasping and moaning at each touch of her smooth lips and teasing lick of her tongue, her cute prisoner was not less aroused than before, but he was definitely more docile and submissive.

"owwww..... W-Wi...mnn...Master....", Ataru would moan in excited pleading at the slow sensuous grinding of her hips making his already energetic boyhood harder and more heated.

Then... once again his nostrils were tingled by the approaching of the unmistakable quality of Winter's love scent and that radiant, lustful hotness that he had come to knw so well and closely since from their match, until his mouth was finally kissed again by her wet, eager nether lips.

With her hands holding his head and guiding into her with slow and knowing movements, Ataru was made perfectly aware of who's leading their dance this time. As expected by the dominant beauty, his tongue started again to give her pleasure. A nice, sweetly obedient pleasure made of little kisses and careful, loving laps, not neglecting every inch of her intimate folds.
"mngffh... *lick*...mnf....*kiss*"
As Winter guided Ataru's tongue over her swollen pussy lips, his tongue flicked and licked hungrily at her moist recesses. Luckily for her, she was able to control his reach otherwise he would probably be on the way to bringing her to the third or fourth orgasm of the night. With the grip that she had on the sides of his head, she was able to guide him exactly where she wanted his tongue to be, no guessing for this part needed. Winter started a slow swirl of her hips and she rolled her head back on her shoulders feeling his tongue slide in and out of her pussy with deep probing strokes. "huhh, huu, hhhhuusu, huu...mmmmmmm, huu, hu......." she moaned over and over as she allowed the sensations to rock over her body.

Winter slowly pulled Ataru's head away from her, to give her pussy a slight reprieve from this overwhelming pleasure that she was getting. "Ataru, was definitely working towards getting some kind of freedom back, that's for damned sure, the way that he was working her pussy with that tongue of his" she thought to herself. But she had a surprise in store for Ataru-San.

Ataru lay there smiling in contentment as the wet pussy juice all around his mouth glistened in the dim light, as he licked it greedily to taste more of Winter, she smiled at his display of service to her and how well he was performing so far. Winter glanced over her shoulder to a dark corner of the room, and made a slight nod with her head. Then she brought her attention back to Ataru, she leaned back down to kiss him and taste more of herself on his wet soft lips.

As Winter kissed Ataru more and more deeply, his shorts began to slide down to his ankles and then they were pulled off and tossed to the side. Small soft hands gripped his ankles and spread his legs slightly apart into a V shape. Soft tender kisses started from his ankles and began working their way up slowly to where Winter was still sitting on Ataru's chest kissing him most passionately.............
Ataru had been shamefully defeated by a beautiful crazy woman, and was now her prisoner of war... some would say of love. As a wrestler, his demise had been utterly disgraceful. But as a prisoner, many would gladly shift positions with him.

His chest heaved up and down fast, trying to recover some much welcome oxygen, but his mind and senses were still swimming in the pleasant stupor given by Winter's pheromones, his tongue licking around his lips for a moment as to savor the last remainings of her delicious taste. His lips were not to remain inactive for long though, as Winter came down to seal them with a beautiful and passionate kiss. "Mmmmnnhhh... <3"

And then.. something strange happened. Not that it would unpleasant... quite teh opposite, in fact... but still strange. His legs were gently but firmly spread apart by what felt like an extra pair of soft feminine hands of hers, while WINTER started to trace a wonderful path of lovely, teasing kisses from his ankles up to his hips and his body. And all the while WINTER kept the passionate liplock, ruling his world with that breath-taking, mind-blowing french kiss that.... that.... that just made no sense!!! Two mouths?? Four arms??? What the heck was going on there?????

"M-Mghh..??? Mmpffhhh....!!". Ataru squirmed in a bit of fear and confusion, gasping in shocked surprise. Calling it panic would be too much, considering how he was still making cute, muffled moaning noises against Winter's lips, in spite of his disoriented state.
Winter was hungrily devouring Ataru's tongue and mouth, she could hear the wet sounds of their mouths moving over each other, teeth clacking together in a raw primal kiss that could suck the life out of you.  She felt Ataru's body stiffen slightly as her 'assistant' finally made her presence known to him.  Winter was sure that Ataru would eventually figure out that she was not there alone with him.  "Don't worry Ataru, we are going to take gooooood care of you", Winter purred to him while nibbling on his earlobe.   She looked back over her shoulder and was pleased that the 'assistant' had followed her directions, at least she would not have to punish her later, this time at least.
Cinder slowly made her way to the bed when she got the signal from 'Master'.  "Oh how she hated to have to call her that", thought Cinder with more than a bit of anger.  But she would continue to do so because if she reneged on her part of the bargain then she would lose honor, and she could not have that at any cost.  She slowly pulled Ataru's shorts from his body and she liked what she saw, thats for sure.  She loved to see a well cared for dick, and she was getting first crack at this one.  That brought an immediate smile to her lips.  Cinder would take her time with this one and make sure that he lasted through the entire night.  Possibly she could make him an ally, having an ally that could tongue Winter like that might help her to overthrow the 'Master'.  Both of them could benefit from that.  She would have to work on that later, for now, she had Ataru.  She  slowly kissed up his legs and felt the shivers go through his body with each kiss and nibble.  Cinder knew that 'Master' was telling him that we would take care of him, but he still seemed to be nervous, not knowing what was going on.  As Cinder worked her way up to that excellent specimen of a cock, she thought back to how she ended up here.  It seemed like forever that she had been under the evil queens dominion, but it was only a few months.  She had foolishly wagered more than she could pay in a winner takes all match with Winter.  Back then she was still Winter to her, now she was the 'evil queen' or worse yet, 'Master'.  She would find a way out of this situation, and Ataru just might be able to help dethrone the bitch.  Cinder finally worked her way up to the tip of his cock, it was slightly wet with pre-cum from all of the stimulation that he was getting from 'Master' and now from Cinder also, she lightly teased the head of his cock with the tip of her tongue and watched it swing from side to side like a pendulum when she let it go.  Yes, she would have her fun now with Ataru, but hopefully soooon, very soooon, she would be able to get revenge on the bitch.
"Ataru, you have to make sure that you pace yourself this evening, it will be a very long and draining evening, in more ways than one", Winter said with a confident tone.  "My 'assistant' will be tending to your needs and my own throughout the night."  "And I can see from the glint in her scheming little eyes that she is working on something, well so am I", Winter said to herself with an evil grin.
The Assistant (Cinder):
Alternate View:
Of course, nothing Ataru knew about the secret tussle for supremacy there. And even if he knew, he had his own problmes to face there.
As if being at the mercy of one crazy and lustful amazon was not enough... Ataru's troubles seemed to just have doubled, as Cinder removed his pants, exposing his energetically pointing up boyhood.

That part of his body didn't seem much worried about the situation, judging on how it twitched at every sensuous touch from Winter's....assistant.
"Ohhhhh.... n-no...if you keep doing like that.... mmmnnn.....<3", Ataru would blush deeply at how Cinder's tongue was toying with his erection, making it throb ever more towards the edge.

maybe a side effect of being a captive and deprived of his sense of vision, the boy's slim body was getting so sensitive to their every ministrations.

"P-Please... *moans*... this is unbearable.... s-stop it or I will...... gasp.....". Ataru was now so worried that his way too much energetic young cock would lead him to a shameful big climax any moment now.
Cinder could feel that Ataru was getting very close to a climax, if he did it would only be the first for the night.  She and Winter would be able to get more out of him, that's for sure.  "Ataru, that is the point of me doing it like that, to make you come dear boy" Cinder said in a low sexy voice.  She licked up and down his shaft one last time before pressing his cock flat to his stomach, she held it there while she straddled him and held it down with her crotch pinning it in place.  "Now it is your turn, 'Master'", Cinder said into Winter's ear as she slid up behind her, reaching her arms around to cup each of Winter's breasts in her small wiry hands.  

"mmmmm....., that's right squeeze them for me", Winter moaned as Cinder started to play with her sensitive nipples.  Winter had Ataru trying to stop himself from completing his orgasm, but still working her pussy with his tongue and Cinder now attacking two more sensitive areas on her body.  Winter did not feel that Cinder would rebel against her agreement, at least not yet, but she was keeping a close eye on her all the same. "Ataru, lick me faster, let me feel your tongue flick my clit now!!" Winter ordered Ataru.  She didn't have to say anything to Cinder, for she knew her job and her position just fine.

Cinder slid her crotch back and forth on Ataru's cock that was trapped under her, she loved the feeling of rubbing on him with her pussy getting wetter by the minute.  She would slide her hips all the way down to the base, then slowly, ever so slowly slide back up to the swollen head, it sent a shiver of pleasure through her each time.  Cinder could feel him pressing up to her, whether he wanted to or not in his mind, his body was over ruling those thoughts and trying to get more and more of her.  She pressed one of Winter's nipples between her two fingers and dropped her other hand down the front of her stomach to her hot crotch.  Cinder could feel Ataru's tongue sliding between her fingers trying to get to Winter's pussy.  "How do this feel 'Master'?", Winter whispered in her ear as she used two fingers to spread Winter's pussy lips wide open for Ataru to stroke her with his eager tongue.  "You hold on Ataru, you are not allowed to come just yet", Cinder said to the poor boy in a soft tone.  Cinder would work on both of them and see what she could accomplish.  

Winter gasped as Cinder spread her pussy lips for Ataru's waiting tongue, "oooh, oh.ohhhhhh.ohhhh.. yess.... lick it Ataru..oooooohh.oooooo.oooooo" Winter moaned as Ataru flicked his tongue faster and faster on her exposed pussy, and now Cinder was rubbing her clit at the same time.  Winter did not know how much more of this she could take before she exploded.  Winter looked down to Ataru's face and could see the lust and need in his expression, and also the desperate struggle of him trying to hold back his coming orgasm.
Last edited by Ninja999 on Mon May 18, 2015 1:48 am; edited 1 time in total
With his aching, throbbing cock begging for release but being denied it... and still rubbed into a constant, mind-blowing edging by the skillful rubbing of Cinder's crotch keeping its pulsating lenght pressed against his own abs, and Winter getting back to press her pussy onto his mouth, mesmerizing him into a furtherly dazed arousal with her powerful pheromones, Ataru's entire body, together with his overheated senses and seduced mind, was nothing but a pleasantly twitching, moaning and shivering playground for the lusty girls.

"Great... my predicament keeps improving more and more..., the poor boy would think to himself not without a hint of self-irony, realizing how Winter's "assistant" was, matter of factly, nothing but a second lustfully crazy girl adding to his erotic troubles, not less teasing, resolute and overwhelming than Winter in her sexy way to dominate and control him.

Even the slightest ounce of Ataru's lively force was now devoted to obediently pleasure the dominant duo of girls, and especially using his tongue to bringing Winter to a big and satisfying orgasm, well knowing that this was his only chance, maybe, to save himself from being driven insane by their erotic tortures of pleasure and helplesness.

"Mggghhhh....!! *lick ...lick..slurppp...*". Looking down to Ataru's eyes, Winter would see them almost watering with tears of need and unbearable erotic arousal, as the boy proceeded now to the most intense kissing and licking her clit. Assisted by Cinder's fingers, his mouth had full access at that sensitive part, alternating from the most teasing flickerings to more lustful, passionate suction kisses to that little, lovely piece of sensitive flesh of hers. And now, finally going all out for the climax with the eager licking and slurping, increasing pace and intensity more and more... and more!
Winter's body was practically on fire now, with Cinder using one hand to play with her breast and using her other hand to fully expose her hot, dripping pussy to Ataru's tongue, she was losing control. She knew that it was only a matter of seconds before she could no longer contain the ecstasy and would have to release it. Winter continued to look down at Ataru as he mercilessly licked and sucked on her wet mound. She felt her legs begin to spasm, slowly at first but with ever increasing intensity. "ohhhhhh yesss, Ataru, lick my pussy, lick it, don't stop now, ju jjjus ju.... jjuus.....jj..j.jj.j j sssttt, jjjjust aa lllitlllle mm.mmm..mm.mmooo.mmmoore" Winter moaned as her back started to arch uncontrollably. "Ohhh my, I'm almost there........, just a little........", she thought with fevered excitement.

Cinder could feel Ataru's throbbing cock between her legs pressing hard against her wet panties and was just about ready to make him shoot his cum all over Winter. As she saw Ataru increasing the pace with his tongue, she reached her hand down to slide her panties to the side, so that her wet pussy was sliding up and down along Ataru's rock hard shaft. She adjusted her position so that her pussy was brushing up and down his dick like a tender, juicy wet kiss. Cinder knew that this would be more than enough to put Ataru over the top, she could feel the throbbing in his dick as if it had its own heartbeat. "Ataru, don't worry I will make sure that you get some satisfaction also, your dick feels soooo good between my pussy lips, do you like the way my pussy is kissing your dick", Cinder groaned with hot desire. Cinder was also getting pushed to the edge by that very same motion of her pussy moving up and down Ataru's dick, she could feel every pulsating vein throbbing against her swollen lips. And every time that her clit rubbed against the helmet of his cock she felt an electric thrill run through her.
Page 2 of 8 •

1, 2, 3, 4, 5, 6, 7, 8


---
Permissions in this forum:
You
cannot
reply to topics in this forum