Champions & #1 contenders
Highfly Flying Out Of Town
Tue May 22, 2018 1:31 am by HighFly
Hello everyone, I just wanted to inform all I have threads with that I will be gone from this coming Wednesday through Sunday. I won't be able to post consistently if at all during this time, but I will try to make up for it next week! I am sorry for the inconvenience to everyone.
Comments: 7
The Austrailian Mudslide is Back.
Sat Apr 21, 2018 6:20 am by Softsquad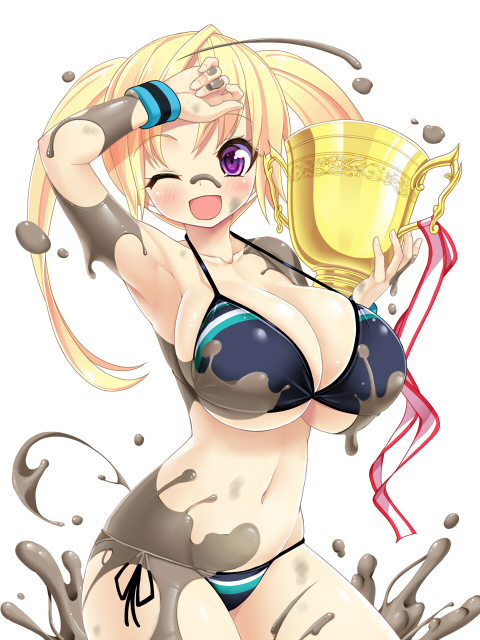 Granted that most of you won't know me or remember me, but I've had a few matches here and there some time ago. Well I think its time to become a regular around here and try to have some fun again, but at the same time keep coming back. Anyway I think its time to jump into some matches with Zoe Taylor, my mud wrestling character from Australia and get her back into the squared circle. Furthermore I will update my characters as I think some proper changes need to happen.
So if anyone would …
[
Full reading
]
Comments: 5
Page 2 of 4 •

1, 2, 3, 4


Was hitting Black Dragon from the back the fairest, honest thing? No. Hell no. It was the first time she'd even wielded a chair like this since coming to the AFW, which was actually something of a rarity as she understood it. Morally questionable? Yes. Deeply satisfying? Also, yes. So much so that she was perfectly fine doing it a few more times, and she raised the chair up with that in mind. The only way this could have been better was if it was recorded, and since people were starting to get drawn to the fight, Kozue was bound to get that wish.

Black Dragon had another idea, though. A painful idea that involved hitting her in the stomach with a low rent spear. If it came from someone about her own size, Kozue wouldn't have budged more than a couple of feet and shrugged it off. From a guy who weighed around 200 pounds, though, it was a bit more devastating.

Kozue was knocked off her feet, and if it wasn't for the wall behind her she would have fallen straight down. As it was, her back hit it hard and she dropped her chair in the process. She'd sorely miss it, but she tried to make up for the loss with a snap kick to Black Dragon's face while he was bent over. If she was going to do this, she had to keep the pressure on him as much as possible. If she let up, even for a second...

Dragon had just released Kozue after harshly pushing her into the concrete wall of the building when she kicked him straight in the jaw. Once more, the larger man fell to the ground with a groan. He wasn't seeing stars, but he was struggling just to get back to his feet before Kozue's next attack came. She was fast and nimble enough to keep him on the defensive, but there was more to it than that.

This wasn't his style. He was usually the one who did the ambushing. He was the one who kept his opponents down. But with everything reversed, he now found himself groaning in pain. His strategy, he imagined, was that good. Good enough that even an undersized ninja-wannabe could overwhelm him.

Several maintenance workers had heard the commotion but weren't getting involved in the fight. Brawls between heated rivals wasn't new, and they sure as hell weren't going to risk getting hit just to break them up. In fact, one was already streaming the video with his phone while another was texting all the other workers in the building. One non-worker had already showed up. She was wearing a regal purple hooded sweater and yellow sweats. The woman peaked over one of the worker's shoulders, curious to the fight that had broken out.
Jesus Christ, this fucker was still getting back up.

Kozue leaned against the wall, watching as Black Dragon writhed on the floor. He was hurt. Badly. Worse than she'd ever seen him, even though it wasn't like she had much to compare it to. Yeah, he was getting back up, but she was so busy being glad that she'd just managed it in the first place that it hardly registered at first. So far, she was winning. As much as you can win a street fight with no referee in sight.

But she was getting into it. And she was helped along by some girls with a serious leather fetish, egging her on. Or, at least, the small biker girl near the front and the skinny Mexican girl beside her were. The tall girl in the back just shook her head with sharp disapproval.

"Fight! Fight! Fight!"

This brought back memories. Rougher fights in far rougher cities. Granted, Black Dragon was a step up from the bitches she used to fight, but the strategy of a brawl remained the same: hit the guy until he can't move anymore.

Kozue pushed off the wall and tried to pounce on Black Dragon, looking to deliver a few punches to his face with the ground and pound.
Dragon brought up his forearms defensively, trying to block the incoming blows. A well executed punch, regardless from who was delivering it, hurt. And at that moment Dragon was too disorientated to adequately block properly. The punches came down on his head. A particularly hard one struck him right in the jaw and knocked the back of his head against the concrete floor. The blow dizzied him for a second, leaving him more vulnerable to the blows that followed.

He abandoned the block and reached up indiscriminately, trying to grab something on Kozue as he threw himself sideways in an attempt to buck her off of him. Despite being barraged from above, he still had the awareness to know when he was in a bad place and that he had to get out. After doing so, he managed to clumsily get to his feet and stumble away, through a nearby door that led into an alley behind the arena.

It was nighttime, and the alley was somewhat dark. The incredibly bright lights of the city illuminated enough of the well-kept alley for people to make things out nevertheless. The nearby street had people walking by, some of which stopped when they saw Dragon stumble out of the door. He fell to one knee after nearly tripping, rubbing his battered face with his hand. As if this wasn't a fight, and was merely a show, some of the staff had already slipped out of the door and into the alley before even Kozue had a chance to, all to get a better shot of Dragon with their phone. Fucking Dicks.
A right cross cracked Black Dragon hard across the jaw. "What's wrong, huh?" Kozue followed up with a right hook. "Say something, come on!" She threw another cross, aiming for his nose. However this went down, she was determined to make him feel this in the morning. Hopefully the morning after that, too.

It was a good thing, which meant that it wasn't meant to last. Kozue yelped as she was hurled off of him like she was a small child, and she went tumbling. Didn't hurt much at all, but it did discombulate her a bit, and by the time she gathered her bearings, Black Dragon was making an escape into the alley. Common sense told her that following him in there was not exactly the wisest or healthiest thing she could do - closed space, lots of dangerous objects, nowhere to go if it went sour, and it stunk on top of it all. But she wasn't listening to the common sense part of her brain the moment. She was far more interested in the part of her brain that wanted to smack this massive asshole all around  the Tension arena.

She pushed her way through the growing crowd and came at Black Dragon from behind, leaping towards him. Arms came around his neck, clasped tight, and squeezed as Kozue went for a rear naked choke on him. He was strong, no doubt, but even a freak like him needed to breath. Presumably.
The growing spectator pool seemed far more interested in the impromptu fight than to actually break it up. Maybe it was because someone was taking the fight to Dragon for once, or maybe it was just too fun to watch. They had front row tickets to a backstage-turned-street brawl, why would they ruin the fun of that?

The purple hooded girl slipped outside as well, now whistling and cheering on vaguely for both people. She kept her hood down far, but there really wasn't much hiding who she was, especially with a blatantly pink mask covering her mouth. She whipped out her phone and started recording the fight. An AFW camera crew finally turned up, broadcasting the makeshift fight to the spectators already in their seats. More people came down from the street, wondering what all the commotion was.

Dragon had just managed to get back to his feet when Kozue leaped atop his back. He grabbed her arms, trying to pry them off, but she had already locked her grip in. He barely fought it for a second before he decided he needed a different way out. The man reached around with both arms, firmly grabbing Kozue's legs as if giving her a piggy back ride. Then, with a small crouch to give himself balance, he charged backwards towards the brick wall, hoping to crush the ninja-girl between it and himself.
Kozue was vaguely aware that they were drawing an audience and getting some guerilla style footage in, whether they liked it or not. This wouldn't air on Tension, but it would be all over the internet inapproximately five minutes after they were through. Kozue would've preferred not to get her ass kicked in front of millions of fans. She planned on being a wrestler for a good long while, and it was the last thing she wanted hanging over her head.

"That's right bitch." She flexed what little muscle she had and tightened the hold down around his throat, even as he tried to pry his neck free. She wasn't going to make it easy. "Been waiting for this for a long while, and-"

Kozue realized she might just have to wait a little longer, as her back was suddenly introduced to the back of nearest wall. The crowd all winced at the impact, and rightfully so - it hurt like fucking hell. One solid hit, and her bones were kindling. She didn't let go of the hold, but all on the energy went out of it as her body sagged, just uselessly hanging onto Black Dragon's bulging back.
As Dragon crashed into the wall harshly, he felt Kozue release his neck and he gasped for air underneath her. His rage was held off by his need to breathe, at least for the moment.

As if on queue, some security staff finally approached to separate the two before their brawl got out of hand. There was always risk of lawsuits and other problems in non contract fights, especially when they spilled into nearby areas with bystanders. But as they walked up, Dragon put up his hand and told them to get back.

He reached up above him, trying to get a grasp of something of Kozue's such as her hair or shoulder, anything. He had the extreme urge to just toss the ninja girl off of him and to the concrete ground below. It wasn't composed in the least sense, but it was an attempt at something.
Mess with the bull, you get the horns. Mess with the dragon, you get burned. That was just the way it was.

Kozue had started off solid enough, and this encounter had gone a lot better than what happened the first time they met. At leas this time, she didn't need some to save her from getting her head caved in. But the situation was hardly a vast improvement. At the end of the day, he was still Black Dragon, a 200 pound who'd demolished everyone he'd taken on, and she was still Kozue Kaburagi, a first year wrestler who lasted two minutes in the Battle Royale. Not compariable.

She started to slide down the wall after the impact, happy to just land on her butt and sit there while she recovered, but Dragon had more painful ideas in mind. Ideas that involved grabbed her hair, flipping her of his body, and dumping Kozue on her back with all the grace you'd use for a garbage. She hit the unforgiving pavement hard and immediately arched her back, crying out as the pain ran through her spine.
As Kozue crashed against the steel pavement, Dragon took a moment to take another deep breath in and crack his knuckles. There. Now things were better. He had a chance to recompose and didn't feel a sudden urge to press the attack. Enough people were watching that he didn't want to look clumsy or throw his advantage recklessly. He suppressed his rage and shifted his head around his neck.

No, he had to take it slow at this point. If he couldn't start with the upper hand, then he had to make sure he could firmly take it the old fashioned way.

And it'd make this bitch look worse in the end if he did that.

Dragon slightly distanced himself from the wall and crouched while lifting up his hands in a sparring-ish stance. "Get up!" he yelled at the ninja-girl.
Page 2 of 4 •

1, 2, 3, 4


---
Permissions in this forum:
You
cannot
reply to topics in this forum