Champions & #1 contenders
Highfly Flying Out Of Town
Tue May 22, 2018 1:31 am by HighFly
Hello everyone, I just wanted to inform all I have threads with that I will be gone from this coming Wednesday through Sunday. I won't be able to post consistently if at all during this time, but I will try to make up for it next week! I am sorry for the inconvenience to everyone.
Comments: 7
The Austrailian Mudslide is Back.
Sat Apr 21, 2018 6:20 am by Softsquad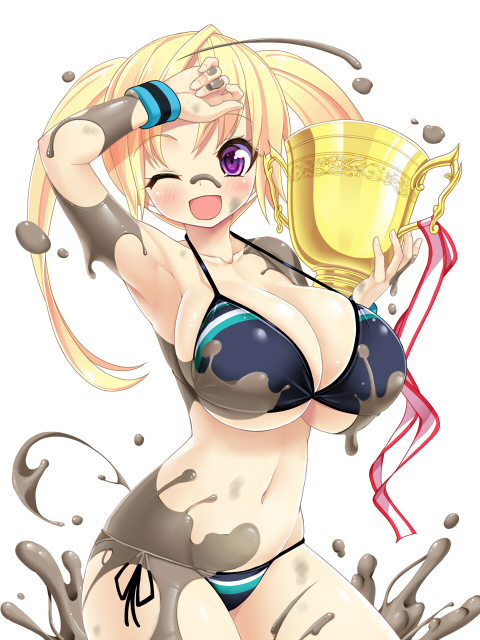 Granted that most of you won't know me or remember me, but I've had a few matches here and there some time ago. Well I think its time to become a regular around here and try to have some fun again, but at the same time keep coming back. Anyway I think its time to jump into some matches with Zoe Taylor, my mud wrestling character from Australia and get her back into the squared circle. Furthermore I will update my characters as I think some proper changes need to happen.
So if anyone would …
[
Full reading
]
Comments: 5
Page 6 of 9 •

1, 2, 3, 4, 5, 6, 7, 8, 9


Mileena struggled forward in pain as a reflex to get away from Army. She couldn't get far under his notice, but she tried to anyways. The atomic drop wasn't a boxing move either but he executed it perfectly. Maybe he was trolling her and the whole boxing theme thing was a bunch of bullshit. She didn't get a chance to breathe before he hauled her up yet again.

She was too distracted from all the pain in her lower back to attempt a counter, and too winded to really offer a witty comeback. Her hand was still on her rear as he slingshot her towards the ropes. She bounced off them and came right back running, where Army was already waiting for her. He lifted her into the air and dropped her down to the mat face first.

As she hit the mat, her head snapped back and she moaned in pain. She grasped her jaw with both hands. "Ow..." she accidentally said out loud as she laid on her front side. She was beginning to worry that maybe there wasn't going to be an opportunity to take control back. Army was hitting fast and hard and not letting up. Soon, she was afraid she wouldn't even have the strength to fight back when she needed to...if she even got the chance to. Shit.

Army had to admit, busting out the wrestling moves like this had an appeal he just couldn't get with simple punches. There was a crazy thrill when he lifted Mileena up and planted her face flat on the mat, and it didn't just come from finally getting the smug seductress to shut up got a while. This was wild. This was silly. This was wrestling. Never would've gotten a match like this in a boxing ring.

But as fun as it was, he was starting to feel an end coming on. He and Mileena had busted each other across the ring, out of the ring, and back in again. It was high time he brought this to a close. But not without one little bit of flair.

Army stood up, faced the audience, and drew his thumb across his neck with a crazed grin across his face. "Finish her!"

Couldn't resist.

Army turned back to Mileena and reached down to flip her over on her back, then stepped over her to put a foot on both sides of her body. He stayed bent over, grabbed hold of her neck with both hands, and hauled her into the air with one mighty heave, lifting her above his head for the first part of his finishing move - the Chokebomb.

"Looks like I'm gonna get you on your back for a while, after all."
Mileena was dazed and groggy as she slowly rubbed her pained jaw.  Even then, she still heard Army's little declaration.  He was playing her theme, stealing HER bit.  It would have been insulting if Mileena wasn't too concerned about other things at that moment, such as her face and back.  What she heard but didn't realize was that most of the crowd that chanted Finish Her after Army's little showboating were her very own fans.  The very reason they liked her was the reason at that point they cheered against her.  It was Mortal Kombat!

Well, not really.  Thankfully it wasn't even close to actual Mortal Kombat.

But that didn't mean Mileena wasn't in trouble.  She laid flat on her back, arms out at the side when he flipped her over.  His shape blocked out the arena lights as he dauntingly stood above her.  "Shit..." she muttered as she realized she really was in deep trouble.  His large, strong hands grabbed around her neck, completely cutting off her air supply.  Her hands reached up to them, trying to wedge themselves between her neck and his hands. She felt an indescribably pain as he hauled her up by her neck.  Shit.  

Army powerfully continued to lift Mileena high above him into the air.  The crowd gasped as they saw how high she was being lifted into the air by the man. She could see out of the corner of her eyes the flashes of countless cameras.  Just as everyone was witnessing her triumph, now they were witnessing her defeat.  She was done.  

NO.

Mileena ripped one of Army's hands off of her neck, making her drop forward onto his right shoulder with her abdomen.  Without any time to breathe, the woman wrapped her right arm around Army's head and used the momentum from her small fall to kick to the left and behind him.  She spun around him with his head firmly in her grasp as she dropped to the mat in a rather sudden and desperate Tornado DDT!
Luckily for Army, Mileena wasn't too much on the heavy side. It wasn't exactly easy, deadlifting this kind of weight and holding it suspended, but his body was up to the task. Muscles bulged. Veins surged. His back was aching from multiple impacts, but it would hold for a little while longer. Just long enough to give the audience a nice round of photo opportunities.

A little brutal? Yeah. But effective. And fun. He gave her one more squeeze, spread his legs, and prepared for a mighty plunge.

It never happened.

Mileena had some life left in her. Way more than Army bargained for. He thought he had her, he knew he did, but she somehow got free and made the whole thing awkward, falling right on his shoulder. Army just started to wrap his hands around her waist, preparing to fall forward and slam her flat on her back. He couldn't adapt. No big deal.

That never happened, either.

Her hand came around his neck, there was a sharp jerk, and from there, momentum and gravity did all the work. Army fell and he fell hard. He head crashed into the canvas, his body jackknifed on impact, and he rolled over to the side whiel her cradled his skull, hissing and groaning at the immense pain raged through his head.
It was an act of desperation, a longshot. She'd never done it before, nor had she even seen this specific counter before in action. But she'd seen people evade power moves with it before, and it was the only thing that came to mind. Gravity and momentum did most of the damage, and at that moment that was what Mileena needed the most. A little help. The sound of Army's skull crashing into the mat would've been welcomed by the temptress...had she not been aching already.

Immediately after the counter, the crowd gasped with surprise. But then as Army's body came to a stop on the mat, so did Mileena. She was breathing heavily, on her back facing up with eyes closed like she had just run a marathon. Anyone who just tuned into the match would've been confused about who dealt the last blow, or maybe assume they took each other out with a double clothesline. Either way, both wrestlers were on the ground in pain and tired.

The referee began counting up towards a double knockout.

Mileena was more than aware that the referee was counting, but she kept laying on the mat trying to regain her breath. The maneuver took what little energy she had left from her and now she needed a chance to recover. Even the taunting had to be benched for the sake of resting. Eventually, as the ref got to five she began to move. Slowly, the wrestler rolled to her front side and forced herself to her knees. She sat back on them, brushing her sweaty hair out of her face. It didn't break the count, but there was still time left and she needed to see just how much, if at all, Army was hurting.
Army thought he'd experienced the hieght of damage that a woman could do to his body when he faced Hana Fujioka. That girl was about as big as he was and every bit as strong. She'd hit like a tank. She'd slammed him. She'd pounded him. She'd hammered him. Harder than any man he'd ever fought.

It was great fun, really.

But he figured that if he could survive that, there wasn't much a smaller girl could ever do to him. Then Mileena came along, slammed his head into the canvas, and proved that all wrong. Granted, Amy had proved that wrong before, too, but she was really nailing the point.

Army was laying on his back, with the ceiling lights burning into his his eyes, trying to make sense of the world again. Everything was spinning, his head was pounding, but even through it all he could he hear the referee's count. Boxing and wrestling were different in a lot of ways, but the one thing they had in common was the count. When you hear it, you start to rise.

He reached out and grabbed the nearest rope, pulling himself back up as fast as he could...which was agonizingly slow. Regardless, he was rising, getting up to his feet, and by the count of seven he had both of his feet on the floor. Progress. Not much, but progress.

He looked over his shoulder and glared at Mileena. "You are an amazing pain, girl."
Part of Mileena really thought Army would stay down.  The deep down, naive and miracle-believing part of her.  He started struggling to his feet around the same time she sat down.  She sighed as he got to the ropes, knowing then he was almost certainly going to get to his feet in some way.  Still breathing heavily, Mileena leaned back to her left arm and rather ungracefully twisted around so she could get to her feet.  No kip up or flip for image...just a tired, exhausted, stand.  The way she leaned forward while standing showed that the damage was already done to her lower back.  She really needed to wrestle weaker opponents some time.  Challenges were great when achieved...but this was downright exhausting on her body.

She took a deep breath and tilted her head at Army.  "I'm an amazing girl."  That wasn't as suggestive as everything else she had said before, but she wasn't exactly in the same mindset as before either.  It was do or die time for her.  "And you'll never find out just how amazing," she added while blowing him a kiss.  Okay, so maybe not an entirely different mindset.  "We could have been perfect for each other."  The temptress put her hands together and put them up to the side of her face like a makeshift pillow and exaggerated a frown.

Then, her hands dropped back down to a fighting style-ish stance.  "Now...final round motherfucker.  FIGHT!"  she shouted.  The way the momentum of the match shifted, she won the first round and he won the second.  Both were exhausted and beaten by this point, and both probably knew whoever made the next mistake was done.  So it seemed very appropriate to say, and it made her fair-weather fans cheer at the mention of it.

Mileena charged him as best as she could, seemingly to either clothesline or tackle him.  But she really wasn't.  She tried to bait a counter-attack from him, only to duck underneath and run past.  Then she jumped to the second rope, bounced off it and went flying backwards at him with her elbow leading.
For a second, Army thought that, maybe, Mileena would just stay down. Give up. Maybe she would have had enough, and finally got some sense knocked into that crazy head of hers. But as soon as he heard that crazy little tone in her voice, looked over and saw that crazier look in her eyes, saw that even crazier way she blowed him a kiss. It was times like this he had to wonder if every single girl in the AFW was a little bit nuts. By all indications, the answer seemed to be 'yes'.

Whatever. She was game to finish this, and so was he. All the way to the end. His fists came up, nice and tight. Proper pacing on the feet. Classic stance. Orthodox. Professional. A good match for the one Mileena made.

"Yeah, final round, heaven or hell." He opened his hand and beckoned her to come his way. "¡Vamos!"

He wanted her to come and she came. No hesitation, not a single doubt in her steps, like he wasn't nearly twice her size. Training kicked in and he read her movements, anticipated the attack. High and fast. Army was ready for it and he got his arms up in preparation, throwing out a hard right hook the moment she was close enough. He had the reach, and while she was faster, it wouldn't matter at this range.

Of course, that would only be a factor if he could hit her, and he missed. The punch swung wide and caught nothing but air. By the time he recoverd and started to swing back, he had an elbow digging into his side and a lot of pain to go along with it, enough to make him drop down to one knee while he cried out.
Mileena was light, but with her hurting back even a simple dodge was difficult, and Army wasn't exactly an inaccurate buffoon.  A backwards leap off the second rope was even more difficult, and she groaned as she flew through the air.  She had every intention of making him pay thricefold for the pain in her back.

Thankfully, though, her elbow did strike the boxer as intended and he fell to a knee from the pain.  The temptress once more rather clumsily got back to her feet and said, "Down where you belong." She offered her arms up and out to the crowd in a little show off, though only receiving cheers from her little fan circle. She then stepped up beside Army's left side, leaning into his ear and whispered, "Ready for a ride?" with a still hidden grin.

She grabbed him by the neck on the far side with her right hand, his left wrist with her left hand, and stepped over his left leg with her right, kicking it up and off balance.  She then intensified the grip on his neck and swung her body back, taking him with her, in a russian leg sweep!
Speed. It was something Army was having a love/hate relationship with, in the AFW. He had never exactly been slow by any real definition of the word, but in the AFW he was constantly outclassed. Mileena, for all her craziness, was doing an excellent job of highlighting it, and Army couldn't ignore the results. Not while he was on his knee and at her mercy.

She spoke right into his ear, and he could feel her hot breath even through the mask. He shuddered as the thin wisps tickled his skin. Army didn't have to see beneath her veil to know she was smiling with a wide, malicius grin. She was enjoying this. Immensely. Mileena talked a lot about him getting her down, but even if that was a thing that could ever occur, he doubted she would like being underneath. This was a woman who wanted to be on top, in every sense of the phrase.

Army tried to resist while she set him up, but it was all happening too fast, too quick for his still-aching head. He only had time to struggle in the grip for a moment before he was forced back, dropped down hard on his back with a resounding crash. His own weight worked against him as the impact shocked him right to the bones, making him cry out in a moment of sharp pain.
Page 6 of 9 •

1, 2, 3, 4, 5, 6, 7, 8, 9


---
Permissions in this forum:
You
cannot
reply to topics in this forum