Champions & #1 contenders
The Austrailian Mudslide is Back.
Sat Apr 21, 2018 1:20 am by Softsquad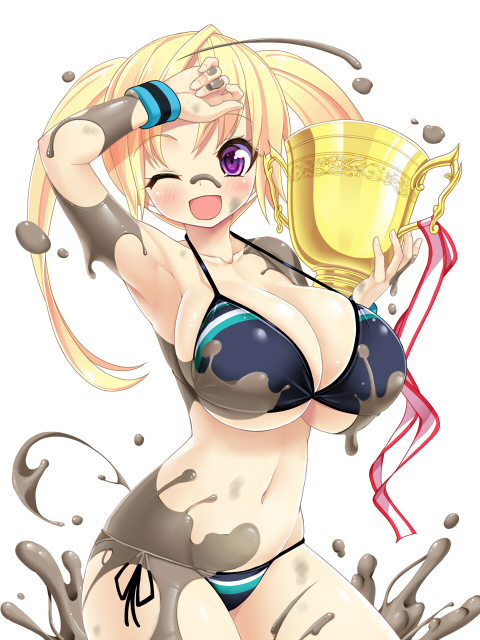 Granted that most of you won't know me or remember me, but I've had a few matches here and there some time ago. Well I think its time to become a regular around here and try to have some fun again, but at the same time keep coming back. Anyway I think its time to jump into some matches with Zoe Taylor, my mud wrestling character from Australia and get her back into the squared circle. Furthermore I will update my characters as I think some proper changes need to happen.
So if anyone would …
[
Full reading
]
Comments: 4
Looking for debut thread.
Sat May 12, 2018 4:28 pm by Hedgehawk
Hello All.
I am looking for a debut for my girl Trinity (http://www.afwrpg.com/t18107-trinity-cordova#495678).
This doesn't have to be a match, it could be a gym battle, interview or anything else. I just want something to help get Trinity off the ground. If you wanna plot feel free to reply to this message or fire me a PM.
Many thanks in advance and thank you for reading my message,
Hedge
Comments: 0
Page 1 of 5 • 1, 2, 3, 4, 5


"Ahhh~ So here we are, sis! Pretty cool, eh? I'm so glad that you could finally come and hang out with me!" The cheerful red head said as she walked through the doors of the sleek gym with a duffel bag slung around her shoulder. She was dressed in shorts and flip flops with a baggy ROOTS shirt. As she walked, a pair of silly looking rabbit ears bounced on her head. Just at her side was a blonde. She had a much more serious look and was wearing a tight tank top that said "Desjardin Savate" on it and dark blue shorts with work out shoes.

"Just remember, Gabbie, there aren't any weight classes here, so you might have to fight someone big and strong!"

Gabbie turned and looked at the red head. "I didn't come here to hang out, Nikki. If anything, I came here to babysit..." She grumbled the last part. "And good. I'm confident in my abilities." She stated bluntly as she looked around. There were rings and every kind of punching bag as well as a multitude of generic exercise equipment. She seemed pleased. "It's even better than our gym."

"Oh, yeaaah~ They have everything. Even a sauna and a hot tub and a masseuse and... nnnn, yeah, I think I'm going to take another look around those parts of the gym. Somehow I always keep ending up there, eheh.."

Gabbie rolled her eyes. "Fine. I'm going to get started. If you can get out of the hot tub long enough to come spar, then do it. But if I'm talking with someone, then back off, yeah?"

Nicole grinned. "Oh? Don't want big sis in your business?" She said and ruffled Gabbie's hair before she slipped away.

"N-Not really!" Gabbie huffed and set her bag down to look around. She liked what she had seen. She had just moved to japan from Thailand and was already itching to get into the scene. Nicole had come before her, but she still hadn't done anything yet. Gabbie didn't like it! Gabbie was ALREADY getting requests from people who knew how good she was! That was part of the reason she had come here aside from her relentless training schedule.

She was supposed to meet someone, or a group of people or something. The Momentum office had contacted her via the Friction office about meeting up with some Friction girls. It was a personal request but they had to go through official channels for obvious reasons. Gabbie wasn't really interested in wrestling, but she figured if they were coming to her, then it would be for something boxing related.
"Do Russian."

"Welcome to Yokohama, home of AFW Momentum and striking champion," Cassie said. It was her voice, but with a thick, heavy Russian accent. She relished rolling the R toward the end. Taylor chortled with glee.

"Okay, now say something liiiike... Ooh, do Lil Jon."

"Little John?"

"Lil Jon."

"I don't know who that is."

Taylor looked at her sweet, innocent little redheaded and freckly friend. Of course she didn't know Lil Jon.

"Well, like... He says stuff. Like 'yeah'."

"Yeah?"

"Yeah. But like... yea-yuh."

"Huh."

"Say it. Say it."

"Yeah."

"No, yea-yuh."

"Yeah-yuh."

"Yea-yuh!"

"Yea-yuh."

"Yea-yuh!"

"Yea-yuh!"

"Yeah."

Cassie furrowed her brow and Taylor cackled. They both pushed through the doors into the Momentum gym for the first time.

It looked mostly like the Friction gym. Very official AFW, but with more boxing gear, sensibly enough. More heavy bags, speed bags, plus the thai bags, teardrop bags, and double-end bags that the Friction gym didn't have. Taylor was jealous. Then there were the machines, but those were for pussies.

"Oooh..." Cassie looked around wide eyed as if she hadn't spent half her life in very similar gyms.

"Oh, hey, I think this is our girl." Taylor nodded toward a petite blonde girl by the door and began to approach her. "Hey, I'm-"

"GABBIE!" Cassie exclaimed, and rushed ahead to the blonde. She stopped in front of her, with her knuckles together and arms to her chest. She didn't know if hugging was okay. "Oh my goodness! Gabbie! Hi! It's so good to see you! How are you?"
She knew that voice. It was unmistakeable. She hadn't heard it in years, but she'd never forget it. She looked up in time to see the red head bounding towards her. Gabbie's eyes widened. She had thought she was hearing things, but it really was her.

Cassie Elliot.

That girl had crushed the dreams of her sister and turned her into... some rabbit eared layabout. She turned her into a girl who more resembled an Elliot than a Desjardin.

After the shock wore off, Gabbie was left with Cassie trying her best to do what she did best. So friendly and carefree, like wrecking people's lives was no big deal. Gabbie took a deep breath. If present day Cassie was anything like she used to be, she wasn't going to give up. She was as obnoxious as ever. She left Cassie holding as she tried to regain her composure. She stared down the hopeful red head and growled a single word.

"Elliot."

Her body was tensed and she felt wired, like she was about to be in a match. She started bobbing on her heels as she looked Cassie over. She still looked good. Gabbie was lying if she said she hadn't seen her matches. She still was good, even if she hadn't been quite as successful in wrestling as she was in Jiu-jitsu.

"If this is your idea of a joke, contacting me through company channels, then it's not funny!" She said with a hint of crimson washing over her face. "If you have to butt into my life again, then call Pah-pa and ask him for my number!"
"Oh."

Cassie tucked her chin and furrowed her brow. Gabbie always got fired up during competitions when Cassie was facing her sister Nicole, but that was just competition. She didn't think Gabbie would hold a grudge. Not for this long, anyway.

Taylor noted the tension between them, and took the lead. "Hey, so you must be Gabbie Desjardin. I'm Taylor Parker, and I guess you know Cassie already..." Which was a little weird. Taylor exchanged a quizzical look with Cassie, but Cassie gave nothing away.

"I asked my manager, Junko Higurashi, to find me the best kickboxer in AFW. We run a dojo in Tokyo, and I've been looking for a really good striker to really push us and beat us up and help us get better. Cassie's a trainer there, so she's along for the ride."

Taylor sounded so official! Cassie searched for something nice to say to lighten the mood. "Taylor's the champ!" She exclaimed.
Gabbie perked up a bit when Taylor started talking. The faint crimson remained on her cheeks when Taylor spoke, but the sturdy, unflinching look also remained. "Yes." She said to Taylor. "I am Gabbie Desjardin. I am the best kickboxer in AFW." She stated, matter-of-factly.

Her eyes fell, scanning Taylor. She looked good. If she was the champ like Cassie said, then she was definitely in the right shape. "That's right, I think they did say Higurashi when they contacted me." She thought aloud, lifting up her chin and considering Taylor's words.

"A dojo sounds like fun. I don't really intend to participate in Friction, but even I can see the benefits of varied styles." She commented, assessing the situation aloud. "And for you to seek me out, well, naturally I'm happy my reputation precedes me." Gabbie nodded. "I'm interested!" She said and finally cracked the faintest smile at Taylor before wiping it away and looking at Cassie.

"But... I am not sure that an Elliot and a Desjardin can work in the same gym." She stated plainly.
"Cool," Taylor nodded. She unconsciously bounced in place until Gabbie's last line stopped her, and wiped the smile off her face. She didn't like that at all.

"Oh, Gabbie..."

She looked at Cassie, and Cassie blushed and looked away. She took a small step toward Gabbie.

"Look," she said. "I can tell ya got some kind of a grudge. Whatever. But we're the best, a'right? You're gonna let a last name keep you out?"

She kept her temper in check, but she didn't plan on holding back if this Gabbie chick was going to disrespect Cassie.

"Hey, um... Is Nicole here too?" Cassie asked meekly.
Gabbie stood her ground when Taylor stepped forward. She looked up at Taylor and didn't change her body language one bit. "A name matters where I come from." She said simply. She flashed a look at Cassie. "But, I'll bet she's never worn an Elliot Martial Arts shirt around you before because... it's no big deal." Gabbie shrugged. "You're the best at wrestling or jiu jutsu or, whatever, but you came to see me. I don't need your help getting better at kickboxing."

Gabbie was ready to defend her honor and her name right then and there. She didn't like anyone, even a champ, coming and shoving her face in the dirt.

However, before she could do that, a loud yawn came from the other part of the room. Nicole stepped in with sleepy eyes, looking around and seeing Gabbie talking to some people. "Oooh~ I think I stayed in there a bit too long, but do my pours love me, I-"

Nicole stopped in mid speech when she recognized Cassie and was instantly crashing into her and lifting her up off the ground in a big, crushing hug. "Cassie, oh my God! It's so good to see you again! I didn't even know you were here or I would have totally gotten hold of you! How have you been!? You're still kicking asses and taking names, eh?"

Nicole pulled away but kept her hands on Cassie's shoulders. "Oh, you look great!" She said with a bright grin. "Oh, and looks like we both filled out pretty good too, eheh!" She said as she motioned between their chests. "You might've beaten me there too, eh? Eheh!"
"Nicole!" Cassie exclaimed, and rushed to meet the boisterous redhead. Taylor glanced at Gabbie, but held her tongue for the moment while the other two had their reunion.

"Oh my goodness! It's so good to see you too!" She returned the hug and then stood in front of her with her arms at her sides and Nicole's hands on her shoulders. She gave a small, uncomfortable laugh about her success in AFW. "I'm doing okay..."

Nicole's remark about Cassie's proportions made the petite, and busty, girl blush.

"How do you know that?" Taylor stood shoulder-to-shoulder with Gabbie, and leaned over to speak in a low voice. "I'm not a kickboxer. Doesn't mean I wouldn't beat you in a kickboxing match. I bet I've got the advantage with speed and power, and endurance, and I can probably take a better shot." She shrugged. "Cassie wears her Elliot stuff all the time. She's serious. So am I."
Gabbie was tense as Taylor spoke to her. Her eyes narrowed and she didn't look like she was going to flinch one bit as Taylor tried to explain how she was going to win in a kickboxing match. "If you want a lesson, I'll give you a free one." She growled and stared into Taylor's eyes with her own focused, blue eyes.

Nicole turned and saw the two girls already nearly ready to come to blows. She raised an eyebrow and then quickly scooped Gabbie in her arms and waddled her away from Taylor even while Gabbie tried to shrug her sister off. "Hey, hey, hey!" Nicole said, her smile never leaving her face. She turned and looked at Taylor and smiled. "Isn't she just great?" The elder Desjardin said. "She really just takes things so seriously, but she means well enough."

Gabbie finally wriggled free and gave Nicole a shove, but the red head stayed between her sister and Taylor. "I'm not going to let anyone come and talk like that to me!" Gabbie growled.

"Eheheh!" Nicole giggled and continued to smile at Taylor. "She's just very competitive. She doesn't like losing at anything. Boxing, cards or video games. She just doesn't care for that feeling." Nicole explained. "In fact, she still can't stand it that I'm only the second best grappler in Canada!" She threw Cassie an apologetic glance. Nicole then waved her hand at Taylor. "Usually she's more pleasant than this. I don't know what's come over her!" Nicole then extended her hand out to Taylor, while keeping the fuming Gabbie at bay. "I'm Nicole, by the way. Gabbie's big sis! Nice to meet ya, eh? What brings you here?"
Taylor returned Gabbie's bravado with a lopsided grin, until Nicole came back to break it up.

"Oh, don't listen to her," Cassie said, and waved off Nicole's praise. There wasn't too much she could say, since she did always beat Nicole back in their competitive jiujitsu days, but she certainly wasn't going to gloat about it.

"Don't worry, I like her already," Taylor said, with a glance at the little blonde kickboxer. "Good to meet you, too." She shook Nicole's hand with a smile. "We came here for this little bundle of joy. I'm hoping to train with her. Or, I guess, to get her to come train with us. Not full time, of course, maybe a day a week, and we'd pay for everything. Unless... you WANT to train full time."

"Gabbie's really good, Taylor. The Desjardinses are like the Elliotses of kickboxing. Savate, sorry."

"That's cool. I'm glad she's confident and junk, but I really wanna test out her skills..." Taylor walked past Nicole and reached out to squeeze Gabbie's shoulder. "While we're here, man... Ya know." She nodded toward an empty practice ring. "Wanna go a few rounds? I brought my gear."
Page 1 of 5 • 1, 2, 3, 4, 5



Similar topics
---
Permissions in this forum:
You
cannot
reply to topics in this forum