Who is online?
In total there are
41
users online :: 14 Registered, 2 Hidden and 25 Guests :: 1 Bot
anime_hentaifighter
,
HighFly
,
ja15ke
,
LARIATO
,
Lobo
,
LunarWolf
,
Miglico
,
Minion
,
Person
,
starvalentine
,
Teenwrestler
,
valen311
,
Vcom7418
,
xalex
Most users ever online was
155
on Sun Oct 09, 2016 8:33 am
Champions & #1 contenders
Might be a bit slow
Fri Mar 24, 2017 2:33 am by noob
hi people that im rping with. I'm gonna be away for a bit so I might be a bit slow with posting. Sorry xp
Comments: 2
Duo from Iceland has arrived!
Thu Mar 23, 2017 9:38 pm by Jaystar
Hello again everybody!
I managed to get creative, with the result of having two friends,
Isa
and
Julie
flown in from Reykjavik, who are ready to rumble in AFW!
While not sure if they get to decide, Isa is still a little bit reserved and is hoping to get a smaller opponent that she could use her lower body strength on, while Julie is very excited and eagerly up for pretty much anything!
If you have any characters who might want to challenge either one of the newcomers, or basically any fun …
[
Full reading
]
Comments: 0
Impromptu Break
Thu Mar 23, 2017 7:47 pm by Gadot
Hello,
I'm just leaving this here so people know! I'm dealing with a lot at my new job (coming in as a manager with a person on my team who's been there for years and being a bit of a bitch about it), and I'm trying to finish up my last year of college. So for right now, I'm probably not gonna be around. I'm sorry for everyone I'm leaving up in the air with matches, and that I vanished without saying anything to. If you need me, feel free to message me on Trillian. I'm on it from time to time, …
[
Full reading
]
Comments: 1
Name: Eri Kishima
Aliases: "Bomber" Kishima, "Boisterous Bruiser," "Miss Big Bang," "The Lariat Queen"
Age: 30
Eyes: Purple
Hair: Purple
Height: 5'8"
Weight: 150 lbs
Nationality: Japanese
Alignment: Face
Entrance Music: Blow Me Away by Breaking Benjamin
Wrestling InformationPhysical Stats
Endurance: 4/5
Strength: 5/5
Speed: 3/5
Defense: 3/5
Technique: 3.5/5
Wrestling Stats
Strikes: 4.5/5
Submissions: 3.5/5
Powerhouse: 5/5
Aerial: 1/5
Counters: 3/5
Preferred match type: Any
Fighting Style: Eri Kishima is all about power. Brain-rattling punches, and earth-shaking slams. Every strike and every slam is designed for high impact and explosive damage, hence the nicknames "Bomber Kishima" and "Miss Big Bang." Eri isn't the biggest girl around, but she still packs an amazing amount of power in her muscles. She'll also utilize submission holds to wear an opponent down, but you'll rarely see her try to win a match via submission. She also claims to have one of the best lariats in the game, if not the best, and likes to target the head to set up for one of her huge lariats later on.
Signature moves:
Big Bang: With an opponent hoisted up in front of her with their legs draped over her shoulders, Eri runs forward before slamming the foe down to the mat with a sit-out powerbomb, immediately transitioning into a pin.
Brainbuster: Lifting the opponent up as she would for a normal suplex, Eri then drops them straight down, driving their skull onto the mat.
Finishing moves:
Napalm Lariat: Eri hurls her strong arm forward with full force, aiming to send a powerful lariat crashing right into the opponent's face, usually with enough force to incapacitate upon impact. But arguably the most dangerous aspect of it is that Kishima has learned seemingly countless ways to hit the lariat from multiple different positions and situations, giving it potential to be very unpredictable.
Spoiler:
Personality: Eri is a kind-hearted, energetic, and hard working woman. Most of the time she's all smiles, eager to meet new people and make new friends whenever possible. She spends a lot of her free time training, always wanting to be in the best shape possible. Naturally, she's all business once she steps in the ring, but generally respects her opponents in victory or defeat as long as the match is clean. Above all, she's a fearless competitor who won't back down from anyone. The bigger the challenge, the more exciting it is for her.
History: Eri was born into a family of athletes. Her father was a professional rugby player, and her mother was an olympic swimmer. In high school, she took up every sport she could: baseball, volleyball, soccer, track and field, and even wrestling. Eri wasn't the most skilled grappler, even on her high school team, but for reasons even she couldn't articulate it still proved to be her favorite to participate in, with baseball coming in at a close second. The amount of enjoyment she got from wrestling led her to explore more into professional wrestling. And after watching one match, a bout between Dragon Fujiko and Risako, she was instantly hooked, and knew that professional wrestling was what she wanted to pursue.
Once she was out of high school, it was straight into the indies, where Eri found success and built a good foundation for her career. After making a name for herself, she was noticed by talent scouts for Wrestle Angels, and soon found herself wrestling for the promotion. In her years there, Eri did pretty well for herself. Although, she often found herself being the muscle for various tag teams she was put in. But the team she formed with Mighty Yukiko easily stood out as the most successful of any she was involved in. The two were known as the Bash Sisters, and were a prominent force together, even winning the tag team championships on more than one occasion. She and Yukiko also became extremely close friends.
A part of Eri always wanted a chance to try to rise through the ranks as a singles competitor, but the right opportunity never seemed to arise for one reason or another. And most chances she did get at singles competition never seemed to bear much weight, regardless of whether she won or lost. However, that seemed to change as she finally did manage to earn a shot at the world title against her long-time partner, Mighty Yukiko. She won the title that night in a match many argue is still the best she ever competed in. It was a dream come true, but it was also a dream short-lived. Eri suffered a back injury in her title victory, and was forced to defend the belt the very next night against a promising rookie, Chris Morgan. The match was promoted as a "lariat vs lariat battle," with both wrestlers being well-known for their lariat finishing moves. Eri fought with everything she had, but her injury proved too much to overcome, and she was defeated by Morgan, ending her one and only world title reign less than a full day after it began. Many disliked Chris for being handed similar opportunities on a regular basis, but even though Eri wasn't happy about the abrupt end to her reign, she never held it against Chris. She always said afterward that even though she wasn't champion for long, she could at least say she didn't go down without a fight.
She quickly found herself thrown back into the tag team scene again, only able to hope for the chance to make it back to the top of the mountain. But unfortunately, Wrestle Angels eventually disbanded, unable to compete with the rivaling popularity of the AFW. Eri was offered a place among the AFW ranks, but initially turned down the offer, feeling that the end of Wrestle Angels may be a sign that it was time to move on from wrestling. She was told to give the AFW a call if she ever changed her mind, though at the time she thought it was just something said out of politeness and courtesy.
For a while afterward, Eri bounced around from one job to another, trying to find a new career for herself. But, nothing seemed to bring her the same happiness wrestling did. She continued working out to stay in shape, and after a while, she started making appearances in the indies again. She never made any long term commitments, but would show up to various small promotions to make a special appearance for a single match. Despite her efforts to move past wrestling, she simply couldn't. So one day, Eri picked up the phone and got in contact with AFW officials, and was relieved to find their offer for her was still on the table. Having secured a place in the biggest of the big leagues, Eri now looks forward to finally showing what she's capable of on her own.
Fun Facts:
Eri is a huge baseball fan, and often drags her close friends along to see games with her.
During her tag team run with Yukiko as the Bash Sisters, Eri once said she "liked" someone, but worded it in a way that accidentally led Yukiko to believe Eri had a crush on her. When Eri clarified she was referring to a young fan they'd met earlier, Yukiko accused her of being a shotacon. But Eri denied it, saying she just likes hanging out with kids and acting like a "cool big sis" to them.
She loves watermelons, and once brought a ton of them with her on a vacation with several other Wrestle Angels girls. Eventually she made a game out of smashing them, and when the President saw her covered in watermelon juice, she compared the sight to that of a bloody serial killer.
Appearance: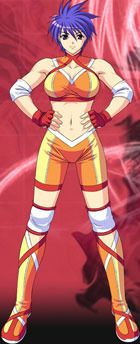 Spoiler:
Eri taking control in her match with Mighty Yukiko
Spoiler:
Showing off her power against Megumi Mutoh
Spoiler:
Stretching out Megumi
Spoiler:
Showing Thunder Ryuko who's boss
Spoiler:
Nice try, Reiko
Spoiler:
Setting up for the Big Bang!
Record:
2-1-0
Wins:
vs Bunny Bomber
via pinfall (Napalm Lariat)
w/ Bomber Kishima vs Alaina Sanders & Danika Gorski
(Tag Team Match) via pinfall (Stardust Press from Julia to Alaina)
Losses:
vs Migiri Oozora
via pinfall
Draws:Other Events:
Extended Play
- After her crushing defeat against Migiri, the titan toddler takes Kishima backstage for some more "fun."
Talk Shit, Get Hit
- A Wrestle Angels-themed meet & greet with Kishima and Suzumi Ishikawa is interrupted by a stranger with less-than-friendly intentions.
Matches/Events in Progress:
vs Migiri Oozora II
(Last Woman Standing Match)
vs Suzumi Ishikawa vs Diana Accera
(Triple Threat Match)
Ghost of Angels Past
- Kishima spends her day off at a baseball game and heads to the bar after, where a blast from the past happens to be waiting...
Championships & Accomplishments:
Friends:
Allies:
Rivals:
Enemies:
Crushes:
Lovers:



Posts

: 4405


Join date

: 2014-11-13


Age

: 23




Similar topics
---
Permissions in this forum:
You
cannot
reply to topics in this forum