Champions & #1 contenders
The Austrailian Mudslide is Back.
Sat Apr 21, 2018 6:20 am by Softsquad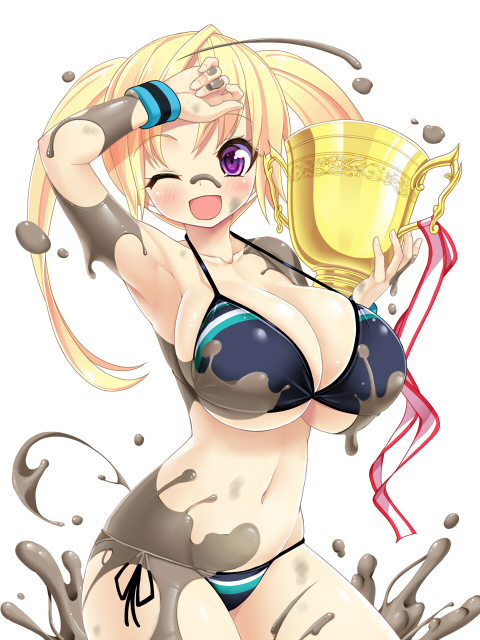 Granted that most of you won't know me or remember me, but I've had a few matches here and there some time ago. Well I think its time to become a regular around here and try to have some fun again, but at the same time keep coming back. Anyway I think its time to jump into some matches with Zoe Taylor, my mud wrestling character from Australia and get her back into the squared circle. Furthermore I will update my characters as I think some proper changes need to happen.
So if anyone would …
[
Full reading
]
Comments: 5
Highfly Flying Out Of Town
Tue May 22, 2018 1:31 am by HighFly
Hello everyone, I just wanted to inform all I have threads with that I will be gone from this coming Wednesday through Sunday. I won't be able to post consistently if at all during this time, but I will try to make up for it next week! I am sorry for the inconvenience to everyone.
Comments: 5
Moonhearts Promo intro thread is O p e n.
Mon May 21, 2018 4:21 am by XSirenX
Feeling brave?, lost?, or without a thread to post in?, hit up the newest Moonheart if any of those apply!
CLICK HERE
What Moon has to offer?, many things...:
Comments: 0
Page 1 of 5 • 1, 2, 3, 4, 5


Julia had decided to remain in Kyoto for a couple days following the events of Showdown. After Domino had been cheated out of his first shot at the world title, she felt the best course of action for her to take was to remain with him and support him. She didn't have any matches to prepare for, so there wasn't much of a rush to get back to Tokyo yet anyway. But for the moment, her boyfriend was out, and she had some free time to kill.

And so, deciding she might as well get a good workout in, the blonde luchadora made her way on over to the Tension arena. Despite the fact that she'd only been in the AFW for a short amount of time, it still felt a bit nostalgic to return to the place where she'd made her debut in the company, not to mention the place where she'd first met Domino. Even if it wasn't where she mainly competed, this arena would always have a special place in her heart. She'd certainly love a chance to compete here again someday, though that would have to wait for another time. For now Julia would just be paying a nice little visit to the gym.

It started with some jogging on the treadmill to get the blood flowing, and then she hit the free weights, working mostly on those athletic legs of hers. Squats, dead lifts and lunges occupied the majority of the lifting portion. She wasn't exactly Rebecca Tomko in terms of muscle mass, but for someone her size, Julia was still working with a pretty decent amount of weight. And then finally she hit the ring, and started sprinting from one set or ropes across to the other, bounding off of them, then repeating. Occasionally she'd mix things up by jumping onto a rope and springing off of it to send her into her dash to the other side, and soon after she changed it up even more by adding flips when she sprang off the ropes. This continued for what felt like an eternity, until she simply couldn't go anymore. Tired, sweating, and gasping for air, Julia rested her hands on her knees while taking a moment to regain her breath.

"Phew! Thing that'll about do it. Time to hit the showers." she said to herself, before heading off to the women's locker room and grabbing a towel. Stripping off her sweat-soaked clothes, the blonde then got in the shower and basked in the feeling of the hat water hitting against her skin. She took her time as she shampooed her golden locks and lathered her body with soap, washing all the sweat off of her. Soon the water was turned off, and she started humming a little country tune to herself as dried herself off with the towel, then grabbed her bag and started to get changed into some fresh clothes: bra and panties, socks, jeans, a red top, and of course her cowgirl boots.
Kozue Kaburagi was homeless.  Again. That sucked.

After what could best be described as a serious series of bullshit events, she'd found herself out of Junko's house and on her lonesome again. That meant a few things. Both good and bad.

The good news was that her future looked substantially more bitch-free, so that was always nice. Not being harped on all the time and used as someone's ego fuel would definitely improve her overall mood. It would give her more time to enjoy life and less drama. Always good

The bad news was that it had been so sudden that she didn't even have time to pick up a proper place to stay. She managed to save up some money during the past few months, which was good,  because she could afford a new place to stay for a while. But the trick was actually finding that place.

She'd spent all of yesterday trying to get a good place for a good price, and she found some promising spots. But none of them were going to just let her immediately move in, and they were all iffy about letting a wrestlers stay in their apartments, knowing how crazy a life like hers could get. So until she could iron things out, there was no way around - she was living out of her car.

After the grueling tag match at Showdown and with all of the sudden changes in her life, Kozue figured she needed to recharge her batteries and keep herself sharp. And what better place to do that then the gym?

She headed over to the Tension Gym, dressed nice for a day on the street - long jeans, her favorite sneakers, her red-shirt with the Duck Hunt cover on it. She had a smile on her face, a little smirk as she thought about the way things were going. Not a bright spot in her life, but she was hopeful. She'd done well at the PPV, and she'd continue to do well...so long as she kept her training on point.

She had just entered the locker room with her gym bag slung over her shoulder, when she noticed the weird little humming and who it was coming from - a girl she thought she recognized, but couldn't place. "Hey, yo." She gave a little wave to her as she passed, heading over the nearest available locker. "You're a new girl, right?"
Last edited by acuya on Tue Apr 14, 2015 6:44 pm; edited 1 time in total (Reason for editing : Because I post when I'm too sleepy, sometimes.)
The gym hadn't been empty, but there weren't many people there at the moment, and it was rather quiet. Not that Julia minded. She could've been just as focused either way while she'd been working out. But when she heard approaching footsteps in the locker room and a voice calling out to her, it did catch her attention.

Turning to face the woman, Julia gave her a bright smile. "Howdy!" she said, returning the wave. "Sorta. Technically a Friction girl, but I drop by here now and then." she explained, giving the short and simple version of it. Though, she was still relatively new around here, technically speaking, having only had three matches in the league thus far.

Julia then stood and held out her hand to the other girl for a handshake. "Julia Rogers. Nice to meet ya, partner. I was at Showdown, by the way. You were great out there, Ko...Koz...uh, Ninjette, right?" Even though she genuinely remembered the match, Japanese names weren't the easiest for her to remember. Thank god for nicknames and aliases.
'Howdy'.

Kozue had been to a variety of places all across America. She'd met all sorts of people, hung in more places than she could ever bother counting. She'd been greeted plenty of different ways, in different dialects, in different languages.

But 'howdy'? That was a first. From the way this girl talked, though, she said it all the time. Serious face, too.

Kozue nodded and brightened up a bit as she spoke, remembering her pretty clearly, now. She'd gotten to watch the title match a day after the show was through, saw her at ringside with Domino, even caught her little stunt when she sent the world champion packing. Girl had spunk. The kind of spunk that would get your head kicked in with Friction if you weren't careful, but still. There were worse qualities to have.

"Kozue. Ko-zoo-ay. She pronounced it nice and slow. Always sounded a little weird with her Jersey accent, but she got the syllables out right. Kozue dumped her gym bag and took the handshake, returning it with a firm grasp. "Ninjette's fine. And yeah, thanks. Saw you with Domino, too. Sweet little run-in." She took a seat and started to rifle through the bag, getting out her work bra and pants. Black with a blue trim, sticking to her favorite color scheme. "Soooooo I'm taking a guess you're not local, right? Where you hailing from, cowgirl?"
"Ko-zoo-ay." Julia repeated after the woman, before saying it a couple more times just to help herself get the hang of it. Though a part of her was just glad Kozue didn't take offense to her not remembering her name. Being new, coupled with the fact that a good portion of the active wrestlers came from cultures she wasn't familiar with didn't exactly make it easy for Julia to keep up with everyone's names.

"Oh yeah, thanks." she said with a slight chuckle as Kozue brought up Showdown. "Kinda wish I hadn't had to do that, but I'm also kinda glad I did, ya know? Between you and me, I think she was a little overdue for a chair shot to that head of hers." It hadn't felt like anything to laugh about that night, with all her thoughts on how bad she felt for what had happened to her boyfriend in the ring. But now, talking about it brought a little laugh from the blonde luchadora.

Julia then grinned a bit when Kozue took a "wild" guess that she wasn't from around here. "It's the boots that gave me away, ain't it?" she joked, before answering the woman's question. "Albuquerque, New Mexico. It's a little ways away from here. And what about you, Kozue?" she asked (hoping she got the pronunciation right). She'd noticed Kozue didn't seem to have a thick asian accent, but figured that might just be because of how much time she'd spent with gaijin wrestlers around here or something
It was only after Julia mentioned it that Kozue noticed she was, in fact, wearing cowboy boots. She couldn't explain why, but for some reason she found this to be completely awesome.

Anyway, Julia did a pretty good job of pronouncing her name. Better than about 90% of the people she knew. Some of whom were actually Japanese, oddly enough. "Me?" She sat down and started to kick her shoes off. "Hobokon, little town in the middle of Jersey." Wasn't much, but it was home."

As soon as she her feet were feet, she stretched her legs out and wiggled her toes a bit, getting some of the kinks out. Her body was still aching from the suicide dive she did at Showdown, no surprise. Hopefully she could get some kinks out. "Right on, though. You did a lot of us a favor in the back -  the only reason Kirishima even won that belt was because King pulled some shit at the royale, and she acts like she earned the thing. Sellers pretty much gifted wrapped the fucking thing." She groaned, a reflex every time she thought of that debacle.
"Oh! So you're American too?" Julia said, probably making her surprise at the fact a little more obvious than she needed too, which she noticed, quickly causing her to blush in embarrassment while she frantically tried to explain herself. "It's not that-- I mean, like...with your name and...everything, I just sorta assumed..." She hoped her assumption that Kozue was Japanese didn't make her seem racist or something. "I, uh...sorry about that. Heh..."

Hoping to throw the awkward moment behind them, she focused on Kozue's comment about Tension's world champ again, which strangely enough made Julia feel a bit more proud of the fact that she'd done what she did. She'd felt the same thing when Domino had told her how proud of her he was for it. "Really? Wow, I didn't know about any of that. The Showdown match was the first I've ever seen of her.." she said, thinking back to the final moments of that match. It was obvious whoever that woman was who helped Reira that night was an ally of hers, but she hadn't guessed the champ had friends in such high places.

"And what about that girl who ran down during the match and distracted the ref? Who was that?"
Yeah, that was about the reaction Kozue expected. It was funny, really - since she'd come to Japan, very few people actually questioned why a girl like her had a name like that. People just seemed to just not give it much thought. Either that or they just didn't pay any real attention. She preferred the former explanation.

"It's cool, Jules." Off came the socks, next. "But if you want to learn the story behind that, I'll have to get a little inebriated first. It's a long, stupid, silly tale that I just can't tell right when I'm sober."

Which reminded her: now that she was free of Junko, she could drink again. Yay.

She took a moment to remember the match and center on that little detail - there'd been so much chaos that she'd almost forgotten about the unexpected guest in the match. "That?" She looked at the ceiling for a moment while she put a face to the name. "That was Aoi. She's basically this zero-talent wrestler who gets by tricking guys and doing nutshots and stupid crap like that. She's with the Thorns of the Rose." Kozue pointed her finger into her mouth and retched. Hated that name."They're Melissa Seller's bunch of pet bitches. So I guess that means Reira is the new top dog in their kennel. Which also means she'll have that belt for a long damn time. Fuckin' figures."
"Thorns of the Rose?" she questioned, wondering why that sounded familiar. And within a few seconds, it clicked. "Oh yeah! They also had a match that night. Huh, she came and went so quick during the main event I didn't even recognize her..." Still, the idea that a group like that was protecting the world title was troubling to say the least. Those kinds of things sure as hell weren't easy to overcome. And judging by the way Kozue spoke, it sounded like they were pretty good at what they do too. Not an encouraging thought.

But it didn't seem there was much of anything that could be done about that right now anyway, so Julia put on a bright smile while changing the subject. "Y'know, I think I would like to hear that story if ya don't mind-- oh, yeah. I'm guessin' you're about to work out or somethin', huh? ...Hey, why don'tcha let me be your spotter, then when you're done I'll treat ya to a drink. How's that sound?"
Kozue stared at Julia for a moment. It wasn't a harsh stare. There wasn't any malice behind it. if anything, there was a hint of bewilderment...but not in a bad way. "We've known each other a grand total of two minutes, and you're already offering me free drinks." She finally broke into a smile after the moment passed. Not quite as bright as Julia's, but then again, there was no way Kozue could ever made herself look that happy.

"I'm down with the drinks. Know a great pub near here that serves some awesome stuff, too, and it's been way, way too long since I gave it a look.": She slipped off her shirt and started to put on her training bra, casually letting her chest out into the open air. Neither of them had something the other hadn't seen before, so it hardly mattered. "I was just gonna do some cardio, though, don't need a spotter. Wouldn't want to get stink on you, anyway - maybe meet up after I'm done?"[/color]
Page 1 of 5 • 1, 2, 3, 4, 5


---
Permissions in this forum:
You
cannot
reply to topics in this forum