Who is online?
In total there are
48
users online :: 10 Registered, 0 Hidden and 38 Guests :: 2 Bots
axe2029
,
daemongirl
,
Hedgehawk
,
killcarrion
,
Lobo
,
LunarWolf
,
Old_Man_Tai
,
RadiantKarna332
,
SimplyMoon
,
Yori
Most users ever online was
390
on Tue Jan 02, 2018 2:02 pm
Champions & #1 contenders
Highfly Flying Out Of Town
Tue May 22, 2018 1:31 am by HighFly
Hello everyone, I just wanted to inform all I have threads with that I will be gone from this coming Wednesday through Sunday. I won't be able to post consistently if at all during this time, but I will try to make up for it next week! I am sorry for the inconvenience to everyone.
Comments: 7
The Austrailian Mudslide is Back.
Sat Apr 21, 2018 6:20 am by Softsquad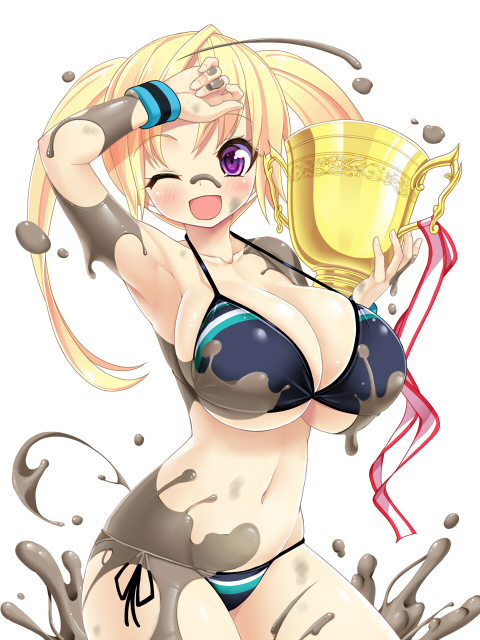 Granted that most of you won't know me or remember me, but I've had a few matches here and there some time ago. Well I think its time to become a regular around here and try to have some fun again, but at the same time keep coming back. Anyway I think its time to jump into some matches with Zoe Taylor, my mud wrestling character from Australia and get her back into the squared circle. Furthermore I will update my characters as I think some proper changes need to happen.
So if anyone would …
[
Full reading
]
Comments: 5
Page 1 of 2 • 1, 2


Spoiler:
The control booth had already loaded up the next wrestler's entrance into the system when they were given an order to stand down, the woman about to walk out into the arena having decided to forgo her usual entrance in favor of a simpler but also much quicker one. It had only been a couple of weeks since Natasha Loclear had come out and issued an open challenge to the AFW locker room in the hopes that someone would step forward and give her the match she wanted, but since then no serious challengers had stepped forward. She had gotten so tired of waiting in fact that Natasha had decided to pay Lukretia a visit to see if the general manager had anyone in mind who could give Natasha the challenge she desired, confidant the woman would jump at the chance of putting Natasha through some new hell, but before she had even made it to her office the perfect candidate had walked right into her life.
It was like she had run into a ghost of AFW's past but ghost or no there was few Natasha could have thought of that would serve her purposes better than the one and only Sarah Gatt. All she had to do now was issue a personal challenge to her and hope she was at least curious enough to come out and see why the hentai champion would to mess with her. Natasha was counting on that famous pride of Sarah's.
Once the previous match had finished up and the ring had been cleaned Natasha grabbed a microphone and headed out, her music beginning to play to let the crowd know who was coming though she could imagine more than a few were waiting for the lights to dim and rain to fall. She had been hitting the crowd with a lot of firsts lately, such as her new music and updated entrance when she came out to celebrate her title, and tonight was no different as Natasha stepped out onto the entrance ramp wearing a new set of wrestling gear. Natasha felt a bit strange herself wearing pants out to the ring and the crowd seemed to take a moment to drink in her new look, Natasha relieved when she heard the crowd's approval in the form of their cheering.
Natasha waved to the fans as she always did though tonight she walked faster than usual for she was a bit nervous, unsure whether or not Sarah would actually come out. It would be embarrassing to say the least but with what she knew of Sarah from talking to Heather Natasha was confidant the woman would make an appearance. Once inside the ring Natasha gave the crowd one last pose, pumping her fist into the air in which she held her Hentai Championship, before laying the belt over her shoulder and bringing the mic up to her lips.
"Well Tokyo seems only a couple weeks ago I was in this very ring, microphone in hand, announcing to the world that I would be a fighting champion for all of you. When I told you all that I meant I would do more than just defend my title against all comers, that I would prove to everyone who doubts the talent on the hentai roster just how good we are! I've had a lot of matches on the road to winning this title and more than a few are still fuzzy from the chair shots and falling off of ladders, but in this league its all about what you're going to do next so I've been looking for that next challenge."
Natasha took a pause then as the screens around the arena lit up with a highlight reel of Natasha's more physical matches, the Frenchwoman wincing when she saw how Adrian had knocked her out cold at the end of their last match together. There were still mornings that part of her head throbbed in memory of that pain. "One day I'll have to repay Adrian Kytes for that but for now I had someone else in mind, a woman I never got the opportunity to face when she was here before but now I have been given a second chance to see if she really is as tough as the history books say she is." She said with an ever widening smile on her lips, Natasha quite enjoying keeping the crowd in suspense even if it was fraying her nerves a bit to build up this much anticipation for something that wasn't a sure thing.
"Sarah Gatt...the
former
World Champion." Natasha put a heavy emphasis on the word "former" thinking that might agitate the woman a bit further. "If you're listening back there come on out so we can talk face to face, that is unless you've already disappeared again."

Sarah had been on her way out of the AFW complex when a very frantic and also very tired man with a clipboard came running up behind her, informing her that her day was not yet over.

It had barely been a day since Sarah Gatt, the Queen of Brawl, had made her triumphant return to the AFW stage, and already the effects were being felt throughout. News of her return spread quickly through the grapevine, and the reception was mixed to say the least. Most (namely the audience) were ecstatic about Sarah's return, for the Queen of Brawl brought with her a form of brutality and mayhem that had been sorely lacking since her premature departure. Others (namely the wrestlers) were not as happy to see Sarah, in fear of falling victim to that same brutality and mayhem. Everything that Sarah had before was falling into place once again.

But there was one thing that Sarah had now that she did not have much of back in the old days. Something that surprised even her upon her return.

Challengers.

At the height of Sarah's fame, when news of her brutality had spread to every corner of the AFW, all but the toughest of wrestlers would avoid Sarah like the plague. In Sarah's absence, however, new wrestlers had joined with the AFW hoping to make names for themselves, and in many cases most of them did, earning fortune and fame in their own rights. These wrestlers now relished at the chance to take on the legendary Queen of Brawl for both the glory and the bragging rights.

And it just so happened one of them was calling for Sarah now.

Sarah had never heard the name Natasha Loclear before today. It was not a name she was familiar with now, or back when she was active in the league. Which meant she had joined up roughly around the time Sarah had left. According to the intern who had stopped Sarah, this Natasha person seemed to be a pretty big deal in some way or another, and right at that moment, the woman was calling her out right in the middle of the arena.

Sarah would not disappoint.

After a moment of silence after Natasha's declaration, the old but favoured music of the Queen of Brawl would blare up over the loud speakers, and the crowd knew to respond with righteous cheers. It was something they hadn't heard in a long while, and they knew what the tune would summon forth. From the backstage emerged Sarah Gatt herself, with her hair like fire and her eyes like emeralds, the Queen of Brawl had arrived. Clad in her classic ring attire, Sarah grinned wickedly at the ring set before her, and with a double handed sign to the devil pyrotechnics would shoot up from the stage, and only then would Sarah make her way to the ring to united screams of hundreds of fans.

Paying the crowd no mind and only having eyes for the ring before her Sarah's stroll to the ring was brisk and without pause, and once close enough would her way up to the apron, and with deliberate slowness would climb through the ropes to come face to face with the person who had the gall to call her out. Sarah would lock gazes with the woman known as Natasha and smile coldly, letting this upstart know exactly what she was dealing with here.

"Can I help you?" Sarah asked almost sweetly.
There was as close to dead silence in the arena after Natasha called out Sarah as was possible, low murmurs running through the packed house as everyone in attendance waited along with Natasha to see if Sarah would answer her or not. Without realizing it Natasha was holding her breath in anticipation, her fingertips tapping upon her title belt as she kept her eyes fixed upon the entrance ramp where she hoped to see Sarah at any moment.  She hadn't given any thought as to what she would do if Sarah didn't show herself, the woman might have already left the building for all she knew, but fortunately Natasha wouldn't have to find out as music that hadn't been heard in two years began to play.

Well how about that, she actually showed up.

Natasha took a deep breath while she watched Sarah come down to the ring with the crowd going wild for her, apparently years away had done nothing to dull the fan's love of what Sarah brought to the ring. That unique brand of insanity was the very reason Natasha had sought the woman out for as crazy as she knew she might seem for it Natasha wanted to experience it. Taking on the Sarah Gatt could forever silence her doubters and elevate the prestige of the Hentai Title to new heights, or it could confirm those very assumptions she was trying to disprove. In the end it was going to be up to her which of those came to pass, whether she failed or not depending entirely on if she could back up the challenge she was making.

Sarah didn't so much as glance at the fans calling out her name from behind the barricades but that did not deter them from cheering for her, on the contrary the crowd only seemed to grow louder the longer she paid them no mind. There were few other heels if any in the AFW who could count on such a positive reaction from the crowd and it spoke volumes about the kind of competitor Sarah was.

As the woman climbed into the ring and came to stand before her Natasha refused to back up an inch, standing her ground with her eyes staring right back into the cold stare of Sarah's gaze. "Glad you could make it and yes you can help me Sarah, or at least I've been led to believe you can." Natasha replied, smirking right back at Sarah to show her she wouldn't be turned away quite so easily. "A couple weeks ago I put out a challenge to anyone who thought they could out wrestle the new Hentai Champion to come out and prove their belief and no one stepped up. I am in need of competition and unless I've been misled you can give me that and more. Am I wrong?"

Upon arriving in the ring Sarah gave her so called challenger a once over. This Natasha Loclear was.....well, the best word to describe her would be smokin'. Firm build, large breasts, and unlike most of the women in the place she was actually dressed like a wrestler. But the thing that immediately drew Sarah's attention was the belt Natasha wore around her waist. Sarah's first thought was that this was the Friction World Champion, here to tell Sarah that this was her belt now and now past was champion was going to blah, blah, blah.

Those were her thoughts until she saw that it was not the Friction title belt she wore. Having worn in herself Sarah knew almost right away. She couldn't recognize just what title it was, and was narrowing her eyes to get a better look at it when Natasha answered her question for her and declared herself the Hentai Champion.

Whatever anticipation Sarah held for this woman died as soon as she heard those two words. "Wait, wait, waitwaitwaitwait," Sarah would suddenly interrupt Natasha, waving her hand before her to stop the woman from talking. "Did you just say.....the Hentai Champion?" Whether she got an answer or not Sarah's mouth would curl into a mocking smile and she would start a low chuckle. That chuckle would quickly become full blown laughter that echoed through the arena. Sarah was laughing so hard that she had to stumble into the ropes and lean against them in an attempt to catch her breath.

"Boy...oh boy," Sarah managed to get out in-between giggles. "I actually thought for a second that this place had gotten a few more ballsier fighters, but no. I think they've just gotten fucking stupider!" With that Sarah would launch into another fit of laughter, stomping her foot on the ground to compensate.
Natasha had never gotten the chance to see Sarah up close before, her only experience with the former champion coming from stories she had heard from Heather. From the description she had been given and everything she had been told about her Natasha had expected someone less...stunning to be standing in front of her. If Sarah truly was the brute Heather had made her out to be, and she had every reason to believe she was, then she was a beauty as well as a beast. Even her choice of clothes reflected this duality with the leather and boots hinting at how brutal she could be while the black leggings and ample cleavage drew the eyes to her alluring curves.

For a moment she found herself wondering just how Sarah might fare in a hentai match, but she pushed that thought aside as she reminded herself why she had called Sarah out, that it wasn't for her looks. There were any number of attractive prospects who could challenge her for the Hentai title, but what she wanted now was someone whose merit as a fighter was unquestioned and seeing as she had never truly lost her title Sarah was a perfect choice.

That was if she accepted however and while she had certainly prepared for Sarah not taking her seriously Natasha hadn't quite expected her to laugh quite so hard. The laughter became so much Natasha wasn't sure if the woman truly found being challenged by a hentai wrestler so hilarious or if she was just putting on a show, but either way she wasn't going to let the woman throw her off. "Laugh all you want but the challenge remains. The fact that you've returned is well known by now and yet no one else, from your past or no, has seen fit to seek you out like I have." She said with her arms crossed over her chest.

"I don't quite care what you think of me, laugh if you want but I do wonder how it would look if you turned me down? You have a reputation of being fearless so I have to ask what are you afraid of?" Natasha stepped forward to place herself within arm's length of Sarah, demonstrating both to her and the crowd she wasn't backing down from the challenge.

By the time Natasha started to address Sarah again the brawler's laughter started to die down, although there was a giggle here and there that did make it past her lips. Her fit of laughter was indeed genuine, for the mere thought of someone from that stable of hentai fighters daring to get in the ring with the Queen of Brawl was in Sarah's mind like a lamb being sent in a pit fight against a lion.

Taking a deep breath, her face nearly as red as her hair after all that laughing, Sarah managed to settle down with only a low chuckle coming from her. "It's true," she said. "You are the first one to actually challenge me. And you must think that makes you tough shit, huh, Smurfette?" The nickname came from the colour scheme of Natasha's whole ensemble, right down to her. "Let me guess......you fought your way to the top of that orgy pile you call a championship, and realized that people just aren't taking you seriously enough? Gee, I wonder why that could be?" Sarah made a show of shrugging her shoulders.

"But then you heard that the big scary Sarah Gatt back, and got the brilliant idea that if you could get a fight with her, people would see you as a fighter, and not just a fucker."

When Natasha stepped up to her Sarah would smile in amusement, and would take a step forward as well until the girls were nearly chest to chest. Sarah's green eyes would bore into Natasha's blue ones. "let me give you a piece of advice, dewdrop," Sarah whispered. "People like you don't fight people like me for a reason. You know what the reason is?" Sarah waited as if she cared what Natasha's answer was, though really Sarah already had the answer prepared.

"It's because you're a joke. A glorified call girl who steps into the ring, spreads her legs for the cameras, and then has the nerve to call herself fighter. Your little 'title' that you're wearing? I wouldn't use that thing as a seatbelt. You want to prove to everyone what a toughie you are? Go bother the heels in the Kawaii League. But don't think for a second you're good enough to stand in the same ring as me."

Whatever amusement that Sarah possessed walking into the arena was long gone, replaced with the cold and hard ruthlessness that was the Queen of Brawl. Her eyes were glaring daggers into Natasha's, as if one would stare at a cockroach. "Take a walk," Sarah growled. It was clearly not a request.
Natasha had been annoyed by Akashi's constant questioning of her decision to search for fiercer competition outside the hentai division but now that she had Sarah's reaction to compare it to she much preferred Akashi's, at least she had tried to be civil at first. The woman's laughter went on for so long Natasha began to suspect Sarah would laugh all the way back to the locker room and leave Natasha standing alone in the ring. Fortunately Sarah at last compsoed herself and while a chuckle still escaped her lips she seemed over her hysteria and ready to properly answer her, the woman's reply very much in line with what she had expected someone with her reputation to say.

The Frenchwoman stood there with her arms crossed over her chest quietly listening to Sarah rant, having heard it all before Natasha barely registered any emotion as the woman dealt out her insults. Though she couldn't remember having heard the nickname Smurfette before, she wasn't really sure what it meant but she could always look it up later.

While she wasn't going to admit it to Sarah the woman was correct, she had grown tired of people like Taylor and Angel not taking her seriously as a competitor just because she enjoyed her place in the hentai division, as if that meant she couldn't be a serious threat to them. She had been trying to get a match with Taylor but there was much standing in her way and she wasn't going to come out and beg for one either. Natasha hadn't been sure what route to take when she heard Sarah had returned, it was as if the world was handing her the perfect person to demonstrate why she was not to be taken lightly by anyone, whether in a hentai match or otherwise.

Sarah paused for a moment and while Natasha was sure her question had been a hypathetical one she wanted to get a word in somewhere. "Smurfette...dewdrop, how many more of those do you have? Doesn't matter I guess, I just find it funny how hard to are trying to talk me out of this." Natasha replied moments before Sarah cut in with her prepared answer, Natasha not once breaking off eye contact as she stared the woman down.

"Theres the Queen of Brawl I've heard so much about, every bit as dismissive of what you can't do yourself as I had hoped you would be." Natasha said with a smile, responding to the glare Sarah was giving her with an amused stare. "Take a walk? No I don't think I will, I'm quite comfortable standing right here thank you. Seems like you have two options Sarah, you can retreat through those ropes and deny my challenge or you can accept it. The choice is yours of course."

Even after Sarah's mocking laughter, her biting comments and the added bonus of having the wether the Queen of Brawl's glare, Natasha would not back down from her resolute decision to stand her ground. Sarah had to give her credit for that. Most women, certainly not those from the Hentai division, would not be able to stand before Sarah with so much zeal. That meant one of three things.

One: Sarah had been gone too long and people had actually forgotten what a grade A bad ass she was.

Two: Natasha was batshit crazy and had wandered out of a nearby psych ward.

Or three: the Hentai Champ might actually be tougher than Sarah had assumed.

Either theory wasn't ending this confrontation anytime soon. So Sarah would respond to Natasha's ultimatum in the only way she knew how. "Hm, that is quite the choice," Sarah would mutter in a tone dripping with sarcasm. And then Sarah would teach Natasha why it was never a good idea to get within arms reach of the Queen of Brawl.

Suddenly Sarah's hand would shoot out and latch onto Natasha's throat, squeezing it in a vice-like grip. If she managed that a grin would form on Sarah's face, and in a stunning display of strength would actually lift Natasha clear off the mat by her throat, dangling her in mid-air using only the strength of one arm.

"Care to guess which one I've chosen?" Sarah would ask smiling, making the feat of strength seem like child's play.
Natasha rolled her eyes at Sarah's sarcastic tone just to show the woman how unafraid of her she truly was, even if that wasn't entirely true. Anyone who came face to face with Sarah Gatt and didn't feel an ounce of fear was someone who was either crazy or was clueless as to what the woman was capable of, either one would never be able to take her on. But for all of Natasha's caution she did not expect Sarah to take her by the throat and with an almost inhuman strength lift her clean off her feet, dangling there while she clutched the woman's arm to take as much pressure off her neck as she could.

Her feet kicked uselessly for a few moments as she hung there struggling for breath, Natasha's smile gone as the belt slipped from her shoulder to fall to the canvas below her. It was painfully obvious she had just gotten the answer she had wanted just not in the manner she would have liked. Complaining would only ruin the victory she had just achieved however, forcing Sarah Gatt to take a hentai wrestler seriously was quite an accomplishment, now she just needed to get out of the ring in one piece.

"The one where I kick your ass." Natasha managed to say in between her coughs and gasps for air. Even then she kept her eyes fixed on Sarah's face, not pulling her gaze away even as Sarah held her aloft as if she weighed nothing, the crowd cheering as words gave way to action. Looking to escape this Natasha swung her legs up trying to wrap them around Sarah's arm and take the pressure off her neck, getting the woman into a standing arm bar if possible.
The crowd went wild when everyone saw what they knew was eventually going to happen: Sarah inflicting physical harm on her challenger. As Sarah lifted Natasha clear off the mat with a strength that most would have deemed to be 'freakish' the fans of both women rose to their feet with roars of both approval and outrage. Cameras and phones flashed all over the arena to immortalize the moment.

A sick and menacing grin spread across Sarah's face as she held Natasha in her grasp, watching as her victim struggled to breath. With Sarah's vice-like grip and the mat having left her feet Natasha would find that very hard to do. Sarah could have done a great many things at this point; choke slam her, punch her with her other hand, or just crush the girl's throat to watch her drift off into unconsciousness. But for now she just relished in the face that she had shut the girl up.

Sarah's smile would falter when she heard Natasha choke out her few words, which Sarah could barely make out, but it would soon become clear all the same. Sarah's green eyes would widen when Natasha's spandex covered legs would scissor around the arm that was choking her, and suddenly Sarah would find herself in a surprising (and painful) position. Barely able to suppress a cry Sarah would suddenly find herself being arm barred. She was still standing but now Natasha was wrenching on the same limb that only moments ago was choking her. The pain would cause Sarah to drop the arm, now essentially holding Natasha upside down as she applied the submission hold. And once again the crowd was loving every minute of it. Gritting her teeth to deal with the pain Sarah stood in the middle of the ring, a girl hanging off her arm, and an arena full of people watching it happen.

Oh, she had missed these days.

Another twisted smile would soon spread across Sarah's features. Her free arm would soon move to grasp onto Natasha, gripping the blunette while the girl gripped her. "Going up!" Sarah would announce, and with another display of strength would lift Natasha up higher in the air using the strengh of both arms, almost into a powerbomb position. "Going down!" And with that announcement Sarah would perform a bit sit-down powerbomb and Natasha, aiming to send her crashing down onto of her own championship belt.
Page 1 of 2 • 1, 2


---
Permissions in this forum:
You
cannot
reply to topics in this forum