Champions & #1 contenders
Highfly Flying Out Of Town
Tue May 22, 2018 1:31 am by HighFly
Hello everyone, I just wanted to inform all I have threads with that I will be gone from this coming Wednesday through Sunday. I won't be able to post consistently if at all during this time, but I will try to make up for it next week! I am sorry for the inconvenience to everyone.
Comments: 7
The Austrailian Mudslide is Back.
Sat Apr 21, 2018 6:20 am by Softsquad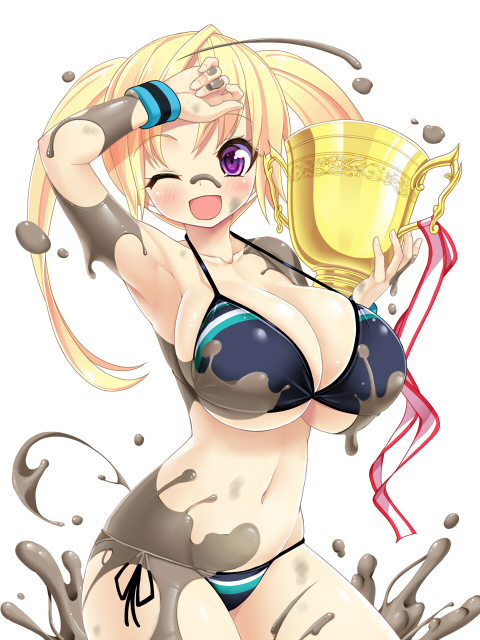 Granted that most of you won't know me or remember me, but I've had a few matches here and there some time ago. Well I think its time to become a regular around here and try to have some fun again, but at the same time keep coming back. Anyway I think its time to jump into some matches with Zoe Taylor, my mud wrestling character from Australia and get her back into the squared circle. Furthermore I will update my characters as I think some proper changes need to happen.
So if anyone would …
[
Full reading
]
Comments: 5
Moonhearts Promo intro thread is O p e n.
Mon May 21, 2018 4:21 am by XSirenX
Feeling brave?, lost?, or without a thread to post in?, hit up the newest Moonheart if any of those apply!
CLICK HERE
What Moon has to offer?, many things...:
Comments: 0
Page 4 of 7 •

1, 2, 3, 4, 5, 6, 7


"Thanks, Mariko, we'll see you soon!" Amy ended the call, then she tossed her phone back onto the table. She reached for her drumstick. "You're free today, right? No need to rush, let's enjoy our lunch." Amy took a bite of her chicken, and her eyes rolled back and closed. Fried food, just, damn. "Hey, what do you think of Japanese KFC? I think it's better than the KFCs we have back home."

-----

Amy and Blaise turned onto Mariko's street a little over half an hour later. Amy was worried that they'd have to hunt to find the jazz club she mentioned, but it was just as Mariko said, sitting pretty on a corner of a street that was otherwise dotted with apartment buildings. "Do you wanna take point, or should I?" Amy asked as they crossed the street.
Lunch was rife with debate after that snippet, because
America!
But once the two were on their way to meet the mysterious (to Blaise, anyway) Mariko, the teen is in a cheerful mood again. "A jazz club, huh? Never been to one! Saxes are cool, though. Not trumpets - trumpets are noisy. All '
blaat, blaat
.' Who needs that?" He's excited, you see. And when the question of taking point is posed, his eyes light up. "Totally! It'll be fun!"
Without waiting another moment, Blaise trots right up to the entrance, pulls back the door, and runs smack-dab into the doorman. That is to say, his face smashes into a man's unyielding chest. The teen staggers back, blinking. "Hey, watch-..." The eyes travel upwards. The man stands a good foot and a half taller than him. And he's wearing sunglasses. "-... how fast I can turn around and walk the other way."
"I.D." The man is taciturn and humorless with a smoky voice.
Blaise fumbles about his person before finding his wallet, followed shortly by his photo identification.
The man takes it, studies it, and drops it back into Blaise's hand. "You want in?"
In a small, meek voice, Blaise replies, "
Yes, please.
"
He finds his wrist suddenly grabbed, the back of his hand stamped with a neon pink, cartoonish sheep. Blaise lifts his hand to inspect the work, then turns wide, questioning eyes up at the stoic doorman.
"No ordering alcohol."
Blaise's eyes flicker between the man and the stamp several times. "Ohhh. A sheep. 'Cuz... innocent... right," he degenerates into mumbles. The doorman steps aside, and Blaise shuffles in, feeling as sheepish as the stamp insists he is, but scanning the interior for their quarry.
Amy tried to temper Blaise's enthusiasm at first. She held up a hand and got to "Wait-" before he popped the door open and ran headlong into a human mountain. But, after that, she simply stood back and watched the scene unfold before her. Blaise was like a big, goofy puppy that learned about the world around him by smashing his wet little nose into anything and everything, often to hilarious and adorable results.

She raised an eyebrow as the doorman stamped the back of Blaise's hands. He wasn't drinking age? In Japan, that meant he was less than 20 years old. From the way he's always acted, Amy had assumed he was young, but she didn't think he was that young…

Amy followed behind, flashing a friendly smile at the bouncer as she handed over her ID. He looked down at the card, then at her, then back down at her card; Amy, meanwhile, wondered if she could take him in a fight. "Birthday?" She told him, and he matched the information to the card. He returned the ID, a little suspicious, maybe, but otherwise placated. "Go on in," he said roughly. "Please enjoy yourselves."

Amy followed the teenager (!) in. "Blaise," she began, leaning heavily into the back of his shoulder. "Lemme see your ID." Before he could respond, Amy caught sight of Mariko sitting alone at a table, a glass of red dangling from her hand, and eyes staring intently at the entrance. Oh right, she doesn't know what we look like- well, Blaise, anyway. She's seen some of my matches. That was weird for Amy, to be recognized from television. It hadn't really happened on the street yet, but if Mariko had seen her, then it wasn't impossible that others would start recognizing her as well. "There she is," she nudged Blaise, immediately forgetting her request, and approached the table. "Hi, Mariko?" Amy held out a hand. "I'm Amy, and this is Blaise. It's nice to meet you."
For a while Mariko sat at her table, enjoying the music the band was playing and occasionally sipping on her wine as she watched people come and go into the club. After a while, she took out her phone to check the time, and saw it was just about forty-five minutes had passed since she'd spoken with Amy. And as if on cue, a somewhat clumsy looking young man wandered into the place. He almost reminded her of...well, that was impossible. And then Amy followed suit seconds later. She might've been a bit more difficult to identify elsewhere, but right now she was the only blonde American in the Japanese jazz bar, so Mariko was willing to bet this was who she'd been waiting for.

Sure enough, Amy saw her and came over to the table, confirming her thought. "Nice to meet you, Amy." she said, reaching out to shake the woman's hand, then grinning slightly at Blaise. "And I take it this must be the 'friend' you mentioned, correct? He's a handsome one. Your boyfriend, perhaps?" she asked in a somewhat teasing tone, before nodding to the chairs next to them. "Please, have a seat. I know you just came from lunch, but feel free to get yourselves something to drink if you want."

She'd then wait for everyone to get settled in before speaking again. "Normally this would be the part where we waste a few minutes over some pointless smalltalk, but the way you spoke earlier gives me the feeling there's something important on your mind, so lets get right to it. Unless you want to talk about the weather, that is. It is a beautiful day today, isn't it?" she said with a brief giggle. "So then, what is it you'd like to discuss with me?"
Blaise was taking point on this one. "Pretty cute, right? Sadly, I've already got a boyfriend, so if you're in the market..." Amy gave Blaise a playful slap on the back. "And the weather's great, but I think I will have that drink- no cover, no minimum? It's the least I could do. You guys should feel free to get started without me. Blaise, you want anything? As long as it's not anything grown up." Once Amy received Blaise's response, Amy would find her way to the bar. It was five o'clock somewhere- Honolulu, actually. And maybe the double of Japanese whisky would help her tolerate jazz for as long as she needed to be here.
Blaise isn't about to show her his I.D.! Not after that debacle! Besides, how the heck old is Amy? She looks like she's his age, maybe even a little younger! His mind is all over the place, defensive and only too aware of the mark of shame stamped on his hand. But it all manifests with a little shoulderbump at Amy's torso. "Tch."

Amy spots Mariko and leads the way, thus nullifying Blaise's on-point-edness. He doesn't mind so much. It's not like Amy set out to embarrass him, after all! But he's the second to take a seat across from Mariko. He's gotta admit, this Mariko girl's pretty. Better-looking in person. But that's not the point of this meeting! They're here to talk srs bizness.

The teen takes a seat beside Amy's chair and gives a peppy little smile when complimented by both ladies. It promptly drops when Amy takes her shot at his age. "Oh, whatever! I'm gonna tell'em you've got a fake I.D.!," he challenges. He gives no order or anything. He isn't even sure what they'd have here! But once Amy leaves the table, Blaise heaves a vexed sigh. "She's gonna ride me forever about that. No, we're not together like that. She was my first opponent in Japan, actually!"

Bright blue eyes train on Mariko, refocused! "Right. Straight to the point." Beat. "Blaise, by the way. Nice to meet'cha." He'd almost forgotten that! "Anyway, I hear you've had some Valkyrie troubles. And not the 'babes in chainmail bikinis' type, either."
Mariko giggled at the brief exchange with Amy and Blaise, before the blonde headed off to the bar to get herself a drink, leaving her and Blaise at the table. "Oh really?" Mariko asked when he mentioned Amy having been his first opponent. "Pretty interesting way to meet a close friend."

But then they were right down to business, almost. "Mariko. And likewise." she replied, before sipping her wine and listening as Blaise spoke. And when he finished, a chuckle escaped her lips. "Had a match with one of them. I got rough with it, made her tap out. She didn't appreciate that too much, and a couple of her friends helped her beat me within an inch of my life. I'm not sure 'troubles' is quite the word I'd use, but yes, you've heard correctly. Though between you and me, that bitch deserved everything I gave her in that match, and then some. Don't think I've ever stepped in the ring with someone who managed to piss me off as bad as she did."

She actually took a moment to think about her past matches just to be sure, but nothing came to mind that rivaled what she'd felt in that match against Divine. Putting it into perspective like that gave her a newfound appreciation for what she'd done to humiliate the Valkyrie at the end of their match. And for biting Divine's lip when she'd more or less been forced to kiss her. She paid quite a heavy price for it, but it all felt more than worth it.
"I only got the cliffnotes version," nods Blaise. "But from how it sounded, you turned all Terminator on'er. Which is cool, more power to ya. It's just the whole... they-rush-the-ring-and-beat-you-up thing. See, Amy'n I have both been on the receiving end of that."

The teen rests his forearms over the tabletop and links his hands together. It's storytime! "Nathan, Amy's... whatever he is, I'unno, was having a match with one of'em. He started to win, and in rushed the others. They pounded on'em, Amy tried to intervene, and they, uh..." One hand lifts to brush along the back of his neck. "...they hurt her. And then Nathan hurt her for them. It was screwy."

"When I heard about that, I went after Nathan. And then the Valkyries sent one of theirs after me. I was right about to win that match when the same darn thing happened. I got stomped, and they cheated me out of a win. Then I find Amy's gotten jumped at a 7-eleven, started to beat up her attacker, only for another one to attack her."

He casts a glance aside briefly, then back to Mariko. Despite his words, he wears a small, modest smile. "They wanna run Tension. They're getting away with it by trying to intimidate everyone. I'm gonna do something about that, but it won't stop'em from running wild on everyone's matches. They've got numbers - three working together in the ring. We've so far been just one against the three of'em, at the tail ends of our matches."

Blaise cants his head. "We wanna join ranks so this doesn't happen anymore. Amy'n I make two. You'd make three to even the score. And from how it sounds, you've got plenty of reason to want in on it. Are we off-base?"
Mariko had always loved storytime as a kid. And though this certainly wasn't going to be like one her parents had told her all those years ago, she had a good feeling there'd be a familiar theme or two to notice. And as he started his little tale, Mariko listened intently while occasionally raising her glass to take a sip.

"Oh yeah, I heard about that." she said when he recounted the part involving Nathan. She had a bit of a different outlook on that than Blaise did, but considering she'd only seen part of it and didn't really know anything about either Nathan or Amy, she decided not to add any further comment. That wasn't what this little meeting was about anyway. At least, not exclusively.

The part about Amy getting attacked at a 7-eleven was surprising. At least, somewhat. She knew what kind of things the Valkyries were now rather notorious for in the ring, but this was the first she'd heard of anything like it happening away from the arena. A troubling thought, to say the least. And once the basic rundown of everything was given, Mariko found herself with quite a few things to consider. For a moment she didn't answer, letting everything sink in, considering the possibilities. The Valkyries needed to be taught a lesson. And she'd love to be a part of that. But there were other things to keep in mind...

"You're right and wrong." Mariko finally said. "There's a damn good reason I 'turned all Terminator,' as you described it, in that match. I'm not happy at all with what happened. And I'm not any more thrilled about what they've done to other people, like you and Amy. But, me joining in on this would mean...taking on a certain risk that I'm frankly just not willing to take."
Blaise looks a little stumped when Mariko seems to turn a bit evasive. Coming right out and asking why feels like it might be prying, and if it's something that made her Hulk out, it probably wouldn't be good to just traipse into the subject. Though it seems that it's giving her pause. So Blaise opts for a different tactic.

Leaning forward over the table, the teen attempts to match his gaze to hers, "Maybe it'd be a risk, but you wouldn't have to take it alone. You'd have me'n Amy." His head cants in a yielding manner, but his gaze remains steady on her. "D'you.. wanna talk about it?"
Page 4 of 7 •

1, 2, 3, 4, 5, 6, 7


---
Permissions in this forum:
You
cannot
reply to topics in this forum