Champions & #1 contenders
Highfly Flying Out Of Town
Tue May 22, 2018 1:31 am by HighFly
Hello everyone, I just wanted to inform all I have threads with that I will be gone from this coming Wednesday through Sunday. I won't be able to post consistently if at all during this time, but I will try to make up for it next week! I am sorry for the inconvenience to everyone.
Comments: 7
The Austrailian Mudslide is Back.
Sat Apr 21, 2018 6:20 am by Softsquad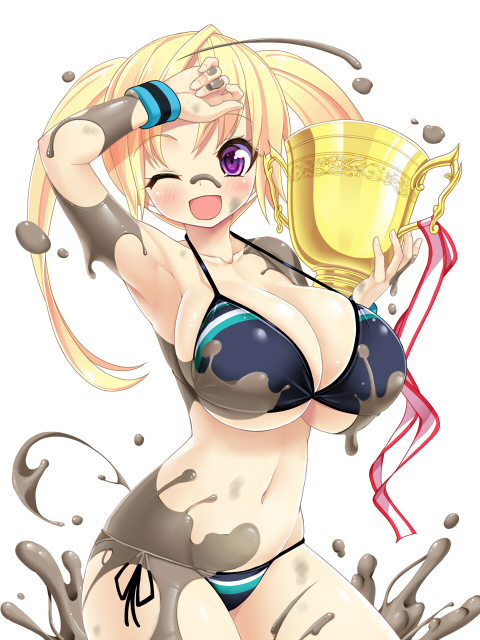 Granted that most of you won't know me or remember me, but I've had a few matches here and there some time ago. Well I think its time to become a regular around here and try to have some fun again, but at the same time keep coming back. Anyway I think its time to jump into some matches with Zoe Taylor, my mud wrestling character from Australia and get her back into the squared circle. Furthermore I will update my characters as I think some proper changes need to happen.
So if anyone would …
[
Full reading
]
Comments: 5
Moonhearts Promo intro thread is O p e n.
Mon May 21, 2018 4:21 am by XSirenX
Feeling brave?, lost?, or without a thread to post in?, hit up the newest Moonheart if any of those apply!
CLICK HERE
What Moon has to offer?, many things...:
Comments: 0
Page 2 of 17 •

1, 2, 3 ... 9 ... 17


Once Lita left, Yamato immediately started wondering what to do with his time while she was out. If he'd been wise, he probably would've just sat on the couch and watched TV. Surely there had to be something on Canadian TV that would keep him entertained while Lita ran her little errand. But, Yamato just had this huge curiosity. Lita had shown him around the house, but he still felt looking around might give him a better idea of just what to expect from her over the next week.

So, he went upstairs and into Lita's bedroom, thinking he'd have plenty of time to do a quick look through the place before she came back. Quickly looking through her things, most of what he found were simple things he'd expect to find in any woman's room. Clothes, underwear and so on. But the more he rummaged around, the more... "unique" things he started to find. Handcuffs, a whip, and even a strap-on. He'd sort of guessed that Lita might have a bit of kinky side to her when she had him clean her boots while she was wearing them earlier, but this confirmed it.

Unbeknownst to him at the time, Lita had by then come back to the house already returned to the house, having left her wallet behind. And with terrible timing too. Yamato had pulled a pair of her panties out of a drawer to get a better look at what was inside. And if Lita came back into her room, she'd find the young man in quite in awkward situation...
After Lita returned to grab her wallet from her jacket she wondered where Yamato was. She remembered him saying he might want to rest for a bit. She didn't see him on the couch so she went to check the room he was was going to be using for the week. When she checked it she didn't see him there either. She wondered where he might be since she didn't notice him in either the bathroom on the main floor or up here. This was a stretch but maybe something happened and had to use the one in her room, or maybe he wanted to take some initiative and see if that one needed cleaning.

She decided to check but was in for a surprise as she saw him handling her panties. With how the the dresser was positioned he couldn't see her coming in the room. She did her best not to yell at him, even though she wanted to. She hovered behind him though and when she got close enough she began to choke him out from behind with almost a half sleeper half choke. She wanted to teach him a lesson and held on to him until he passed out, making sure not accidentally kill him.

After making sure he was out he pulled out a pair of handcuffs from the nightstand and cuffed his wrists behind is back She would then remove her clothing and put on something that would usually be received for someone involved in domination. She removed her boots as well and replied them with boots with heels. This would give her enough to to make the switch and look for the whip that she thought she had up here, but if she had more time she would plot what she was all going to do to him. Otherwise she would just wing and when he came to she would hold the whip in her hand as well as the pair of panties he was looking at a moment ago. If he took his sweet time coming to she would grab the belt from her jeans, grabbing hold of each end after folding it over and snapping it before tossing it back down near her pants. If he came to sooner and she wouldn't go for the belt but instead brush the side of his face with the handle of the whip that is still in her grip. She would make sure the door was closed as well.

Either way she would then tell him "Did you like what you see? Explain yourself you little shit...Well? SPEAK!" she cracks the whip, just barely missing him. She then barks at him to stand up, which if he didn't comply she would force him up by his hair. Her facial expression was telling him any misspoken syllable, even the slightest misstep of his feet will cause her to come closer to breaking him. If he hesitates for much longer she will load up her whip, with his crotch as her target. "You have five seconds! What the in the hell were do you doing! Speak or I will de-man you!"
_________________
Quick roster info:
Want more detailed information and maybe unlock hidden characters?:
Yamato had seen just about all he'd needed to, or at least all he thought he had time to before Lita would be coming back. However, he hadn't even noticed that she had not only returned already, but was now in the room, clearly seeing Yamato standing there with her panties in hand! Even though he hadn't planned on doing anything with them, anyone in Lita's position would likely have been just as angry as she was, and with plenty of reason too.

And just as Yamato was about to drop the panties back in the drawer where he found them, an arm suddenly coiled itself around his neck and began choking the life out of him! Caught by surprise, Yamato began frantically flailing his arms about before bringing his hands to her arm in an attempt to pry it off of him. But, too late. The arm was locked nice and tight around him. He wasn't going anywhere. And soon his struggles began to die down, and his arms fell limp at his sides as he faded out of consciousness in her grasp.

His eyes slowly began to move open again several moments later, and he quickly notices he's now lying on the ground. He tries to move his arms, only to find his wrists have been cuffed behind his back. And he then felt the handle of the whip in Lita's hand brush against his cheek, before hearing her shouting at him and demanding an explanation. "Shit!" he exclaimed while flinching at the sudden crack of the whip, which only barely missed his body. Yamato tried to start standing when she commanded him to, though it wasn't quick enough apparently, as he then felt her grab a fistful of his hair and yank him up to his feet. "Agh!" he grunted out, wincing in pain.

"Alright, alright!" he said, quickly deciding just telling her the truth would be the smartest option. It might not completely bail him out of this, but it was worth a try. "I know I shouldn't have done it, but I was just curious to see what all I could find out about you from whatever you had in here! I wasn't gonna take or do anything with any of your stuff, I swear!" Lita's new attire hadn't gone unnoticed by the young man. It went from that of a biker to that of a dominatrix, and she looked downright sexy right now. But given the situation, right now Yamato's focus had to put a bit more attention on his safety than the sexy brunette in front of him.
Lita lets him talk, while still anger she does process what he is saying to her.  She had a feeling he may have a curious side, after all if he was going to be here for a week who wouldn't want to know what may or may not be used against him if he messes up royally.  A small part of him believed him when he said he wasn't going to do anything with her stuff and it looked like she was giving it some though, stroking her chin for a moment before lashing the whip at him.  Luckily for him her target chained from his manhood to his chest.  If he fell she would bark at him to get up and to take it like a man, even if she had to force him up one more time and tells him not to move.

She leaves the room and goes through one of Yamato's bags.  She yells at him from down the hall calling him a sick fuck as she searching his stuff even though she just finds clothes.  She grabs a small handful with would contain a shirt, one set of socks and one thing of underwear.  She returns to him, shutting the door after entry and if he didn't move he would be spared another lashing to the chest.  She checks the items in front of him before tossing the socks away, giving the crotch wipe gesture with the shirt (though it did not actually touch her crotch as it was covered with what she was wearing) and tosses the underwear at his face.  "Next time ASK if you want to be a pervert, there may be an off chance I might allow it if you explain why.  maybe you like ladies underwear and want some fashion suggestions, is that so? WELL? IS IT?!" She would lash him one more time just as he is about to spit out the answer but strikes with more force wanting him to double over.  If he didn't go down he would force him to his knees.

She orders him to bend over across the bed, forcing him if he did not attempt to comply after five seconds.  She would then proceed to slide down is pants all the way to his ankles and his underwear down enough to expose his butt.  She would then get into position and lightly rub one of his butt cheeks before winding up and giving it a good hard slap.  After giving her two more slaps she tells him "Be glad I don't deem you worthy of taking the time to get a paddle or else I..." she then stops her train of thought as she knew of something she did have up here. She gives him one more hard slap, this time across the other butt cheek.  As she goes through her drawer she asks him in a calmer tone, almost too calmer "Tell me, are you a virgin?"
_________________
Quick roster info:
Want more detailed information and maybe unlock hidden characters?:
"Gah!" Yamato shouts in pain as the whip suddenly lashes out against his shirt-covered chest, stumbling and falling over. And as soon as he hit the ground, Lita was telling him to get up and "take it like a man." A part of him was annoyed, yet still he complied, pulling himself back up to his feet. When he's commanded not to move, the nervous man stood still as Lita left. From the sound of a zipper and her rummaging around, he guessed she was probably going through his stuff. An eye for an eye, more or less, even though all she'd find in his bag was clothes and his laptop.

She then returned with a handful of his clothes, leaving Yamato slightly confused as to what she intended to do. The socks were tossed aside, and his eyes widened a bit at the sight. His boxers were then sent through the air, and he turned his head just in time for them to hit against the side of his face rather than getting the whole thing. And as the boxers fell to the floor, he was then bombarded with a accusations of being a pervert.

"No, I-- ARGH!" he shouted, his answer being interrupted by another lash of the whip, this time hitting him right in his stomach and forcing him to double over. He'd been through some situations with dominant women before but the whip was something new to him altogether, and these first couple lashes already had him starting to breathe heavy. When she ordered him to bend over the bed, Yamato couldn't immediately bring himself to obey. After a few seconds, he started to move, but clearly it wasn't quick enough, as he was then forced up and over the edge of the bed.

Yamato then felt his pants being pulled down to his ankles, and his boxers down just enough to reveal his bare ass. This was getting really humiliating really fast, and he was inwardly just thankful this hadn't happened during their match back in the arena where other people would've actually seen it all. His body then flinched as Lita slapped his rear nice and hard with her hand, but managed to bite back the surprised shout that tried to escape. A couple more slaps come, and it seems she was about to say something, but abruptly stopped. After one final slap, Lita started to move away. "No..." Yamato answered while looking over his shoulder at her, both curious and a little afraid to find out what was going through her mind.
When Yamato confirmed that he has had some sexual history Lita grinned as she found what she was looking for.  As she began to put something else on she confirmed what he already knew, that she too wasn't one.  She then tells him "It's good you're not..." as she leans across the bed so she can see his face and then finishes her sentence "So I guess this won't hurt as much." as she shows him a strap-on, holding onto the end of the shaft.  She gives him a couple of playful pokes in the cheek before going back behind him.  She pokes his butt cheeks with it a couple of times before rubbing it across his butt cheeks for a little bit while using her fingers to attempt to stretch the cheeks a part a bit.  She then is about to put it in the hole, getting it an inch or so away from it before she stops.  "On second though, your ass isn't worthy."  She had something else in mind as she climbed up on the bed.

She motions for him to get on the floor and on his knees as she sits on the edge of the bed in front of him.  In a demanding, but not super threatening voice she tells him to "Suck my cock."  If he looked afraid she would softly tell him "Go on don't, be shy."  If he flat our resisted she would grab him by the hair and force him to take it, but if he was just afraid she would slowly and softly guide him to it, but is not afraid to use force if he would not comply.
_________________
Quick roster info:
Want more detailed information and maybe unlock hidden characters?:
Considering Lita did have two kids, Yamato had already guessed she most likely wasn't a virgin. That wasn't what he was concerned about. What he was concerned about was the specific drawer Lita had decided to move toward and rummage through. In his brief sweep through the room, Yamato was pretty sure he'd seen something in that drawer he wanted kept as far away from him as possible, though it now seemed that was exactly what she was going for. And sure enough, she soon turned around and revealed the strap-on, causing his eyes to shoot wide open in both shock and fear.

"Wait! You're not serious, are you?! I-I mean, come on...!" he pleaded desperately as she approached, knowing he was in no position to either fight back or try to run away. He felt his whole body tense up as it poked against and rubbed over his rear. And he shut his eyes as tight as he could while gritting his teeth as he felt his cheeks being spread a bit. But then what felt like the biggest miracle of Yamato's life suddenly came out of nowhere: Lita decided not to do it.

Yamato plopped down to his knees, panting as if he'd just been holding his breath for a long time. The relief he felt at that moment was nearly indescribable, but it would only last a few moments, as Lita then took a seat right in front of him, with the strap-on pointed right at his face. Hearing the command, a bit of that fear once again returned to his expression. He hesitated, remembering Mariko's advice to do whatever he was told, but also hoping he could think of something to say to make Lita decide against this too. But just like lightning doesn't strike twice in the same place, Yamato wouldn't be so lucky again. And right as he opened his mouth to speak, he felt her hand grip his hair and force him forward, shoving the strap-on into his mouth. "Mmmph!" His shout was muffled, and his eyes slammed shut again in utter humiliation as he was forced to suck Lita's strap-on.
Lita grinned as she watched him suck the strap-on. "You know you're kinda cute, sucking cock like that." she tells him with a grin, being serious about it, getting a bit turned on by it as she began to slowly rub one of her breasts. "Ooohhh Yamato." She was really getting into this and occasionally looked down at him to check how he was. Eventually she was working over both of her breasts. Before she could feel herself getting too into it to the point where she would strip she stops and slowly pulls out, making him slowly lick the tip as if stuff actually came out of it. "That was pretty good Yammy. If only I used the one where liquids could come out of, oh well." She messed with his hair as a sign of approval for that but she doesn't appear do be done with him.


She motions for him to stand up and she grabs hold of him and would bodyslam him on the bed, but wouldn't use her full in-ring force, but would put some mustard behind it. She decided to remove the strap-on before getting on the bed with him and positioned herself before slowly lowering her lower half to sit on his face. Before making contact she would give a slow tease grind before it would rest against his face.
_________________
Quick roster info:
Want more detailed information and maybe unlock hidden characters?:
"Mmmnn!" he grunted as Lita forced him to suck the strap-on. He was still more than a little thankful she hadn't done what it originally seemed like she was going to with it, but he was still fairly certain this was likely the most humiliating thing he'd ever been forced to endure. Or at least, he'd be hard pressed to think of anything that would top this.

His eyes then looked up, and he almost completely forgot what he was even doing as he saw his mistress working over her breasts with her hands. And despite what was occupying his mouth, the sight of Lita fondling herself like this was starting to turn on the young man. After a few more moments of this, however, she slowly pulled the strap-on out of his mouth, taking her sweet time as she did. He took several relieving breaths once it was out, though that last comment of hers made a mental image that sent a shiver down his spine.

He then stood up as he was told to, only for Lita to suddenly grab him and slam him down right on the bed. It wasn't nearly as rough as being slammed in the ring, but it did take him completely by surprise. Yamato felt the bed shift as Lita climbed onto it, then watched as she positioned herself right above his head. Looking up at her, his eyes locked on to her hips, practically being mesmerized by them as they swayed over him. And then everything went dark as she sat herself down, pressing her barely covered ass and pussy right onto his mouth and nose. "Mmmph!" he said as she sat down on his face, his voice muffled against her crotch. Though breathing wasn't exactly easy to say the least, the position was further arousing Yamato, which the tent he was starting to pitch in his boxers would show clearly enough.
After she rested against his face she would do nothing for a moment, wanting to make him sweat a bit before slowly grinding against him. After a moment of this she would move herself up a tiny bit so he could breathe. As she lowered herself back down she would move part of her clothing away from her crotch and ask him "Now Yamato what do you say?" wanting him to beg for her pussy though if he wanted for mercy she would slap her pussy against his face and told him that's not the proper way to address her then would ask him again after a few seconds. If he did the same she would cover herself up and smother him again, but if he played along she'd give him a face full of what he wants.

Either way she would glance back and look down. She would smirk and look back at him asking "Are you secretly enjoying yourself?"
_________________
Quick roster info:
Want more detailed information and maybe unlock hidden characters?:
Page 2 of 17 •

1, 2, 3 ... 9 ... 17


---
Permissions in this forum:
You
cannot
reply to topics in this forum