Champions & #1 contenders
Summer Splash interest in Natasha Loclear?
Mon Apr 09, 2018 6:30 pm by daemongirl
Well my girl hasn't missed a summer splash yet, would anyone be interested in a match with her? Open to just about anything match wise, just pm me!
Comments: 1
Been Out with the Flu
Sun Apr 22, 2018 2:47 pm by daemongirl
Just letting those I have threads with know I've been out with the flu since early last week, but I will be back to posting tomorrow.
Comments: 0
The Austrailian Mudslide is Back.
Sat Apr 21, 2018 1:20 am by Softsquad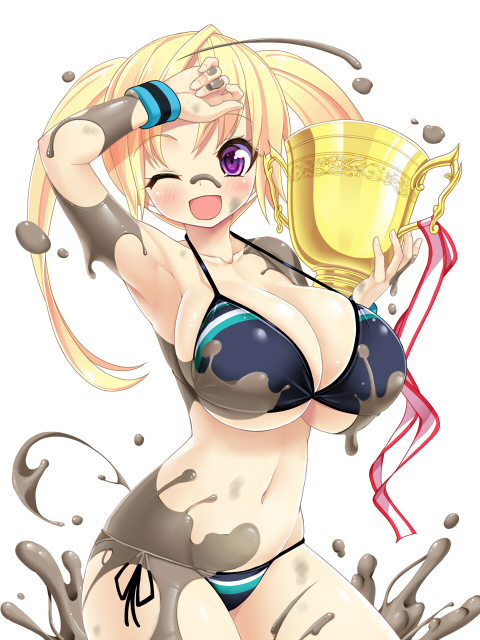 Granted that most of you won't know me or remember me, but I've had a few matches here and there some time ago. Well I think its time to become a regular around here and try to have some fun again, but at the same time keep coming back. Anyway I think its time to jump into some matches with Zoe Taylor, my mud wrestling character from Australia and get her back into the squared circle. Furthermore I will update my characters as I think some proper changes need to happen.
So if anyone would …
[
Full reading
]
Comments: 0
Page 1 of 2 • 1, 2


"That's it for today class. Dismissed." The class of seven children bowed to their teacher and dispersed, heading to the locker rooms to change and leave. Kena caught bit of chatter on how the class was and what they were going to do afterwards, but said nothing. It was cute, teaching seven through twelve-year-olds. Kena still wanted older members, but she was fine teaching kids for now. Hopefully the participating in the AFW would fix that. To be honest, she wanted challengers more than members. Teaching was one thing, but beating strong opponents and getting a reputation as a strong fighter was a little more important to her. She mostly just wanted to fight someone without reserve, to hurt someone and have them at her feet begging for mercy, to crush someone that though that had even a fraction of a chance at winning. "Ah, if only..." She said with a sigh. Well, she could dream at least. Once the kids finished changing she waved and saw them off.

Well, I guess I'll start my own training now. She headed to the locker room herself and removed her gi, revealing a sports bra. Training with the kids was nice, but she couldn't go all out with them around, too risky. Her style was made to crush opponents gracefully and dance around them, break bones and cut flesh elegantly. Definitely something little kids shouldn't be doing. No, she just taught them basic self defense and a bit of kick-boxing. Hey, it worked and it paid the bills.

"Now then." She walked out and into the training hall, beginning to perform a kata. She struck an invisible foe, giving several spin kicks and following them with backhands, chops, elbows. "Hah! Hyah! Kyah!" The dojo had a window wall in the front, so anyone passing by could see what Kena was doing. She hoped it might attract attention of someone strong, but she also wanted to train too. The kids were gone now, so she didn't have to worry about them getting in the way or asking to be taught anything she was doing.
Katsuko carried the parasol on her shoulder like she was pretending to ignore an alligator along its shaft. Would the local Japanese think the umbrella strange, out of place, pretentious? She kept her eyes trained on the grass growing through cracks in the pavement, hoping no one would notice her American walk or speak to her and hear her English.

There was a world just upward of her view full of bright, neat buildings, of a sky traversed​ by hornets just setting out from a long winter of hibernation. It was warm and wet and smelled of the previous night's rain. She would have enjoyed letting all that impress itself on a clear mind.

But Wild Thing had crushed her sternum with a wild bare-foot leap, had pressed her into the mat and held her there, growling, spittle flying, spattering on her ear. Running down her neck. And all the refinement and clear thinking in the world had not given Katsuko an out.

And ever since then, clear thinking was less and less something Kat was good at.

So here she was, outside this dojo that wasn't her own, seeking for the first time since she'd come to Japan a master of the art who was better than her. Someone who could teach her.

(Someone who could make her safe from people like Wild Thing)

Inside the dojo, a girl in a kimono practiced moves familiar to Katsuko. Through the glass, she was silent, but Kat could imagine the sound of her flesh slicing the air. She could hear the petite fighter's shouts at each strike and feel the complex but utterly regimented way she coordinated her no doubt sinewy muscle.

This dojo had produced at least one competent pupil. The assurance and its familiarity gave Katsuko breath as she stepped through the front door and made her way, shuffling, to meet this young woman.

She bowed.

"Excuse me, ma'am. I hope I am not interrupting you, but I am a student, and I am looking for the master of this dojo. Is he in-house?"
Kena was still focused on her form, she had caught a glance of the woman that had entered the dojo, but want to finish the last few strikes. "Kyah! Hah!" She gave one more roundhouse before settling back into a neutral stance. "Phew..." She took a few more deep breaths to get herself out of her combat mindset, then turned to the woman and bowed in return. She looked nice, and it seemed she was interested in joining. Had Kena's prayers been answered? Was she really going to have an older member that wasn't twelve? "Ah, hello." She said with a small smile, trying to hold her enthusiasm. This woman had asked for the master, which made since from an outsider's perspective given that Kena looked like sixteen-year-old, and that was being merciful.

"Well, the master is in, and you're looking at her." She walked toward the woman, getting a good look at her. She was obviously older than Kena, and she might not be keen on taking instructions from a nineteen-year-old. To be honest that would make it a little awkward, but beggars can't be choosers. "I'm Arisato Kena, I run this dojo.  Nice to you ma'am." She said, maintaining her smile. "Ah, you said you were a student. So you have martial arts experience then?" Wait... a student asking for the master? So either she wants instruction or... "Are you... here to challenge me?" Well, she was fantasizing about it a few moments ago, there might be a chance this woman came to improve her own reputation as a fighter. That and Kena honestly hadn't had a good fight in weeks and she was getting a little antsy.
Master?

The notion was so unexpected that it pulled Katsuko's legs from under her. And then, before she had time to think, the insult--do I have experience? She laughed once, hard. "I've probably been practicing for longer than you've been alive!"

But then she caught herself. She could hear the insecurity dripping from her own words as she heard them, and the girl's stolid expression made her blush. She bowed.

"Though, I suppose they say that Musashi Miyamoto himself felled the greatest sword masters in Japan while he was but a sapling."

The birds outside chirped and twittered in the silence that followed.

"...You mentioned a challenge. But we should know each other better, first. At the very least, let me share my name?"

It was, perhaps, unsurprising that this child would have less-than-polished manners at her age, and anyway, Katsuko had erred as badly in terms of rudeness. She did not dwell on it. Instead, she explained who she was--Himura Katsuko, of the Himura family--and where she was from--America. She talked of karate and judo, of honor and craft, and briefly of her husband, who had come with her to Japan.

"Now I'm here to honor my tradition...and your tradition...our tradition in the AFW. If, by challenging you, I can train myself to be less a fool in that ring, then surely I will. Someday."

Though on that day, as for all her serious fights, she would not be the Katsuko now on display. Then, she would be wearing her mask.
Kena didn't know whether to feel offended or flustered at the woman's words. She supposed it was only nature to react in such a way, especially if she had more years of martial arts experience under her belt. Still, stung the girl's pride a little. It gave her more of a reason to actually fight this woman and prove herself a capable fighter. Though the woman remained polite and even introduced herself soon after.

It was surprising how much they had in common already. Both were from America, both had done martial arts for most of their life, and they were both in the AFW. It made Kena laugh a little at how similar they were. In turn Kena explained her story. Moostly about coming to Japan and reviving her grandmother's dojo and the current progress with that and training the kids. Part of her hoped the two could be good friends and maybe even rivals one day. 

"Well Himura-san, I guess that makes you my Senpai in martial arts." Her said with a sheepish smile. Would that be the correct way of using "senpai?" She figured, but it might not count since they didn't practice the same fighting style, but she went with it. "U-Um, anyway... I can't say if fighting me will help you in a your endeavors, but I'd be happy to help you if I can." She said, giving another bow. "Actually, if I can be honest, it'd be nice to spar with someone around my level if you could afford the time. I can't exactly fight seriously against the children."
Katsuko's smile wore very thin as Ken explained her history. From the AFW, eh?

"I suppose the AFW is quite a program in this city," she remarked. "Every dojo in town, no doubt, will have some affiliation. It will make finding neutral friends difficult."

A hundred dojos across one urban sprawl--filled with blonde girls in leotards, practicing "high flying" moves from the top ropes!

In a way, it would be nice to be one of Kena's girls in training, standing in a line and practicing form over and over again, safe and gentle. And traditional. Yet she would also be her young self, foreign to Tokyo and the ever-present smell of exhaust and seabreeze and incense--poised to discover it all again.

After Ken finished speaking, Kat assumed a box stance, right foot foward, weight on the left foot, low center of gravity, hands in ward-off. Just like a student would.

Alright. She would spar.

"Teach me, Arisato-sensei."
Kena gave a sheepish smile at Katsuko's response. "Well I'm mostly in it to sponsor my dojo, so..." It wasn't really a lie. Outside of a quick way to find and crush opponents to satisfy her sadism, Kena was in the league to find get more students her age. That and the Kawaii League had some cute girls her size in it and Kena wasn't too confident in going into Friction and possibly getting crushed by a larger opponent. Plus most girls her age were in that league to begin with.

And it would appear that Katsuko wouldn't mind fighting Kena after all. The girl smiled watching her opponent get into stance. This would probably be her first real fight since coming to Japan. It really excited her. "Right!" She got into stance as well, her legs apart, fists raised to her chest's level and in front, she was ready for her opponent. "Okay, Himura-san come a-" She pause for a moment. "Um... actually, mind taking off your shoes before we start?" In the grand scheme of things Kena really didn't care, but she would have to clean the place after tonight and shoe scuffs would just make it a bitch to scrub the floors.
So Katsuko removed her shoes and put them neatly by the door. Then it was back to her stance.

...But she still missed her attire. She missed the way her breath caught in the mask, the way her robes hung loose on her shoulders. In her skirt and day-shirt, she felt. Well, silly. Like a weaboo imitating an anime character's fake stance.

Oh well. The mat was familiar and soft to her feet. In a moment, this master would try to tie Katsuko up with her own ligaments, and Katsuko would have a submission or two to put on exhibition herself. And no one who can break bones feels that silly.

"Shall I 'come at you' now, then?" she said with a smile.
Kena returned the woman's smile and rolled her shoulders a little. Alright, so it wasn't a pure fight, but sparring with another experienced fighter would be a good experience for her. And Himura was already looking like a good opponent to have... okay, that was her need for violence talking, but Himura did look promising given how similar the two were. "Yes, whenever you're ready!" She said, unable to hold in her excitement.
...It's possible Katsuko came on too hard.

Kena wanted to fight. Katsuko could read it in her face--which doesn't involve nearly the subtlety you would think. Kena beamed like a kid on Christmas morning who wakes up to find, surprise! Dad dressed up like santa.

Katsuko...Well. She had different feelings, most of which revolved around a certain rabid blonde girl who had ripped her a new one on stage recently. Did she want to redeem her worth by beating up a kid (who also happened to be the master at a local dojo)? Not in so many words, but...

But she did attack Kena with a ridge-hand strike, which was also a feint. She looked as though she was going to chop Kena's neck with the inside of her flat hand...but in fact she aimed to strike farther back than that. Kat wanted to wrap her arm around Kena's head and drive that head into her knee.

If she succeeded, it would be an unhappy, bloody nose sort of scene...
Page 1 of 2 • 1, 2



Similar topics
---
Permissions in this forum:
You
cannot
reply to topics in this forum