Champions & #1 contenders
Highfly Flying Out Of Town
Tue May 22, 2018 1:31 am by HighFly
Hello everyone, I just wanted to inform all I have threads with that I will be gone from this coming Wednesday through Sunday. I won't be able to post consistently if at all during this time, but I will try to make up for it next week! I am sorry for the inconvenience to everyone.
Comments: 7
The Austrailian Mudslide is Back.
Sat Apr 21, 2018 6:20 am by Softsquad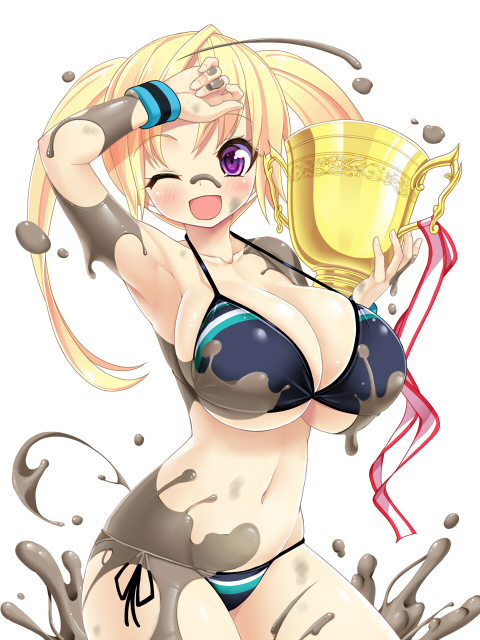 Granted that most of you won't know me or remember me, but I've had a few matches here and there some time ago. Well I think its time to become a regular around here and try to have some fun again, but at the same time keep coming back. Anyway I think its time to jump into some matches with Zoe Taylor, my mud wrestling character from Australia and get her back into the squared circle. Furthermore I will update my characters as I think some proper changes need to happen.
So if anyone would …
[
Full reading
]
Comments: 5
Page 2 of 7 •

1, 2, 3, 4, 5, 6, 7


Stone started to raise up off of Blaise after landing the moonsault, ready to continue the assault and put him through the ringer some more, but she paused at the last moment. Maybe this would be enough. Mako just wanted to show the world how dominant they were, and Stone was certainly being dominant, here. Was there really any need to hammer the point home any harder? The crowd got the point. Everyone backstage would get it. She wanted fear, and this was fearful.And winning this match in record time would certainly make them look good, as well as spare Blaise some pain. Humiliating, maybe, but she got the feeling he had thick skin. He'd be fine.

"Stay. Down." She practically growled the word at Blaise as she laid across him, pinning him down at the chest with her own. The referee was on point and immediately moved in, dropping to her feet for the count.

"1...!"
Blaise hears the referee move in beside them. He expected her to follow up with a pin. It was just logical. She was in the position already. But when she tells him to stay down, he blinks.

The mat reverberates with the first count of the pin.

"No way..!"

With a grunt, the teen twists his chest under hers and pushes his left arm into the air! No pin! The referee gives the signal to Stone that the match will continue. And even still, Blaise is squirming under her, trying to gain a little leverage to work his way to all fours. The splash was punishing by itself, but Stone happened to be a solidly-built gal. Not like the other ladies he'd squared off with, whom he'd typically have at least twenty pounds on. This was the closest he came to wrestling another guy since coming to Japan.

...Well, there was Nathan, too. But Nathan was even lighter than Blaise; definitely not typical.
Blaise kicked out. Of course he kicked out, because it was written somewhere in solid granite that Stone's life could never be as simple as just pinning the poor guy and getting on with their lives. She was trying to do him a favor here, and it was blatantly obvious that things would only go downhill from this point. Why get up if all it meant was that you'd get knocked back down even harder than before.

"Fine." She grunted and grabbed his hair, hauling him up to his feet as the referee scolded her. Most days she would have avoided hair grabs, but Blaise was starting to work her nerves. The point was going to get through to him before she was done, load and clear.

As soon as Blaise was on his feet, Stone grabbed his arm, swung around, and sent him off to the corner with an Irish Whip, putting her body weight into the throw for added power, practically hurling him across the ring.
When Stone lifts off of him, Blaise manages to twist onto all fours easily. But he doesn't have long to relish the feeling before she's grabbing him by the hair! "Aah!" His hands immediately snap to her wrists and raising to his feet, trying to alleviate the stinging pain as much as possible.

At least that didn't last long. She's grabbing for his arm, and Blaise attempts to hold his ground and reverse what he expects to be a standing armbar. When it turns out to be something completely different, he's taken by surprise - hard. Stone powers him through the Irish whip, his boots barely grazing the mat as he twists through the air! His back slams with ring-shuddering force in the corner, causing the teen to arch inwards and grab the top ropes.

Once that initial impact dulls, he slouches back into the corner. His eyes fix on Stone, expression pained and chest heaving with each breath. He knows he has to get out of the corner. But right now, he's just trying to stay on his feet and regain his bearings. If he lets go of the ropes, he'll fall and likely be in an even worse position.
Stone watched him crash into the corner and fought back the urge to shy away from the sight. She had to watch. Had to see it. Had to remember what this was all about, no matter how much she got caught up in the fury of the moment. This was a guy she was beating on, just some normal guy, and as much as she wanted to forget that, she knew better than to actually do it.

The impact he hit with was massive, far more than  you'd ever think a body his size was capable of. Resounding force. Terrible power. It took a toll on him and left him as a slumping mess, an easy set up for what she had in mind next.

Stone had already started walking backwards even before he hit, taking up position in the middle of the ring. She ducked down in a runner's stance, bending her knees a bit for some added power, and then she rocketed straight towards him with a heavy charge, bringing up her arm at the last moment and coming at him with a corner-bound clothesline. She braced herself and tensed up before the impact, knowing this would a crash in the truest sense of the word.
By the time Blaise's mind has settled, he's realizing Stone is a lot closer than he'd prefer, and bearing in rapidly. Her forearm smashes against his collar with enough force to kick his feet off the mat! Once his boots set back down to the mat, his hands are no longer holding onto the ropes. The arms hang at his sides, and his balance is gone. Unless Stone is intent on keeping him upright, the teen will be falling forward to the mat in a daze.

"Gh... wh-.." He can't focus his eyes on her, but he knows she's there. He gives his head a hard shake to attempt refocusing. "..you.. are too darn strong.. h-.. hah.."

She's his enemy for tonight. She may very well be his enemy in general. But he's not received any real malice from her yet. He has no reason to make things personal with her. He has to beat her, he has to pull through to make a statement against the group she represents, absolutely. But he'd be lying if he said he wasn't a little excited to be fighting someone this physically strong. It's definitely testing the limits of his spirit, on top of his physical endurance. She isn't waylaying him, but each hit is a rough one.
Stone crashed into Blaise's body was devastating force, hitting him so hard that she almost thought she'd go through him for an odd moment. It didn't seem like he'd been able to ready himself for the blow, either. It lifted him off his feet and made the ring shutter for the second time in a short period, and she had to hold the forearm in place to keep him from flopping to his knees. Not that she wouldn't have been able to work with him down there, but she had other plans in mind. Better plans.

"What are you doing with this, Blaise?" She asked the question before she even really thought about it, something that she'd been mulling after the failed pinfall. It was more of a rhetorical question than anything, though, because she wouldn't give him much chance to answer. She was on the move.

Stone squirmed around, brushing their bodies together to keep him pinned while she put him in a tight headlock. From there, she ran out of the corner, jumped, and tried to drive his head into the mat with a classic bulldog, looking to get all of her weight into the slam.
Blaise gives an inquisitive, "Mnf?," when she gives her question. What's he trying to do with what? The match? What a silly thing to ask! He'd be happy to tell her how silly it is, too, except that he's found his head tucked under her arm. His own arms loop around her midsection as he works out a ploy to slip her grasp.

Stone's simply moving too fast, chaining these hits together. He finds himself dragged, then slammed down hard against his chest on the mat. His chest sure has taken a beating so far this match. One arm tucks under himself, the other still loosely slung around her midriff and hips.

"Ugh..." He writhes on the mat, attempting to roll over. What is he doing with this match? Getting knocked senseless. But why? It would be easier just to lie there and let Stone flop over him for the pin. And for a moment, he considers doing that. He's not gotten a single clean shot on her, and what hit he managed seemed to just glance off. He could hear his trainer chewing him out for pushing it yet again. For running the risk of injuring himself, and for what? Pride?

'No. That's not it.'

His free arm moves to his forehead, his eyes half-lidded.

This match isn't just a match. This match is about these Valkyrie chicks trying to make a point on him. Because of what he did to Nathan. Because he made a demonstration, that there are people in the ring who won't let something twisted slip past. Because what he did showed the audience - and the rest of the federation - that there'll be a resistance. Whether he intended it or not, Blaise showed defiance - and this is the Valkyries' attempt to crush it, and by proxy, the hopes of anyone else standing up to something wrong.

"...Fighting," he says finally, his eyes opening fully. His voice, though still strained with breathlessness, carries a certain resolve. "What about.. you..? What's your stake.. in this..?"

Stone so far hasn't seemed downright malicious. He'd expected attitude and dirty shots from her, given the building reputation and association, but he's not seen any of it.
The impact is so tremendous that even the referee seemed knocked by it, his body forced to jump as the impact makes the ring quake. On a normal day, the bulldog is one of the rougher wrestling moves to go through, and it wouldn't be all that weird for it to score a pinfall later in the match, and that would be with wrestlers who had far less weight to put behind it.

All that, and Blaise was still capable of forming coherent sentences. What was the guy made of? Rubber?

Fighting, he said. "Fighting." She repeated, as she sat up and looked at him from over her shoulder. It seemed she wasn't the only one trying to send a message here, and she could respect that. Even admire it. But she knew better. In end, throwing himself against the wall was just going to him hurt. Better he take some pain now and learn a lesson, rather than a bunch of pain later.

Stone stood back and grabbed Blaise as went, dragging him to his feet once more. She considered doing some submission moves, but mat wrestling wasn't her forte - she could wear him down with those later, if that was what it took.

For now, Stone was satisfied to grab Blaise by the shoulder and stomach, then dip down and lift him straight into the air, holding him above her with the gorilla press. She'd turn it into a real move soon enough, but for now she was content to display her strength to the fullest, hopefully give Blaise and idea of just what he was working against here and make him start to think of more sensible solutions.
Blaise finds himself grabbed again and easily drawn to his feet. He wobbles a little once upright again, but doesn't have long to find his footing. He's bent forward, his trim abs are palmed, and he's hefted into the air. The teen's eyes go wide - enough to overtake the majority real-estate of his face. Stone will be able to easily feel the tension running through his body by how tight his frame has become, how clenched, those abdominals grow.

Blaise had been taking hard shots this entire match from one end of the ring to the other. Literally! And while the audience is trying to drown Stone in boos, the cameras are getting their money's worth in shots of her body flexed, supporting her younger opponent seemingly helplessly in the air, battered as he's become.

Desperation sets in. The other hits have been harsh, but this could be the hardest yet. Blaise grabs at her wrist holding his shoulder, and his other hand begins throwing wild punches down at Stone's spiky head.

"Let..! Me..! Down!"
Page 2 of 7 •

1, 2, 3, 4, 5, 6, 7


---
Permissions in this forum:
You
cannot
reply to topics in this forum