Champions & #1 contenders
Moonhearts Promo intro thread is O p e n.
Mon May 21, 2018 4:21 am by XSirenX
Feeling brave?, lost?, or without a thread to post in?, hit up the newest Moonheart if any of those apply!
CLICK HERE
What Moon has to offer?, many things...:
Comments: 0
The Austrailian Mudslide is Back.
Sat Apr 21, 2018 6:20 am by Softsquad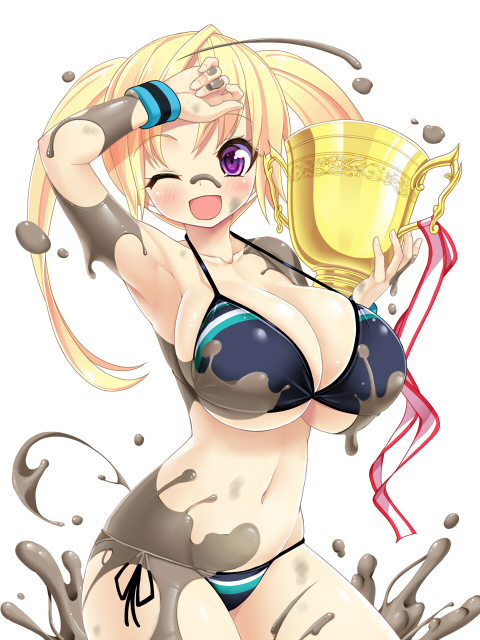 Granted that most of you won't know me or remember me, but I've had a few matches here and there some time ago. Well I think its time to become a regular around here and try to have some fun again, but at the same time keep coming back. Anyway I think its time to jump into some matches with Zoe Taylor, my mud wrestling character from Australia and get her back into the squared circle. Furthermore I will update my characters as I think some proper changes need to happen.
So if anyone would …
[
Full reading
]
Comments: 4
Page 1 of 7 • 1, 2, 3, 4, 5, 6, 7


-VS-
Match Type:
Standard
Victory Conditions:
Pinfall, Submission, or Knockout
* * *
Stone sat back on her motorcycle and looked out to the Tension from the top of the ramp,  as her music started up for the next match. Dressed in her fatigues, decked out in her boots, her faded green pants, her shirt hugging tightly to her skin. The crowd threw the usual wave of boos her way, though it seemed to be a bit more intense than usual, thanks to the excellent job Mako had done in the past few weeks of making the Valkyries one of the most hated groups in Tension. Stone typically didn't give much of a shit about the audience's reaction, but this time she couldn't help but sneer at it.
Blaise Cameron was already a massive pain in Stone's ass, and they hadn't even been in the same room yet. That was impressive.
It all started when Stone saw his match with Nathan a couple of weeks ago. She'd been a little surprised that Amy had enough friends for one to so readily come out and his stick his head into things for her, and even more surprised to learn that it was Blaise Cameron of all people. She hadn't seen any of his matches, but she'd heard enough to know that she wasn't missing all that much. He was a decent talent, but he hadn't pulled out a solid win yet. Potential, maybe, but if he was a diamond in the rough than he'd barely started shining yet. Definitely better than some of the weak guys who seemed to join up just to get smacked around by a woman, but that was a low bar to pass.
Stone might've forgotten his name, gotten it lost in the shuffle of AFW wrestlers who seemed to come and go every other week. But then he had to come out against Nathan. He had to be the hero, had to stand up for her. Had to call out of the Valkyries, and Mako just had to see it, along with the rest of the gang. Which meant that Blaise couldn't be ignored, even if Mako had been inclined to let it slip. The matter had to be addressed.
Mako had a match, Divine had a match, and she was the last one on the rotation. Stone was dealing with Blaise.
She gave the motorcycle a good jolt and sent it coasting down the ramp, gliding her way down and trying her best to ignore the occasional popcorn kernel that flew her way. She was also glad her Japanese wasn't good enough to understand the garbled insults that were being thrown at her. She felt bad enough about the situation without having it rubbed in her face.
It had taken her no less than two hours of solid yelling with Mako to get her to agree, but the pint-sized terror was going to allow her to have a normal match. 'Normal' in the sense that Mako wouldn't interfere this time, but not in the sense that this would be friendly competition. No, Stone was under orders to
destroy
Blaise. Massacre him. Hammer him into the floor so relentlessly that he wouldn't think about attracting their attention again. No one would.
Sending a message. That's what it was all about, really. And that message was clear: you don't fuck with the Valkyries. The Valkyries fuck with you.
Great. Years of service in the military, fighting all around the world, and now she was beating up little guys in a wrestling ring. Stone felt like such a big goddamn hero.
She put the motorcycle in park, hopped off and slid into the ring, paying no mind to the referee's cross looks. Stone went to the center of the ring and started stretching her arm, getting nice and limber, wanting to be 100% by the time Blaise arrived - she'd crush him fast and hard, end it quick, do the job and get out. No sense in prolonging the agony anymore than she had to.
Last edited by acuya on Sat Mar 14, 2015 8:07 pm; edited 1 time in total
During the whole Nathan debacle, Blaise had only two things on his mind: making things right and showing Amy she had at least one person in her corner. The thought never occurred to him that these 'Valkyries' might get a little bent out of shape with all the publicity. But when he received the challenge, he scarcely paid it any mind; someone else wanted a piece of him, so they'd get it. He was curious to see how they behave for himself, anyway. There's a difference between seeing something in a camera feed and being right there in the thick of it.

The unmistakable roar of a motorcycle had the teen grinning behind the curtain. It's cool, cruising a motorcycle up to the ring. He's not even gonna try to convince himself otherwise. But he doesn't have long to consider totally stealing her schtick before his name is called, and the chorus of Carry On My Wayward Son hits the stadium.

The curtains are thrown back and the energetic teen leaps into view! His arms raise to a wave of cheer and praise, definitely of a higher magnitude than he's used to. Since wrestling Nathan, he's gained favor with more of the audience - particularly those who look fondly on heroic types. On top of that, he's facing one third of a collective the audience has come to hate. Of course they're pulling for him to win. It doesn't matter that he's only had a single victory in muddy circumstances, and doesn't even have a clearly-defined finisher, they want to see the Valkyries taken down. They want to see Blaise do it, well against the odds.

"Let's do this!," shouts the teen before taking off at a full-on sprint for the ring. His left hand is extended, slapping a train of high-fives. But he doesn't immediately enter the ring. He makes his way around the perimeter to slap hands with everyone lucky enough to have ring-side seats, and even points to the announcers' table with a wink. Finally, he trots up the steel steps to the corner of the ring and climbs the ropes. He perches between the top ropes and throws a fist into the air, holds a few seconds, then springs into a clean corkscrew flip to land neatly on his boots in the ring.

At last, he sets his gaze on the biker chick across from him, and- 'Holy crap' - she's tall. Tall and muscled. That's impressive. He leans back into his corner and calls across to her, "I don't know anything about you, but I know who you represent. So I'm not gonna hold back, okay? You'd better gimme everything you've got!"

The referee-girl begins checking him over for weapons or other assorted foreign objects, but where exactly would he be hiding those? He wears only a pair of sapphire blue boots and trunks, with matching stylistic black trim. His lean, smoothly-toned body is left mostly on display; biceps, pectorals, abdominals, and thighs all bare.
Stone actually didn't care much for entrance themes. She would have been fine coming out to nothing at all if the stagehands let her, since there was little point in hyping the audience for her approach, so far as she was concerned - they hated her, that wasn't changing anytime soon. All the same, she did have her musical preferences, leaning towards rock. Old-fashioned sort of girl.

So she was surprised, pleasantly, when she heard Blaise's theme. Kansas. Good pick. Whatever she could say about his skill when this match was over, she couldn't fault his taste.

Stone couldn't fault his energy, either. She was obviously the bigger, stronger person in this ring, probably more so than any other opponent he'd faced up to this point. If that fact detered him, he didn't let it show. She'd feel bad rewarding that enthusiasm with pain. But she would do it.

"Everything I have." Stone repeated as she stepped forward with a solemn sigh. "Ask and ye shall recieve."

As soon as the bell rang, she charged Blaise's at full speed and leaped up, twisting her body around and shooting out her legs to send a dropkick towards his chest.
Stone's evident lack of enthusiasm to meet his challenge confuses her young opponent. Those big blue eyes blink, followed by an almost feline tilt of his head. This behavior seems almost contrary to what he was coming to expect from one of the Valkyries. All he saw in the video was pure aggression and... rage? Contempt? Something vile, he couldn't be sure what to call it.

'Hahah. Maybe PM-'

*DING!*

Blaise immediately rushes forward, hoping to take his taller opponent by surprise! His arms raise, ready to grab ahold of her and prove that size doesn't matter! In fact, all this does is help her lead in with that dropkick, her boots drilling into his toned chest. The impact is hard, taking him clean off his feet with a choked yelp. His back hits the mat in a hard slam, his body sprawling at first - only to curl in, his arms crossing his chest as he coughs.

Forget what he was thinking earlier. Pure aggression still seems to be the order of the day.
Last edited by CyanDimitrik on Mon Mar 16, 2015 5:30 am; edited 1 time in total
Blaise wanted 'everything she had' and he definitely got it, as nearly 200 pounds of rushing weight cracked him in the chest and laid him out flat. It didn't help him that he decided to rush her way as she came to him - Stone would give him credit for having guts, but that wouldn't mean all that much if she spent the vast majority of this match sinking her boots deep into them. Which she very much planned on doing.

She hit the floor and slid over beside him, grabbing Blaise by the arm and yanking him along with her as she stood. "Get up." Her voice was harsh and firm, not hateful, but serious, and she gave him precious little choice in the matter as she hauled him up along with her. Stone kept him close and wrapped her arms around his body, catching him with a tight squeeze.

It almost looked like she was setting up for some sort of bearhug, but she jerked back after a moment and tried  to send Blaise flying, tossing him over her shoulders with a snapping belly-to-belly suplex
Blaise is still trying to make sure his insides weren't liquified by the time he feels his arm grabbed. "Nng..?," he grunts as interrogatively as a grunt could be. But he finds himself drawn up to his feet, and arms promptly wrapping around his torso. He has only a moment to process the feeling of amazonian curves and muscle pressed into his sleek body before being snapped into the air and thrown behind her.

Sometimes being a lightweight, acrobatic sort has its downsides.

The teen lands hard on his chest behind her, bouncing once off the mat before coming to rest with a groan. He scoots onto hands and knees, grabbing onto a nearby rope to support himself. He gives his head a quick shake, attempting to clear the daze of the match so far, resigned to his aching pectorals. If he's going to turn things around, he's got to come back at her - ignore taking time to really recuperate and just do it.

Blaise expects that she's already up by the time he gets to his feet again, and he whirls around suddenly, blindly swinging his forearm out in hopes of catching her across the collar with a discus clothesline! "HYAH!"
The audience was booing in full force, even thought Stone hadn't done anything illegal yet. Even though she never had, in any of her matches. That was the stigma she got from being a Valkyrie, she accepted it, but it did nothing to unsour her mood at the moment, and Blaise was probably going to suffer a little extra for that, whether she meant to or not.

Stone made her way up to her feet and was surprised to see that Blaise was doing the same. After that nasty fall, she thought he would've taken a few moments on the mat, trying to recuperate. Nope. He was up and jumping right back into the flames. Gutsy. Or stupid. It hardly mattered which.

She dusted off and moved over to him, reaching out to grab him with a belly-to-back suplex to toss him back across the ring, when  all of the sudden Blaise spun around and lashed out, coming at Stone a devastating clothesline.

At least, it would have been devastating if she was smaller by a few feet and lighter by thirty or so pounds. Right now, though, it only succeeded in slaspping her across the chest, knocking her back a few feet, and royally pissing her off.

She stumbled, then stopped and stared at Blaise. Only a second. Barely that long. Just one, piercing death glare, before she stormed forward, brought her arm out, and swung it with a lariat that crashed into Blaise's chest.
Blaise's arm smacks against Stone's chest, knocking her do- wait. Back? By a few feet? The teen's arm drops to his side and his eyes grow wide. He knew she was solidly built, but he wasn't expecting this. How could he?

But before he could get too down on himself or even build up more worry, Stone closes in and slams her arm across his chest! "Hughf!" The bombastic youth is knocked clean off his feet, boots kicked into the air as his shoulders impact the mat. When his legs come back down again, they're in a sprawl, leaving her young opponent in a gasping heap.

"Oh.. God..," he manages, strained. "You hit.. like a truck.. ugh.."

Despite his compliments, the audience is cringing. It was obviously rough shot, and Blaise isn't budging yet.
Any other time, Stone might've thrown back a little witty banter Blaise's way. Had some fun with this. Despite all the crap she had to go through with Mako, she did genuinely enjoy wrestling, more so than anything else she'd really done in her life. She'd been a part of things that were more important, sure, but this was the most fun she'd ever been paid to have.

But Blaise wasn't getting the happier, fun Stone, today. No, he was getting the Stone that was single-minded on pummeling him into the dirt. Maybe next time, this could be an enjoyable experience.

She spat off to the side as Blaise reeled from the hit, rolling around in pain, probably hoping for some kind of reprieve that just wasn't coming. Stone knew exactly how to apply the pressure from here - she turned her back to him, ducked down, leaped up and did a backflip into the air, coming down on him with a standing moonsault and bringing all of her weight right on top of him.
Blaise's eyes focus on the lights above when he hears - as much as feels - Stone turn away. His mind is centered on the vibrations of the ring beneath him, and he has no idea what his opponent is up to at first. But when he deigns to turn his head, he spots her crouching down, then taking to the air, and-

Oh, he knows what this is.

Blaise starts to draw his arms in to lessen the impact, but Stone's abs smash across his before he can do anything more than tense up. His body is toned and athletic, durable from near-constant abuse, but one doesn't just shrug off a splash. He folds in around her waist, his knees bending and his arms setting over her, eyes widened and mouth hung open. "Ghh..!"

He then drops back to the mat, lying still beneath the spiky-haired blonde. Eyes rest at half-mast, mouth open, one knee bent and both arms lying out to either side. The only movement he makes is the steady rise and fall of his abs, pressing rhythmically against hers.
Page 1 of 7 • 1, 2, 3, 4, 5, 6, 7


---
Permissions in this forum:
You
cannot
reply to topics in this forum